Saturday Morning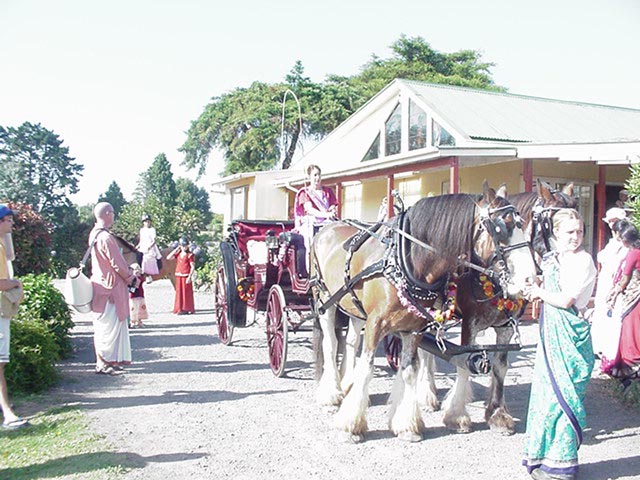 The Royal coach to carry Sri Sri Radha Giridhari in procession to Their new temple.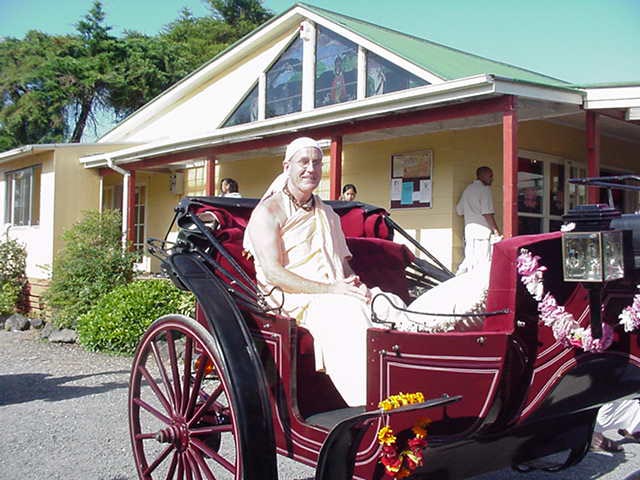 Indradyumna Swami waiting to receive Giridhari from the carriers

utasva vigrahas go out to Their vehicles with the Deity alankararam; shoes, flutes etc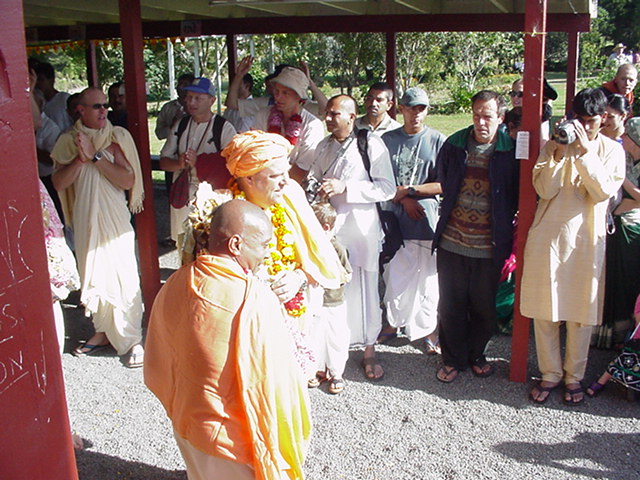 Devamrita Swami and Jayapataka Swami assist Lord Balaram to His vehicle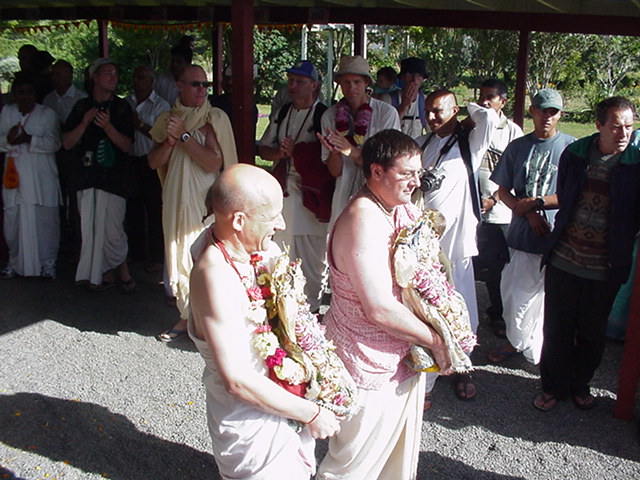 Aniruddha prabhu and Tirtharaj prabhu assist Sri Sri Gaura Nitai to Their vehicle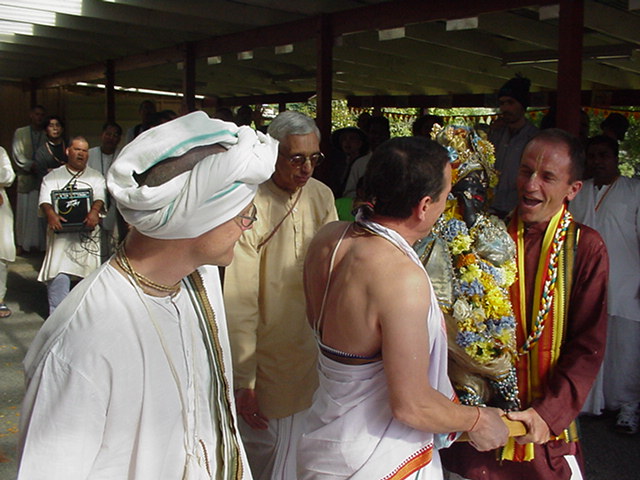 Hari Sauri prabhu and Jaya Sila prabhu assist Giridhari, with Atmananda prabhu close behind in support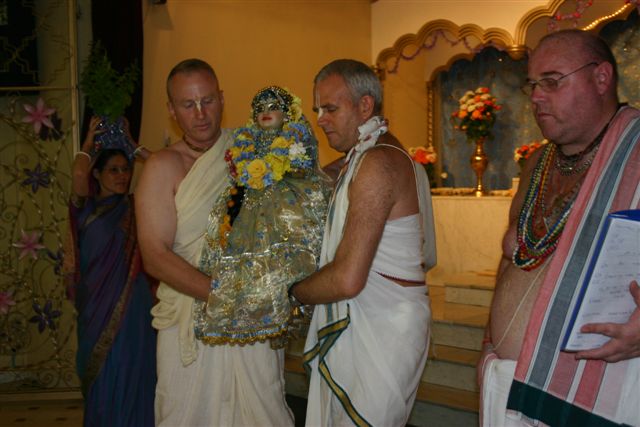 Atmarama prabhu and Alalanath prabhu assist Srimati Radharani to Her vehicle, Chandrakoti mataji holding Srimati Tulasi Devi on her head in distance, Jaya Tirtha Charan dasa overseeing in foreground.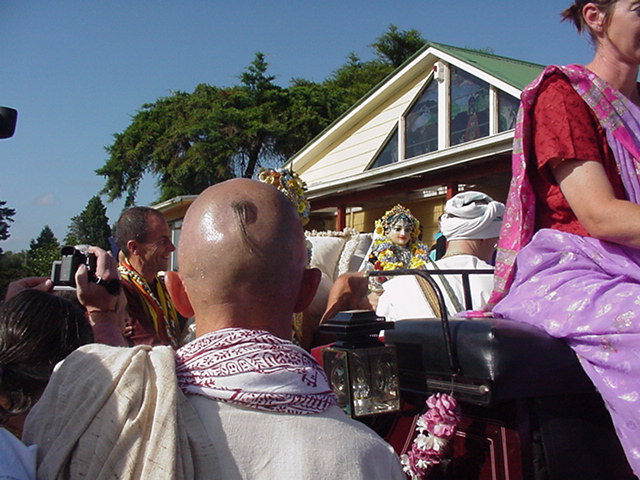 Trying to make the Deities comfortable in Their vehicle................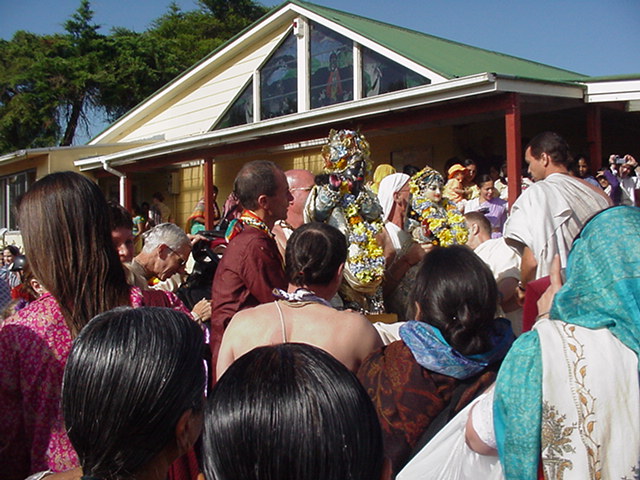 An attempt to seat Radha Giridhari with devotees behind Them didn't work so seating arrangements were changed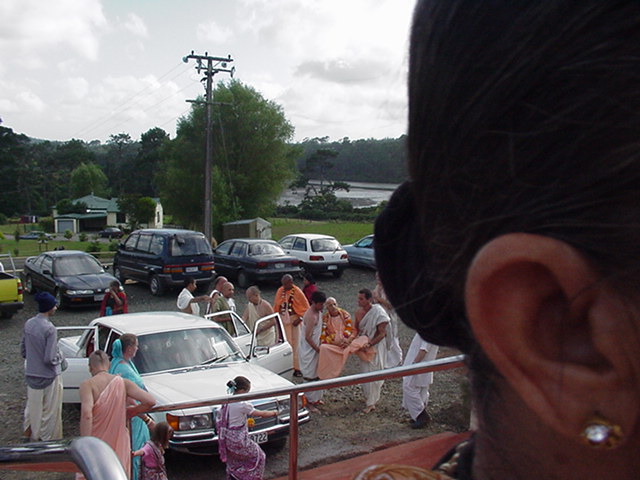 Srila Prabhupad is brought in first

preparing to bring Jagannath, Baladev and Subhadra out from the back seat of the vehicle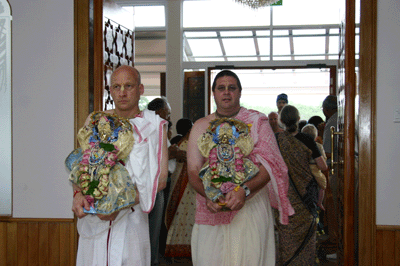 Gaura Nitai carried by Annirudha prabhu TP Melbourne and Tirtharaj prabhu former TP of Brisbane

Bhakti Visram Madhava Maharaj and Devamrita Maharaj assist Lord Jagannath into His new temple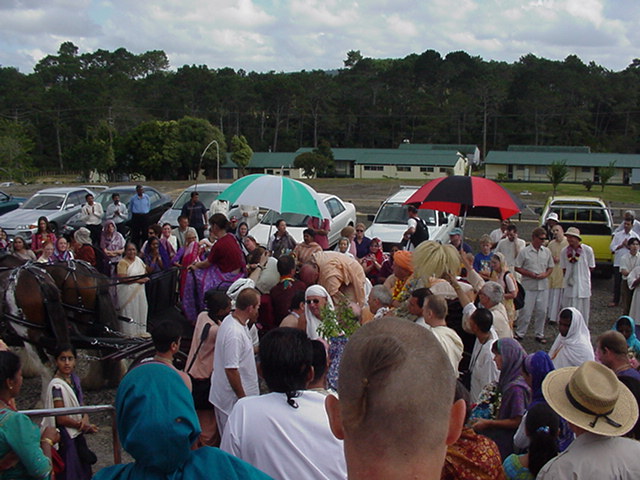 Sri Giridhari preceded by Tulasi devi leave the coach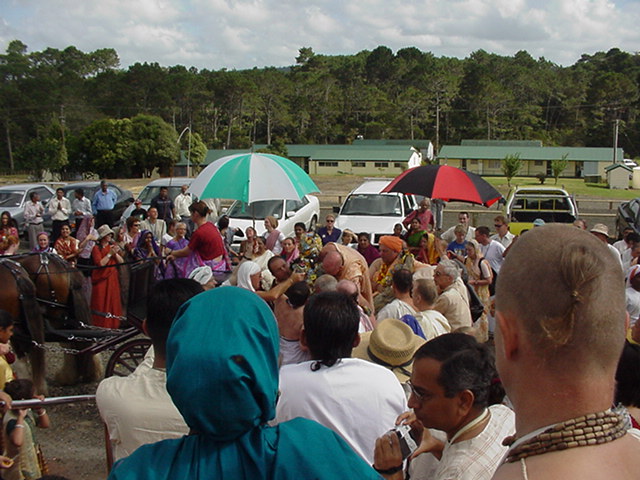 Sri Giridhari on His way to His new temple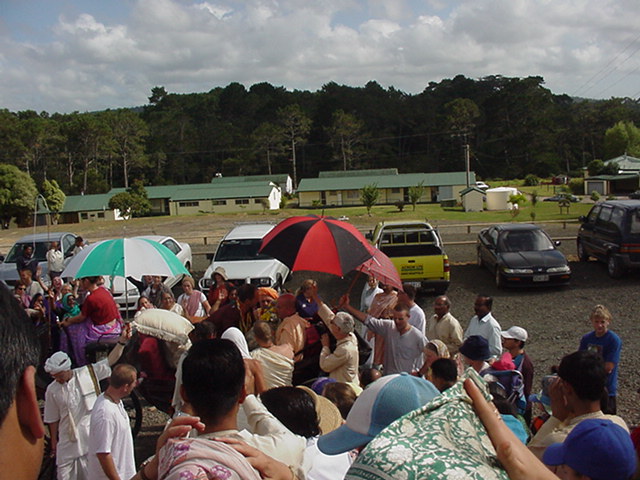 Devotees gather around to assist Srimati Radharani into Her new temple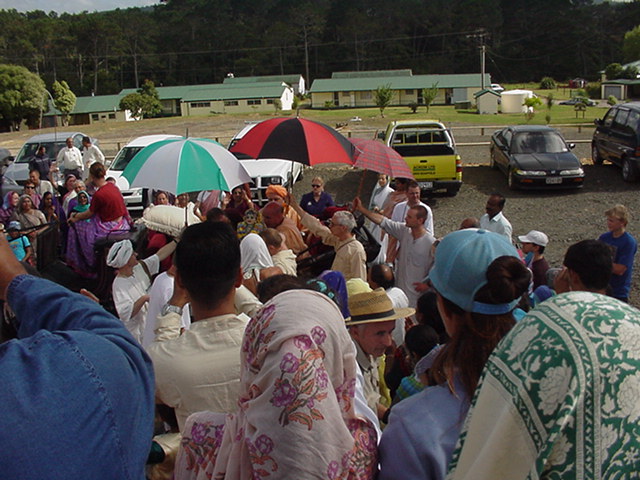 Srimati Radharani leaving Her coach to be carried by devotees to Her new altar in Her new temple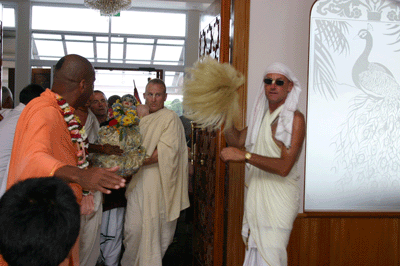 Srimati Radharani enters Her new temple, enroute up the path a big black bumble bee circled Her, landed on Her garland and flew away again.....a very auspicious sign according to Sakuna (signs and omens)
Inside the Deity Room.............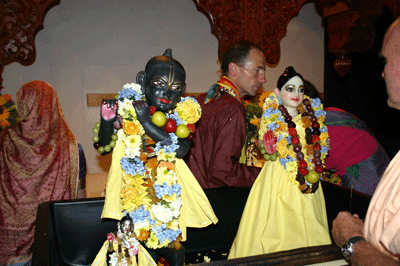 behind the scenes as the kirtan raged in the templeroom, in the Deity room final preparations for the Abhishek were done by a team of devotees.
Radha Giridhari here are adorned with fruit garlands made of grapes, strawberries, interspaced with dried fruits like figs and apricots.....
Curtains open and the preliminary pujas begin before the Abhishek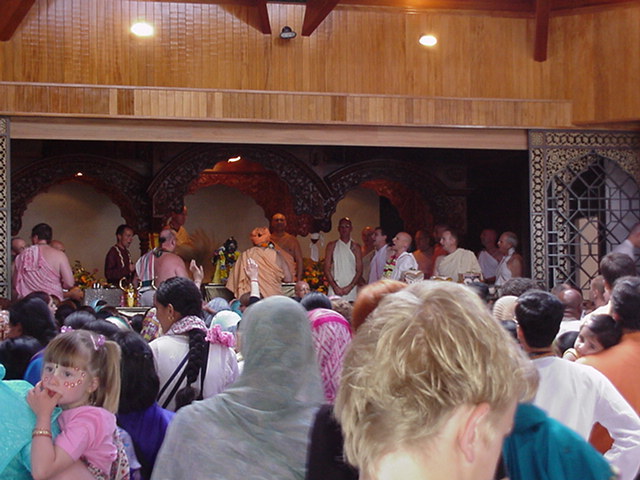 swagatam, asanam, padyam, achamaniyam, arghyam, madhuparka, punar achamaniyam, sugandam toilam prior to bathing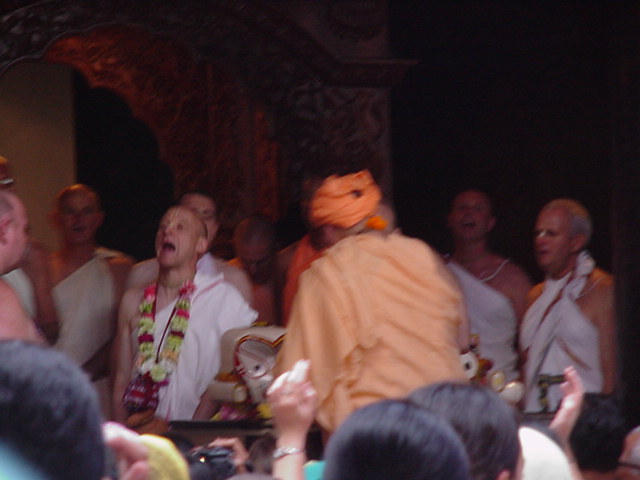 JTCd handing sodasa upachar dravyas to Jayapataka swami who then offered each item to each of the Deities in sequence of Their taratamya position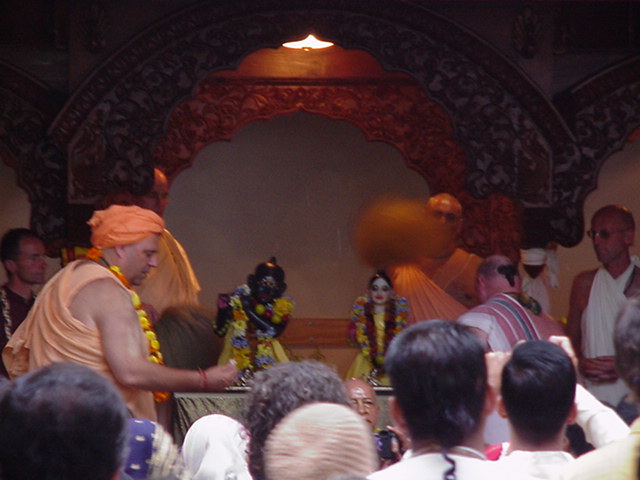 .....offering fragrant oils on cotton wool.......... sugandam toilam to each of the Deities in decending succession
The bathing then begins;
….bathe Deities with Pancha-gavyam (five products of the cow)
….bathe Deities with Panch amrita - milk – yogurt – ghee – honey - sugar
….bathe Deities with Juices - dark grape, apple, orange, pineapple, cranberry
….bathe Deities with Seeds of herbs – Sarvaushadhi-snana - fennel, anise, caraway, cardamom, cloves, etc through the sahasra dhar
…..bathe Deities with Mangala-snana - bathing the Lord in water mixed with auspicious things, such as jasmine flowers, durva grass, and darbha grass
….bathe the Deities with Astaka-bija-snana - bathing the Lord in water containing eight types of seeds: barley, wheat, wild rice, sesame, millet, rice paddy, panic seed, and rice which grows in sixty days
….bathe the Deities with Gandhodaka-snana - bathing the Lord in water mixed with scents such as musk and aguru
….bathe the Deities with - Urshodaka-snana - bathing the Lord with warm water
….bathe Deities with Ganges water
….bathe Deities with Rose water
….bathe Deities with protective waters from Sudarshan homa the previous day

Indradyumna Swami and Atmarama prabhu bathing Radha Giridhari


Ramai Swami and Kalasamvara prabhu bathing..........


Jaya Sila prabhu, Prana prabhu, Annirudha prabhu bathing.........


Jayapataka Swami bathing Lord Balaram.........


Bhakti Visram Madhava Swami bathing Lady Subhadra, Bhava prabhu assisting......


Kalas' bathing Giridhari, Devamrita Swami and former Auckland TP Alalanath prabhu observing......


All the devotees in the temple room, and Hari Sauri prabhu who was looking after the bathing of the Prabhupad Deities.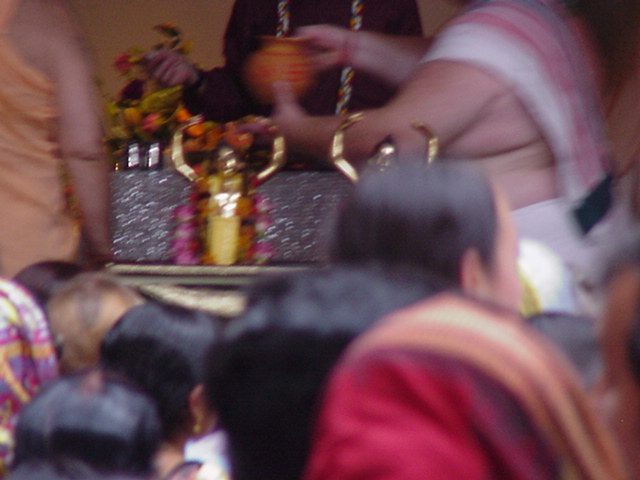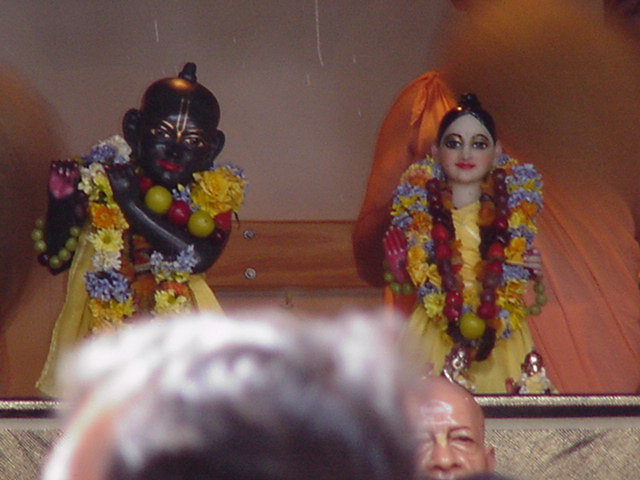 Sri Sri Radha Giridhari wearing dried fruit garlands and fresh fruit garlands as well as flower garlands offer to Them

various prayers offered during the bathing by Jaya Tirtha Charan dasa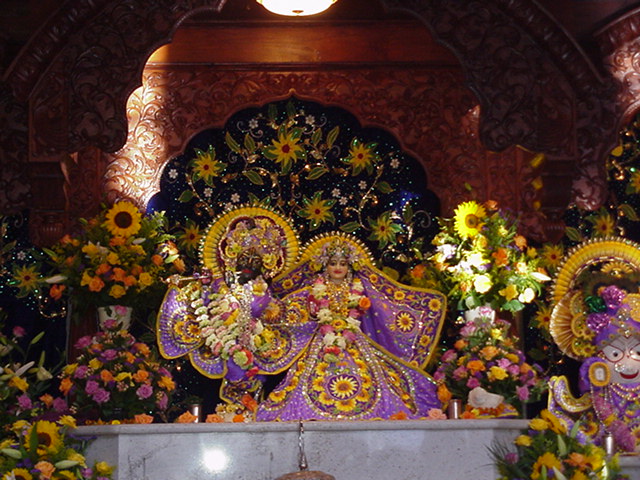 after the bathing and prayascitt homan the first darshan arati at 16:00 hrs stunned everyone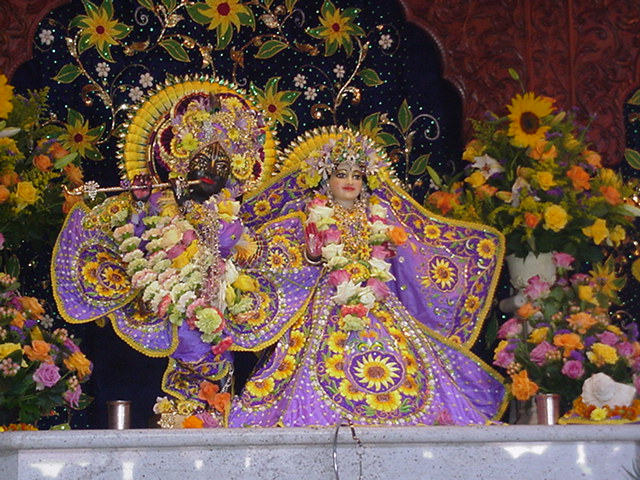 Sri Sri Radha Giridhari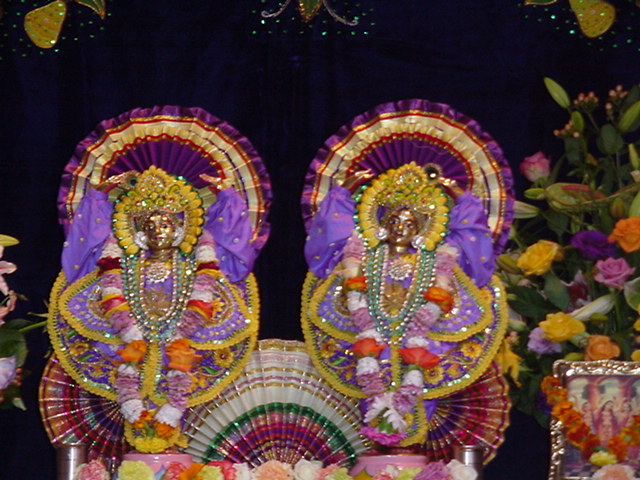 Sri Sri Gaura Nitai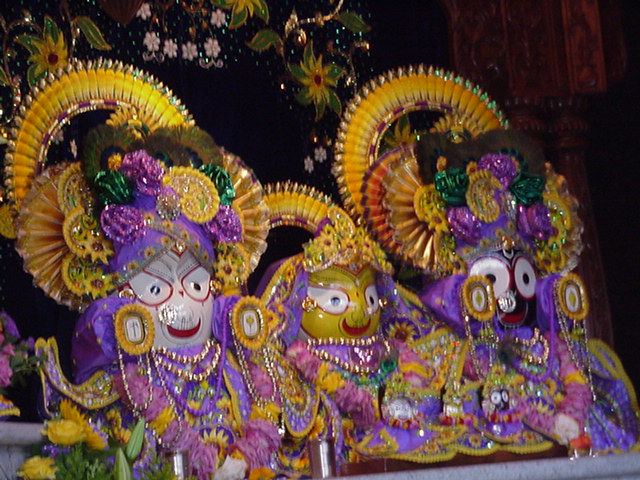 Sri Sriyuts Jagannath (right), Baladev (left), and Srimati Subhadra Devi (protected in the middle)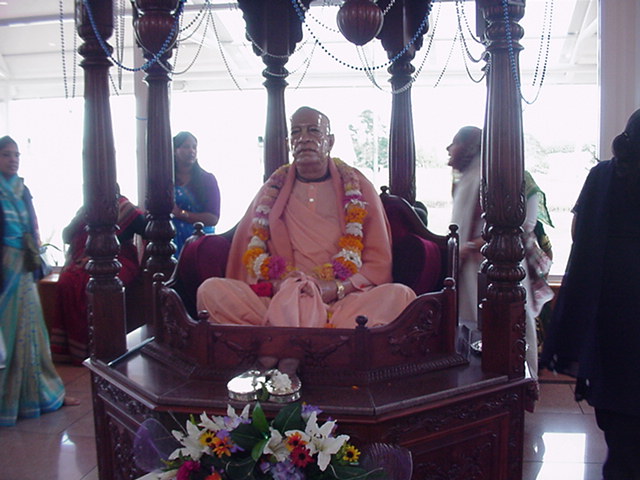 Srila Prabhupad on his nice new Vyasa-asana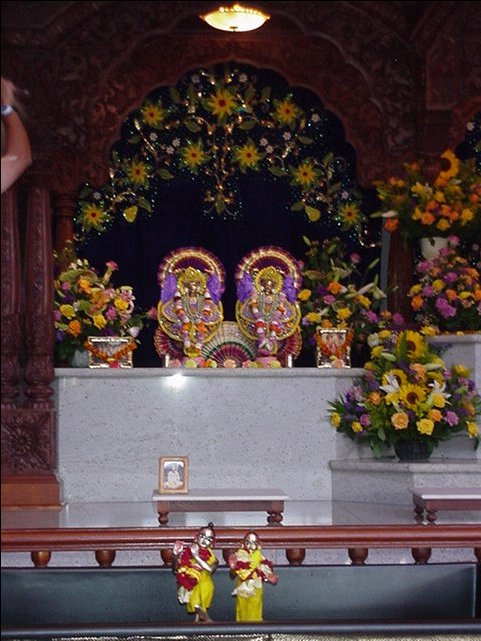 The utsav Deities of Radha Giridhari come forward to receive 1008 Kalash seva by donors in the evening time.