Date: January 3, 2005 | Contact: Paul Turner | Phone: (+1) 301 987-5883
Over $15,000 Collected from Web Site Alone
I would like to again thank all our friends for the overwhelming support we are receiving for our relief efforts. As promised, Food for Life Global wired $7000 on Monday directly to our FFL team in Sri Lanka. On Wednesay we will be wiring another $5000 to the FFL teams in Chennai and even more to Sri Lanka as checks come in. The reason for the delay is because it is taking some time for the money to move from Paypal to our bank account. In any case, we are saving hundreds of dollars in wire fees by sending in bulk like this, plus Food for Life Global can make sure that funds are distributed evenly among the teams according to need.
New FFL Team
Over the last few days I have been in touch with our FFL representative in Malaysia, Simheswara Das. He informed me that his FFL team has been providing meals to needy people in Penang. However, the government recently relocated all the victims and things seem to be back to normal.
FFL representative in Jakarta Indonesia, Gaura Mandala Bhumi, told FFL Global that Aceh is 2000 km away and apparently, "it is very difficult to get anywhere near the disaster area," he says. "The Indonesian government has been fighting a war against separatist rebels for years. Flights into Aceh are all full and supplies are piled up in airports all over the country. They are still reopening the roads. As a result, FFL could only send some clothing."
Simheswara Das informed me that he just read news that Thailand has been affected even more. Floods hit a nearby town to Phuket.
On January 5, he plans to visit Phuket and assess firsthand what the needs are and what we may require to set up Food for Life operations. If everything goes well, he has a team of 6 volunteers ready for action. Food for Life Global has at least $2000 USD ready for them if they go into action.
Volunteers are Lining Up!
We continue to get phone calls and emails from people all over the US wanting to volunteer their time at our FFL Relief Centers. We have set up a Volunteer Page on the FFL web site that offers guidance in this regard. I would like to make it clear, however, that direct volunteering at our operations is not easy. The disaster areas are still very chaotic and so too are the airports, if you can get a flight!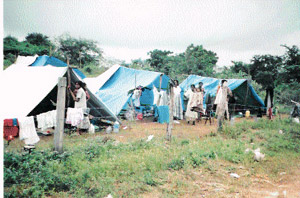 FFL director in Sri Lanka, Mahakarta Das, informs us that his team is cooking enough food for 10,000 people at his base camp and then distributing it to numerous refugee camps throughout the area. "All the homes have been shattered and so people are literally living under trees, in tents, at schools, or churches," he says. There are over 200 refugee camps where there are more than 1000 to 2500 refugees in each camp. Volunteers are desperately needed to help FFL in cutting vegetables, cooking, washing pots and also serving meals. If enough volunteers come, a medical unit will also be set up. Living conditions are very limited and austere, but if the volunteers are prepared to accept this kind of situation to do service, they are more than welcome."

The Food for Life base camp is situated at:
Sri Sri Radha Krishna Temple (ISKCON)
188, New Chetty Street,
Colombo 13
Sri Lanka
email: iskcon@slt.lk
phone: +94 11 2433325
fax:+94 11 2471099
We ask that all volunteers inform Food for Life Global of their intentions before going. All volunteers will be picked up from the airport. Please call ahead with flight details.
Food & Kind Donations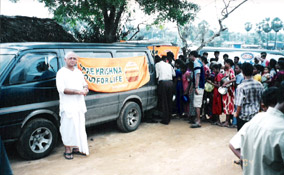 Many people are contacting FFL Global wanting to know how they can send food over. Believe it or not, it is not a good idea. In Colombo, Sri Lanka, rice, dal, and water is in plenty. The challenge has always been getting food cooked. And that is why the Food for Life program is so unique. Most other relief relief agencies are supplying dry food rations and no one has the facility to cook them or it is simply not to their liking.
FFL Sri Lanka informed FFL Global that they have bought new cooking utensils and gas cookers, but that they will need more in the future as the program inevitibely expands. We also learned that they are hiring vehicles for the distribution because they cannot affort to buy their own.
Mahakarta Das, said that if we provide equipment and/or materials from abroad, we will be spending many more times the value of these products which are available cheaper here. He asks that we send money, and that he assures us it will be used properly to cook and distribute food and aid to the needy.
Volunteering Offshore
Food for Life is encouraging people to give their time in their local area to help raise awareness of FFL's activities and thus raise much needed money. The relief efforts we are undertaking will continue for at least one year -- and that means money is crucial. There are an estimated 5 million people displaced and about 2 million of them are without food. Someone has to feed these people every single day and that takes a lot of money. Many students have emailed to ask if they can organize a fundraising drive at their campus. The answer is a resounding "Yes." Please help in whatever way you can, whether it is selling t-shirts, approaching your local businesses, or writing an article. We just ask that you keep Food for Life Global informed of all your activities.
New Poster - Please Distribute
Today I created a new poster that volunteers can print and post around their city. You can also print this flyer and place it in vegetarian restaurants or hand them out at your church or shopping center.
For the webmasters among you, we humbly ask that you place one of these banners on your web site with a link to our home page (www.ffl.org).
Vegetarians and Vegans Rally Behind Food for Life
One positive thing that has come from this disaster is the increased awareness of Food for Life's activities. Many vegetarians and vegans were simply not aware that such a thoughtful relief agency existed. A charity that respects life, and although very much "grass-roots", is the largest relief agency of its kind in the world!
Marc Delaney of the Salem Vegan Society in Salem, Massachusetts, USA, was so inspired he featured Food for Life in his monthly editorial.
The International Vegetarian Union (IVU) has FFL boldy promoted on their home page. FFL was also the lead article in IVU's online Newsletter that goes out to thousands of vegetarians around the world. VegDining a popular online vegetarian restaurant guide is also highlighting FFL's Tsunami Relief. VegTravel.com a vegetarian-friendy travel agency has FFL as its lead story in its online newsletter that reaches 1200. Viva Veg a New York based vegan society, has FFL's banner on their home page and so do may others too many to name.
Experienced Hand Could be Joining FFL Teams
Indradyumna Swami (I. Swami) called me the other day and mentioned that he is interested in assisting the Food for Life team in Sri Lanka. For those not aware, I. Swami is famous for organizing massive food distribution programs in Poland at public festivals. Every year in August, over a three day period, more than 100,000 people are served hot vegetarian meals under his direction.
Our "Money Back" Guarantee
100% of all the donations Food for Life Global receives for the Tsunami Relief effort will be wired in bulk to our FFL teams in Sri Lanka, India and Thailand. Not one penny is being used for our administration. Our FFL teams then guarantee that 100% of these monies will be spent exclusively on relief services.
Where You Can Donate
JustGive and Network for Good, both of which are prominently displaying Food for Life on their hunger relief pages and of course at the FFL web site using PayPal. (Note: PayPal does extract a very small percentage of the money for transaction fees. Typically $3 for a $100 donation).
To wire funds to FFL Global here are the details:
Account: Food for Life Global
Account #: 3929475069
Routing #: 52001633
Bank Name: Bank of America
Bank Address: 10000 Falls Rd, Potomac, MD 20854-4103 USA
Thank you for your friendship.
On behalf of all the Food for Life volunteers, we hope this meets you all the in the best of health and happiness.
The Food for Life Global Friends Newsletter is distributed to more than 3,000 vegans and vegetarians worldwide.