George wearing a Harernaam chaddar
Date: Tue, 04 Dec 2001 06:01:36 -0000
From: BBC
Subject: Harrison fans unite in meditation
Harrison fans unite in meditation
http://newsvote.bbc.co.uk/hi/english/entertainment/music/newsid_1690000/1690843.stm
Fans mourn their friend, guru - guide - A picture Gallery
http://newsvote.bbc.co.uk/hi/english/entertainment/music/newsid_1685000/1685385.stm
George Harrison mourned around the world
http://newsvote.bbc.co.uk/hi/english/entertainment/music/newsid_1685000/1685135.stm
George's life in pictures
http://newsvote.bbc.co.uk/hi/english/entertainment/music/newsid_1430000/1430259.stm
LINKS WITH PICTURE OF DEVOTEES
Fans took part in a candlelit vigil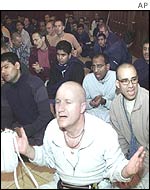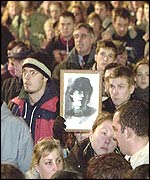 Fans, friends and the family of George Harrison have taken part in a minute's meditation in memory of the former Beatle. His family requested that people gathered at 1330 Pacific Standard Time (2130GMT) to observe the silence.
George Harrison, a true son of Liverpool, whose music reached out to the whole world and shaped a generation

Liverpool's Lord Mayor Gerry Scott It had been thought that Harrison's family intended to scatter his ashes in the sacred River Ganges in India following a private ceremony.
But it is unclear whether or not this has yet taken place.
Liverpool and London provided centres for fans in the UK to pay their respects, with vigils held outside St George's Hall and outside Abbey Road recording studios on Monday.
At Central Park's Strawberry Fields in New York, more than 200 people gathered to take part in the meditation and afterwards sang songs.
One participant said: "The world is emptier without him. It is a big loss."
Inspiration
Three hours earlier, fans in Liverpool had clapped along to Harrison's hit My Sweet Lord after observing their own minute's silence.
Hare Krishna devotees said a prayer of meditation

Liverpool Lord Mayor Gerry Scott told the crowd: "Tonight we are gathered here in memory of George Harrison, a true son of Liverpool, whose music reached out to the whole world and shaped a generation.
"George was a truly gifted musician. But he was much more than that.
"His ideals and his love of peace inspired countless thousands.
"His loss will be deeply felt but his vision will live on."
'Private ceremony'
Meanwhile it is uncertain what private ceremony may have taken place following Harrison's cremation.
According to the tenets of Hare Krishna, the Hindu sect to which the former Beatle adhered, the movement of the ashes in the river is symbolic of the soul's journey towards eternal consciousness.
But a Hare Krishna official in India told Reuters news agency that the ashes had not arrived by aircraft as expected.
Prasann Atmas Das, head of the Hare Krishna sect in Varanasi, said: "We were waiting to perform the necessary rituals.
"But now nobody has come."
Harrison's widow, Olivia and son, Dhani, wished to make the visit to India and the ceremony, at the holy city of Varanasi very private, Mahamantra Das, New Delhi spokesman for the International Society of Krishna Consciousnes had earlier said.
Hare Krishna members around the world had been praying for the musician's soul, he said.
A minute's silence was observed in Liverpool

In a statement, family friend Gavin de Becker, said Olivia and Dhani were "deeply touched by the outpouring of love and compassion from people around the world".
"The profound beauty of the moment of George's passing - of his awakening from this dream - was no surprise to those of us who knew how he longed to be with God.
"In that pursuit, he was relentless.
Pupils from Harrison's old school have planted a tree in the city's peace garden.
Children from Dovedale Junior School, along with Lord Mayor of Liverpool Gerry Scott planted it behind St George's Hall.
A memorial in Liverpool is to be planned for a later date to be agreed with the musician's family.
---

with neckbeads showing


Date: Tue, 04 Dec 2001 01:47:47 -0000
From: SHYAMASUNDAR
Subject: Harrison-Very Advanced Devotee


Memories Of George Harrison

BY SHYAMASUNDAR DASA

EDITORIAL, Dec 4 (VNN) — The following memories of George Harrison by Shyamasundar dasa were recorded in Vrndavana, India in November of 1999. They were part of Shyamasundar's memories of Srila Prabhupada who obviously had a great influence on George's life:

Prabhupada treated George like an old, old, friend. (Tears up) I spent some time with George this summer. I'm talking 1999, now. And George has reached a very high level of spiritual development, I am happy to say. He chants Hare Krishna every day. And he is totally serene and he has accepted life as it is. He has actually achieved a much higher level of self-realization that I can ever hope to achieve. He is peaceful and serene to a degree that is rare in a person, and at such a young age. Same age as I am. Prabhupada benefited him so much. I mean, he knew the buttons to push and not to push because of their natural hesitancy to have anything public to do with Prabhupada because they would see us then as just going after their money or their fame and not giving them the real thing. So I tried and Prabhupada, by his example, showed me the way to treat them is like this; Always just keep giving them stuff. Never ask them for anything.

Although one time, Prabhupada did call me into his room and said, You know we only have one book. We have Bhagavad-gita, that's it. And maybe there was Nectar of Devotion. He said, Krishna Book has been finished for some time and I got news today that it is ready for publication. How can we publish? We need this book. He said, I want you to go and ask George for the money for this book. So, then I said, Aww, no, Prabhupada. You know the reason that we are this far with George, and he has helped us so much to date is that I've never asked him for anything. I always wait until he offers. And Prabhupada says, Yes, but we really need this. And I go, Well, how much is it? He said, Nineteen thousand dollars. In those days that was like saying a hundred thousand dollars. Whew. So I said, I don't really think it is a good idea, Prabhupada. And he said, Yes, yes it is. You'll see. Krishna will help you. Watch this. So the next day we had made arrangements to go look at marble. George had said that he would donate a new slab of marble for the altar.

To help us select this marble, he had called on his friend, David Wynn, who is the sculptor laureate of England, a very famous sculptor who had designed the coinage and who had done the famous busts of Queen Elizabeth and the Beatles, too. And so we went with David Wynn to the marble yards and afterwards we went to David Wynn's house for dinner. And all this time I was trying to screw up my courage.

Because I had one mission that day, How am I going to ask George for this money? Here he has given us this three or four thousand pound slab of marble. How can I ask him for something more on top of that today? So we had dinner and we were all finished eating and it was getting late at night, it was dark. And it was a long ways from where I had to go in London. And George had to go all the way out someplace in the suburbs. So, finally I just did it. I said, George . . . (I made Prabhupada the bad guy.) Srila Prabhupada asked me to ask you if you would donate money to print Krishna Book. And I explained what Krishna Book was. And his face just got increasingly got grimmer and grimmer.

And I could see this whole thing passing through his face thinking,
Oh man, they are just another one of these groups. Here it comes.

Then the room went quiet for a moment while he thought about it and fixed me with this really belligerent stare. And suddenly all the lights in the house went out! And BWAM! This bolt of lighting hit the house. True story. The whole house shook. The sound and the light were simultaneous. (Laughs) And we sat in silence for some minutes after that, stunned. The lights came back on and I looked over at George and he had this huge grin on his face and he said, Well, how much is it then? (Laughs) And I told him and he said, Well, what can I do after that? (Laughs) And he came the next day and talked to Prabhupada about it.

YS

Siddhanta dasa
---

Date: Tue, 04 Dec 2001 05:17:48 -0000
From: Ambarish Ford
Subject: Ambarish Ford(Motorcars) Remembers George

Great Humility
by Ambarisa dasa
I met George Harrison only once. We went through the F.A.T.E. museum in L.A, then sat on the floor eating samosas. I remember thinking, here is such a famous man, eating on the floor with great humility. I was originally attracted to Krishna Consciousness through the Radha Krishna album, which I had purchased from my college record store. I was attracted by the picture of the deities, but I bought the album because it said "Produced by George Harrison." I am sure there are many stories like mine. Sriman George was a humble and blessed instrument of Srila Prabhupada, and his passing is a great loss for the world.


---

......a priest at the Ganges river


Date: Tue, 04 Dec 2001 05:35:58 -0000
From: Reuters
Subject: Mystery surrounds Harrison's last rites in India

Mystery surrounds Harrison's last rites in India
Reuters Varanasi, December 4

Mystery surrounded the last rites of Beatles' guitarist George Harrison on Tuesday after a Hare Krishna official said he had been wrong to say the musician's ashes were to be immersed in the holy Ganges river in India (now the media all know...becomes a spectacle with their irreverence).

Diplomatically said.
"Apparently, I had been misinformed by someone in Delhi," Arajit Das told reporters. No further details were immediately available.

Officials in the northern state of Uttar Pradesh said on Monday that the ritual may already have taken place quietly and that authorities had not been informed.

Harrison, 58, who died last week in Los Angeles after battling cancer, was a long-time devotee of the Hare Krishna movement, a Hindu sect.

He was cremated in a cardboard coffin hours after his death, in keeping with his Eastern faith. The ritual of immersing the ashes is symbolic of the soul's journey towards eternal consciousness.

Das had told Reuters the musician's widow, Olivia, and son, Dhani, were to immerse Harrison's ashes in the Ganges at dawn on Tuesday in the bustling northern town of Varanasi, one of the holiest Hindu places and a popular site for cremations.

"NO SUCH PROGRAMME"

Das had said the family would then make the 130 km (80 miles) journey to the town of Allahabad to immerse his ashes in the Sangam, a holy confluence where the Ganges meets the Yamuna river.

Hare Krishna's representative in Allahabad was as much in the dark as most others on the immersion of the ashes.

"As fas as we are concerned, there is no such programme so far," Suvikrya Das told Reuters.

Hare Krishna officials in Varanasi said they were puzzled by the sequence of events.

"Our office in Delhi informed us the ashes would be arriving by a special aircraft this morning. We were waiting to perform the necessary rituals. But now nobody has come," Prasann Atma Das, head of the Hare Krishna sect in Varanasi, told Reuters.

Photographers and reporters thronged the tourist town of Varanasi on Monday, hoping to catch a glimpse of what had been planned as a private ceremony.

Varanasi has at least 80 "ghats" -- platforms or steps by the river to help the devout take dips aimed at cleansing sins, make sacred offerings or cremate bodies and immerse the ashes.

Relatives normally sprinkle ashes on the river's surface before lowering the urn gently into the water.

Harrison, who believed in reincarnation, was a member of the International Society for Krishna Consciousness, popularly known as the Hare Krishna movement.

He spent his last moments chanting "Hare Krishna" with his family next to him and pictures of the Hindu gods Rama and Krishna near his bed, British newspapers said.