Thames & Coromandal
For those of you living in the Coromandal, Hauraki, East Waikato, Paeroa, Thames regions, we have some devotees in this area too.
---
---
The following Article was taken from the Hauraki Herald, Tuesday May 4th 1999 - page 19.
---
Country Life
Family life is everything to Allans
by Marilyn Malloy
PURIRI. In the card game of life the Allans seem to have won "Happy Families" hands down.
Their Puriri home is over-flowing with six children - Nitchy, Shana, bhadra, Rani, Shori and Devy and committed parents Saila (Robyn) and Giri (Rod). The children range in age from 22 years to their only son Devy who is five. Saila explains that she and Rod like to use their spiritual names and the childrens's names have been shortened to make it easier for family and friends.
They believe in Hare Krishna philosophies and living by the virtues of life including honesty, trust, forgiveness, tolerance and love.
The Allans worked fulltime for 15 years at the Hare Krishna temple at Riverhead. Saila says they gradually pulled away and as their family grew their religion became less fanatical and more practical. They still blend the basic Hare Krishna philosophies like worshipping mother earth and caring for her future generations and they still remember special festival days.
The older children spent their first few years at the Hare Krishna school until nine years ago when they started home schooling.
Saila says moving to their Neavesville Rd farm two years ago saw a real deepinging of their relationships. Everyone helps on the farm and they believe that the children learn infinitely more by doing things.
The family will have a day working together in their huge vegetable garden and when it's time to harvest the apples or chestnuts they're all there to help. Working together in the family cottage industry - making soaps, incense and blending perfumes is another shared learning experience for them all.
Learning to budget pocket money so they have enough for their own committments, like covers for their horses, teaches responsibility and other important life skills and they make time for the three Rs - reading, writing and arithmetic.
"Encouraging self motivation and self interest is the basis of the home schooling philosophy.
"Rani wanted to learn about Shakespeare and now she quotesall the pieces, complete quotes, she's amazing."
Networking with other home school families, friends and their community is also very important to the family. Saila is musical director of the Thames Youth Choir plus the children have outside interests with part-time work and further studies. Nitchy and Shana belong to the Puriri Volunteer Fire Brigade - they're nick-named "Arthur's Angels" by officer-in-charge Arthur Lundberg.
Family life is everything to Saila and Giri but in a house of eight people getting time to connect is difficult so each week they go somewhere for time-out. "
(The original picture that accompanied it was unavailable)
---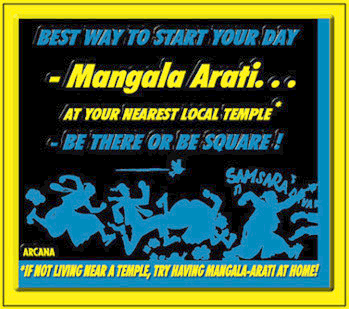 Hare Krishna Hare Krishna Krishna Krishna Hare Hare
Hare Rama Hare Rama Rama Rama Hare Hare
---
Download a FREE Eggless Cake Cookbook HERE:
---
Spiritual Sky Incense, Oils and Soaps, etc. HERE.