Kanha Goseva Ashram

At: Bhalugudia (Near Central Cattle Farm)
P.O.-Basantpur, Via- C.A. Chiplima, Dist. Sambalpur Odisha (Orrisa) - 768025 - Bharat (India)

Mob: 0091 9439896634, 0091 9937722910.
emailto:kanhagosevaashram@gmail.com

donations to - khireswarpradhan2@gmail.com

Adopt a Helpless cattle in our Goseva Ashram

One Helpless cattle per day expense cost is minimum INR.30/- monthly INR.900/- and yearly INR.10,800/- only
so kindly sponsor for one, or more than one Helpless cattle of our Goseva Ashram in your name.
your support save a Helpless Cattle life.

A Charitable Trust for Gomata

or by Bank deposit HERE

Bank Account of KANHA GO SEVA ASHRAM in State Bank India Branch. Bank details are:-

Account Name:-KANHA GO SEVA ASHRAM,
A/C No:-32413417677,
Bank Name:-STATE BANK OF INDIA,
IFSC Code:-SBIN0007749,
Branch Code:-007749,
MICR code:-768002016,
SWIFT Code:-SBININBB272,
A/c type:- Current, Branch Name:-MCL Complex,Burla-Sambalpur.

last updated 14th February 2015

---

"O Bharata, one who desires a son or a daughter, one who desires wealth, one who desires piety, one who desires knowledge
-all can get their desires fulfilled by the mercy of Mother cow." (Mahabharata, Anushasana parva 83.50-52)

"The bull is the emblem of the moral principal,and the cow is the representative of the earth." (Shrimad-Bhagavatam 1.16.18)

"Queen kunti prays;"let me therefore offer my respectful obeisances unto the Lord, who has become the son of Vasudeva, the pleasure of Devaki, the boy of Nanda and the other cowherd men of Vrindavana,and the enlivener of the cows and senses." (Shrimad-Bhagavatam 1.8.21)

"Mother cow is the personification of the motherly energy. The day when there will be no cows left in this world.it will be bereft of a mother and thus no other living entities will survive." (Mahabharata, Anushasana parva 145)

---
Realistic Cow Protection - each of us doing our bit: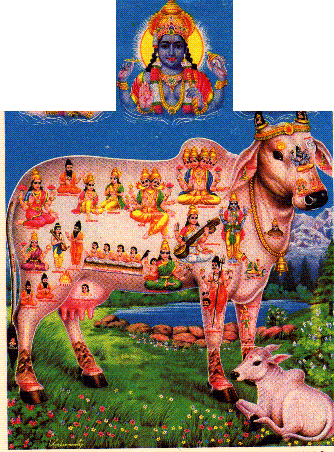 We are supposed to worship cows and feed them by "Go-grasa" everyday. If not atleast on this special day we are supposed to worship cows and feed them. But in this age, if we can think of poor cows and try to help them to have a peaceful life, that would be more than a worship. Let us all pray for the poor and disabled cows and try to help those who are trying to protect them.
It would be more meaningful if we can support and help those "go-samrakshana Kendras" trying to protect the cows from the butchers' hand. Shri KANHA GO-SEVA ASHRAM is one of such centers trying to save the poor and old cows and providing them a peaceful life. It needs a helping hand from each one of you. Taking care of cows is more difficult than taking care of human beings. The center does not get any income from the cows, but spends a lot daily to take care of them, to feed them and to provide amenities to cows.
Those who are interested in celebrating "Go-puja" day in more meaning way may please try to help the organization.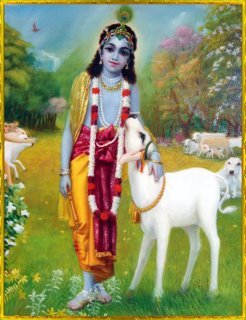 namo brahmanya-devaya
go-brahmana-hitaya ca
jagad-dhitaya krsnaya
govindaya namo namah
"My Lord Govinda, obeisances to You,, You are the well-wisher of the cows and the brahmanas, and You are the well-wisher of the entire human society and world."


Some photos of recent water well development for Gomata under L.U.C.K. (Leaving Under Consciousness of Krishna) charity system
Our own brand of ORGANIC PESTICIDES made by Cows Urine and Neem, and Tulsi Leaf.
Some picture after the monsoon rains - happy cows
Short Video of Happy Cows @ Kanha Goswva Ashram - October 2012
Click on the photo to see Video at You Tube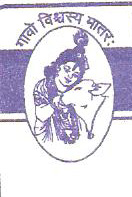 KANHA GO-SEVA ASHRAM "Odisha, Sambalpur, its our privilege and pleasure to introduce ourself to you. we the trustees of "KANHA GO-SEVA ASHRAM" and we are also active members of Vishwa Hindu Parishad , are serves the old and handicapped cows, which are already been settled in our ashram.
There are fifty(50) Indian breed of cattles in which 35 cows 10 bullocks and 5 calves have been serves & treated by us. These cattles were released from those persons who were wanted to killed them for the purpose of selling meat. But in the last "Hanuman jayanti" which was held in sambalpur.the members of Bajrangdal was released the innocent cows through district administration. They decided to submit those cattles to our Go-seva ashram.
We have decided, in future we serve up to more than 500 orphans & old cows.but at present we have no more funds to make the permanent cowshed, so we have temporarily resides them in a long thath..in this ground we need your all types of co-operation, if you help us then we can get a little support from you and fulfill the aims of our trust.
so it is our heartily request to you please contribute or arrange some financial help to the betterment of the trust.We believes your assistance and encouragement will enable us to serve and work actively in this religious service.
Thanking you with regards VANDE GOMATARAM
Khireswar pradhan (bulubhai)
Managing Trustee (secretary Bharatiya Go-vansh Rakshan sambardhan parishad.VHP Odisha paschim)
KANHA GO-SEVA ASHRAM.
Mob.+91 9937722910




WISH YOU A HAPPY AND PROSPEROUS ORIGINAL NEW YEAR, KALIYOUGABDHA-5114, BIKRAM SAMBAD-2069,
CHAITRA SUKLA PRATIPADA.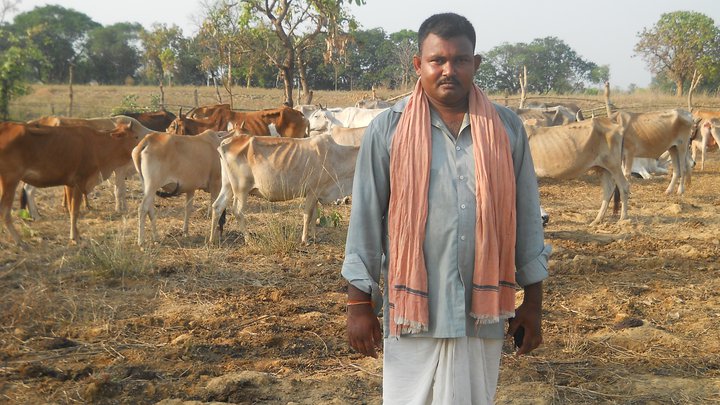 https://www.facebook.com/profile.php?id=100002927452016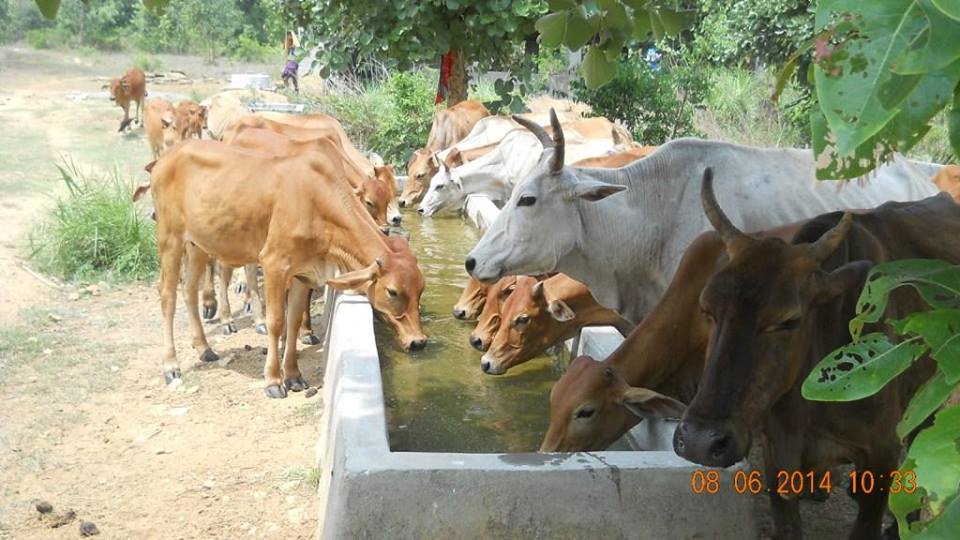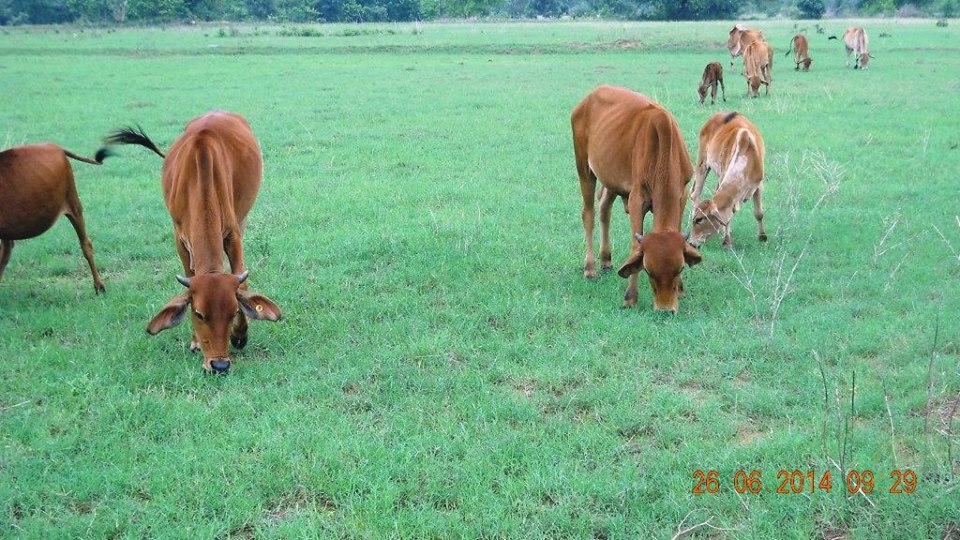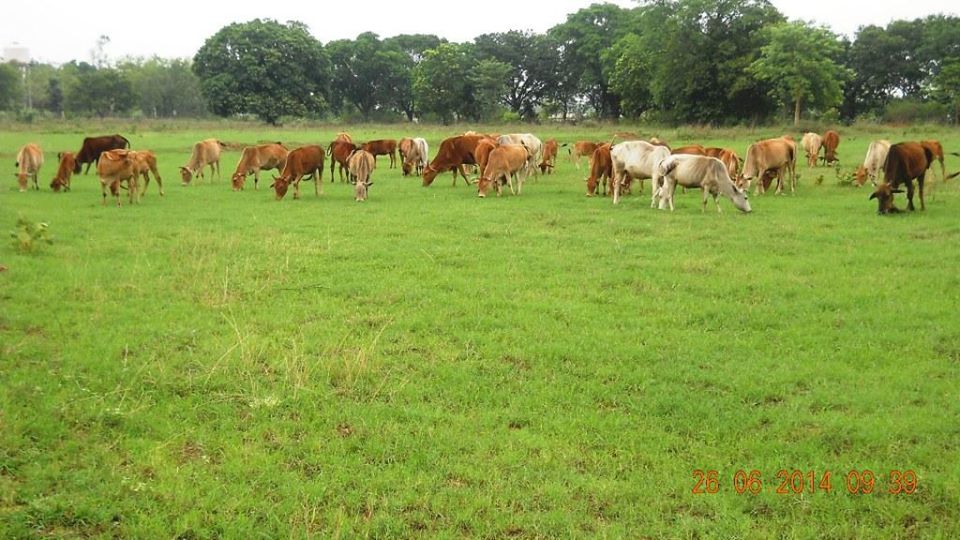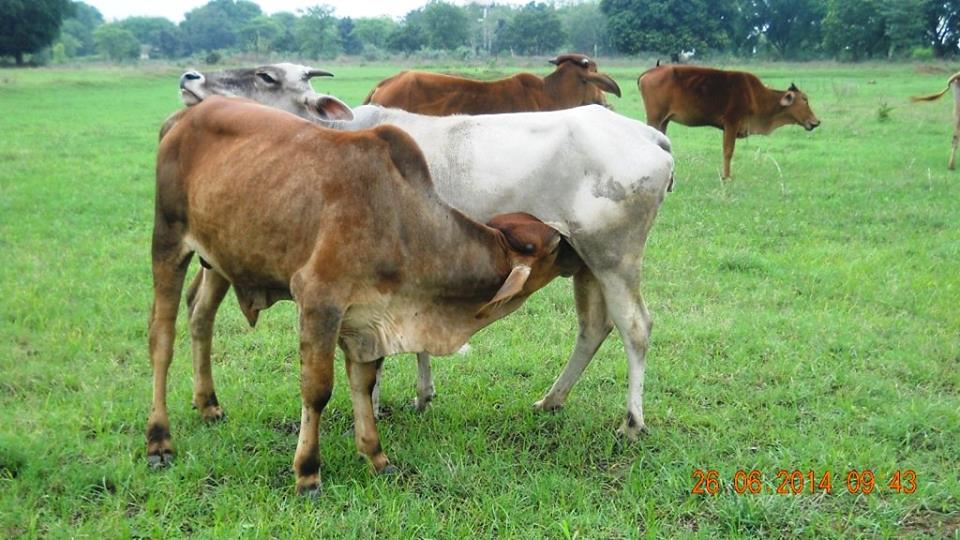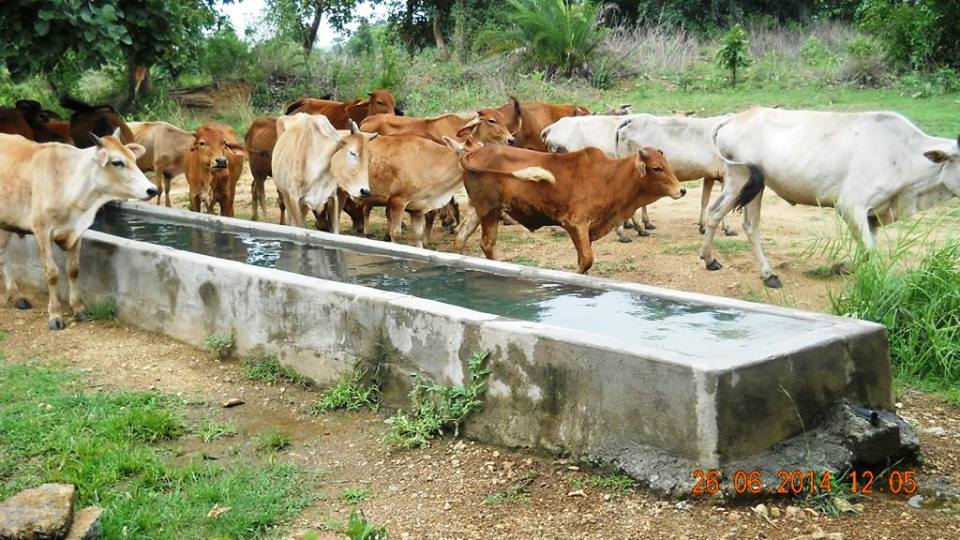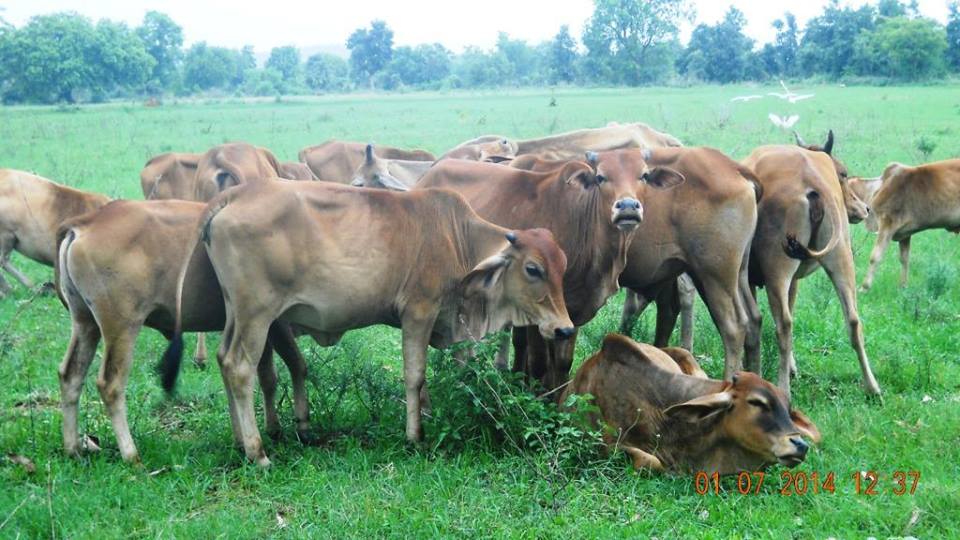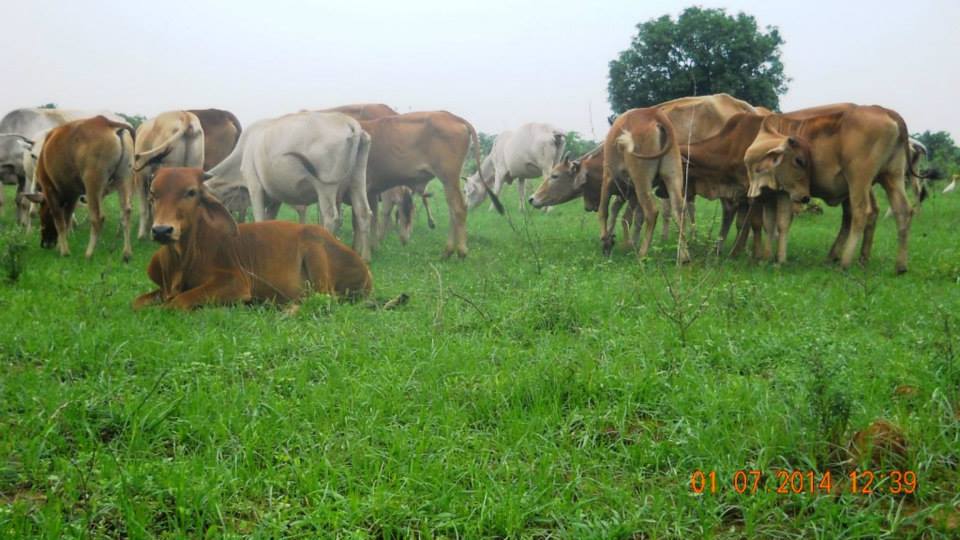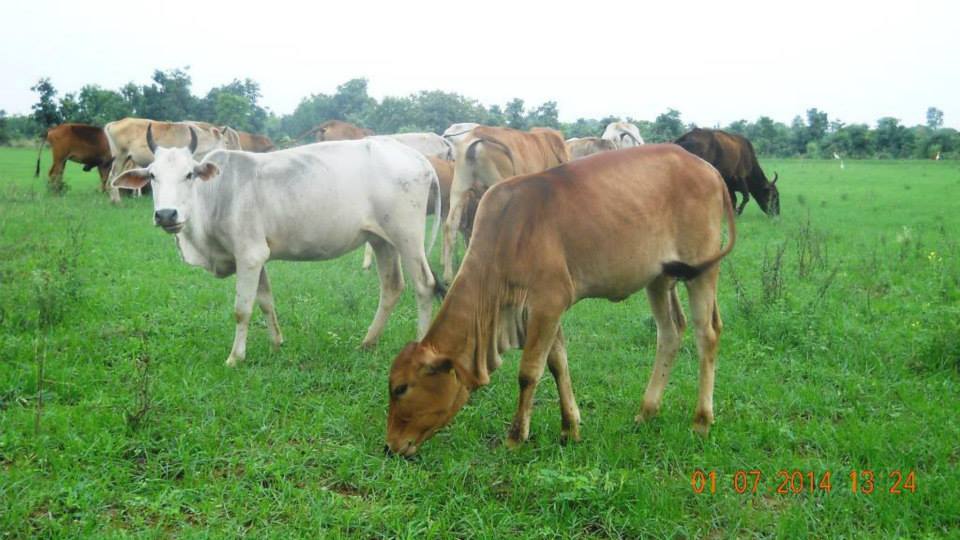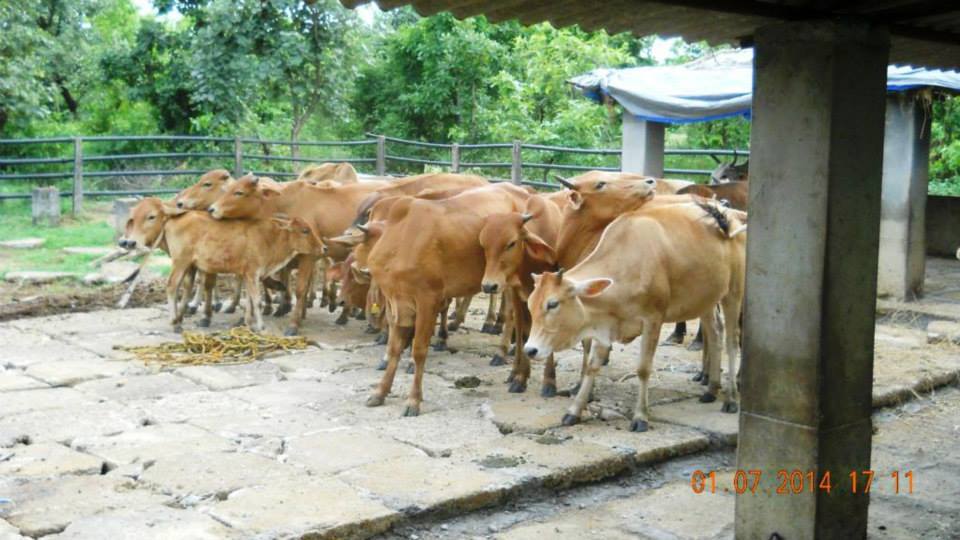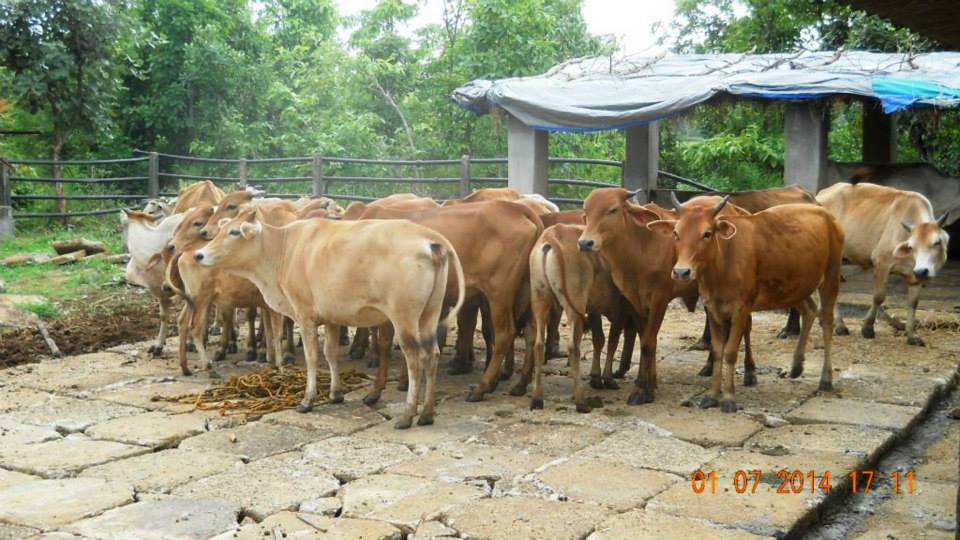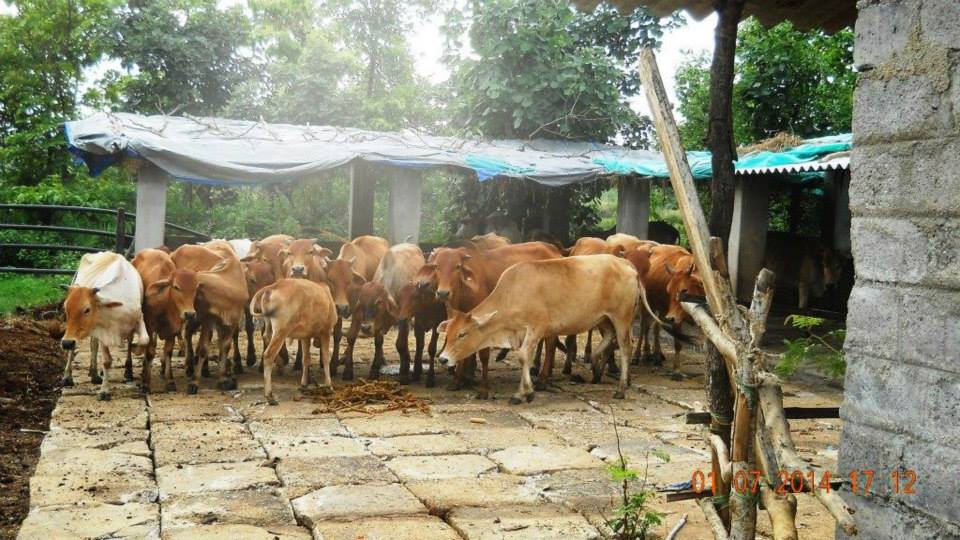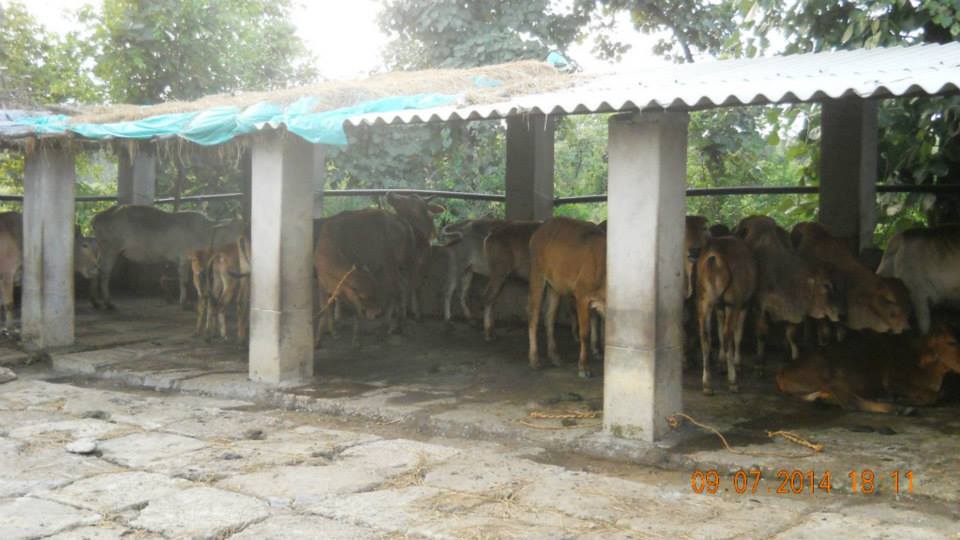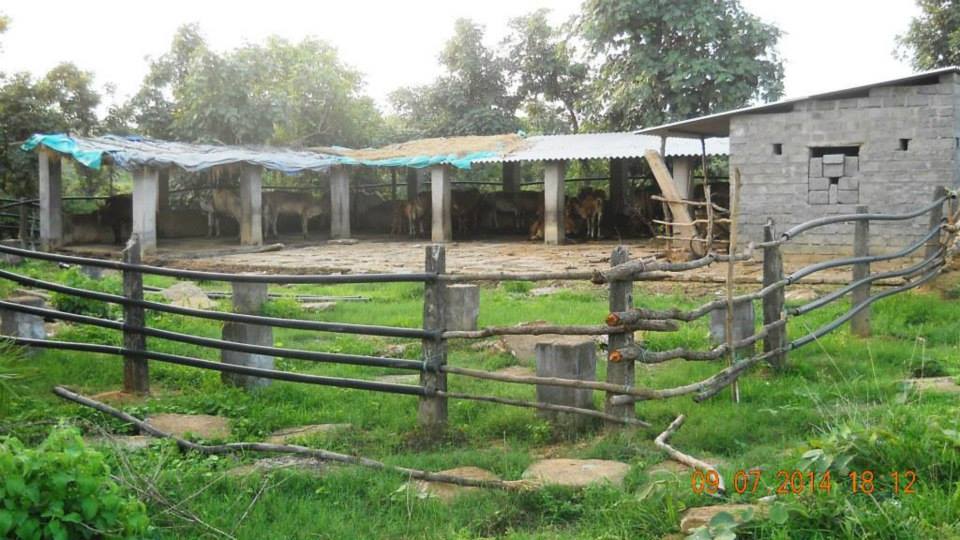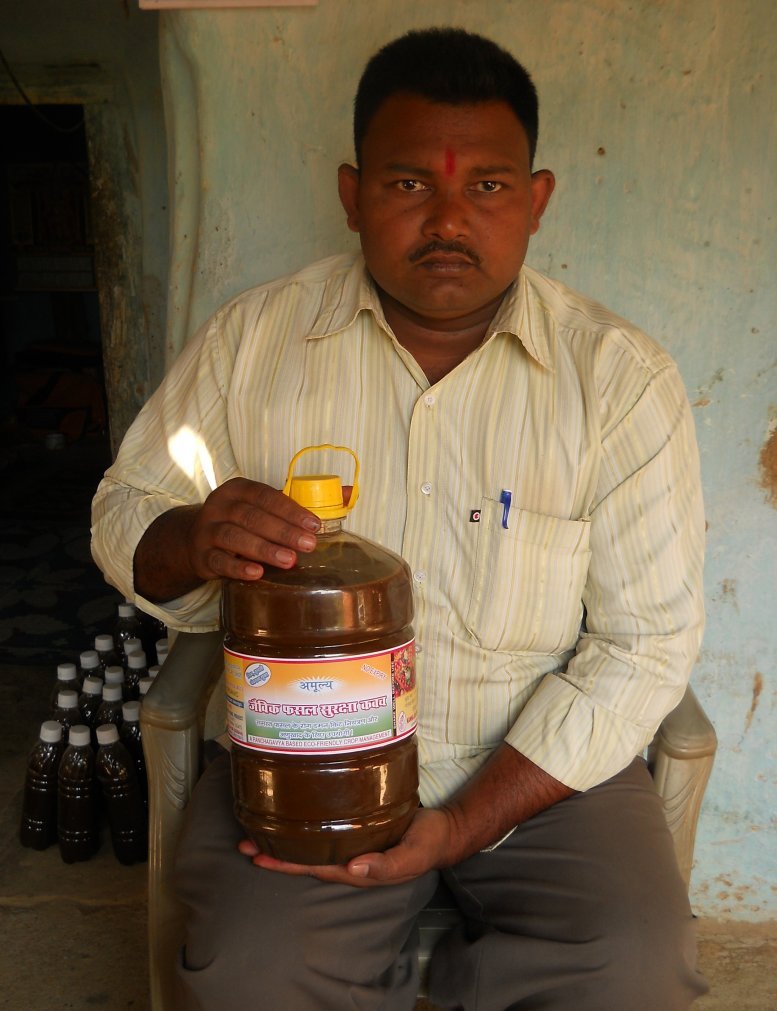 This photo is ORGANIC PESTICIDES made by Cows Urine and Neem, and Tulsi Leaf.
http://www.thesundayindian.com/en/story/Young-farmer-devises-organic-pesticide-in-Odisha/14/31583/#.T2TKe_KBhdQ.facebook

Young farmer devises organic pesticide in Odisha
AJIT NAYAK | Sambalpur (Odisha) , March 14, 2012 18:13
At a time when farmers are totally frustrated with the destruction of paddy due to attacks by pests and insects, the 'organic pesticide' created by a young farmer from Sambalpur has brought a new hope for other farmers to tackle the situation.
The young farmer Khiraswar Pradhan claims to have created the pesticide by using cow urine that will not only help to control growing pest and insect problems but also will also help in increasing the production.
Pradhan, who hails from a remote village of Bhalugudia under Burla police station of Sambalpur district, has informed that he has come out with this product following a series of tests and experiments over the past one year.
Pradhan has started selling the product in the name of 'Fasal Surakhya Kabach' at a price of Rs.100 per litre which he said is the 'cheapest' pesticide available in the market.
He created the product by mixing cow urine with various medicinal leaves including neem, Arakh and Banyan.
Pradhan also claimed that many farmers have already benefited by the product.
"I collect several medicinal leaves available in the locality and prepare organic pesticide by mixing cow urine with the collected leaves," Khireswar Pradhan said.
He said that the scientist of the Chipilima Agriculture College (CAC) Prakash Pradhan has already certified the product.
He however disclosed that desi-cow urine yields better result than the urine of hybrid cows. While describing his story, Khireswar informed that he was a marginal farmers till 2009. But in that year, RSS and Bajarang Dal workers seized several cows that were smuggled for slaughtering.
"They suggested me to keep these cows. Though I agreed I did not know what to do with such a huge numbers of cows. But I got an idea during one a training camp at Benares in the same year", Khireswar said.
According to him, he collected the urine of the cows every day and with the cow urine he prepared pesticide.
"This is not an easy job for me. I have faced many problems during last two years. But now I am happy with my product. I am thankful to various spiritual organizations and individual for their encouragement", Khireswar said.
On the other hand, farmers are happy to see positive result of the product. "It works better than other pesticides," said, Balaram Bhoi from from Chipilima.
---

New Well and Drinking trough:

The following photos are taken showing our new well and drinking station for Gomata which was donated by devotees from Dubai under L.U.C.K (Leaving Under Consciousness of Krishna) charity trust organized by Sriman Punit M.K. Vasu. So even in hot Orissan summer Gomata has plenty to drink.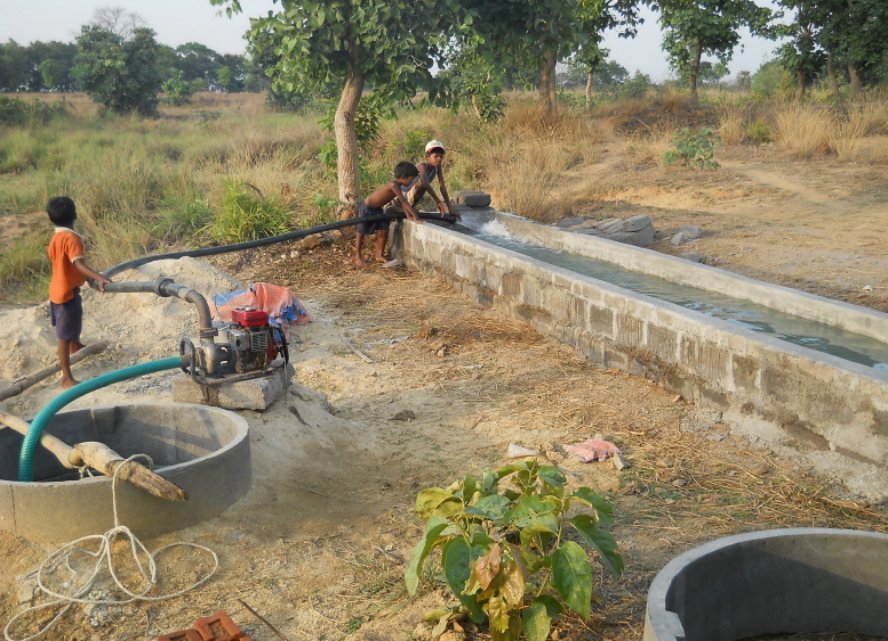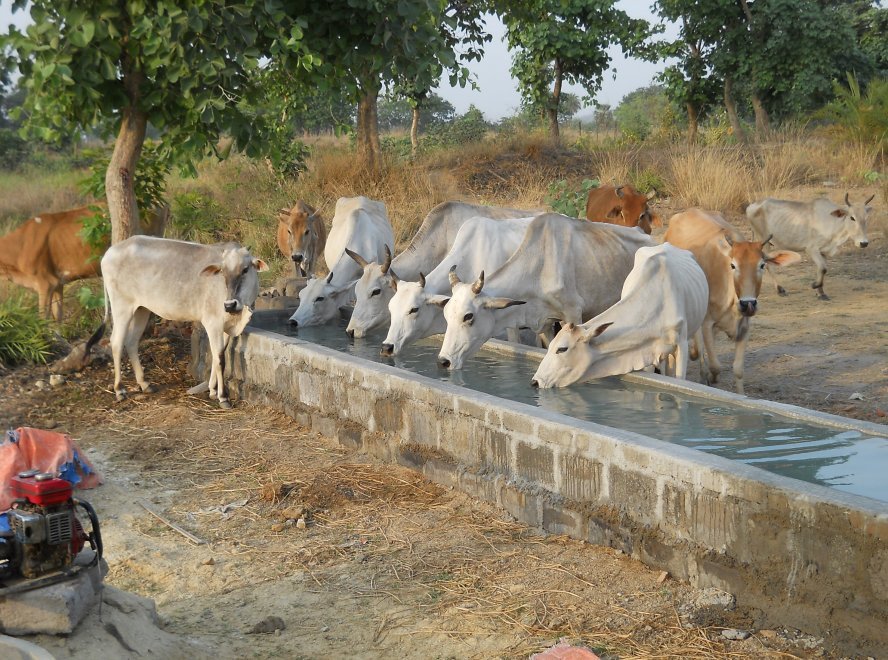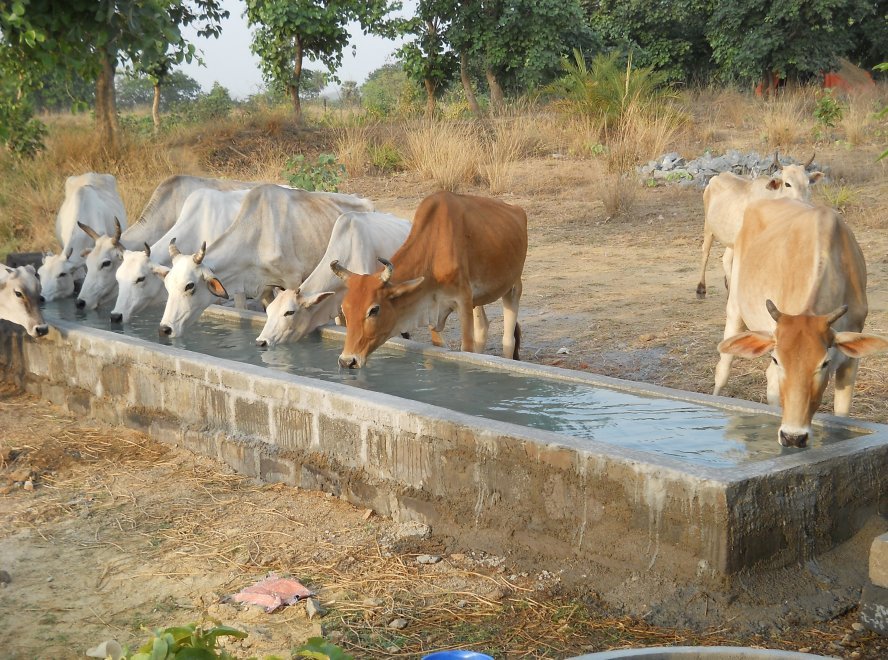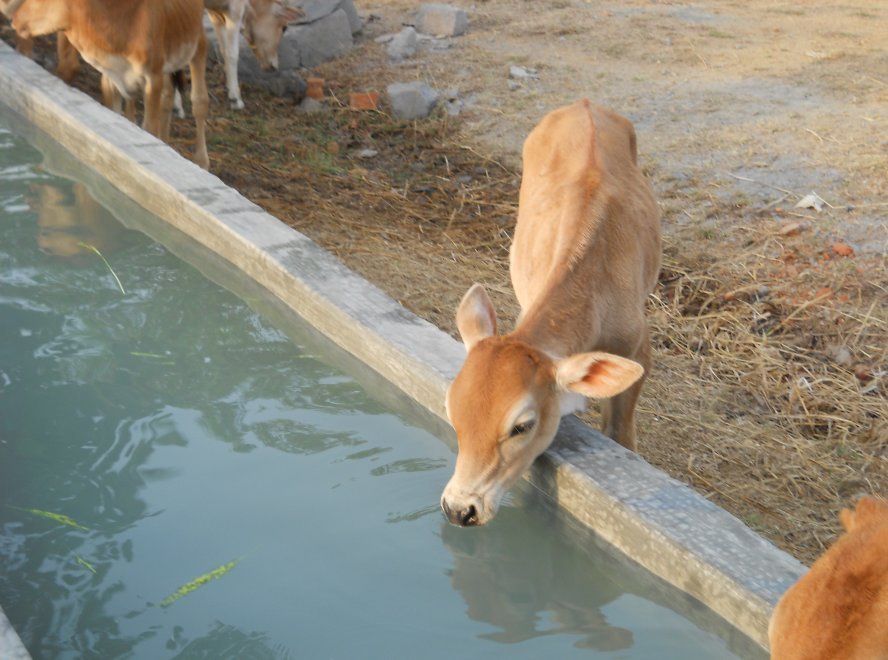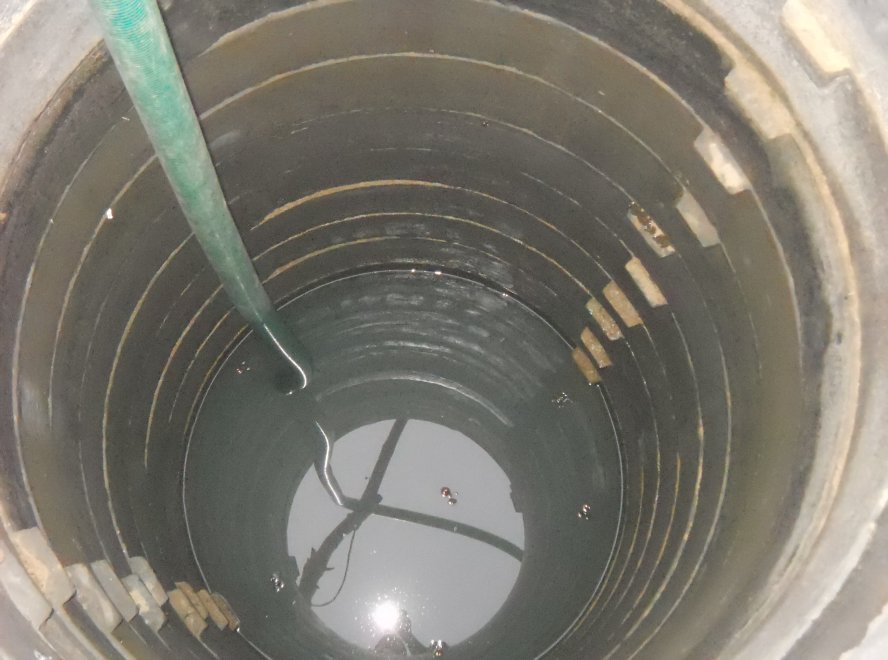 We have many many more plans for projects to complete
Lush green fresh grasses since the Monsoon rains have come
This is Today (14th July 2012) @ 2.30 P.M. Photo at the time Gomatas are eating Natural Green Grass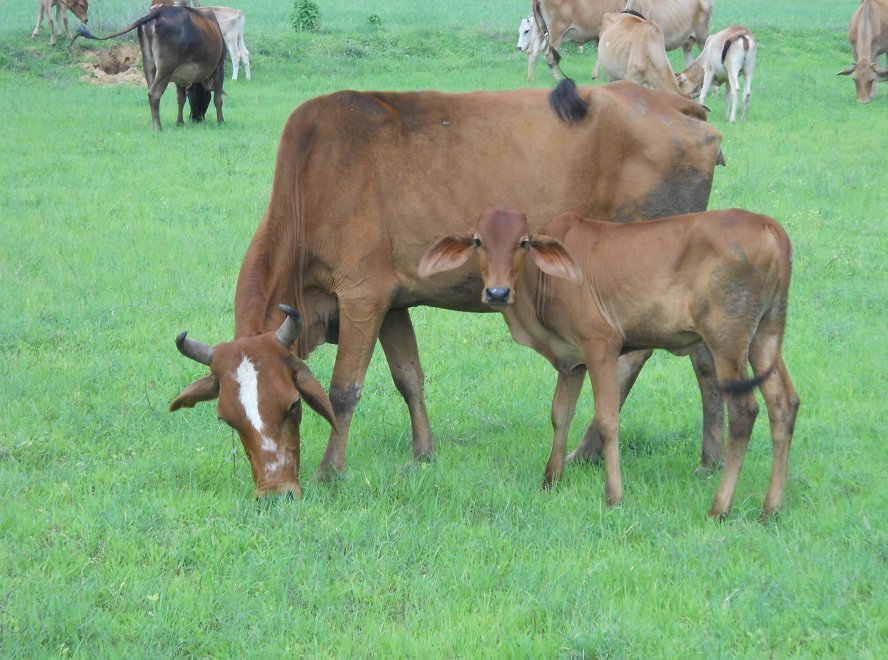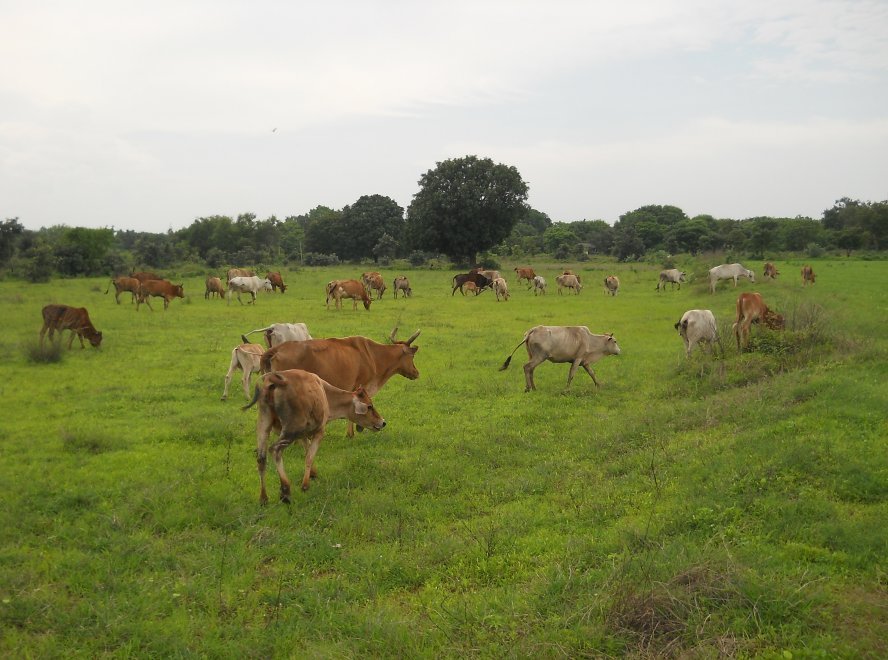 The next major project is a cow barn - shelter, for protection from sun and rain. Presently there is a temporary shelter but we need to replace it with something more sturdy.
Any help that you would like to offer to assist in providing that shelter will be gratefully received.

Bank Account of KANHA GO SEVA ASHRAM in State Bank India Branch. Bank details are:-
Account Name:-KANHA GO SEVA ASHRAM,
A/C No:-32413417677,
Bank Name:-STATE BANK OF INDIA,
IFSC Code:-SBIN0007749,
Branch Code:-007749,
MICR code:-768002016,
SWIFT Code:-SBININBB272,
A/c type:- Current, Branch Name:-MCL Complex,Burla-Sambalpur.
or alternatively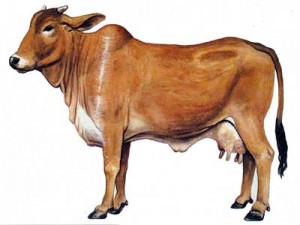 Adopt a Helpless cattle in our Goseva Ashram
One Helpless cattle per day expense cost is minimum INR.30/- monthly INR.900/- and yearly INR.10,800/- only
so kindly sponsor for one, or more than one Helpless cattle of our Goseva Ashram in your name.
your support save a Helpless Cattle life.