Sri Krishna Janmastami
Advent of Lord Sri Krishna
last updated 26th August 2005
---

To view these texts nicely you will need the Balaram FONT
---

Special Days for Remembering Kåñëa
..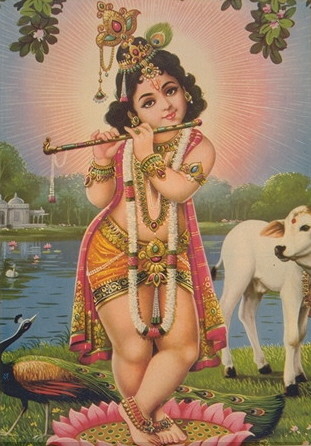 There are many statements about the festive days in connection with Kåñëaís different activities. One of these festive days is Janmäñöamé, the day of Kåñëaís birth. This Janmäñöamé day is the most opulent festival day for the devotees, and it is still observed with great pomp in every Hindu house in India. Sometimes even the devotees of other religious groups take advantage of this auspicious day and enjoy the performance of the ceremony of Janmäñöamé. Ecstatic love for Kåñëa is also aroused on the days of Ekädaçé, which are other festive days in connection with Kåñëa.(Nectar of Devotion)

---
Related Links:
Who is Sri Krishna?
Srila Rupa Goswami's Sri Janmastami Tithi:
Sripad Madhwacarya's Janmastami Tirthii: - Coming soon
Janmashtami abhisheka - Puranik version:
Advent of Lord Krishna - A.C. Bhaktivedanta Swami Prabhupada. Krsna Book:
Sweetest Description of Janmastami-lila from Ananda Vrindavan Champu by Srila Kavi Karnapura
THE APPEARANCE OF SRI KRISHNAFrom Kavi Karnapura's Ananda Vrindavana Campu, Second Chapter
Sri Gopala Campu Trtiyam Puranam
Krishna's Birthday Festival - Ananda Vrindavan Champu ch 8
The correct time of Lord Krishna's advent:
Pastimes of Lord Krishna and His brother Balaram:
The Full pastimes as presented in Krsna-book:
Sri Krishnachandrastakam by Srila Krishnadasa Kaviraja Goswami
Sri Krishna Janmastami Vrata:
Ekadasi Style Prasadam for Janmastami:
Nectar from Dik Darshini Tika of Hari Bhakti Vilas - Vaishnava Tantra on Janmastami:
Janmastami - Gokulastami (South India):
108 names of Sri Krishna for reciting in archana - mangal arati (depending where you come from):
Capturing some of the mood of Janmastami:
Nandotsav - the Jatakarma ceremony of Sri Krishna:
Concept of "Back to Godhead" magazine founded:
Visit Your Local Hare Krishna Temple

How to perform Personal Archana before the Deity for such events as Janmastami:
---


Back to the Vaishnava Calendar
---

top
Ekadasi Style Prasadam for Janmasthami and Gaura Purnima:

So we can understand from this there there are two separate instructions (i) for ekadasi (ii) for Gaura Purnima and Janmastami.

"So far the Advent Day of Lord Caitanya is concerned, I have written a full suggestion to Montreal, in which the main points are that we should all observe strict fasting up till moonrise, and at that time, an offering is made to Lord Caitanya of Ekadasi foods, fruits, peanuts, milk, and so forth. Then, on the next day, Friday the 15th, a full-scale feast is held to celebrate His Advent Day. On the 14th, chanting, reading of Srila Bhaktivinode's book, Life and Precepts and Caitanya Caritamrta, Introduction to Bhagavatam, may be held all the day in the Temple." (San Francisco, written 12th March 1968 letter to Balai)

"The injunction to fast on Ekädasi is especially meant for devotees; on Ekädasi there are no restrictions regarding food that may be offered to the Lord. Lord Sri Caitanya Mahäprabhu took the food of Lord Vishnu in His ecstasy as vishnu-tattva".(CC Adi-lila 10:71 purport.)

"Lord Caitanya's Appearance day falls on March 22 (1970), that is on a Sunday. The devotees should fast until evening, when there is a ceremony and offering of a small amount of Ekadasi preparations. The next day, the devotees should celebrate amongst themselves with a small scale feast. You may hold the celebration open to the public on the following Sunday. The preparation to be offered specially on this occasion is bhuni kichri: Fry equal parts dal and rice in ghee and massala. Add two times water as dal and rice, and add vegetables (if you use more ghee, use less water). Cook it until it is dried and the rice is soft."(Letter to Krishna dasa. 18th February 1970. Los Angeles.)

"P.S. No feasting in the evening of Caitanya's birthday. Fasting all day till evening moon rise. Then take Prasadam like Ekadasi. Next day you can have full swing feasting. On the birthday if can take a procession of Kirtana on the street it is very nice." (Post Script to Letter to Rayarama dasa. September. Unknown place unknown date Ref:91-05-14.)

"The Caitanya-bhägavata, Ädi-lilä, Chapter Six, fully describes the Lordís accepting vishnu-prasäda on the Ekädasi day at the house of Jagadisha and Hiranya. Regular prasäda is offered to Lord Vishnu on Ekädasi because, while fasting is recommended for devotees on Ekädasi, it is not recommended for Lord Vishnu. Once on Ekädasi in the house of Jagadisha and Hiranya Pandita there were arrangements for preparing special prasäda for Lord Vishnu, and Lord Caitanya Mahäprabhu asked His father to go there to ask for the vishnu-prasäda because He was feeling sick. The house of Jagadisha and Hiranya Pandita was situated about two miles from the house of Jagannätha Mishra. Therefore when Jagannätha Mishra, on the request of Shri Caitanya Mahäprabhu, came to ask Jagadisha and Hiranya for the prasäda, they were a little astonished. How could the boy understand that special prasäda was being prepared for Lord Vishnu? They immediately concluded that the boy Nimäi must have supernatural mystic power. Otherwise how could He understand that they were preparing special prasäda? Therefore they immediately sent the food to Lord Caitanya Mahäprabhu through His father, Jagannätha Mishra. Nimäi was feeling sick, but immediately after eating the vishnu-prasäda He was cured, and He also distributed the prasäda among His playmates." (CC Adi-lila 14:39. purport)

The special Lila-vichitra pastimes of the Lord which are EXTRAORDINARY and not to be imitated.

If I may pose a question "If the Supreme Personality of Godhead came to you on ekadasi and gave you grains to eat what would you do???"

I for one would eat them right there on the spot, directly from the Lord's hand. Despite everything else, knowing who we are to take shelter of, just like His playmates did. (unfortunately it appears I will have to wait some time to test this case)

Adjusting the program for preaching (feasting):
"You can take quotations from the above mentioned books, and have discussions.
Fasting should be continued up to evening, then you may have food like on Ekadasi, fruits, milk, etc. On the next day you may observe festival. Janardana consulted me and said he thinks Sunday feasting would be best, so you may do that if you like. Or you may do both days, as you feel best."(Letter to Mahapurush. 7th March 1968. Regarding Gaura Purnima)

"We performed Lord Caitanya's Birthday ceremony, not very gorgeously, but amongst ourselves, and Govinda dasi cooked very nice Ekadasi foodstuffs. The next day I expected some big ceremony but it couldn't be performed. (Letter to Purusottam. 6th March 1969. Hawaii)

"From the very beginning of His childhood life Shri Caitanya Mahäprabhu introduced the system of observing a fast on the Ekädasi day. In the Bhakti-sandarbha, by Shrila Jiva Gosvämi, there is a quotation from the Skanda Puräna admonishing that a person who eats grains on Ekädasi becomes a murderer of his mother, father, brother and spiritual master, and even if he is elevated to a Vaikuntha planet, he falls down. On Ekädasi, everything is cooked for Vishnu, including regular grains and dahi, but it is enjoined that a Vaishnava should not even take vishnu-prasäda on Ekädasi. It is said that a Vaishnava does not accept anything eatable that is not offered to Lord Vishnu, but on Ekädasi a Vaishnava should not touch even mahä-prasäda offered to Vishnu, although such prasäda may be kept for being eaten the next day. It is strictly forbidden for one to accept any kind of grain on Ekädasi, even if it is offered to Lord Vishnu." ( CC Adi-lia 15:19. purport.)

"Mother Saci said, ďYou have spoken very nicely. I shall not eat grains on Ekädasi.Ē From that day, she began to observe fasting on Ekädasi."(CC Adi-lila 15:10 text.)
PURPORT
"It is a prejudice amongst smärta-brähmanas that a widow must observe fasting on Ekädasi but a woman who has her husband should not. It appears that before the request of Lord Caitanya Sacimätä was not observing Ekädasi because of her being sa-dhava, which means that her husband was living. Shri Caitanya Mahäprabhu, however, introduced the system that a woman, even if not a widow, must observe the Ekädasi day and must not touch any kind of grains, even those offered to the Deity of Vishnu".(CC Adi-lia 15:10 purport.)

"Shri Caitanya Mahäprabhuís pastime of fainting after eating betel nuts is a solid instruction to all of us that one should not touch betel nuts, even those offered to Vishnu, just as one should not touch grains on the Ekädasi day. Of course, Lord Caitanya Mahäprabhuís fainting had a particular purpose. As the Supreme Personality of Godhead, He can do whatever He likes and eat whatever He wants, but we should not imitate His pastimes." (CC Adi-lia 15:16 purport.)

"Devotee: On ekädasi, we can offer the Deity grains?
Prabhupäda: Oh yes. But not guru. Ekädasi observed by jiva-tattva, not by Vishnu-tattva. We are fasting for clearing our material disease, but Rädhä-Krishna, Caitanya Mahäprabhu... Caitanya Mahäprabhu also may not be offered grains because He is playing the part of a devotee. Only Rädhä-Krishna, Jagannätha can be offered grains. Otherwise, Guru-Gauränga, no. And the prasädam should not be taken by anyone. It should be kept for next day." (Room Conversation. 22nd April 1972. Japan)

Prabhupäda: They are strictly following Vaishnava principles. They... Whenever one comes to become my disciple, the first condition is that no illicit sex; no meat-eating, eggs, fish, nothing of the sort; no intoxication up to smoking cigarette, drinking tea and coffee; and no gambling. So they strictly follow these things. In our society, there is no tea-drinking even. We donít drink tea. So... Intoxication, päna, chäi päna, päna... Päna is intoxication.
Guest: Tämbüla...
Prabhupäda: Tämbüla. Yatra päpas catur-vidhä.
Guest: (Sanskrit or Hindi: Krshna is offered tämbüla in the temple.)
Prabhupäda: No, Krishna can take.
Guest: Yes. And that prasäda of Bhagavän Shri Krishna...
Prabhupäda: Yes.
Guest: ...the devotees can take also...
Prabhupäda: No, prasädam, according to our principle... Just like on Ekädasi day, we do not accept even prasädam. Anna. We keep it. So prasädam... Just like on Ekädasi anna is prohibited, but not the Deity. Deityís offered anna, but we cannot take the prasädam even. So following strictly the principle, even tämbüla is offered to Krishna, it is not for us. Yes. Strictly following the principle. The same example... Just like on Ekädasi day, anna is offered to Krishna, but we donít take.
Guest: The devotees are not allowed.
Prabhupäda: Not allowed, yes.
Guest: Äcchä.
Prabhupäda: Äcchä.
Guest: Iím very grateful to have your darshana. Om namo näräyanäya.
Prabhupäda: Jaya. Hare Krishna. (end) (Room Conversation. 11th July 1973. London).

HIS DIVINE, EVER REVEALING, EVER LOVING GRACE SRILA PRABHUPAD KI JAYA!!!

---
Nectar from Hari Bhakti Vilas Tika Dikdarshini Tika
of Sanatan Goswami and Gopal Bhatta Goswami on Janmastami:
BHADRE BHAGAVATO JANMA DINE KARYO MAHOTSAVAH
VISESENA MAHA PUJAM VRATA PURNENA VAISNAVAIH
(HARI BHAKTI VILASA 15/246 from KALIKA PURANA Vyasadeva speaks)
One should perform a festival on the birthday of Lord Hari, which falls in Bhadrapada (August - September) month. It is the duty of all Vaisnavas to fast on these days and to do specific great worship of the Supreme Lord.
PRAHLADA ADAIS CA BHUPALAIH KRTA JANMASTAMI SUBHA
SRADDHAYA PARAYA VISNOH PRITAYE KRSNA VALLABHA
PRAJAPATY ARKSA SAMYUKTA SRAVANASYA ASITA ASTAMI
VARSE VARSE TU KARTAVYA TUSTY ARTHAM CAKRA-PANINAH
(HARI BHAKTI VILASA 15/267,268 from SKANDA PURANA)
Great kings such as Prahlada had fasted on the most dear of day of Lord Sri Krsna named Janmastami, the birthday of Lord Krsna, to develop intense love for Krsna. One should certainly fast on such an auspicious day of Lord Krsna's birth named Krsnastami every year to please Lord Sri Krsna Who holds a disk in His hand.
YE NA KURVANTI JANANTAH KRSNA JANMA ASTAMI VRATAM
TE BHAVANTI MAHA PRAJNA VYALA MAHATI KANANE
(HARI BHAKTI VILASA 15/275 from SKANDA PURANA)
Oh greatly intelligent, any person, even with knowledge of Krsna's birthday (Janmastami), who does not fast, he takes his next birth as a snake in a thick forest.
SAMPARKEN API YAH KURYAT KASCIT JANMASTAMI VRATAM
VISNU LOKAM AVAPNOTI SO'PI PARTHA NA SAMSAYAH
(HARI BHAKTI VILASA 15/295 from SKANDA PURANA)
If someone fasts on Janmastami day, with devotion, he attains the abode of Lord Sri Visnu.
TASYAM VISNU TITHAU KECID DHANYAH KALIYUGE JANAH
YE'BHYARCAYANTI DEVESAM JAGRATAH SAMUPOSITAH
(HARI BHAKTI VILASA 15/307 from BRAHMA PURANA Suta Gosvami speaks)
This day (Janmastami day) removes all kinds of sins. Specifically in Kali-yuga, if someone fasts on this day, remains awake overnight and worships Lord Sri Hari properly, those people are worshipable.
IDAM EVA PARAM SREYA IDAM EVA PARANTAPAH
IDAM EVA PARO DHARMO YAD VISNU VRATA DHARANAM
(HARI BHAKTI VILASA 15/312 from BRAHMA PURANA)
Fasting on the day of Lord Hari is the most auspicious thing, the topmost austerity and the topmost meritorious action.
SAMPURNA CA ARDHARATRE TU ROHINI YADI LABHYATE
KARTAVYA SA PRAYATNENA PURVA VIDDHAM VIVARJAYET
(HARI BHAKTI VILASA 15/370 from YAJNAVALKYA SMRTI)
If on the eighth day of the dark fortnight at midnight there is Rohini constellation, on that day one should fast, but if it is combined with the seventh day, it should be given up in all circumstances.
DVAU BHUTA SARGAU LOKE'SMIN DAIVA ASURA EVA CA
VISNU-BHAKTI PARO DAIVA ASURAS TAD VIPARYAYAH
(HARI BHAKTI VILASA 15/396 from AGNI PURANA and VISNU DHARMA)
There are two kinds of living entities created. One is divine and the other is demonic. The devotees of the Supreme Lord Visnu are said to be divine personalities. Those who are not His devotees are addressed as demonic.

---