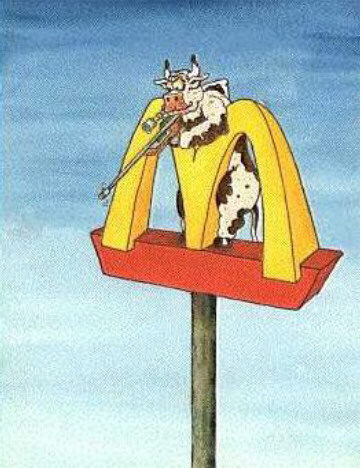 Cow's Revenge @ McDonalds

---

Coning innocent children into thinking their slaughter house recycling outlets are Happy places that give security and stability to everyone.

Fast Food, fast money, no conscience, no culture, no concern for you or me.

The Ronald McDonald clown turns vegetarian and takes up a campaign against McDonald's





---

Australian Hindus Aghast at McDonald's Beefy French Fries
Source: Hinduism Today

HOMEBUSH, AUSTRALIA, December 18, 2001: The Hindu Council of Australia has confirmed that McDonald's fast food restaurants in Australia have been cooking their french fries in a frying mix of 92% beef tallow and 8% cottonseed oil for the last twenty years. This is the same practice abandoned about 15 years ago by McDonald's in the USA, who then started using vegetable oil for the fries. Just this year, however, the USA McDonald's revealed they still put a small amount of beef flavoring in their fries, resulting in a lawsuit by Hindus. McDonald's in Australia wrote to the Hindu Council that they have always published lists of their ingredients and "have not promoted or published any of the products [including the french fries, hash browns and apple pies] outlined in your letter as being vegetarian." The address for the Hindu Council of Australia is 17 The Cresent, Homebush, NSW 2140, Australia.

Courtesy of http://www.HinduismToday.com/
---

Published on Sunday, May 20, 2001 in the New York Times
For Hindus and Vegetarians, Surprise in McDonald's Fries
by Laurie Goodstein

http://www.commondreams.org/headlines01/0520-02.htm

As an observant Hindu, Brij Sharma considers cows sacred. He believes the gentle creatures are helpmates to human beings, and it would be as unthinkable for him to eat beef as it would for a cowboy in Montana to eat his own horse.

Not surprisingly, Mr. Sharma, an electrical engineer for Boeing in Seattle, says that for years he never set foot in a McDonald's restaurant. But in 1990, when the fast-food chain announced with great fanfare that it was switching from beef fat to "100 percent vegetable oil" to cook its French fries, Mr. Sharma joined the legions of Hindu Americans and vegetarians who began venturing into McDonald's to nibble what they believed were vegetarian fries. Mr. Sharma's teenage son even took a job at McDonald's last year, and drawn by the generous employee discount, the Sharma family consumed countless bags of fries.

So Mr. Sharma said he was horrified when he opened his India West newspaper in April and read, "Where's the Beef? It's in Your French Fries." He and other American Hindus were outraged to learn that McDonald's French fries are seasoned in the factory with beef flavoring before they are sent to the restaurants to be cooked in vegetable oil.

Now Mr. Sharma is one of three plaintiffs representing the Hindus and vegetarians of America in a lawsuit filed on May 1 in Seattle that accuses McDonald's of deliberately misleading its American customers.

"I feel sick in the morning every day, like I want to vomit," Mr. Sharma said in a recent interview. "Now it is always there in my mind that I have done this sin."

The news ricocheted to India, where restaurant windows were smashed, statues of Ronald McDonald smeared with cow dung, and Hindu nationalist politicians called for the chain to be evicted from the country. In Fiji, a majority of Hindus and vegetarians told pollsters they had heard about the beef in the fries and stopped eating at McDonald's.

McDonald's, a corporation that prides itself on catering to the culinary requirements of ethnic and religious groups in its restaurants overseas, says it uses no animal extracts in the French fries it sells in India and in Fiji, where nearly half the population is of Indian descent. A test of the French fries by an Indian organization after the rioting confirmed the claims of the company, which says it is going forward with plans to expand in India.

McDonald's says it never said that the French fries sold in the United States were vegetarian. The marketing campaign proclaiming the switch to vegetable oil in 1990 was "all about healthy hearts and eliminating cholesterol," Walt Riker, a spokesman for McDonald's, said in an interview last week. "We certainly don't market ourselves as vegetarian."

He said McDonald's added beef flavoring to the fries before they were flash frozen, and complied with Food and Drug Administration regulations by saying that it included "natural ingredients," without specifying what they were. And although McDonald's may re-evaluate its labeling policies, Mr. Riker said, it does not intend to alter its recipe.

"These are the ways the fries are made in the U.S., and we don't have any plans to change," Mr. Riker said.

Burger King and Wendy's restaurants do not use beef products in their French fries, their corporate spokesmen said in interviews on Thursday.

Vegetarian groups had suspected there was beef flavoring in McDonald's French fries and petitioned the company and the Food and Drug Administration for full disclosure of ingredients with no success. Fast- food restaurants are highly secretive about their recipes, and it was only after the lawsuit was filed that McDonald's spokesmen widely acknowledged the beef ingredient.

"They would post these lists of their ingredients in their stores, but nowhere did they ever publicly admit that beef flavoring was used in the fries," said James Pizzirusso, who founded the Vegetarian Legal Action Network with other law students at George Washington University.

"Corporate America needs to pay attention to consumers who avoid certain food products for religious or health reasons, or because they have allergies," he said. "They say they are complying with the law in terms of disclosing their ingredients, but they should go beyond the law." Vegetarian advocacy groups claim to represent as many as 15 million Americans. And while those groups are accustomed to confronting American corporations, the lawsuit is a watershed for the Hindus in the United States. Mostly first- and second-generation immigrants from India, with a smattering of American converts, they are estimated to number more than one million people. Until now, they have put far more effort into educating their children and building temples to perpetuate their religion than into pressuring the federal government or industry to accommodate their customs.

The lawsuit came about when the vegetarian law students connected with the outraged Hindus.

The students at George Washington University had drafted the legal complaint as a project for a class on legal activism, and were looking for a lawyer to file it. In Seattle, Harish Bharti, a Hindu lawyer, read about the secret ingredient in the article in India West and decided to sue.

India West heard about the ingredient from Hitesh Shah, a Los Angeles software engineer and a strict vegetarian. He had sent an e-mail inquiry about French fries to McDonald's, and received a reply from a customer service representative who wrote that McDonald's used "a minuscule amount of beef flavoring as an ingredient in the raw product."

Mr. Bharti called Lige Weill, executive director of the Vegetarian Awareness Network in Knoxville, Tenn. Mr. Weill had already succeeded in getting the Wendy's chain to stop putting gelatin (made of animal collagen) into the sauce on its Fresh Stuffed Garden Veggie Pita.

Mr. Weill introduced the students to Mr. Bharti, who had been in the news for suing corporations and defending battered women. Mr. Bharti also teaches trial skills at the Gerry Spence College for Trial Lawyers in Wyoming. "I see this as a fight for the dharma," said Mr. Bharti, using the Sanskrit word that loosely translated means "ultimate principles."

"Eating a cow for a Hindu would be like eating your own mother," he said. "People have told me, `I would rather die here than go to McDonald's.' " In the last 10 days, he has filed additional lawsuits against McDonald's in California and in Canada.

In the Indian-American neighborhoods of Chicago and Houston, in the sari shops and vegetarian restaurants, many Hindus said they had heard about the lawsuit, but not all said they agreed with it.

Parag Gandhi, 32, the manager of the Taj Sari Palace in northwest Chicago, said he considered himself "a McDonald's man," and thought the Hindu plaintiff foolish. "I don't think Ronald McDonald walked up to him and made him eat the French fries," Mr. Gandhi said. "People should know that if they are eating at a place that serves meat products that they have to be more than careful if they don't want to eat meat. Come on, I mean it's McDonald's."

At the Anand Bhavan Vegetarian restaurant in Houston, Mahendra Jagirdar, an engineer, said he had stopped eating at McDonald's when he heard about the fries. "I'm a pretty strict vegetarian," he said. "That's why I like a place like this where I don't have to compromise."

As for Mr. Sharma, the plaintiff in Seattle, he is seeking ways to cleanse himself. "I am now planning to go to India to take a dip in the Ganges," said Mr. Sharma, the grandson of a Hindu religious counselor to a maharajah. "I am thinking that it should reduce my sin. But the damage is already done."

Copyright 2001 The New York Times Company

---

Date: Wed, 25 Feb 2004 08:19:51 -0000
From: "Vrin Parker" <vrinparker@yahoo.co.in>
Subject: Mcdonald's Deadly Diet

ARCH ENEMY
http://www.nypost.com/entertainment/16393.htm
By MEGAN LEHMANN

Filmmaker Morgan Spurlock's new documentary, "Super Size Me," details his 30-day McDonald's diet and subsequent health woes.
- Julie Soefer

January 22, 2004 -- LAST February, Morgan Spurlock decided to become a gastronomical guinea pig.
His mission: To eat three meals a day for 30 days at McDonald's and document the impact on his health.

Scores of cheeseburgers, hundreds of fries and dozens of chocolate shakes later, the formerly strapping 6-foot-2 New Yorker - who started out at a healthy 185 pounds - had packed on 25 pounds.

But his supersized shape was the least of his problems.

Within a few days of beginning his drive-through diet, Spurlock, 33, was vomiting out the window of his car, and doctors who examined him were shocked at how rapidly Spurlock's entire body deteriorated.

"It was really crazy - my body basically fell apart over the course of 30 days," Spurlock told The Post.

His liver became toxic, his cholesterol shot up from a low 165 to 230, his libido flagged and he suffered headaches and depression.

Spurlock charted his journey from fit to flab in a tongue-in-cheek documentary, which he has taken to the Sundance Film Festival with
the hopes of getting a distribution deal.

"Super Size Me" explores the obesity epidemic that plagues America today - a sort of "Bowling for Columbine" for fast food.

As well as documenting his own burger-fueled bulk-up, Spurlock travels to 20 cities across America, interviewing people on the street, health experts and a lobbyist for the fast-food industry.

Despite making dozens of phone calls, Spurlock fails to get anyone from McDonald's to agree to an on-camera interview.

A spokeswoman for McDonald's told The Post yesterday that no representatives from the corporation had seen "Super Size Me."

"Consumers can achieve balance in their daily dining decisions by choosing from our array of quality offerings and range of portion sizes to meet their taste and nutrition goals," McDonald's said in a statement.

Over the course of the film, Spurlock is regularly examined by a
gastroenterologist, a cardiologist and SoHo-based general practitioner Dr. Daryl Isaacs.

"He was an extremely healthy person who got very sick eating this McDonald's diet," Dr. Isaacs told The Post.

"None of us imagined he could deteriorate this badly - he looked terrible. The liver test was the most shocking thing - it became very, very abnormal."

Spurlock has since returned to normal health. "The treatment was to just stop doing what he was doing," Dr. Isaacs says.

Spurlock, who says he ate at McDonald's only sporadically before his total immersion in the Mickey D'######, says he even began craving fat and sugar fixes between meals.

"I got desperately ill," he says. "My face was splotchy and I had this huge gut, which I've never had in my life.

"My knees started to hurt from the extra weight coming on so quickly. It was amazing - and really frightening."

Spurlock's girlfriend, Alex Jamieson, was horrified - she's a vegan chef.

"She was completely disgusted by me, not happy at all," he says. "But she realized what my goals were in trying to educate people."

Spurlock, a film producer who grew up in West Virginia and studied ballet for eight years, was spurred to make his first feature film while watching TV on Thanksgiving Day, 2002.

"I was feeling like a typical American on Thanksgiving - very bloated and happy on the couch - and at some point on the news they were talking about two women who were suing McDonald's.

"People from the food industry were saying, 'You can't link kids being fat to our food - our food is nutritious.'

"I said, 'How nutritious is it really? Let's find out."

Not surprisingly, Spurlock has steered clear of the Golden Arches since filming wrapped.

"I have not had McDonald's for seven months, but yesterday, during an interview, I had a bite of a Big Mac," he says.

"I chewed it up, swallowed it and I said, 'You know what, I'm pretty much done after that bite.' "
---
McDonald's has big beef with vegetarian critics
Burger giant suing unemployed pair for libel in London

Beth Karlin
Rocky Mountain News, August 14, 1995
http://www.mcspotlight.org/media/press/bigbeef.html

Forget two all-beef patties, special sauce, lettuce, cheese, pickles, onions on a sesame-seed bun. Here's something truly hard to swallow.

McDonald's Corp. has consumed one year, called 56 witnesses, produced 40, 000 documents and spent an estimated $ 1.5 million to sue two jobless vegetarians for libel - without result so far.

The civil lawsuit in London's High Court recently recessed for the summer and will resume in September. With more than 120 witnesses yet to be called, this modern David-and-Goliath story, which pits Helen Steel's and Dave Morris's welfare checks against the company's $ 2.467 billion in sales, may continue until March.

Steel, 29, and Morris, 41, are accused of libeling McDonald's by producing leaflets that accused the Oak Park, Ill.-based restaurant chain of selling unhealthy food, engaging in abusive labor practices and fostering environmental destruction.

The pair - known to friends, backers and tabloid writers as "the McLibel 2" - are trying to convince Justice Rodger Bell their anti-McDonald's allegations are "fair comment" - and thus protected under British libel laws. So, amid the Gothic arches of London's High Court, lawyers and executives representing the Golden Arches of McDonald's have been arguing that Big Macs, shakes, fries and other products are not high in fat and low in fiber. Even if they were, McDonald's executives have said, that doesn't mean they're unhealthy.

"It's a lose-lose case for McDonald's," said Michael Smyth, a partner at the Clifford Chance law firm in London, which specializes in Britain's notoriously strict libel law but isn't involved in this particular case.

If McDonald's loses the case, he said, more credence will be given the leaflet's charges. If the multinational corporation wins, he added, "public relations would be negative because of the inequality of firepower."

On one side of the courtroom, McDonald's law team is led by Richard Rampton, a Queen's Counsel - or "barrister" recognized by the Law Chancellor as a senior trial lawyer, one who commands premium fees - adorned in traditional black gown and white wig. On the other side are Steel, in striped T-shirts and slacks, and Morris, wearing sandals and socks, representing themselves, for lack of funds.

McDonald's has refused Steel and Morris copies of testimony, which the burger giant pays to transcribe, unless the defendants agree to pay 350 pounds ($ 555) a day or promise never to show the material, a matter of public record, to reporters.

Rampton's team won an early battle by persuading the judge that the lawsuit should be decided by him alone, not by a jury, because the case's health and environment issues would be "too complicated" for ordinary people to consider.

Under cross-examination, though, even McDonald's executives seemed confused.

McDonald's menu items are nutritious, said Edward Oakley, senior vice president of McDonald's U.K. Ltd., because they "include nutrients."

Coca-Cola is nutritious, said David Green, U.S. senior vice president for marketing, because it contains water, "and that's a part of a balanced diet."

McDonald's cancer specialist, Dr. Sydney Arnott, agreed with a statement in the controversial pamphlet that says high-fat and low-fiber foods have been linked to cancer and heart disease.

McDonald's originally predicted the trial would last a few months. Instead, it has become the longest libel case in British history.
---
McDonald's in India
http://www.mcdonaldsindia.com/ingred.htm
and this is why they changed http://www.commondreams.org/headlines01/0520-02.htm

---

More on

McDonald's French Fry Fraud in the News:
http://www.veggiefries.org/news.htm
McDonald's Fries NOT VEGETARIAN:
http://www.hhhp.net/thismonth/hotnews-june2001.html
Vegetarian Lawyer Sues McDonalds Over Beef in Fries:
http://www.all-creatures.org/aip/nl-23may2001-fries.html
McDonald's Animal farms - E - I - E - I - Oh deary me:
http://www.rage-against-animal-cruelty.cityslide.com/pages/page.cfm/782393
So you wanna eat in a fast food place:
http://www.kenkuhl.com/fastfood/news.shtml
McSpotlight - nutrition, advertising, employment, environment, animals - You're Going Down Mc' !!!
http://www.mcspotlight.org/issues/
Similar related pages:
http://www.mcspotlight.org/media/press/mcds/chicagosuntimes100103.html
http://www.vegsource.com/articles2/mcdonalds_siebel_final.htm
http://www.vegsource.com/earthsave/messages/1000807.html