http://www.in2-mec.com/J-Pages04/J040514.htm
New Delhi, India
14 May 2004

Pilgrimage to Shalagram (Gandaki and Muktinath)
Part Two
Hare Krsna! All glories to Srila Prabhupada!

We'll continue with the photoreport at the point we left off yesterday--where we began to find saligrama silas along the bank of the Kali Gandaki River. By the way, if you would like to see a good map of Lower Mustang, double-click your pointer on this Web address:

www.footprint-adventures.co.uk/mapnep/fixjoms.html


| | |
| --- | --- |
| Immediately after I discovered the red Sudarsana Cakra sila, Rasaji came upon this sila manifesting the face of Lord Nrsimhadeva Eventually we returned this sila to the Gandaki as He was too large and heavy for any of us to consider keeping and worshiping Him. | Formerly the Gandaki River Valley was the most important trade route between India and Tibet. It was controlled by the Buddhist kingdom of Lo Manthang, which was of Tibetan culture. But more than 200 years ago the Buddhist Raja of Lo Manthang allied with the Hindu Raja of Kathmandu in a war against Tibet. This is why the present region of Mustang (Lo Manthang), which is populated mostly by Buddhist people with Mongolian features, is part of Nepal and not Tibet (now fully controlled by Communist China). |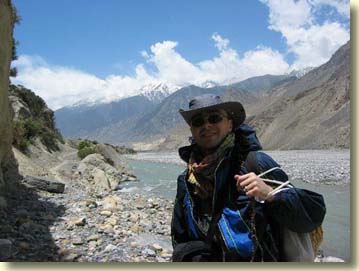 For Martanda, Rasalila and Rocana, the trek up the Gandaki River Valley was a new experience. They loved it.
In 1987 I did the trek with my Godbrothers Avinasa Candra (now HH AC Bhaktivaibhava Maharaja) and Krsnaksetra Prabhu. At that time we met our French Godbrother Pitavasa Prabhu on the way. From '87 I remembered this "couch rock," a very comfortable place to rest!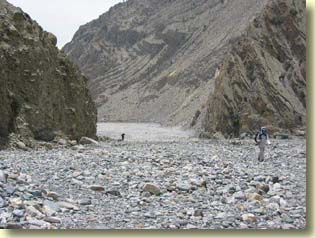 Now the trekking trail takes us away from the bank of the Gandaki for a while.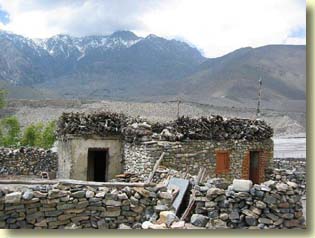 Between Jomsom and Kagbeni one sees evidence of human habitation only rarely. This is the isolated stone hut of a herdsman. Nobody was home when we passed it.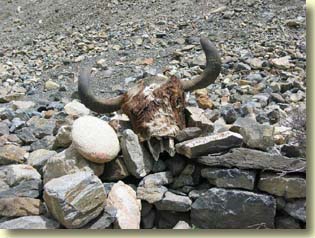 The skull of a yak. This classic symbol of desolation accentuates the atmosphere of loneliness that hangs over the Gandaki River Valley.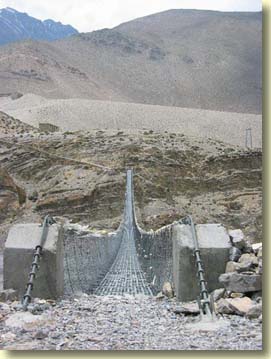 This metal suspension bridge spans the Gandaki River Valley. Incredibly strong winds often blow through the valley, and if you are crossing this bridge when such a wind comes up, you truly fear you'll be blown off into the valley below!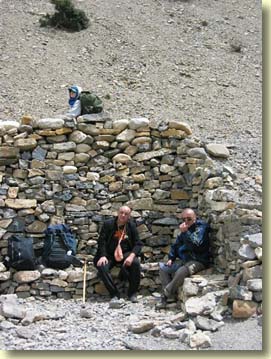 Our party pauses for rest on the east end of the bridge. At this point we are thankfully within sight of the town of Kagbeni. The trek through the valley involves is mostly flat and level. But the valley itself is some 2000 meters above sea level! Thus catching your breath is a problem, since there is less oxygen in the air than normal.
As we descend from the bridge to the valley floor we meet a herd of incredibly nimble mountain goats. At the upper edge of this photo you can see Ekli Bhatti, the southern "suburb" of Kagbeni.
"Hotel Hill Ton" in Ekli Bhatti. There is also a "Holiday Inn" here! Kagbeni proper is another kilometer or so beyond Ekli Bhatti, but we have no reason to go there as the Hill Ton has rooms for us. This hotel is managed by a pious Buddhist gentleman who strictly keeps to a morning and evening program of chanting and worship. Don't ask about the diet of these people, though!
Behind the Hotel Hill Ton the holy Gandaki flows on her way from Kagbeni, visible in the distance.
As the sun drops over the Himalayan horizon, we search the blackish waters of the Gandaki for more salagram silas. Will the Lord mercifully reveal more of His transcendental forms in stone?

Part Three will follow!

---
The contents of this web site must not be reproduced without prior permission of the author.
Copyright © 2003-2004

We are grateful to be able to copy and use these three pages with the direct permission of HH Suhotra Swami 16th May 2004