Vedik Culture & Cow Protection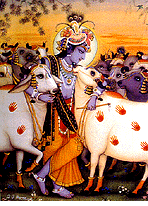 last updated 25th March 2012


---

Dear respected vaisnavas,
Please accept my obeisances. All Glories to Srila Prabhupada

A petition is being sent to the President of India to address this tragedy of cow slaughter in India, s
parked by the the tragic lack of cow protection even in Braja.

Please take 3 seconds to sign it to really kick off your sankirtan day!
Also please forward to anyone who may not be able to access this with regard to the limited contacts above.

Best Wishes
Your servant
Bhaktisiddhanta Swami
---
Cow Protection statements:
Iskcon Cow Protection:
Protecting old cows in India:
Panel wants Rapid Cow Protection Force :
Cow Protection related links:
Mother Cow.com - protecting cows
Cow Protection and Krishna Consciousness - blog of Madan Gopal dasa
Care for Cows - Kurma Rupa prabhu ACBSP in Vrindavan
Kanha Goseva Ashram - looking after 50+ cows
Download Music based on Animal Protection:
Vegetarianism and Beyond Web-site:
Gita Nagari Cow Protection Program:
http://www.youtube.com/watch?v=EqnF7AirwFI
The History of Real Gita Nagari part 2.
http://www.youtube.com/watch?v=5pRQa56kzDU&mode=related&search=
Hindus Give Support to Prabhupada's Cow Protection Program
http://www.youtube.com/watch?v=xKry9v8T4Oc&mode=related&search=
Devil in the Milk: Illness, Health, and the Politics of A1 and A2 Milk
---
Hetu - Statement:


That everything in the Vedik Culture is centred around service to God - Krishna. What He requests or orders, that is what we do. We are His servants, and thus act accordingly serving His culture - that of Human Civilisation, Daivi Varnashram Dharma. The Cow is very dear to Krishna, and as anything dear to Krishna it is dear to His devotees. Thus the Cow and the Bull are the emblems of Vedik life.

Hetu - Statement:


That the Cow is a very useful member of the community. She provides much more milk than her calf can healthily consume, and that excess can be used to help in preparing foodstuffs to offer to the Deity, which in turn are offered to the people in general to consume.
That the bull is by nature a hard working creature and is happiest in the working environment, tilling the fields, and pulling carts. As a useful member of society he is honoured and respected and given all facility for a healthy and happy long life.
Thus the Cow and the Bull are like the Mother and Father of Vedik society nourishing and providing for those who are dependant upon them.
When the Cow and Bull are shown affection, and given love and protection, they also interact with humans in a friendly manner.
Misconception:
That if the Cow and the Bull are allowed to increase in population, and are allowed freedom to not be slaughtered, that they will over-run society.
The fact is that so many of these poor creatures are brought into the world by artificial means and then misused, abused, etc. In a natural environment where animals are cared for such High Production techniques in farming DO NOT occur. Therefore there is no threat to land or food. In fact if crops that are presently being grown as animal feed were fed to humans, instead of to fatten up animals for slaughter there would be no so-called food shortages. (please view Cost of Meat page for more details)
Misconception:
The unfortunate way that we see Cows and bulls in the world today, where these poor animals are fattened and artificially impregnated to produce calves for the slaughter, and to keep them milking for longer is not what we regard as Cow Protection, and is certainly not adhered to in the Vedik - Krishna conscious culture - this is total exploitation of animals' rights.
The idea that humans have dominion over these animals with the intention to exploit or harm them, is as wrong as it be in the case of a king who has dominion over his people to exploit or harm them.
Misconception:
That animals have some kind of "different soul" to that of humans, and thus can be exploited, abused, made the brunt of vicious sports, and even eaten.
Animals and humans, as well as other creatures of the land, sea, and air are ALL spirit souls; we are ALL sons and daughters of the same Father. Those who are a little soft-hearted and less exploitive, the innocent, and children can see that the human eats, the animal eats; the human sleeps, the animals sleeps; the human mates, the animal mates; the human defends, the animal defends - the same things are there, the similar bodies are there, neither want pain and suffering, both want to be happy with their families and friends. Neither WANT to die.
Have Mercy on the Animals: and Think Twice Don't Eat Your Friends.......it ain't nice! (by Bhakti Rasa dasa)

Out to Pasture - Chewing the Cud of other sites:

---
Realistic Cow Protection - each of us doing our bit: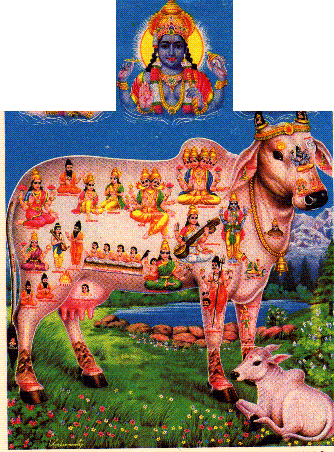 We are supposed to worship cows and feed them by "Go-grasa"
everyday. If not atleast on this special day we are supposed to worship
cows and feed them. But in this age, if we can think of poor cows and
try to help them to have a peaceful life, that would be more than a
worship. Let us all pray for the poor and disabled cows and try to help
those who are trying to protect them.
It would be more meaningful if we can support and help those
"go-samrakshana Kendras" trying to protect the cows from the butchers'
hand. Shri Kamadhenu Go-samrakshana Kendra" is one of such centers
trying to save the poor and old cows and providing them a peaceful
life. It needs a helping hand from each one of you. Taking care of
cows is more difficult than taking care of human beings. The center
does not get any income from the cows, but spends a lot daily to take
care of them, to feed them and to provide amenities to cows.
Those who are interested in celebrating "Go-puja" day in more meaning
way may please try to help the organization.
Please visit http://www.geocities.com/bgkvarna/gokendra.htm for further details.

---

Date: Fri, 08 Nov 2002 00:45:55 -0000
From: "vrinparker" <vrinparker@yahoo.co.in> ( vediculture-owner@yahoogroups.com )

Subject: India: Rapid Cow Protection Force

Panel wants Rapid Cow Protection Force

Basharat Peer in New Delhi:
Uncared and unhealthy cows are a common sight on Indian roads. No eyebrows go up when they feed on garbage and leftovers, despite being considered sacred by the majority of the population.
Home to 200 million cows, India has banned their killing everywhere except Kerala and some northeastern states.
The passion that a "sacred cow" evokes was visible a few weeks back in Jhajjar town of Haryana, where five people were lynched for allegedly skinning one alive.
In August 2001, the Centre established a National Commission for Cattle to suggest ways of improving the condition of cattle, especially cows. It was formed by an order of the Prime Minister's Office after the Shankaracharya of Kanchi, Jayendra Saraswati, went on an indefinite fast to press for total prohibition of cow slaughter.
"We recommended inclusion of the prohibition of slaughter of cow and its progeny in fundamental rights. We have also argued that a Rapid Cow Protection Force on the lines of other paramilitary forces be instituted, which can operate on an all India basis for prevention of cow slaughter," Gumman Mal Lodha, who chaired the commission, told www.rediff.com
The commission's report said those who slaughter cows or smuggle them to Bangladesh, Kerala and illegal slaughterhouses should be booked under the Prevention of Terrorism Act.
It recommended a ban on crossbreeding involving imported cattle like Jersey. Indigenous breeds should be encouraged and import of cattle prohibited, it said.
The Rashtriya Swayamsevak Sangh and the Vishwa Hindu Parishad support the recommendations, which are being considered by the Ministry of Agriculture.
"The holy cow is not just of religious value; it also has economic importance in India. It is the backbone of the Indian economy. Apart from milk products, the urine of the cow is of great medicinal importance," said Giriraj Kishore, international vice-president of the VHP.
The cow is at the "centre of religious faith", he said, adding that Hindu scriptures equate cow slaughter with murder of human beings. "In our neighbouring Nepal, even today cow slaughter is punishable with death. It is unfortunate that despite the recommendations of the cattle commission, the ban is not being imposed and implemented strictly in India," he told www.rediff.com
Lodha went a step further: "For centuries it [cow] has been worshipped in Indian culture as a mother. It is revered, respected and should be made the national animal [in place of tiger]," he said.
Kishore said, "Cow is already the real national animal. Such is its importance that even the Allahabad high court has ruled that, wrongly or rightly, Hindu consider the cow sacred and its slaughter can have serious repercussions."
But many people believe that making cow slaughter illegal would just move the industry underground, resulting in more cruelty towards the animal.
The recommendations also worry the leather industry, which is worth $4 billion and employs thousands of people.
Many retailers like Gap, Donna Karan, and Timberland refuse to buy Indian leather because of protests by animal rights groups against the ill treatment of cattle in India and their brutal killing in slaughterhouses.
"There are times when orders get cancelled. Various high-profile stores in Europe have stopped dealing with us. That hurts us financially," said C M Khurana, a Delhi-based leather exporter. There are others who believe that the leather industry would be on the brink of disaster if the government accepts the recommendations of the commission.
"Things are not bad at the moment. But if the government agrees with the commission's proposals, the leather industry will be affected badly," said exporter Ravi Khanna.

---

Get your T-shirts HERE:
http://www.iskcon.net/ccg/shirts.htm

Cow Protection web-site from Lagudi and Gopinathacarya prabhus in New Govardhan, Murwillumbah, Australia:
http://www.nor.com.au/users/stoka/cow.htm

Go Puja - Go Krd - Go Raksha - Worshipping Mother Cow.

Adopt a cow:
http://www.iskcon.net/aac/

Vinoba's Thoughts on Cow Protection:
http://www.mkgandhi-sarvodaya.org/vinoba/cow.htm

Minimum Cow Protection Standards - Balabhadra prabhu Minister of Cow Protection and Agriculture in Iskcon.
http://www.vnn.org/world/WD9901/WD27-2921.html

Iskcon Cow Protection:
http://www.angelfire.com/co/iscowp/

Minimal Standards for Maintaining Healthy Happy Cows and Bulls:
http://www.angelfire.com/co/iscowp/frameset.html

Varnashram & Rural Community - The Basics: Land and Manpower by Kamra devi dasi 1992.
http://www.islandnet.com/krsna/science/varna/basics.htm

Varnashram & Rural Community Home Page - devotees from US.
http://www.islandnet.com/krsna/science/varna/varna.htm

Mahatma Gandhi circa 1927 on Cow Protection.
http://www.neonblue.com/sri/mahacow.htm


Cow computer bits and .gif's
http://www.nwlink.com/~persiank/moo.jpg

Have a conversation with your cows - Cow dictionary - Sounds. Cow-MooCow Quartet The Girls
http://www.gl.umbc.edu/~dschmi1/cows/sounds.html

Cow ASCII Art:
http://www.gl.umbc.edu/~dschmi1/cows/ascii.html

A humourous site about cows and ice-cream for the kids:
http://www.wholeecow.com/
http://www.cowtunes.com/

Paddocks full of Cow pages:
http://www.moocow.com/cowwebpages.html

More Sites about Cows than you could put to pasture:
http://www.nwlink.com/~persiank/pkmoo1.html

Mother Cow
http://www.mothercow.org/




---

Cost of Meat page .........................................................

A Time to Speak Out Against Meat

Slaughterhouse Civilization page ............

Becoming a Vegetarian

Vegetarianism and Beyond page

---

..

.



Have Mercy on the Animals
(song by Krsnautix, Kalki Records 1987.)
See the little fawn, move too fast and she'll be gone.
She know to run away, when the hunter comes to spoil her play.
Have Mercy on the Animals, they have feelings too.
Have Mercy on the Animals, they feel just like we do.
Mother Cow's out in the field, so much milk she can yeild.
Father bull he tills the land, providing grain for beast and man.
Have Mercy on the Animals, they have feelings too.
Have Mercy on the Animals, they feel just like we do.
See the birds up in the tree, they also have their families.
Build their nests way up high - just like you they don't want to die.
Have Mercy on the Animals, they have feelings too.
Have Mercy on the Animals, they feel just like we do.
Have Mercy, the mercy will be shown to you.
Have Mercy, and mercy will be shown to you.
and
FREE DOWNLOAD Mp3 ( 1,813 k bytes )
Think Twice Don't Eat Your Friends.......it ain't nice! (by Bhakti Rasa dasa)


Many Animal protection orientated songs.........