Momentous Hour of Need

http://www.mayapur.com/main/index.php?option=com_content&task=view&id=142&Itemid=124&lang=

Written by Bhakti Purusottama Swami




Dear Maharajas, Prabhus, Matajis and well wishers,

By now you must have come to know that ISKCON Mayapur and many of the surrounding villages are affected by flood. Although this year's flood is not as big as in the year 2000, still it has brought damage and suffering to ISKCON Mayapur and nearby villages of dham-vasis. All our devotees in ISKCON Mayapur are stranded within their buildings. Nobody can leave Mayapur or come inside without great difficulty. Prasadam is being cooked on the roof top with great inconvenience. But despite all our inconvenience we badly need to help the nearby villagers who are in very distressed condition. There is hardly any help from government as of now.

ISKCON Mayapur is their only hope!!

Visit the gallery for current pictures

We have initiated flood relief in areas and villages surrounding our campus. At the moment more than forty villages around Sri Mayapur Chandrodaya Mandir are under water. The villagers are without shelter and food. Many of them are on open rooftops as they have nowhere else to go. A large part of their belongings have been washed away in the water. They anxiously look forward to ISKCON boats for at least food to keep them alive. During a flood, even food is a rare commodity for these stranded villagers.

To help people in forty surrounding villages is a formidable task. Some of the villages affected are Hulor Ghat, Bharui Donga, Srinathpur, Ganja Danga, Nidaya, Niranjan Nagar, Idrakpur, Taranpur, Mayapur, Ballal Dighi, Mollapara, Natungram, Gomaghar, Pardanga, Vitermath, Bamunpukur, Gour Nagar, Morighat, Rathtala, Govt. Colony, Charmazdia, Char Brahmanagar, Char Swarupganj, Hatat Colony, Gadhigacha, Fakirtala, Swarupgang, Lenin Colony, Stalin Colony, Kanianagar, Bipranagar and Tetutala.

The Flood Relief will include Flat Rice, Murki, Kitchri, Clothing, Tarpaulin Sheets and Medicines.

Yesterday 29 Sep 06 this Flood Relief program was started under the guidance of HG Dayaram Prabhu with 3 trawlers and 11 boats. More than 100 brahmacharis took up this service. They distributed Prasadam to 3750 villagers and Tarpaulin sheets (for shelter) to 100 families.

On a daily basis we would like to distribute at least
5000 packets of Prasadam
Clothing to 500 people
Medical assistance to 500 villagers including children and ladies
Tarpaulin sheets to 1000 families.

The estimated daily cost to perform this relief work is

| | | |
| --- | --- | --- |
| Prasadam | Rs 60,000 | USD 1300 |
| Tarpaulin | Rs 100,000 | USD 2200 |
| Clothing | Rs 50,000 | USD 1100 |
| Medical assistance | Rs 25,000 | USD 550 |
| Total daily cost | Rs 235,000 | USD 5150 |
We are presently able to carry out the relief work in a very limited way due to shortage of funds. But we would like to substantially expand it to benefit the distressed dhama-vasi villagers. Many devotees are eager to go out and help and there is no shortage of man power but as you may understand, we urgently need money. So we humbly appeal for your generous financial help to carry out this important Flood Relief Program.
Donors who want to contribute in kind (medicines, grains, clothing or any miscellaneous items) are most welcome.
We sincerely thank the donors who have already helped us with their generous donations to start this relief service.
You may choose any one mode of payment:
Bank transfer: American Express Bank, Kolkata
Account No 420081073
Account Name: ISKCON Gaura Purnima Festival Fund
Bank Address: American Express Bank Ltd, 21 , Old Court House Street Kolkata700001, West Bengal, INDIA
Swift Code No.: AEIBINDXCAL
Any Indian Donor could directly remit the money to our account with UTI Bank Limited, Krishnanagar, Nadia Dist, West Bengal. The details are as follows:-
Bank: UTI Bank Limited
Account No: 237010100005944
Account Name: ISKCON
Bank Address: UTI Bank Limited,12 M M Ghosh Street, Krishnanagar, Dist Nadia, West Bengal 741101
Swift Code No.: UTIBINBB005
By cheque: In favour of ISKCON , payable at Kolkata,
The letter should be addressed to Purananda das, ISKCON, 31, Lake Avenue, Kolkata 700026, India.
Pay Online using "Donate Now" option. Please specify the purpose (food, clothing, medicines & shelter) of the donation under "Donor comments".
Looking forward to your whole hearted support in this momentous hour of need.
Your humble servant,
Bhakti Purusottama Swami

---
Village Prasadam Distribution
Every day five thousand packets of prasadam, gour, flat rice, and kitri are distributed by the Nitai Pada Kamala boat and its enthusiastic inhabitants. Each packet costs 6 rupees and is a needed item at 4 local viilages. When the Nitai PadaKamala boat 'putts' around the corner the villagers come running to get these simple rashions. For the locals, this is one of the most important Iskcon preaching events in the last six years.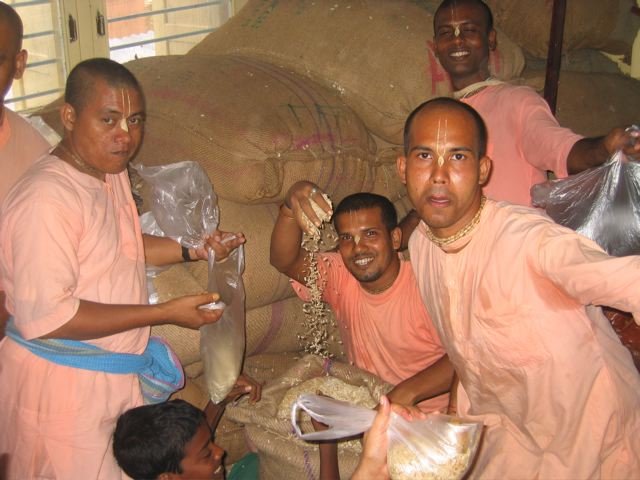 The packers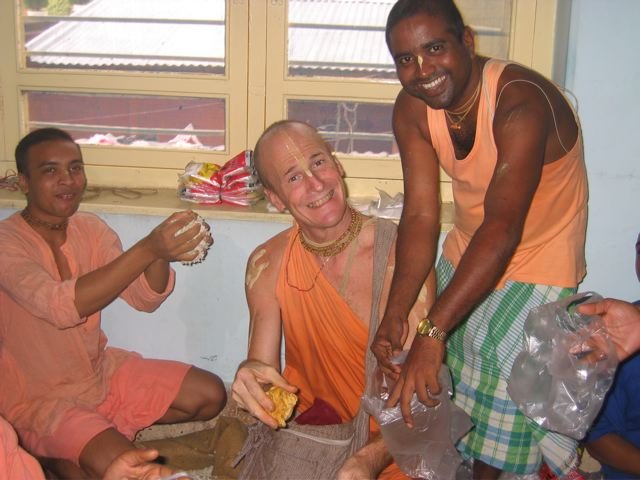 Bhaktisiddhanta Swami doing his bit to help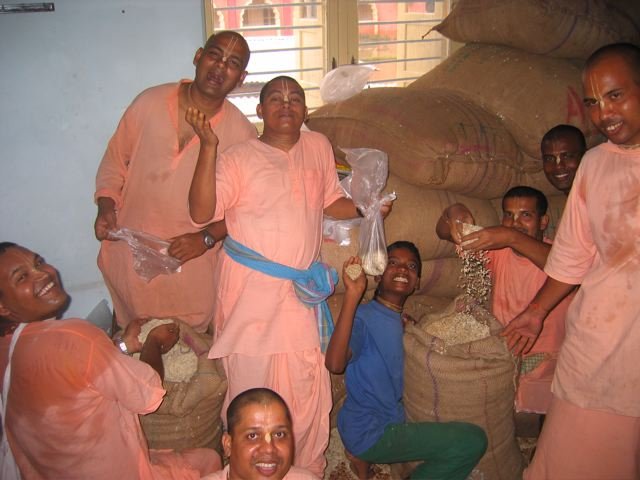 In the store packing the prasadam relief bags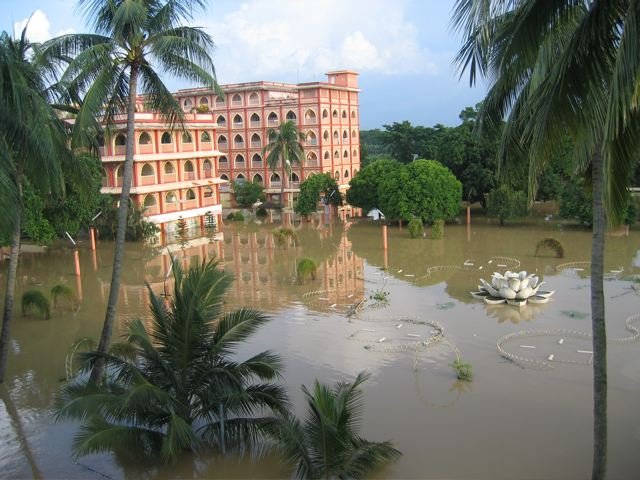 The waters are finally gong down...today (30th September) it went down six inches.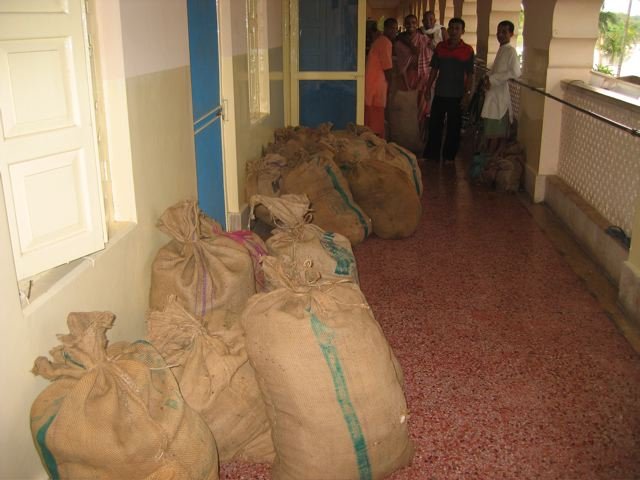 Bags of Mercy all ready to go out on the boats
See how to donate to this worthy project above
Momentous Hour of Need - RELIEF APPEAL - by Bhakti Purusottam Swami

---