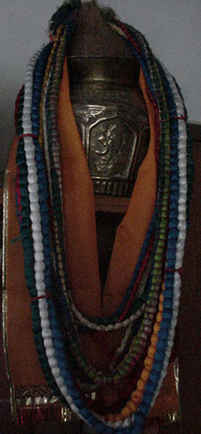 Pavitropana
(Placing thread garlands on the Lord to remove all offences committed during the year):
On the gaura dvadasi of sridhara (sravana) month falls this vaisnava festival, which is still celebrated with pomp in visnu temples in South India.
Pavitras may be made of gold, silver, copper, silk. Lotus, cotton, kasa grass, or kusa grass. Three threads should be twined together, and three such twined threads should be again twined together. These threads should be purified with pancagavya and chanting of the mula mantra 108 times. Either 108, 54 or 27 of such threads should be tied together as a yajnopavita for the deity. The yajnopavita should extend to the knee, thigh or the navel. There should be 36, 24 or 12 knots evenly spaced round knots along the thread.
One should decorate the temple with sarvatobhadra mandalas, and place a kumbha in the center of the mandala. One should gather such items as tumeric, kumkum, go rocana, camara, fan, rice, paddy, barley, umbrella, kusa, water, shoes on different plates. One should call the devatas into the threads, and then one should offer these threads to Krsna after the morning worship of the day.
Then one should again offer worship to the Lord, recite stutis and pay pranamas. The Lord may wear the pavitras for one day and night, three nights, or one fortnight, or one month. They should be taken off before bathing the deity every day and purified with water drops before offering again each day. During the time that the deity wears the pavitras one should feed brahmacaris and perform special pujas.
One may also offer the pavitras on the gaura dvadasi of Hrsikesa (bhadra) month.
PAVITRA AROPANAM KURYAD DVADASYAM RSI TARPANAM
PAURNAMASYANTU KURVITA TATO TAD UKTA VIDHANATAH
(HARI BHAKTI VILASA 15/167 from GAUTAMIYA TANTRA)
On the full moon day of the month of Sravana (July-August), one should put a sacred brahmanas thread on the Supreme Lord and perform offering (pouring?) water to (on) the great sages.
TATRA KARPASIKAM SUTRAM BRAHMANI KARTITAM SUBHAM
ANIYA TRIGUNI KRTYA PUNAS TRIGUNAYET SUCHIH
PANCA GAVYENA TAT PROKSA PRAKSALYA SUCINA AMBUNA
MULENA ASTOTTARA SATAM MANTRENA ATHA ABHI MANTRAYET
(HARI BHAKTI VILASA 15/184,185 from VISNU RAHASYA)
One should take a pure thread which was spun by a clean brahmana woman, made it three-fold and then further folded three times, after dip it in the panca gavya (five ingredients from the cow - milk, yogurt, ghee, urine and dung), wash it in clean water and then chant 108 mula mantras on it.
TRINI SASTA SATENA ASYA TASYA ARDHENA ASYA CA ARDHATAH
JANU URU NABHIDA GHNANI PAVITRANY ACARET PRABHO
SAT TRINSAD GRANTHAYAS TESAM ADYE KARYAS TU MADHYAME
CATUR VINSATIR ANTE CA DVADASA GRANTHAYO BUDHAIH
(HARI BHAKTI VILASA 15/186,187 from VISNU RAHASYA)
From that purified thread, then three categories of threads should be made. 108 fold, or 54 fold, or 27 fold threads should be taken to make a sacred thread. Respectfully, top quality, medium quality, or low quality threads are determined by measuring the Deity from the shoulder to the knee, from the shoulder to the thigh or from the shoulder to the navel. Putting knots in the middle of them, 36, 24, and 12 knots are put. Learned souls call them first class quality, second class quality and third class quality brahman threads.
MASAM PAKSAM AHORATRAM TRIRATRAM DHARAYET TATHA
DEVESAM SUTRA SANDARBHAM DESA KALA ANUSARATAH
PRATY AHAM SNANA KARMA ADI SUTRANY UTTARYA KARAYET
ABHISICYA ATHA TOYENA PUNARDEVE NIVEDAYET
(HARI BHAKTI VILASA 15/235,236 from TANTRA SASTRA)
According to time and place, a brahmana thread should be put on the Lord for one month, or one fortnight or for one day and night or for three nights. And for bathing the Lord and after washing it, one can put it on the Lord's body again.
MUKHYA KALASYA CAITASYA VIGHNATO'PAGAME SATI
BHADRADAU API KARTAVYAM PAVITRA AROPANAM PRABHOH
(HARI BHAKTI VILASA 15/241 from BAUDHAYANA SMRTI)
Due to some obstacle, if the most auspicious moment of the light fortnight of the month of Sravana (July-August) of Dvadasi day has passed, then one can put on this thread on the Lord in Bhadrapada (August-September).

---
Yajurved Upakarma:
http://www.srivaishnavam.com/stotras/upakarma.htm
Yajurved Upakarma - pdf
http://www.salagram.net/upaakarm2005roman.pdf