Brahma Muhurtha dasa - USA
Gopinatha is my Pradhana Sila. I first actually had 4 very small silas that one devotee gave me as she found them in a jewelry case when a devotee left the temple in a hurry, one Dwaraka and three salagramas, all about the size of a fingernail or so. Because these were my only silas I was in anxiety for two reasons.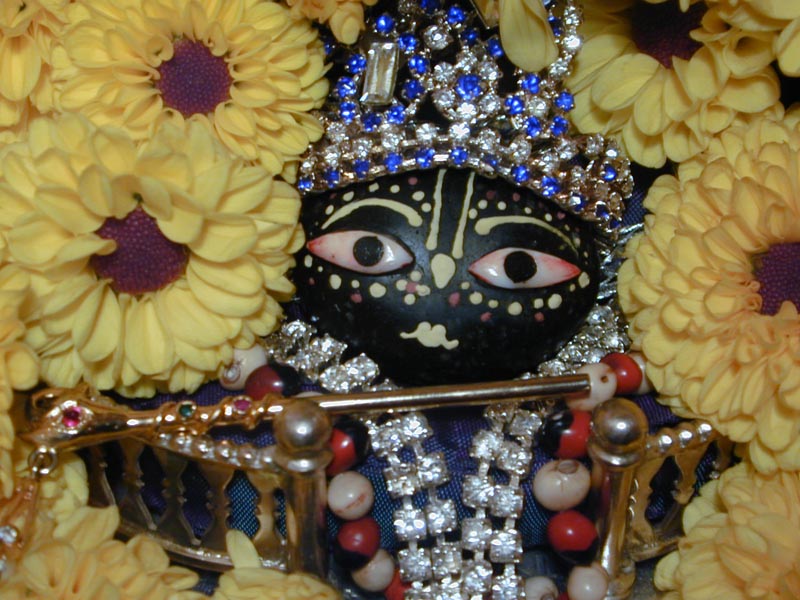 1. Because they were so small when they were bathed they would move around and I was always afraid they would slip out of Their case when i traveled, although it is very secure they were very flat and small. Although it is all due to the Lord's desire, still it causes anxiety.
2. I also had a desire for a larger salagram that I could paint and offer crowns and decorate, my current Silas were very small, although I loved worshipping them was about to move out of the temple, and was used to elaborately decorating deities, and i knew that in the future this would help me a lot to keep my mind engaged in decorating the salagram nicely.
I mentioned this to one devotee, Nikunjabihari prabhu, who has been worshipping many silas for many years. He told me that he just received a sila that would be perfect for me. He gave class on the appearance of Radha Raman, and one man came up to him after the class and said he had a salagrama and offered Him to him. The next week Nikunjabihari prabhu brought me this salagrama, during the time in between I realized I just wanted to have the one salagram to concentrate on and remembering my constant anxiety about small silas, I decided to return the favor of Nikunjabihari prabhu and gave him my 4 Silas.
About 2 months later, I went to Argentina with my father to visit family I haven't seen for many years. One of the main reasons I decided to go after avoiding it for so long was one Godbrother of mine mentioned that if i came he would be able to arrange for me to obtain a sila there from one devotee who was taking care of a devotee who had left his body's silas and was willing to give some away. The moment I got there I called him it turned out since the time I talked to him, almost a year, and now the devotee who had the silas had understandably become very attached and replied that they wanted to give One away but couldn't as They were like their Children. I visited the temple and was talking to another devotee who mentioned he would take me to one devotee who would give me a sila. After a few days of arranging out schedules to fit we embarked on quite a journey crossing the capital, taking a number of hours and walking taking, trains walking taking trains.... I thought that I guess there should be some sort of journey obtain some mercy of the Lord.
When we got to the devotee's house we took darshan of the 100+ salagrams and 15+ Govardhana silas along with a devotee who was visiting with 100+ silas. After talking with the devotee he asked what I came for, I replied one Govardhana sila. He looked at me and reached over and picked out one small Govardhana that you see in the picture above.
During the time I was on the train I was reflecting on one very special devotee who lived back in Gita-nagari, Mother Kaulini (ACBSP), those devotees who know her, understand her sincerity and dedication to Srila Prabhupada, and staying and serving Radha Damodara and the cows for over 25 years even when it was just her doing practically everything. When you talk to her it is like talking to Brajbasi because of her residence in the Dham for so long and service to the cows, her affection for Govardhana is obvious. I remembered that she once told my wife a few months before about one devotee who received Govardhana. My wife replied, "Wow Govardhana is coming to so many people." To which MK replied, "When will Giriraja come to me." I thought if I could obtain a Govardhana sila for her it would definitely be pleasing to her and her Prananatha, Giriraja Govardhana.
Going back to Argentina, after the devotee gave me one Govardhana he sat there smiling at me and I said I need another, for one very special devotee back in the US, he asked a few questions and felt satisfied that it would be all right and gave me another of a similar shape with a beautiful rainbow reflection to him. To which I took back to her then next week and was able to be a medium for the Lord's travel to her. ( I will try and get a picture of her Giriraja)
After receiving Govardhana I said I can't have just two I need one more, a salagram, the devotee I could see was probably thinking, "The gall this boy has, he is taking all of my deities, but by his mercy he understood and got up and walked to the salagrams, and took out a beautiful Sri Sudarsana Salagram (back right). The devotee who came with me, Ekanatha Gaura pr., told me Padmanabha Goswami said that Sudarsana Salagrama is the same as Ananta, of which it is said that I must worship in my charts and I was praying to worship. I could see how perfectly everything was arranged.
Another few months later after moving to Boston I was at the temple on Balarama's appearance day, and one young western man came to the temple and as I was leaving he was walking at the same time. I saw on his wrist some red threads common to doing a puja, I thought it was weird that some normal westerner would be doing puja. So I asked him if he was doing some puja. He replied he got it in Muktinatha. I was a little surprised that he had been there and then said I want to go their to bring back some Salagrama Silas from the Gandaki. He looked a little puzzled and then said, "Oh the ammonite fossils, that they crack open for gold?"
A little saddened that that happens I replied, "Yea, I guess so, those are them."
"Oh I think I have one."
"You have a Salagram sila?" I yelled excitedly, thinking how can I get the Sila from this man.
"Yea, this woman gave me him when i was trekking at Muktinatha"
"Those are very, very special 'stones'"
Noticing my growing excitement and obviously understanding there is something up with these stones and me, he said, "I can give you 'It'."
After some more talking discussing about the salagrama, we set a time to meet again and I could get the sila (Ananta Sesa in the back left).
When we met again he explained that he didn't know why but he remembered from having contact with devotees over the years there was something special about these 'stones' but he couldn't really remember. When he saw this women with some he didn't understand why but he took one. He said, "...especially at that time I was trying to travel light and I didn't buy or pick up anything and normally I wouldn't have taken something especially a rock. But I did..." He then traveled through India for a few months and would leave things in a room he had in Varanasi. Every time he left he thought he left the sila in a little pouch he bought for 'it' back in Varanasi , but somehow he popped up again in his pocket all the time wherever he went. Then when he came back to the US, he left all of his things at his parents in New Jersey and then came to visit friends and boston, and brought some Tulasi beads for some devotees. He specifically remembered leaving the sila with his things at his parents, but when he opened his bag in Boston he saw Salagram was there again, and he thought now I have to take this back to NJ, what is going on? He said when he gave him to me now he knows why he got Him in the first place and why he kept on popping up. "I brought Him here for you."
After that I was planning on going to Gita-nagari for Janmastami, so I figured I would wait the week as the salagram hasn't been worshipped before I start worshipping him and offer him an opulent abhisheka and puja on Janmastami when I get to Gita-nagari. The day before J. I arrived in Gn, I mentioned to one devotee the story of this new sila. He said one of the pujaris thinks he found a sila this morning in the Brahmachari Ashram. The pujari then came upstairs and took me to his room and showed me the alleged sila. He told me he found Him looking through something in one of the empty rooms that has a lot of storage things, he picked up a plastic bag and shook it and heard clanging, inside he found a bunch of little silver deities of Laxmi devi, and Ganesha. Then he saw a pillow case with a something that looked like a salagram. He couldn't understand why a sila would be there though. 'He looked like he had powder on him, then I looked closer and noticed that it looked like my sila when i have to much tilaka and don't massage him with enough oil and he dries out. I took some of the ghee from my puja bag and rubbed it on this 'sila' the shape of him looked like something I had seen. I said I don't know, he didn't have any obvious chakras. But he looked very familiar. We figured out whose things the sila was with. I tracked down the devotee and called him to find out what was going on. By this time it was 10:30 pm but i wanted to know right away whether this was a genuine sila and if I could worship him the next day with the other new sila. As it was late, i woke him up and i was on a two minute calling card. I talked as quick as i could and asked him if what we found was a salagrama, he replied yes one devotee friend of his brought him back from nepal for him and then I asked if i could have him, and he said yes. That was all I needed to know then the card cut off. After I told the other devotees the all thought that the lord (Krishna sila in the front right) was just hiding out there so he could join the other salagrams and reenact his Janmastami appearance lila the next day and begin the worship again.
After I did the worship and put some eyes on him I realized that the reason he looked so familiar was because I had a dream about him. The week before I had been having dreams every night about salagrams, since getting the one on Balarama's appearance day. One of the dreams was a reoccurring dream that I was in Gita-nagari and one devotee had been sent a bag of change from India and in it they found a salagrama, it turned out to be that one. I just thought the bag of change part was just to be dismissed, until I told one devotee and he connected the change to the fact that the sila was found with laxmi and Ganesha deities....
More mercy - October 10, 2001
I had an exciting thing happen to me today. I was walking downtown to drop off my rent check and as I was coming down the stairs from the realty office, I see this door on the right in the building with all this nepali stuff. It was a store I never noticed, but actually has always been in there and I practically walked in with out even knowing it. So I looked around to see if they had any cool puja stuff, or I figured I might as well see if for some reason they had any Silas.
The man in the store saw my sikha and asked if i was from India, we started a little conversation and he told me he just got back from Nepal. I told him I planed to go to the Gandaki soon. He didn't really listen but kept on talking to me about going to Pokhara and trekking. Then he said I brought back this rock from there and pointed to the showcase.
It came as such a surprise that it took me a few seconds to register, when I saw two Silas sitting there with beautiful chakras. I said let me see them, as I felt my heart jumping in happiness and familiar but always gladly welcomed feeling of a new master coming into your life happened. I saw that actually the two silas were one and that they fit together, apparently someone cracked him in half. There were all sorts of gold specks on the inside chakra. He is so beautiful. I immediately gave him a donation and ran out of the store to the temple to give the devotees darshan of His Lordship. I am not sure yet what kind he is as I have only had him for a few hours. I have to go buy some substances for him so I can bathe him nicely tomorrow. I think he is a Kurma sila though. I'll post some pictures ASAP


Search here for individual Sevaks and Deities World-wide.
A-B-C-D-E-F-G-H-I-J-K-L-M-N-O-P-Q-R-S-T-U-V-W-X-Y-Z

---