Bhakta Dhruva dasa - GKG - Ludhiana/Jalandhar, India
last updated 21st January 2011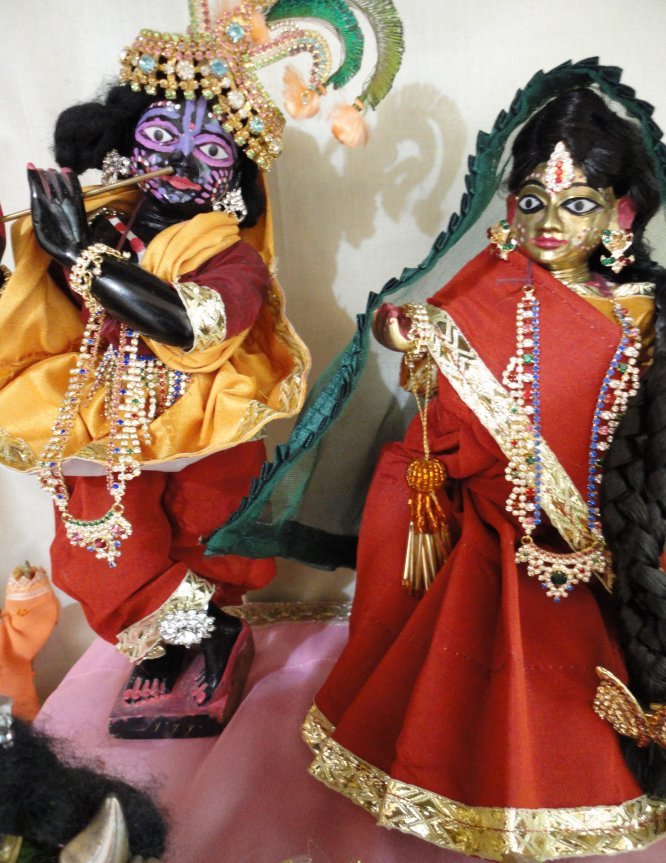 SRI SYAMASUNDARA WITH BRIJESHWARI SRI RADHA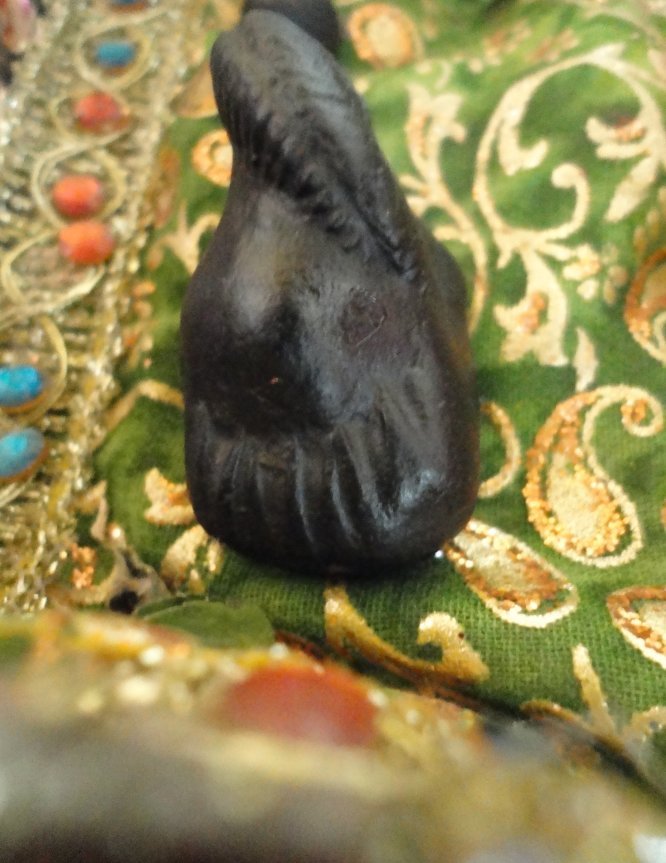 SRI VAMANA SHILA : THERE AE 3 FOOTS AND UMBRELLA (TILTED CHAKRA ) IN THIS SHILA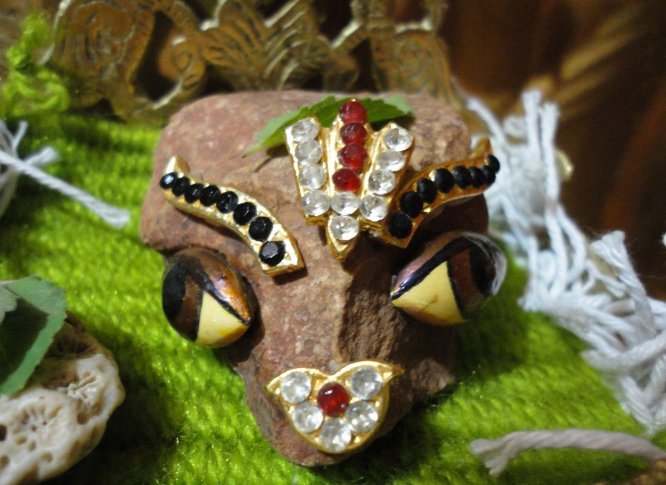 UGRA STHAMBAM : A REAREST OF RARE SHILA THIS SHILA IS FROM THAT PILLAR FROM WHICH LORD
NARSIMHA CAME OUT. WITH MYSTERIOUS INCIDENCES LORD CAME TO ME IN THIS FORM DURING MY TRIP
TO AHOBILAM!!!!!!!!!!!!!!!!!!!!!!!!!!!!!!!!!!!!!!!!!!!...............................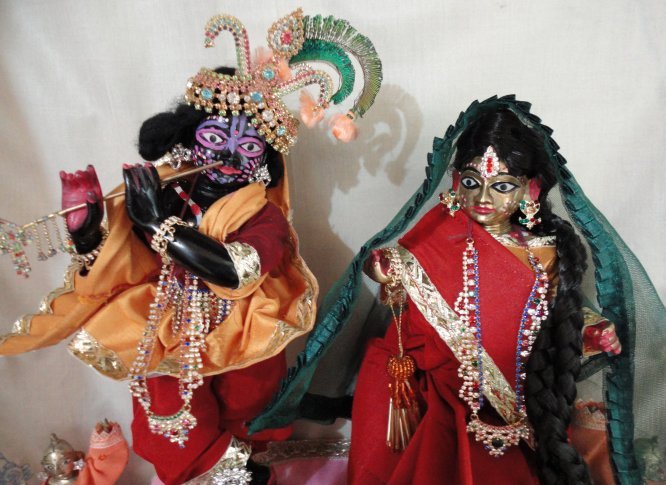 SRI SYMASUNDRA WITH BRIJESHWARI DEVI.
SRI SYAMASUNDRA LOOKING LIKE BRIGHT GLOWING MOON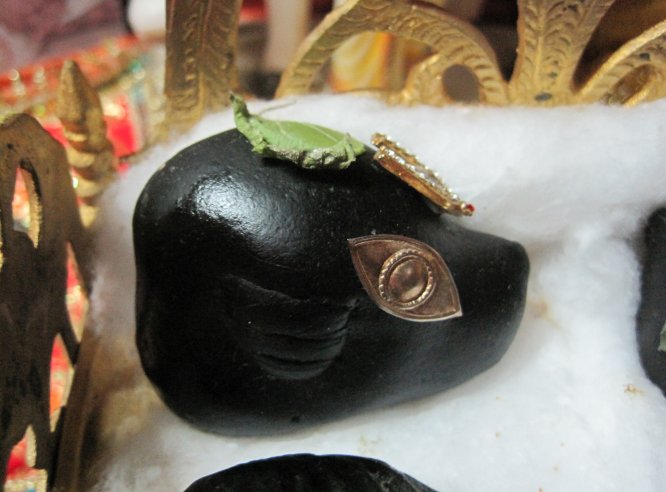 SRI VARAH SHILA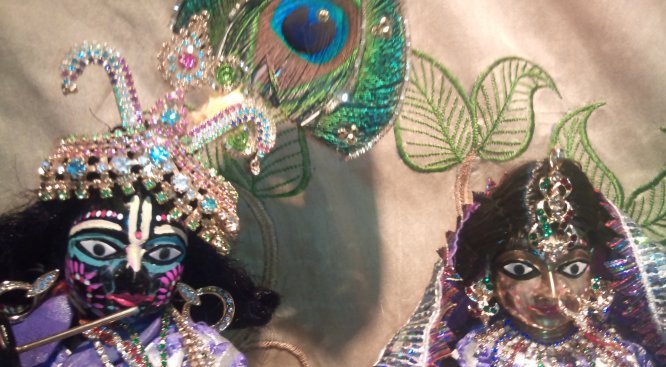 CLOSE UP
SRI RAMA DARBAR: SOUTH INDIAN STYLE
SRILA PRABHUPADA : CHANTING MAHAMANTRA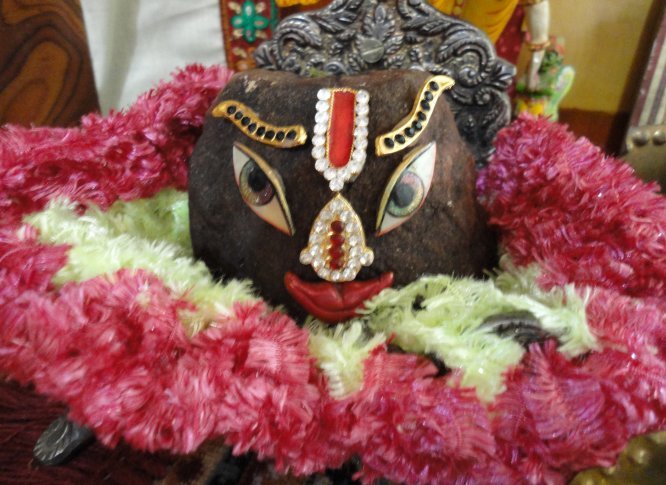 SRI GRIRAJ ROOPAYEE NAMAH : GIRIRAJ JI IN THE FORM OF RASA-BIHARI KRISHNA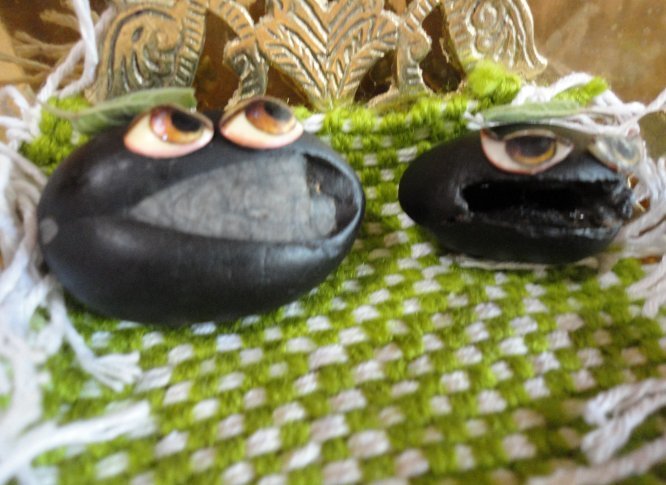 SRI RAMA SHILA WITH LAXMI NARSIMHA

before 19th May 2010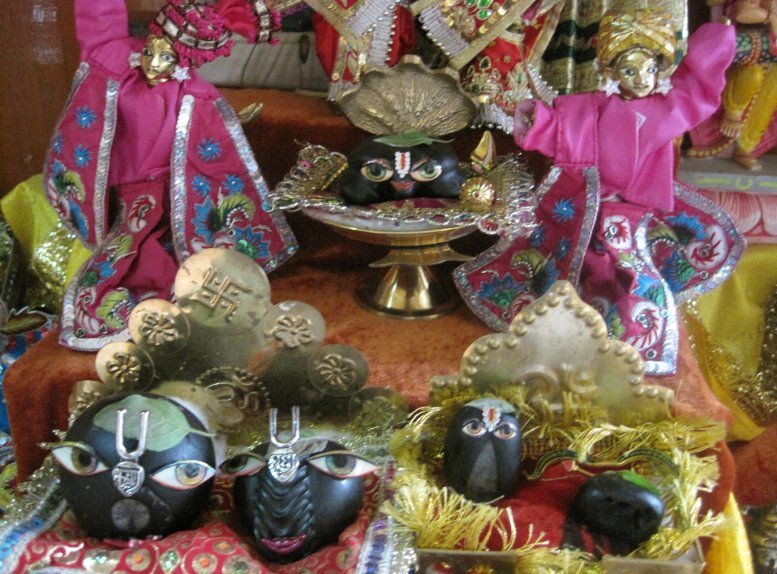 MY ALTAR : AFTER MANGLA AARTI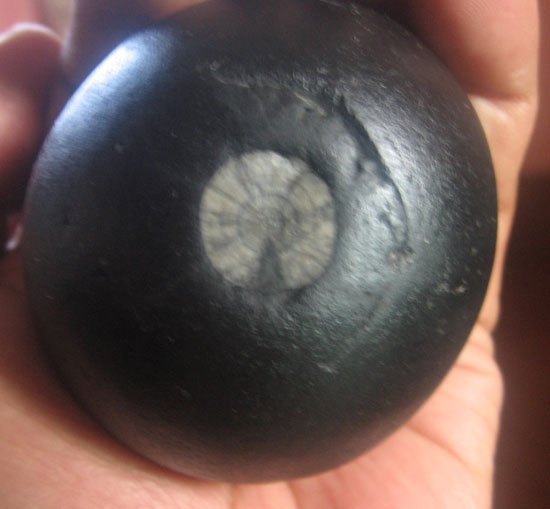 GOVINDA: HE HAS COW FOOT PRINTS ,HAS PERFECTLY ROUND SHAPE AND HE IS VERY COLD TO TOUCH.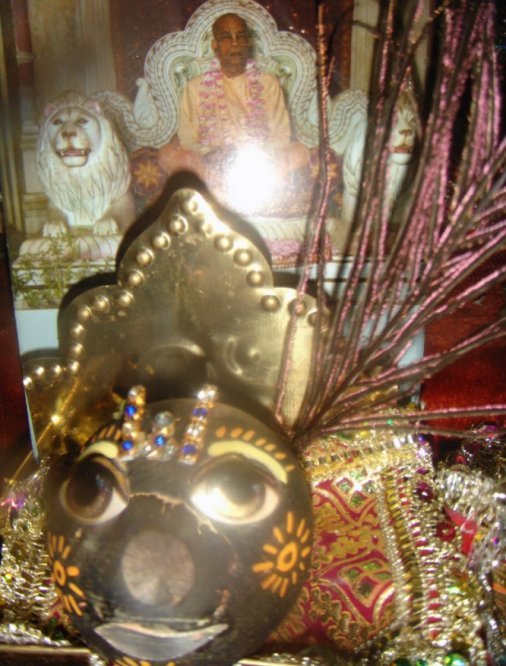 GOVINDA DECORATED:HE LOOKS VERY SYMAPATHETIC EVEN GODESS OF MERCY IS ASTONISHED BY HIS SYMPATHY
UPON HIS DEVOTEES.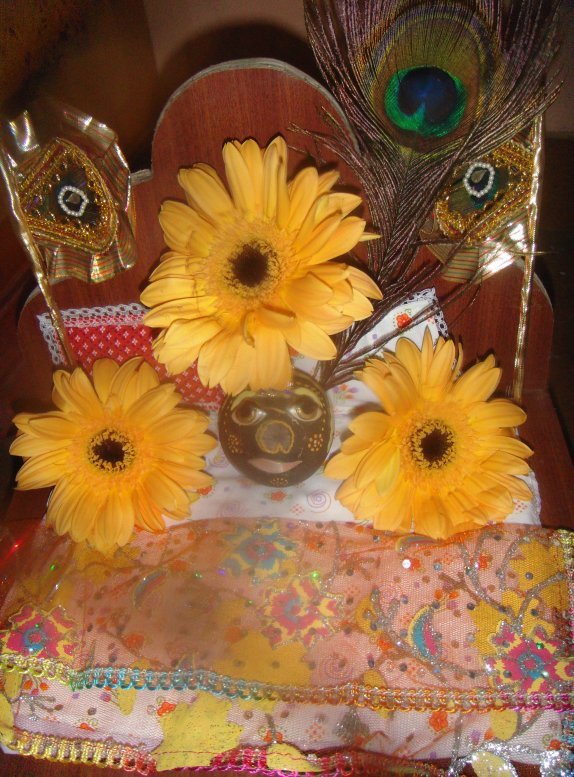 Here I am sending a new lullaby which we sing (translated from original oriya song) these days.
GOVINDA GOING TO SLEEP AFTER LISTENING TO LORY(LULLABY)
The chubby little son of the King Nanda – His father had named hhim Govinda
He who seems to smile all the while – Whose mother'ss love is divine
It was a full moon night – With uncler moon rissing so bright
It looked like a round silver tray – And earth waas glorified by its ray
In Mother's lap, Govinda lay – She showeed him the moon while singing her song
For the moon, the son persisted – Asking His mother to get the moon at once
Whatsoever was donee for the stubborn son – Tears kept flowing from His eyes like rain
Then, the mother did a trick – She got a mirror for Him
In the mirror, He found the moon – His joy knew no bound
In the moother's lap, not just little Krishna – But the sun and the moon get a sound sleep as well.
SOMETIIMES TEARS COME IN OUR EYES WHILE SINGING LULLABY FOR LORD AS HE LOOKS TOO SWEET
AND LOVING WHILE TAKING A NAP!!!!!!!!!!!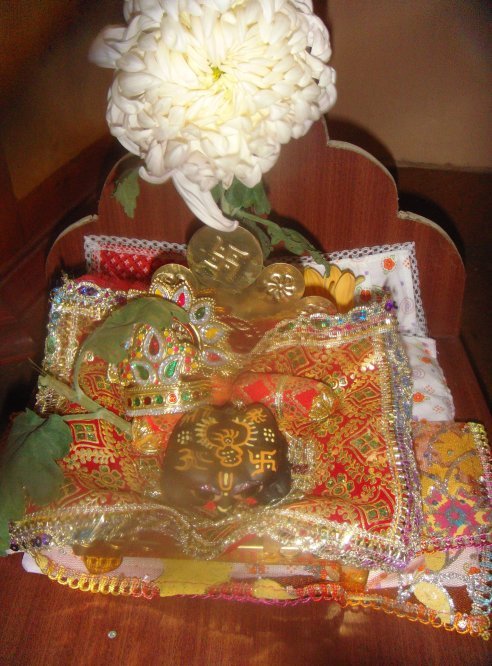 KURMA SALAGRAM:GOING TO GOOD NIGHT SLEEP . SUBHA RATRI!!!!!!!!!!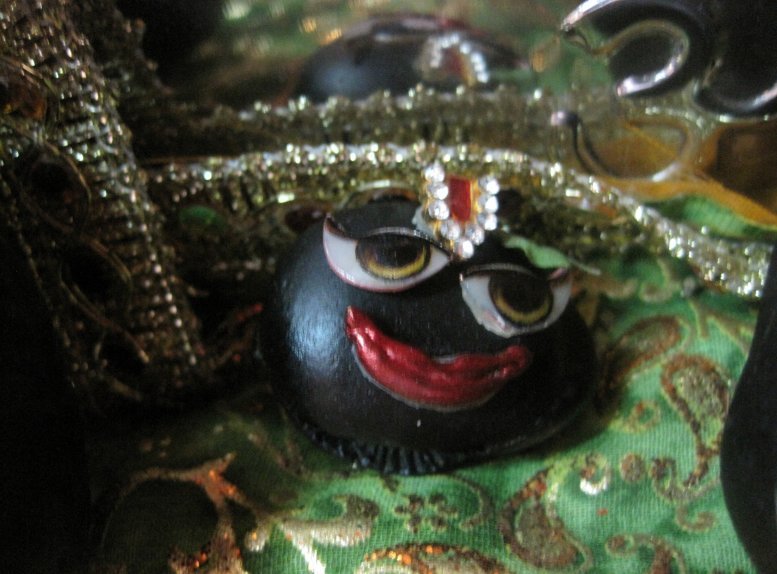 NARSIMHA SALAGRAM: GIVING OPEN WIDE SMILE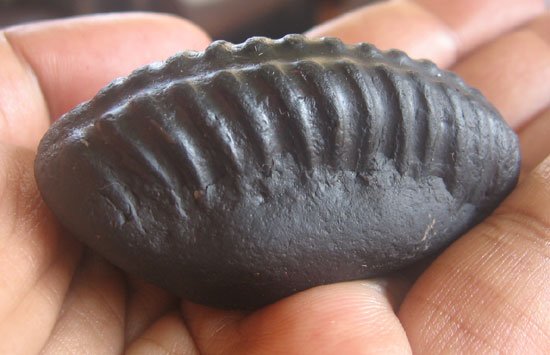 MATSYA AVTAAR : HE HAS PERFECT FINS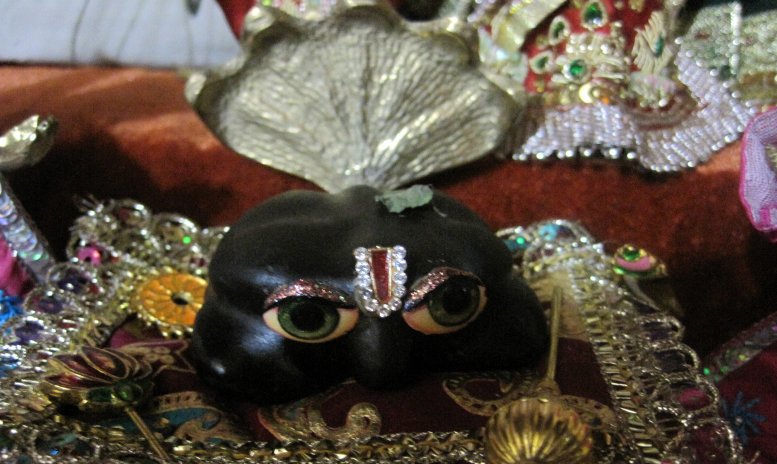 THE HIDDEN CAUSE OF KURMA AVTAAR
SHRILA PRABHUPADA always said that there is always a hidden cause of lord's incarnation
and kurma avtaar is not exception to above - this avtaar occured not only to help surs or
demi gods but also to reveal the eternal truth that it is supreme personality of godhead
himself who holds the devotee along his whole spirtual path ,as kurma avtaar holds
mandhara( man is mind and dhara is single line of water in hindi/sanskrit) this means
our mind concentrated for one destination- to serve the lord , to love him without any selfish purpose etc.
And each stage in sagar manthan corresponds to parallel stage of a person leading spirtual path
(Beginning with ocean of milk till attainment of immortality) as follows-
ocean of milk is same as human conciousness it is same as cerebro spinal fluid in mind with almost
same concentration of salts.The mind is like an ocean while the thoughts and emotions are the waves in the ocean

Mandhara, the mountain symbolises concentration. The word Mandhara is made up of two words Mana (mind) and Dhara (a single line) which means holding the mind in one line. This is possible only by concentration.
The Devas and Asuras represent the positives and negatives respectively of one's personality. The participation of both the Devas and the Asuras signifies that when one is seeking bliss through spiritual practice, one has to integrate and harmonise both the positive and negative aspects and put both the energies to work for the common goal.
Mount Mandhara was upheld by Lord Vishnu as a Kurma (tortoise). The tortoise here symbolises the withdrawal of the senses into oneself (just as a tortoise withdraws its head into its shell) as one practices mental concentration and meditation or contemplation. As lord himself is holding mana on his back-It is same like giving one's heart to krsna where he controls our mind and led ourself towards our final goal.
Vasuki symbolises desire. Vasuki used in the churning of the ocean denotes that the Devas and the demons held desire (to seek immortality) as a rope and churned the mind with the help of concentration and withdrawal of the senses. Desire, if not controlled will overpower and destroy an individual. Now this desire is to be controlled by holding it from both sides.(Snakes are symbols of desire like we see many snakes coiling around golden pots ,diamonds etc,thus they represent desires of material things. In vishnu sahastranama one of the lord's name is SHESHASHEAYE meaning one who lies on the grand snake sheshnaag internal meanning is one who is above materialistic desires or death with snake(sheshnaag) represents.
Controlling a desire is equivalent to vairagya or dettachment from materialistic things.This VAIRAGYA is of two types:
1.Positive dettachment or vairagya:It means when one possess materialistic thing but do not have attachment for it. Like king janak ,king dhruv who had whole empire to rule but they were not attached to any desire for them . Demi-gods holding tail of vasuki represents positive vairagya as leaving enjoyment of heaven- they were churning ocean for immortality.
2.Negative dettachment or vairagya:It means when one does not have any materialistic thing in need but does no demand for it
beacuse of his perfect knowledge or bhakti or devotion of lord. Like sudama (sakaha of krishna) , king rantidev etc.This is represented by asurs or demons holing mouth of vasuki.
Lord Shiva symbolises the ascetic principle. His role in this story as the consumer of poison suggests that one can deal with the early problems of spiritual life by cultivating the qualities of Lord Shiva, namely, courage, initiative, willingness, discipline, simplicity, detachment, compassion, pure love and asceticism. He also represents one's guru as he is the highest vaishnav according to shrila prabhupad ji. In ISKON these habbits are developed from beginning and all the prabhu ji who have taken initiation have to cultivate these habbits.
The poison also symbolises pain and suffering(due to previous births bad karma) which occurs during early stage of spirtual path and this can only be lowered with the help of one's guru and strong faith in him and lord.
The various precious objects that come out of the ocean during the churning stand for the psychic or spiritual powers (Siddhis) which one gains as s/he progresses spiritually from stage to stage. The seeker should be careful about these powers as they can hamper her/his progress unless s/he uses them judiciously, not for selfish gains but for others' welfare. This is the reason why the Gods and demons distributed these objects as they did not want to lose sight of their original aim which was to gain immortality. Shree krsna says many loose path while comming to me during this stage as many use their spirtual energy for their selfish purpose and loose sight of their final aim. This reminds me of famous shalok by SANT TULSIDAS
PRABHUTA KO SABH KOHI CHAHE
PRABHU CHAHE NA KOYI
TULSI JO PRABHU KO CHAHE
APHE PRABHUTA HOYI
MEANING:
EVERYBODY LIKES QUALITIES OF GOD LIKE HIS GRACE ,HIS SYMPATHY
HIS LOVE AND TRIES TO TAKE BENEFIT OF THAT,BUT,NOBODY LIKE SUPREME
PERSONALITY OF GODHEAD HIMSELF. IF ANYBODY LOVES SUPREME PERSONALITY
OF GODHEAD(SHREE RAM) THAN AUTOMATICALLY HIS GRACE WILL FALL UNTO HIM
WITHOUT ANY EFFORT.
Mohini symbolises delusion of the mind in the form of (or originating from) pride. It is the pride of achievement to which the asuras or the demons succumbed and thus lost sight of their goal. Pride and egoism are the last hurdles one has to overcome in spiritual life before experiencing self-realisation. This is final stage where all delusion can occur many fall down due to abhiman
or ahankar they have in their mind of the spirtual progress they have made.
SHRI CHAITANYA MAHAPRABHU
IN
SHRI CHAITANYA-CHARITAMRITA SAYS
"To enable one to chant the holy name of lord always ,a person should be humbler than the grass in he street ,devoid of all
desire for personal honor, and ready to offer others all respectful obeisances"
Lakshmi represents universal enrichment which comes as an automatic by-product of the internal self-realization or Amrita.
and in end amrit represnts immortality which can be achieved only after entering eternal abode of supreme personality of godhead.
So all the products in sagar manthan represnts some stage of spirtual path but in all of them role played by lord
KURMA is most significant as controlling our mind(mana) is most difficult task and it can be concentrated only
and only with the help of lord himself.
HARE KRISHNA!!!!!!!!!!!
LORD KURMA ,ONE CAN SEE FIVE SUN LIKE ELEVATIONS FORMED DUE TO DEPRESSION CAUSED
BY MANDHRACHAL MOUNTAIN, WELL FORMED MOUTH WITH NATURAL EYES AND FEET.
MANY AUSPICIOUS SIGNS OF LORD CAN BE SEEN ON HIS FOOTS, BACK AND SIDEWAYS ETC.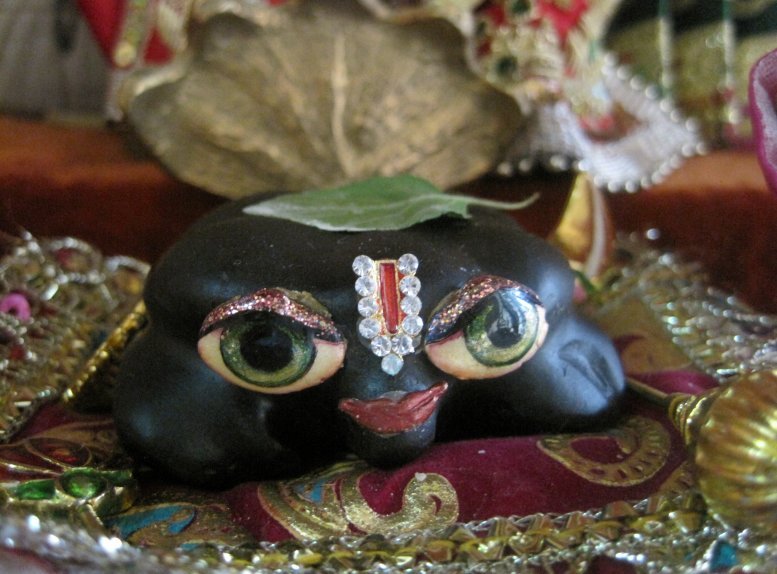 Shree kurma resting on bed of shesha and holding shakh chakra gada and padma.......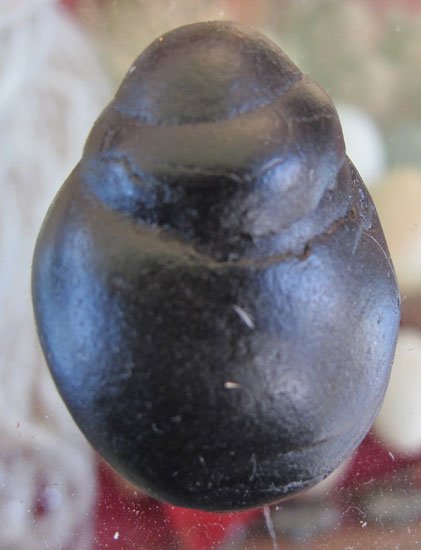 BUDHA SHILA : NATURAL SHAPE OF SHREE BUDHAS HEAD.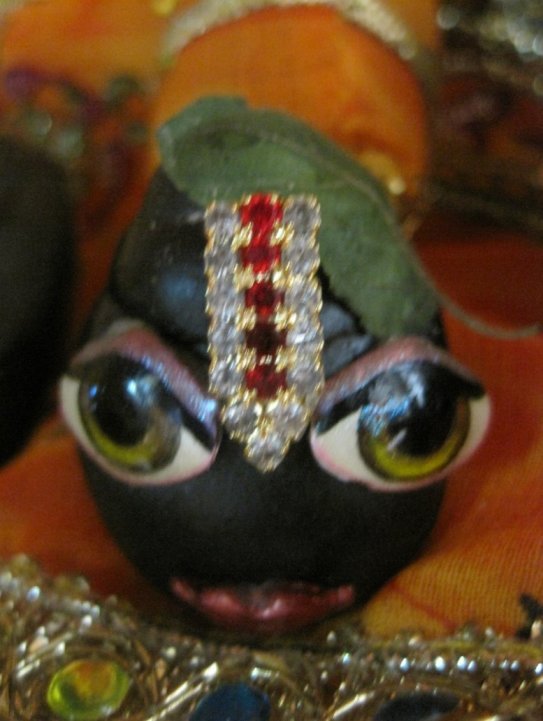 SHREE BUDHA DECORATED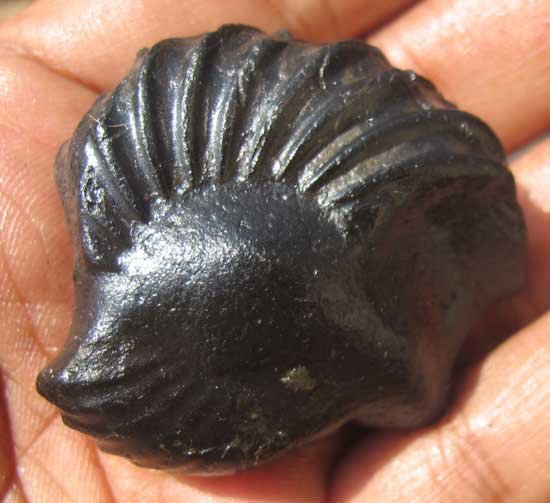 SHREE BAL-NARSIMHA SALIGRAM : A VERY RARE SHILA.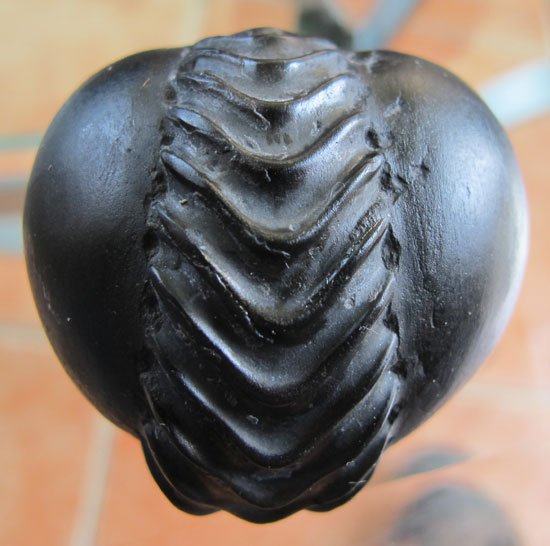 SHREE LAXMI DAMODAR SHILA : ACCORDING TO SALIGRAM
STOTRA A SHILA WITH CENTRAL CHAKRA IS LAXMI DAMODAR
BUT WE PRAY HER AS A RADHA RANI!!!!!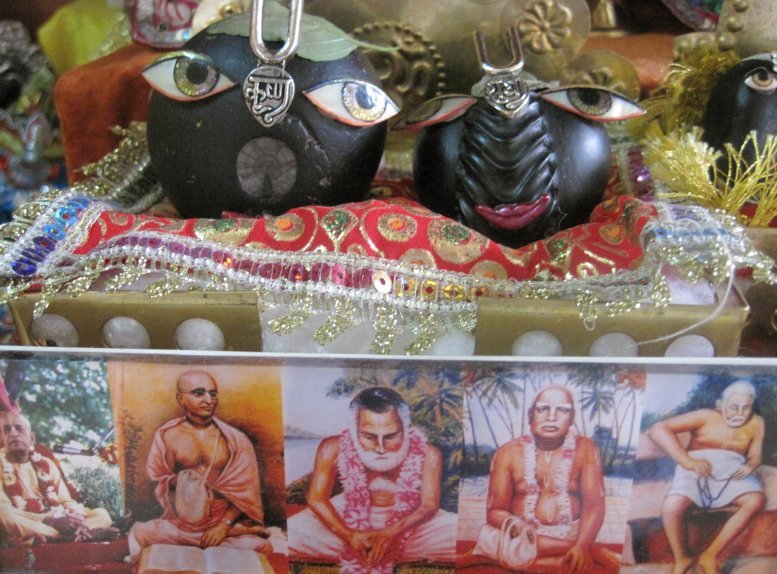 RADHA-KRISHNA ABSORBED IN TRANSCENDENTAL LOVE.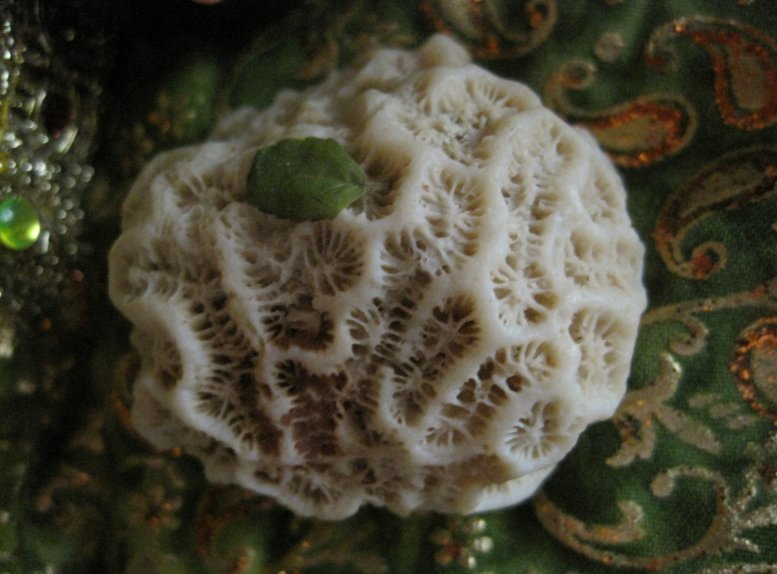 PRADYUMNA DWARKA SHILA.
SHREE RAM SHILA: IT HAS NATURAL WHITE TILAKA .
THIS SHILA SHINES LIKE SUN .




Search here for individual Sevaks and Deities World-wide.
A-B-C-D-E-F-G-H-I-J-K-L-M-N-O-P-Q-R-S-T-U-V-W-X-Y-Z