Dina Bandhu dasa HDG - São Paulo, Brazil & Malaysia
last updated 14th January 2011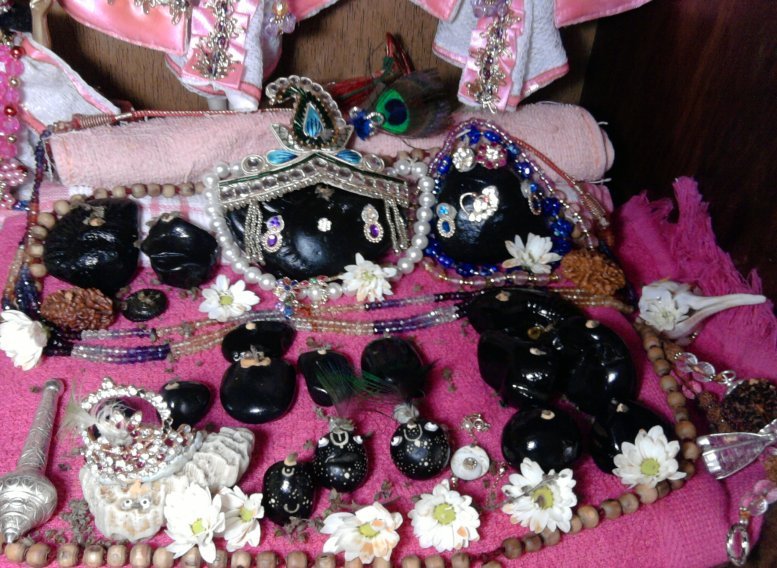 Hare Krishna , here are the pics of my shilas.
I am from Malaysia Seremban, I studied in Vrindavan gurukul under Kurma rupa and Gauri das prabhu and i am living currently in Sao Paulo.
Thank you very much
Hare Krishna
Dina Bandhu das (HDG = Hridayananda Dasa Goswami)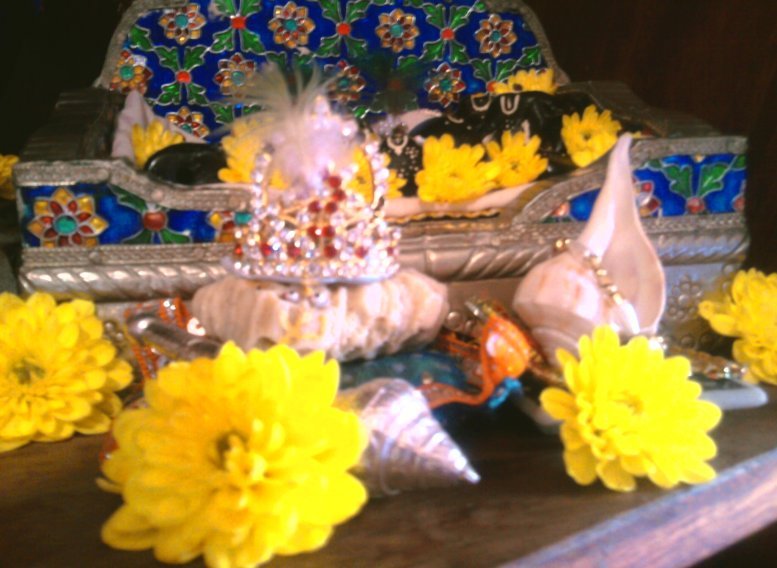 Dauji Baladeva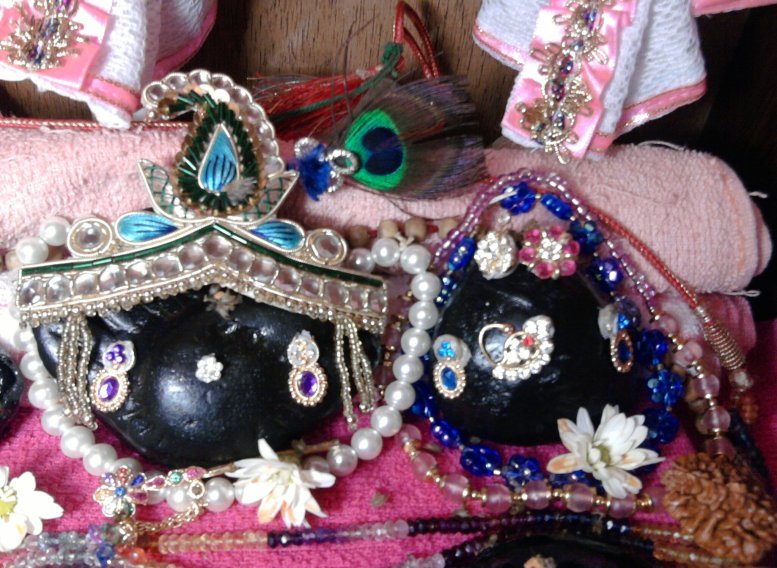 Krishna kanaya and Radha Rasa Bistarini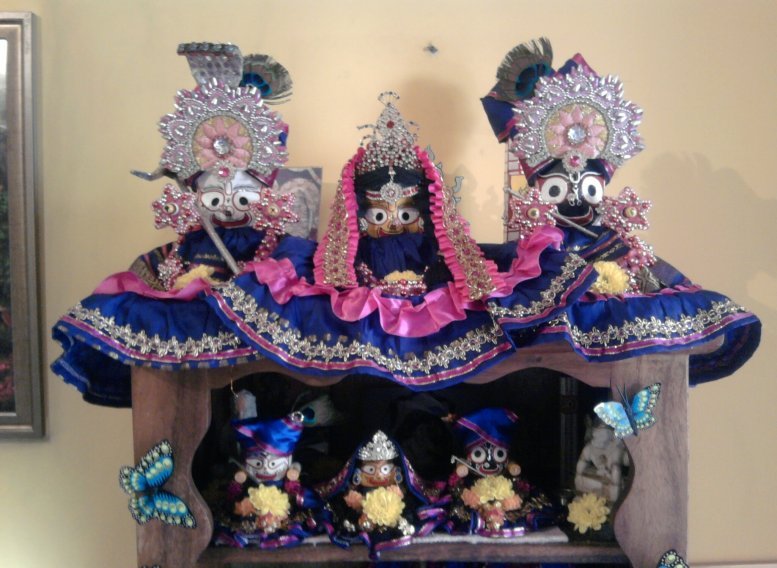 Lord Jaganath Baladeva n Subadhra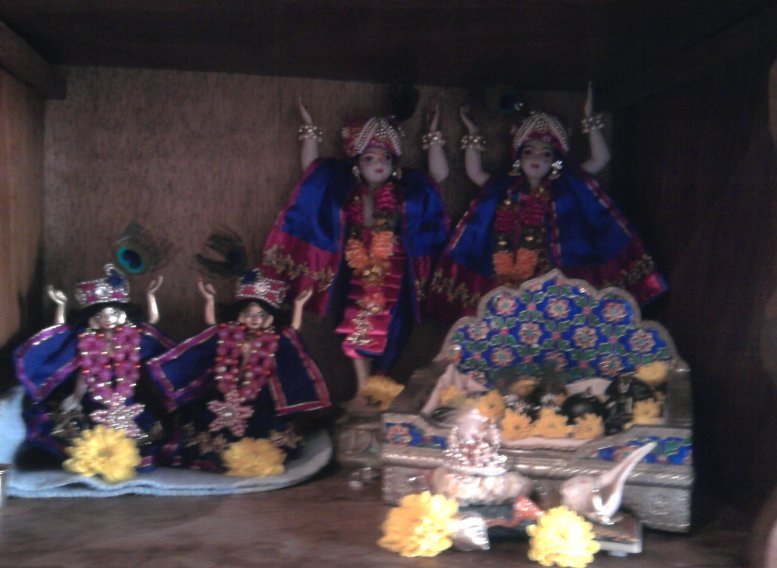 Nitai Gaura sundar Nataraj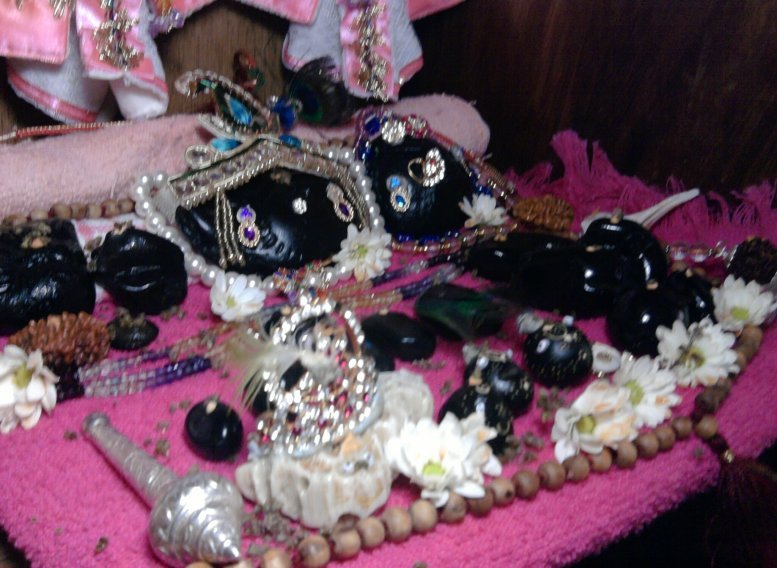 the whole family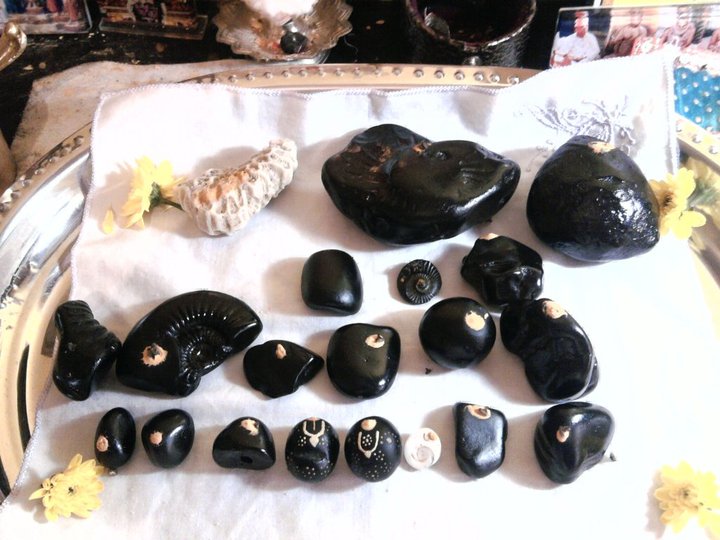 Preparing for sunday abishek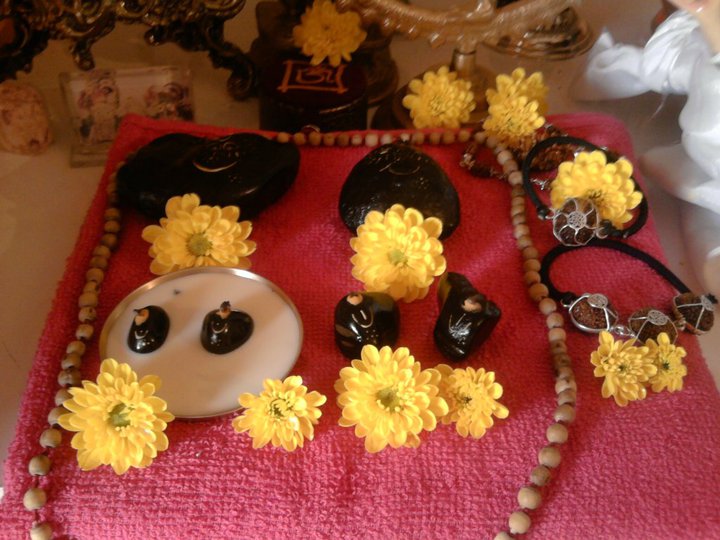 from left very cute matsya and kurma shilas in milk my kurma shila looks like the turtle from the finding nemo cartoon, he is so beutiful and green on the back ,Garuda shila, Hayagriva shila , above left Krishna kanaya he is so cute he has a baby like face and small baby mouth natural eye and peacock feather and Vamana shila beside he has a natural umbrela. beside the shilas are my rudraksha beads 14 mukhi,8 mukhi of Lord Ganesha, 10mukhi or Lord Narayana,and 12 mukhi or lord Surya Naraya. this is my second altar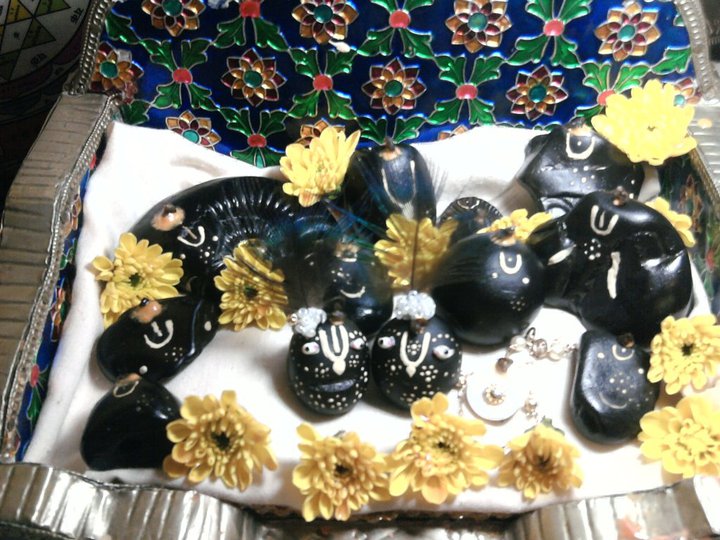 My main altar, Lord Baladeva is my first shila recieved and then Krishna Damodara he has natural eye and cute baby mouth their peacockfeather i hand picked them from around Goverdhan Hill in Vrindavan, beside White Gomathy shila i worship as Radha Rani. you can see Lord Vishvaksena , ladu gopal , Laxmi Nrishimha,on the right side. from left and up wards, Gopeshwar mahadeva, Lord Ananta shesha you can see his beutiful head in the shape of ananta,above is Lord Varaha deva. beside him is a very special shila, there are 2 linga in this shila and after worshiping for 2 weeks the front part a big thilak with tulaso inflamated from the body of the shila. so i just draw a thilak on top of the natural thilak. devotees are welcome to my home to take darshan of Lord Krishna Balaram and Radha rani.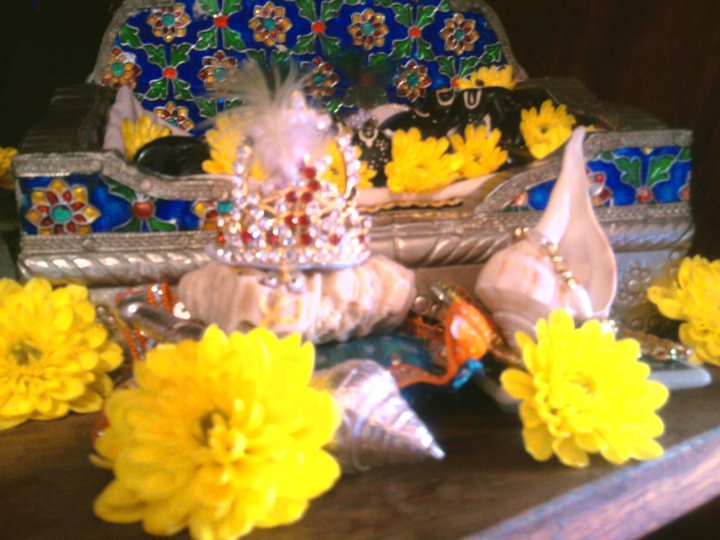 My shankarshana Dwaraka shila, i worship him as Lord Baladeva. he is so sweet and loving, he loves when i offer him his mace sometimes a plough.
Krishna Kanaya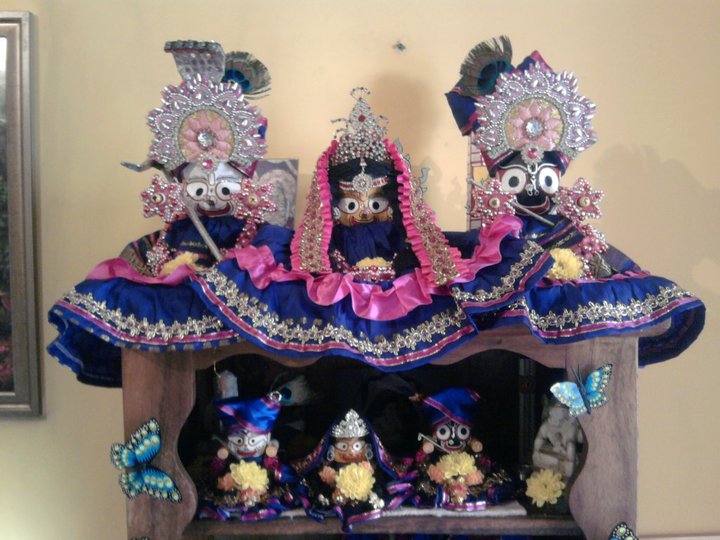 Lord Jaganath Baladeva and Subadhra the first deities of Malaysia Yatra in 79.and beelow my wife´s small Lord Jaganath Baladeva and Subadhra.
My Nitay Gaura Sundar (small bras deity) big Gaura nity belongs to my wife´s family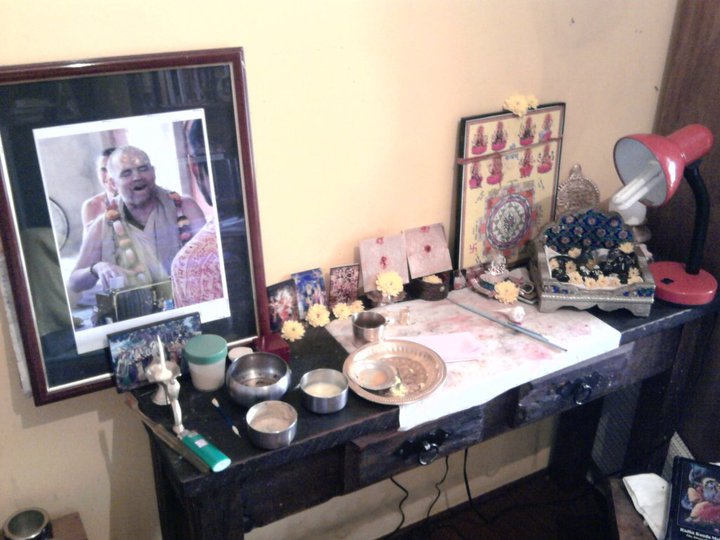 my table where i do my abishek and deity dressings
my little Vrindavan
(picture of Aindra prabhu)
thats me after my puja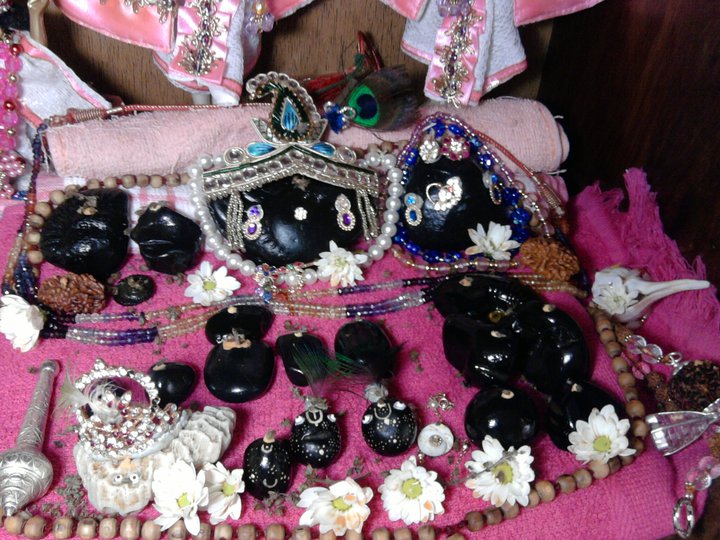 Search here for individual Sevaks and Deities World-wide.
A-B-C-D-E-F-G-H-I-J-K-L-M-N-O-P-Q-R-S-T-U-V-W-X-Y-Z