Halley Goswami - Calcutta, India
last updated 12th December 2012

haribol , prabhu , haha .

I'm 24 year old (male) law student form Calcuttta , India and want the pics of my salagram shilas to be published in your site .
.........the year i was born was in 1985 when the halley's comet was up in the sky . .......so my parents struck upon this rather weird idea to name me on that event instead of more common bengali or sanskritised names. ..........people here mistake me as christian or even sometimes muslim (mispronouncing it ali) hahaha .

The main shila in my collection is radha damodar . I got him from a 300 year old temple belonging to nityananda vamsa who are my relatives , Apart from that , my muktinath trekk in 2008 also enabled me to see and collect a few more of their lordships . Here are the pics:
---

12th December 2012

SHRINGAAR FOR RATHAYATRA --
Radhamadhava in Traditional bengali attire of 19th Century .
Madhava wearing cotton Shantipur-ee 'chunot' dhoti and Office coat with pocket watch . On his shoulders is 'chadar' and on his head the 'shaamlaa' -- Bengali turban .
Srimati Radharani wears red bordered white Benarasi saree in Traditional Bengali style .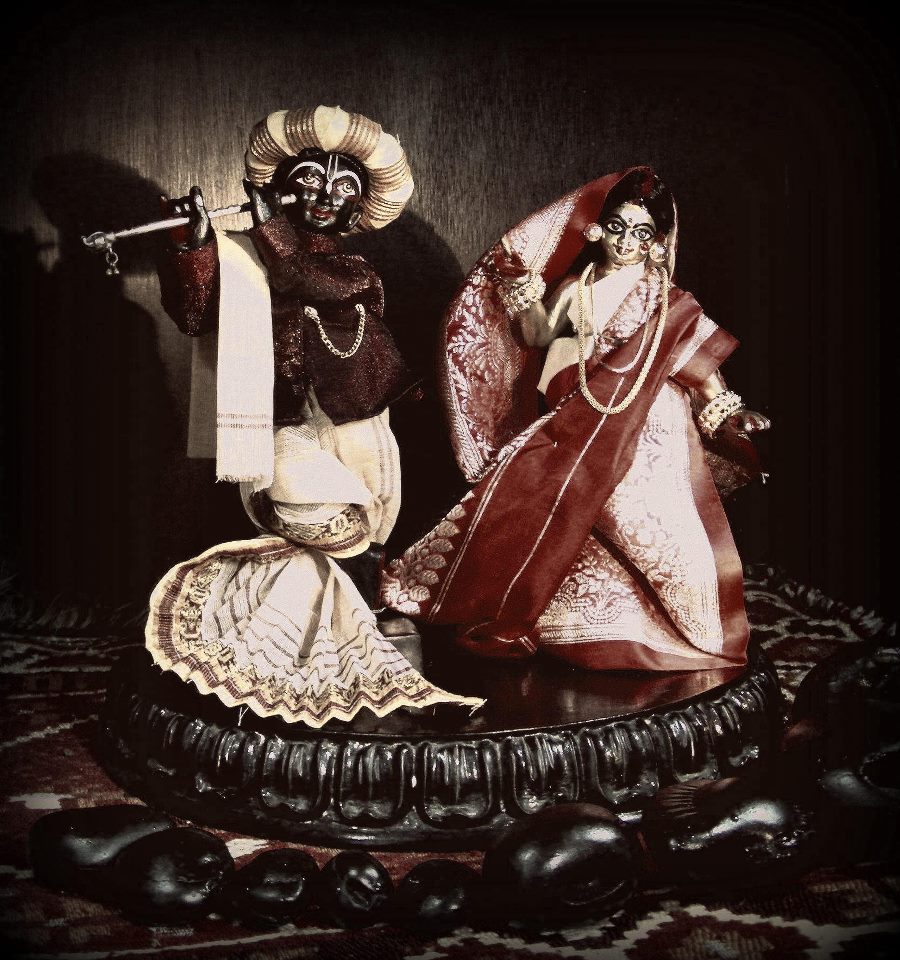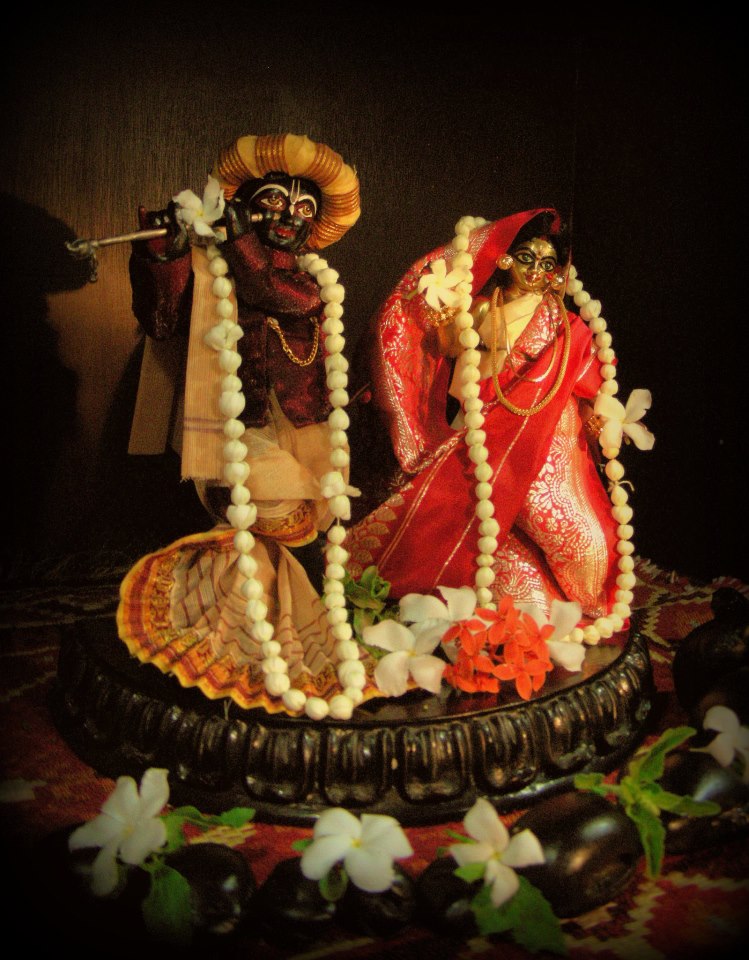 ---

17th March 2012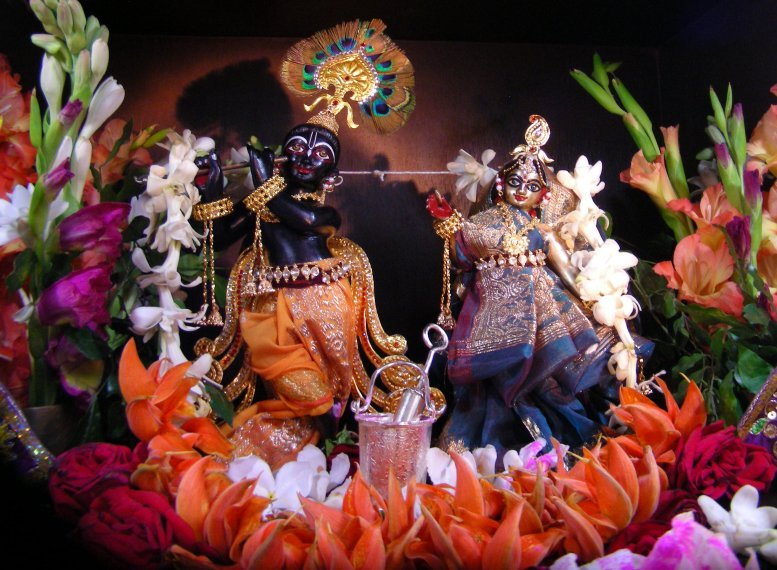 two pics of Radhamadhava on this gaura purnima . Gaura purnima being the day of vasanta utsava or spring festival , their lordships were offered palasha flowers , also known as flame of the forest along with a small bucket and syringe of colours to play with .
The dress is in lines of traditional bengali deities where Krishna wears the characteristic fan shaped crown named Mohan-chuda and silken robes .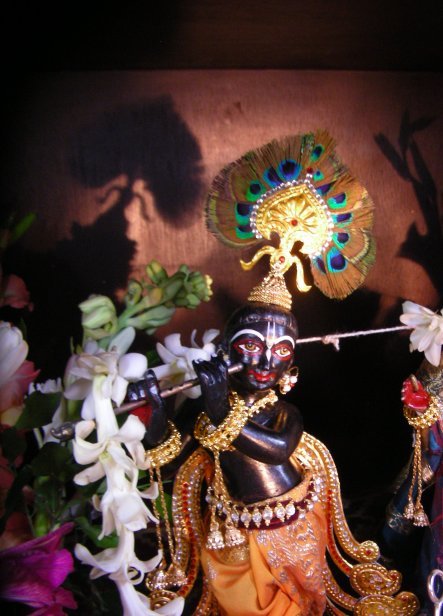 ---

24th August 2011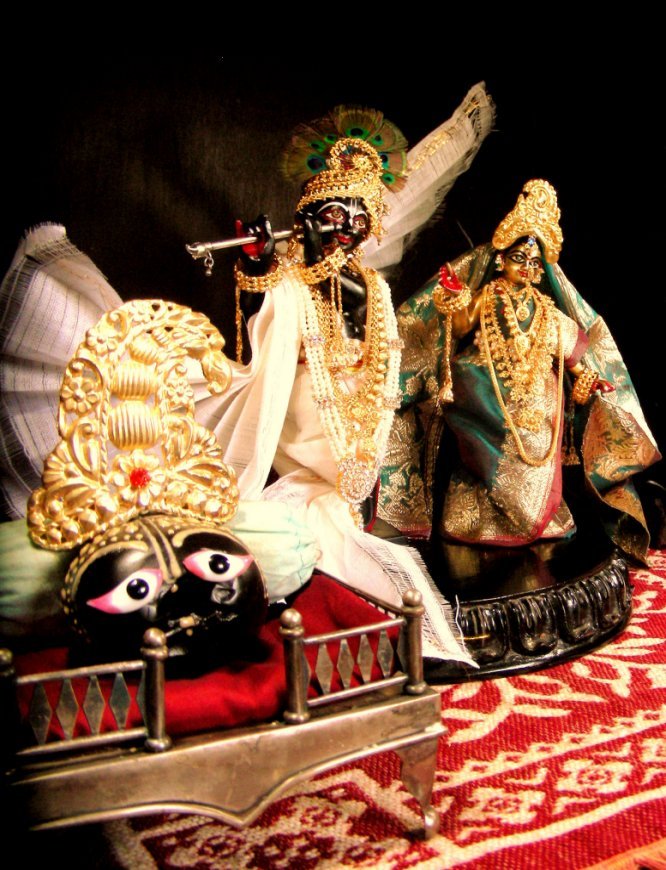 Janmashtami pictures for 2011 ---------- Radha Madhava dressed in traditional Bengali style of deity dressing . Madhava wearing silken dhoti-uttariya and Sri Radharani wears Benarasi saree . Madhava wears his new jewellery headdress in shape of a turban .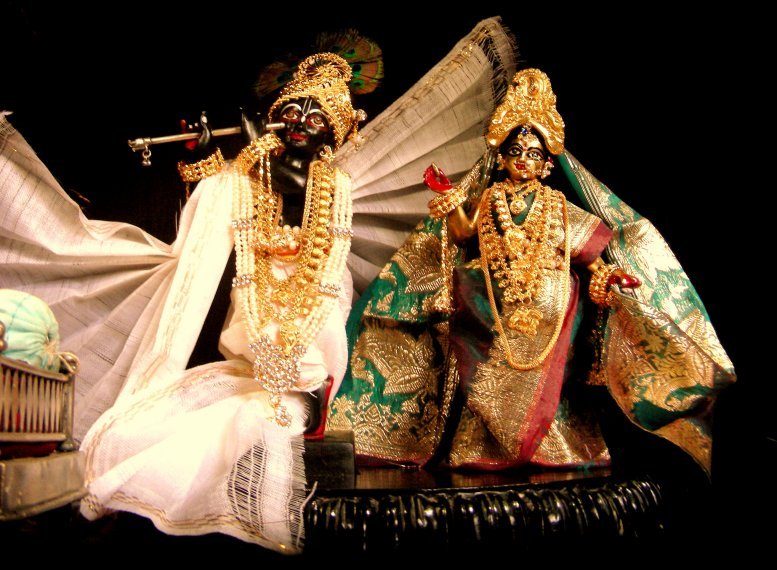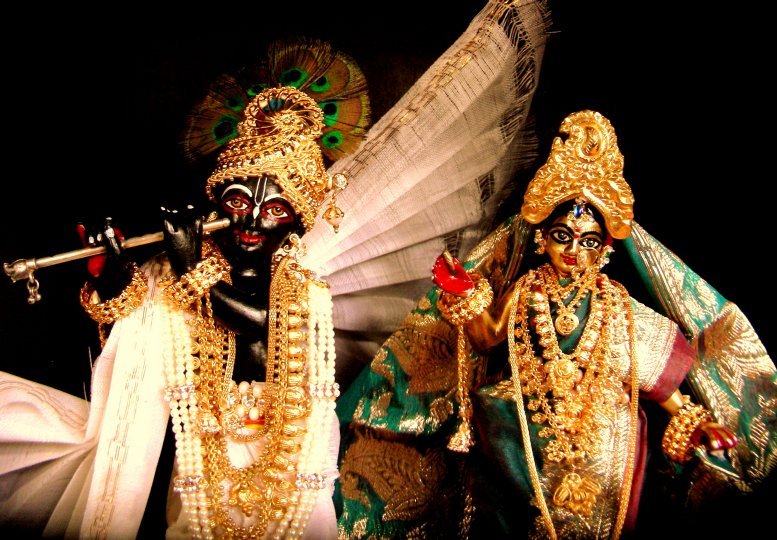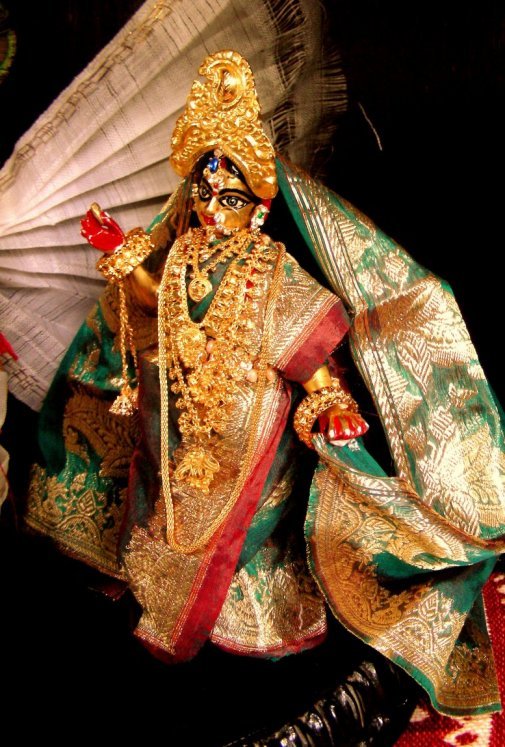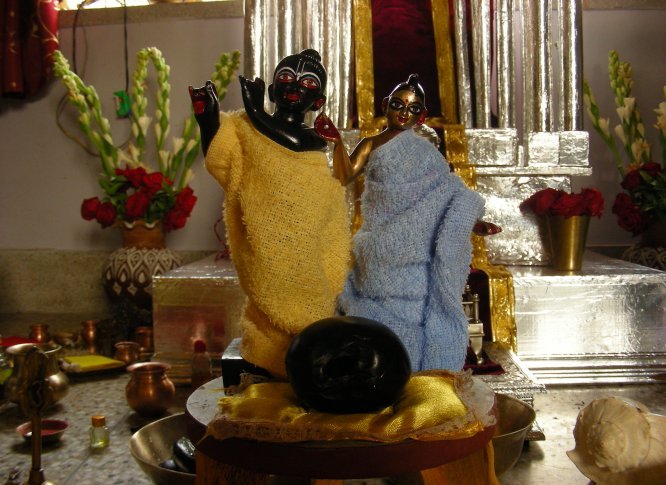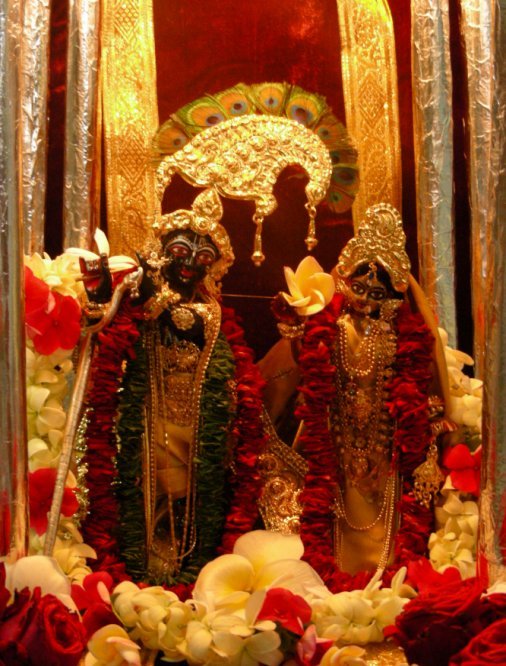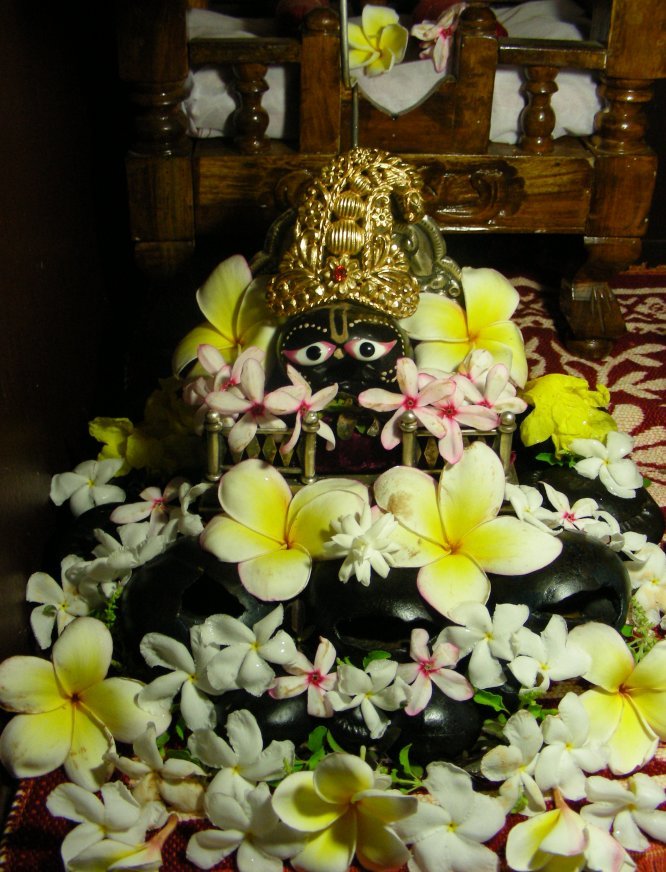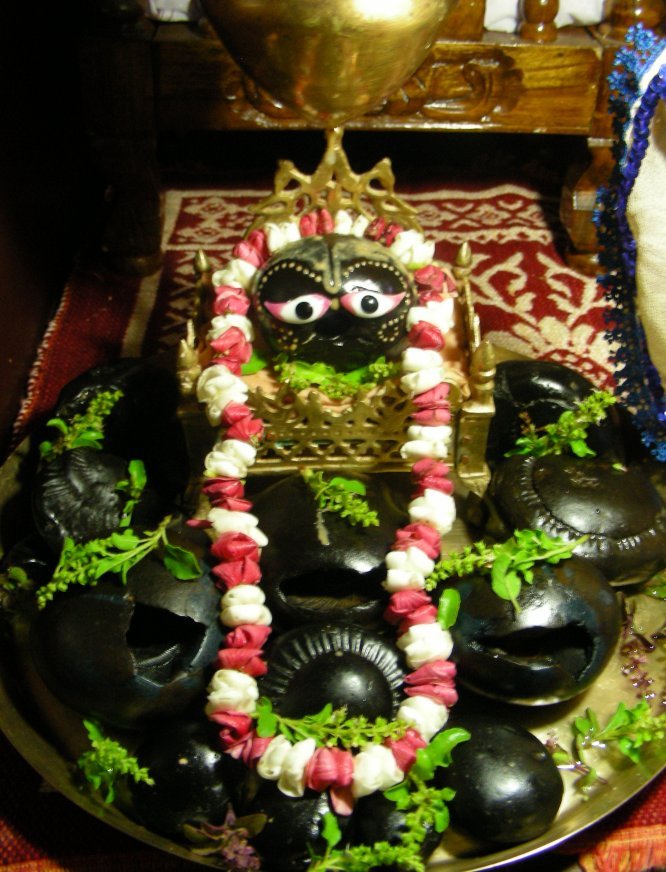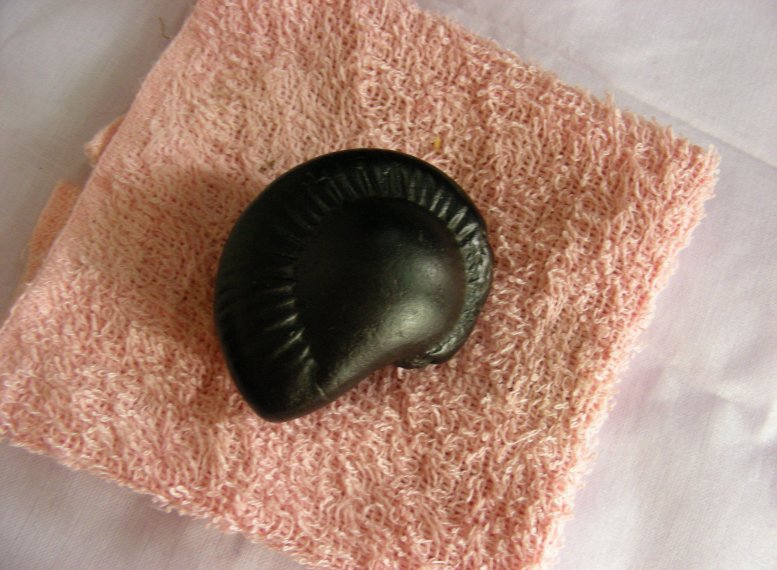 The first one is Radha Damodar shila -- the mukhya shila in my home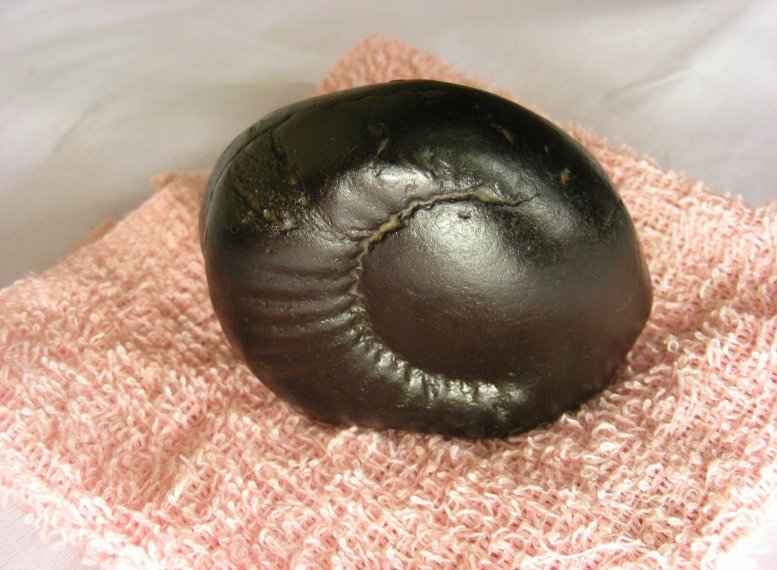 Then there is the Haihaya Shalagram with two perfect chakras inside its mouth .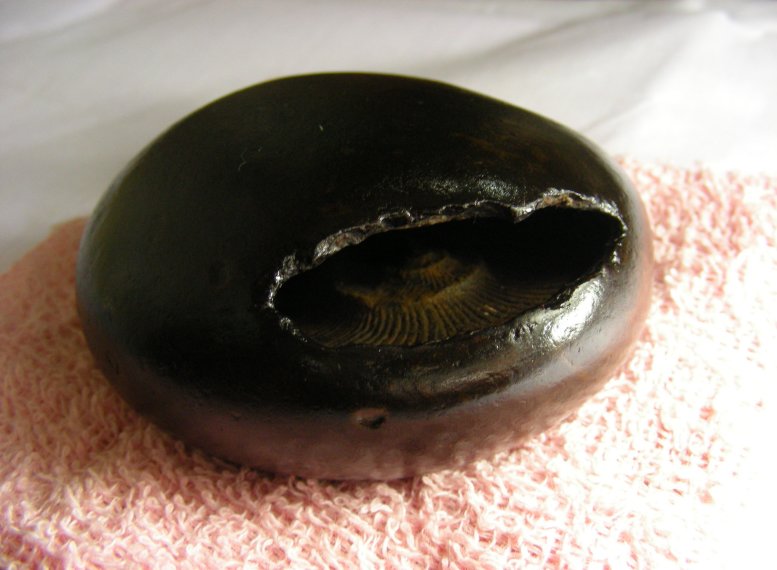 The remaining two were handpicked by me in Muktinath Himalayas . One of them is a very perfect Sudarshan shila .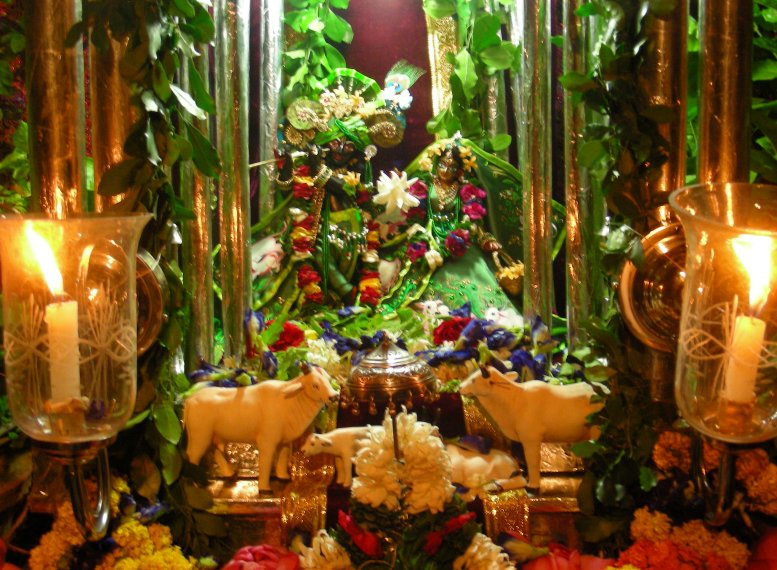 The other pictures are of my deities Sri Sri RadhaDamodara in Janmashatami .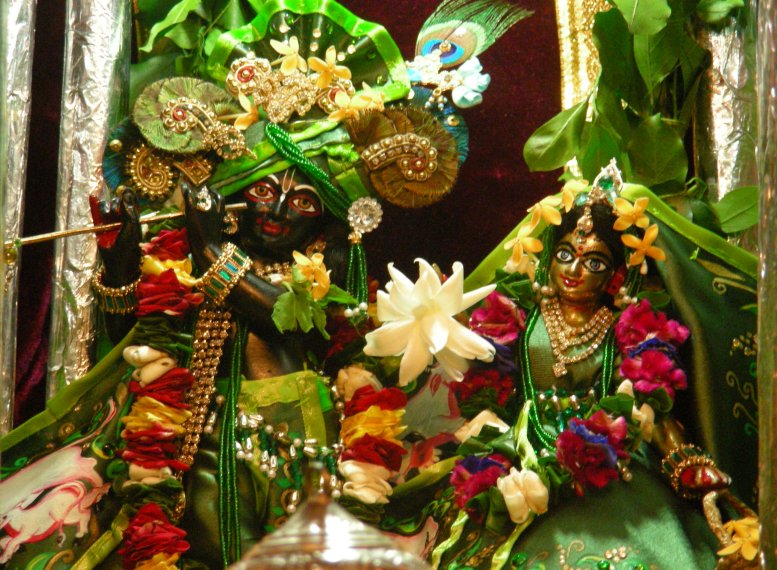 The other pictures are of my deities Sri Sri RadhaDamodara in Janmashatami 2009.
Other pics from Flickr
http://www.flickr.com/photos/32009945@N04/3144230190/in/set-72157621941406368/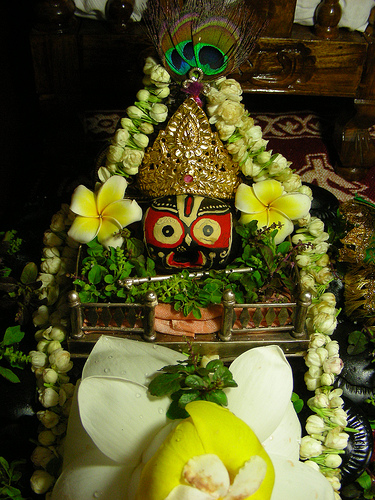 my shalagram shila dressed as jagannath on the account of rathayatra.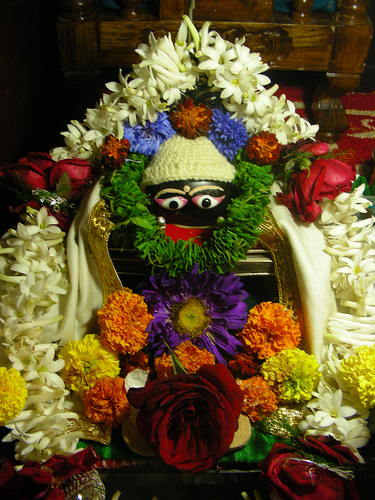 my shalagram shila dressed in winter garments - a woolen cap and shawl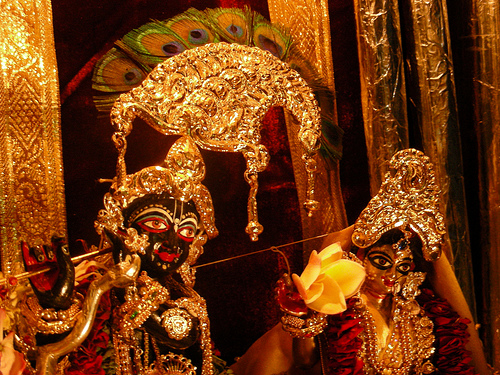 radha krishna deities at my home decorated for dol purnima ( as it is called in bengal ) or holi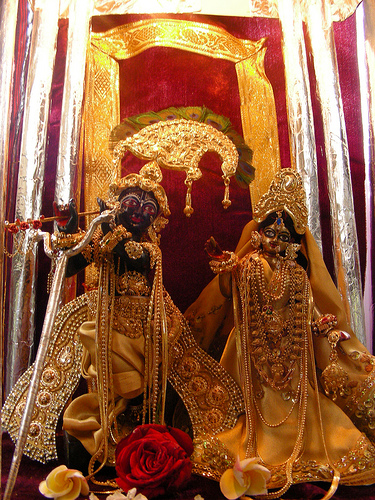 radha krishna deities at my home decorated for dol purnima ( as it is called in bengal ) or holi ...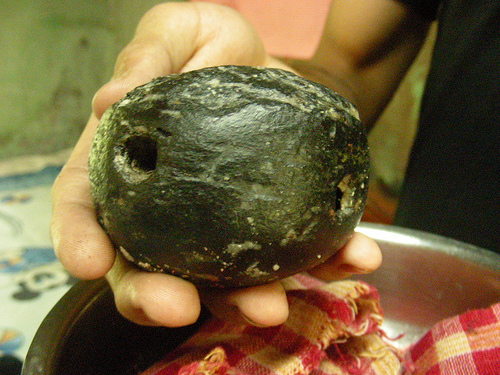 A rarest of rare pradyumna salagram shila . It has four openings or dwars on its four sides . Inside of each hole one finds two distinct chakras - one one the upper roof and one on the lower of the hollow cavity , both of which adjoins at the tip .
He was once the tutelary deity of the royal family of Mymensingh of colonial Bengal ( now in Bangladesh ) .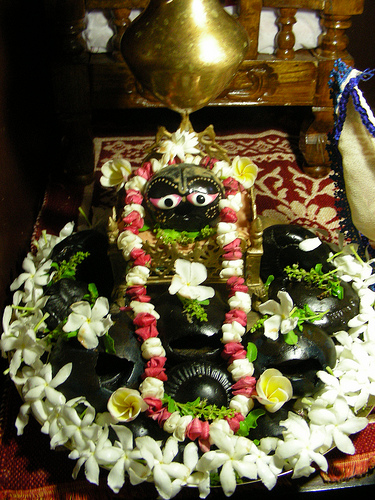 Salagram shilas with the water pot above their head during the month long jaladan ceremony .

My sudarshan salagram . It has got a very detailed chakra with six whorls in it .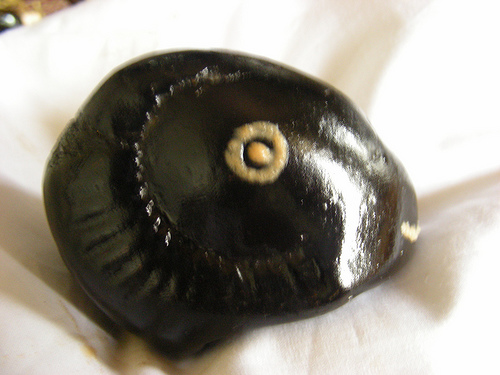 i got him on my trek to muktinath in 2008 . due to the resemblance of a fish head i call him matsya salagram .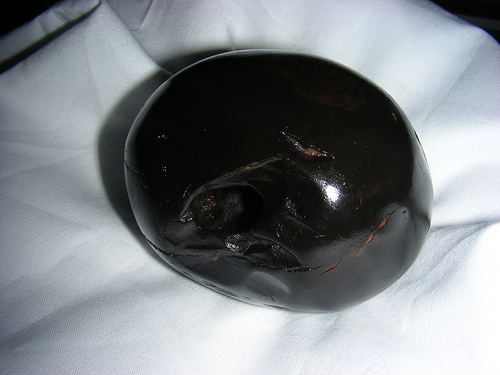 The main salagram in my collection is radha damodar salagram . He was originally in a 300 year old temple under possesion of a particular branch of nityananda vamsa who were my relatives . Its from them that i got him . He has two chakras inside its opening . He is shiny , smooth and perfectly round in shape .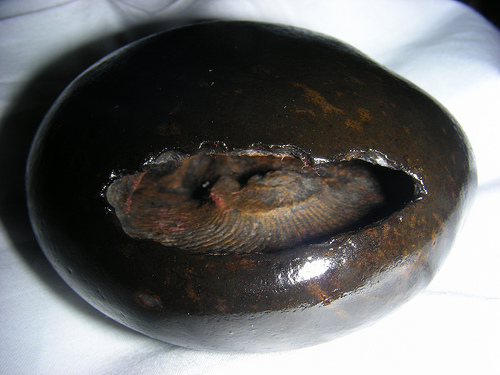 my haihaya salagram shila showing his beautiful chakras inside . there are two adjacent chakras facing each other .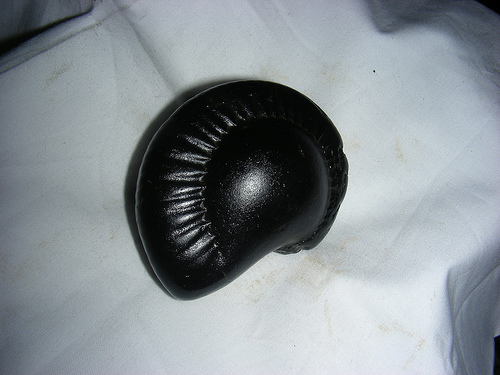 my sudarshana salagram which i got at muktinath .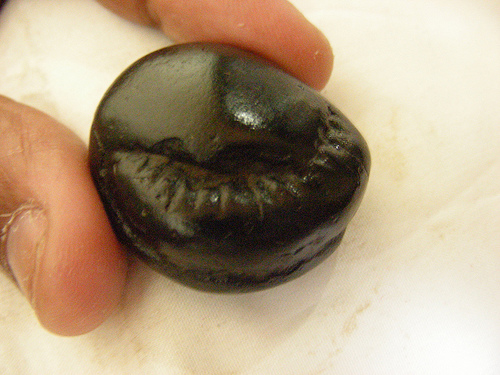 my vamana salagram
my sudarshana salagram veiwed from side
Janmastami 2010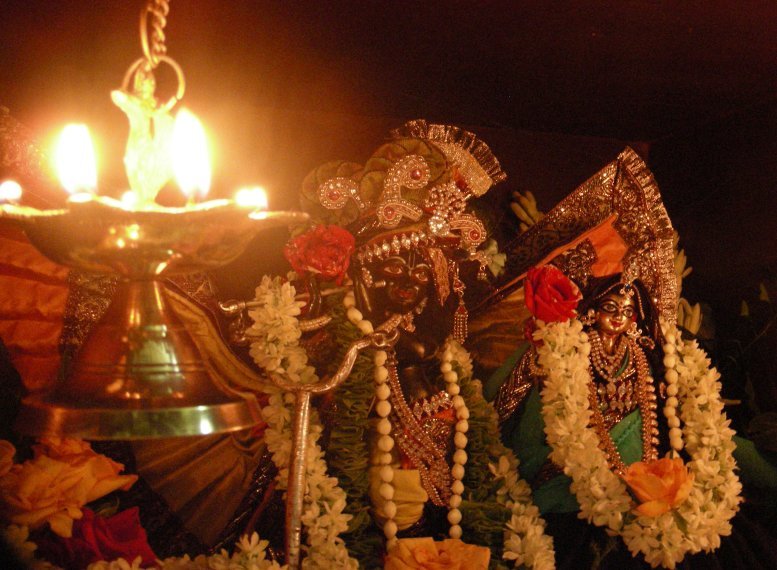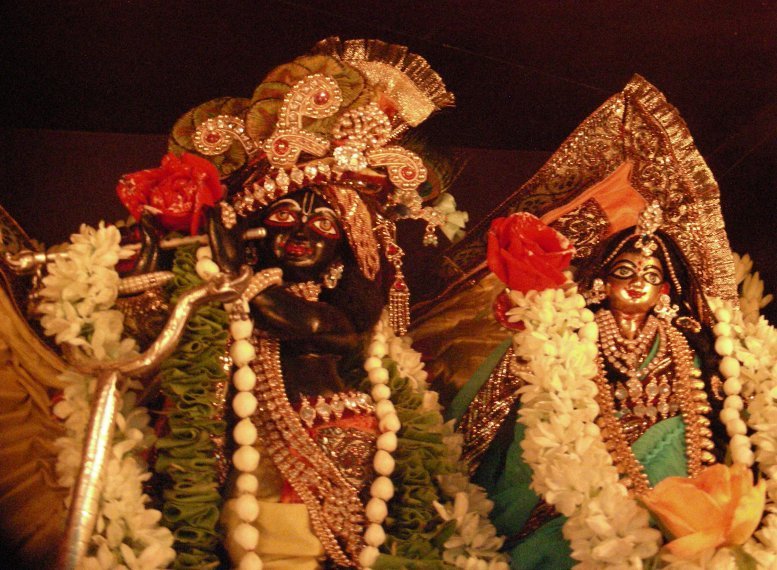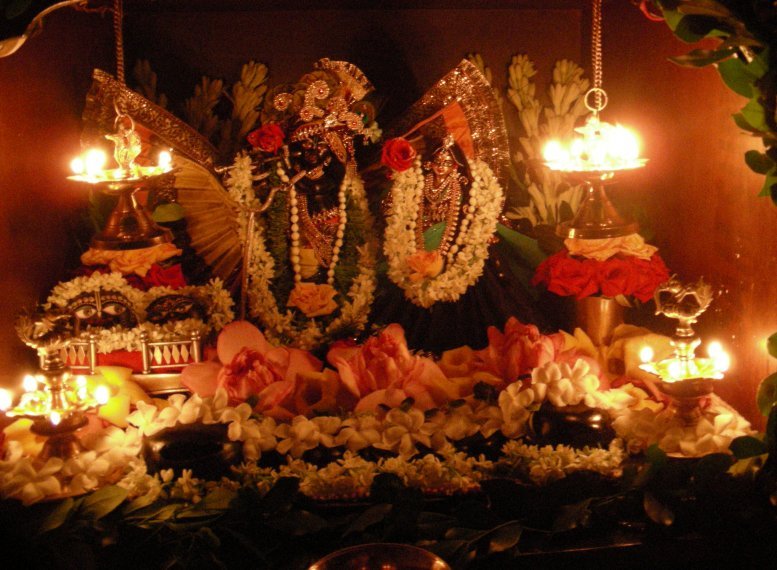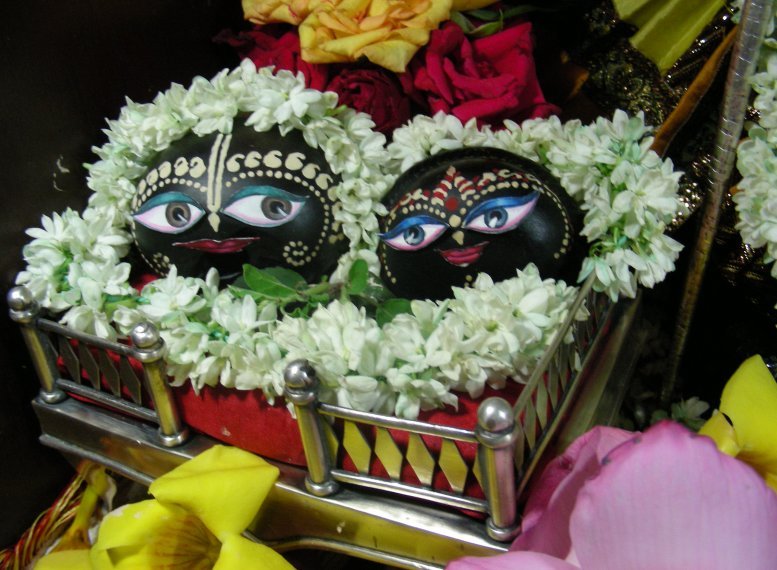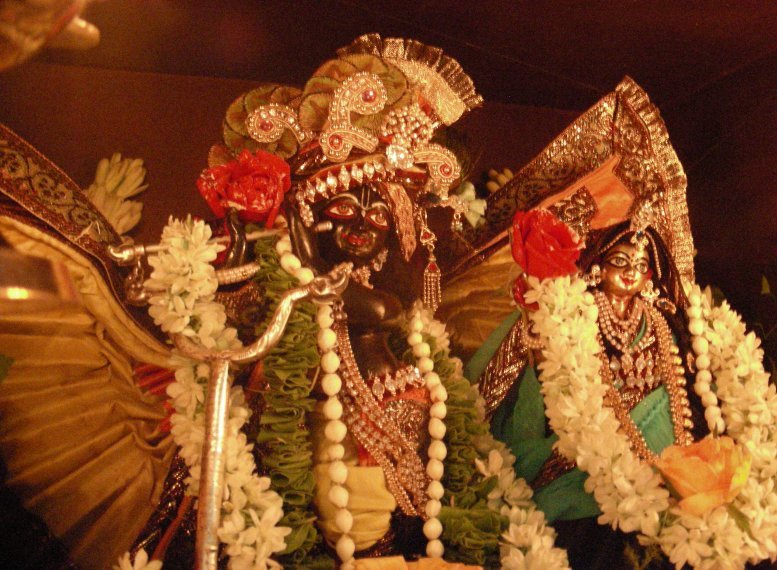 Search here for individual Sevaks and Deities World-wide.
A-B-C-D-E-F-G-H-I-J-K-L-M-N-O-P-Q-R-S-T-U-V-W-X-Y-Z