ISKCON Kathmandu,Nepal
last updated 3rd June 2011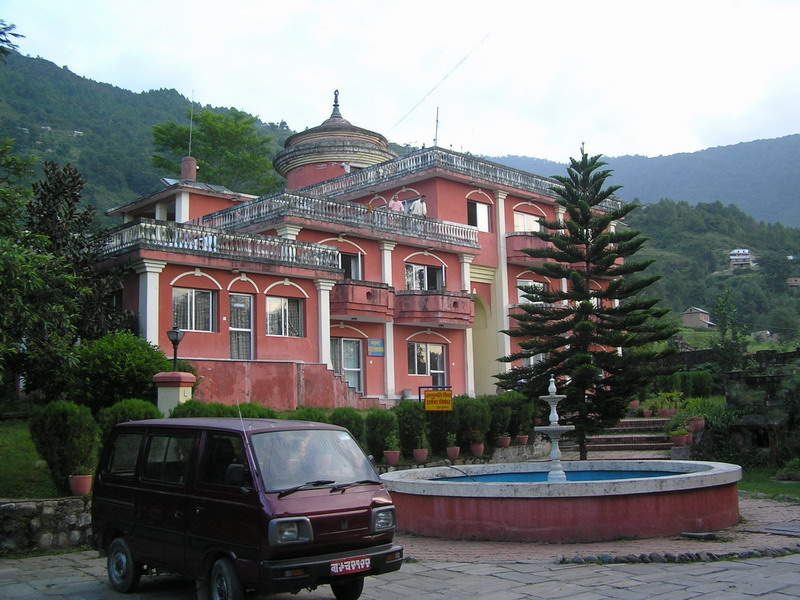 ISKCON (Hare Krishna) Temple
Hare Krishna Dham
(mail: P. O. Box 3520) Kathmandu
Vishnu Gaun Panchayat Ward No. 2, Budhanilkantha
Tel. +977 (1) 373790, 373786, Fax: +977 (1) 372976 (Attn: ISKCON)
The ISKCON Temple is located about a ten-minute walk from the Budhanilkantha Temple, in a beautiful rural setting.
Buses to Budhanilkantha (8 km) depart from Rani Pokhri in Kathmandu, every half-hour.

ISKCON Budhanilkantha,Kathmandu,Nepal
updated 17th February 2005
Official page http://www.iskconaz.org/nepal/home.html

Budhanilkantha
Situated below Shivapuri hill at the northern end of the Kathmandu valley, Buddhanilkantha temple is 9 km from Kathmandu city. The temple consists of a pond in which lies a great stone figure of Lord Vishnu reclining on the coils of a cosmic serpent. The huge statue of sleeping Vishnu is carved from the single block of black stone of a type not found in the valley. It is believed that in a by-gone age, many years before there were two hardworking farmers (husband and wife) who maintained a farm here, and one day they discovered the Deity when they were ploughing their field. Iskcon took over the maintainence of the temple and grounds from about 1986-87. there is now even a guest house there.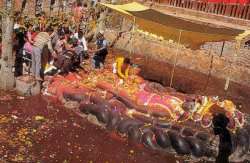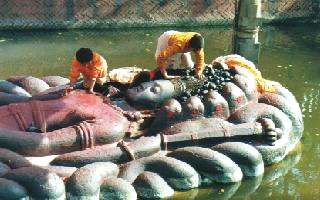 (left) devotees offer seva, (right) gurukulis cleanse the Deity
Spiritual Guides Web-site says:
http://www.vegetarian-restaurants.net/Nepal/Kathmandu-Valley/Budhanilkantha-Temple.htm
Located here is a Deity of Lord Vishnu, Vishnu (Narayan) Jalasayana, lying on Ananta Sesa, in the cosmic ocean. The Deity is over 1,000 years old. Lord Vishnu is about 5m (17 ft) long and is lying in a 13m (43 ft) long tank, as if floating, with His legs crossed. His four hands hold the four symbols of Vishnu: the chakra (disc), club, and conch-shell and lotus flower. Budhanilkantha literally means "old blue-throat." Ananta has 11-hooded heads. It is believed that the deity was carved in the 7th or 8th century during the Licchavi period.
Hindus can walk down the steps and touch His feet, but foreigners cannot.
The main festival of the year is when Lord Vishnu, who sleeps on the cosmic ocean during Chaturmasya period wakes up on the Haribondhini Ekadashi day in late October or early November. Many thousands of people come on this day.
Three other images of Lord Vishnu were carved at the same time. One is here at Budhanilkantha and is considered the most important and original, one is at Balaju Gardens, and one is at the old Royal Palace in Kathmandu, but can not be viewed by tourist. The king of Nepal is not allowed to see the deity at Budhanilkantha, but he can see the other two deities. It is believed if the king sees this deity of Vishnu he will die immediately.
The deity of Budhanilkantha was lost for a while and was later rediscovered by a farmer. It is believed that the farmers struck the buried deity with his plough and that blood came out from the ground. The morning puja between 9 and 10 am is interesting.
Practicalities
Budhanilkantha is about 8km northeast of Kathmandu and 15km from Thamel, at the base of Shivapuri hill. Buses to Budhanilkantha depart every half-hour from Rani Pokhari or the City bus stand (1 hr, bus #5, Rs 7) in Kathmandu. From where the bus stops the temple is around 100m away. Tempos depart from Jamal on the north side of Rani Pokhari to here.
A taxi is around Rs 175. It is a hard uphill bike ride to here from down town. The ride back is pleasant.
The Mount Shivapuri Lodge, a half hour walk from the temple, has clean room with common bath and hot water for $8.
ISKCON (Hare Krishna) Temple
The ISKCON Temple is located about a ten-minute walk from the Budhanilkantha Temple, in a beautiful rural setting. Buses to Budhanilkantha (8 km) depart from Rani Pokhri in Kathmandu, every half-hour.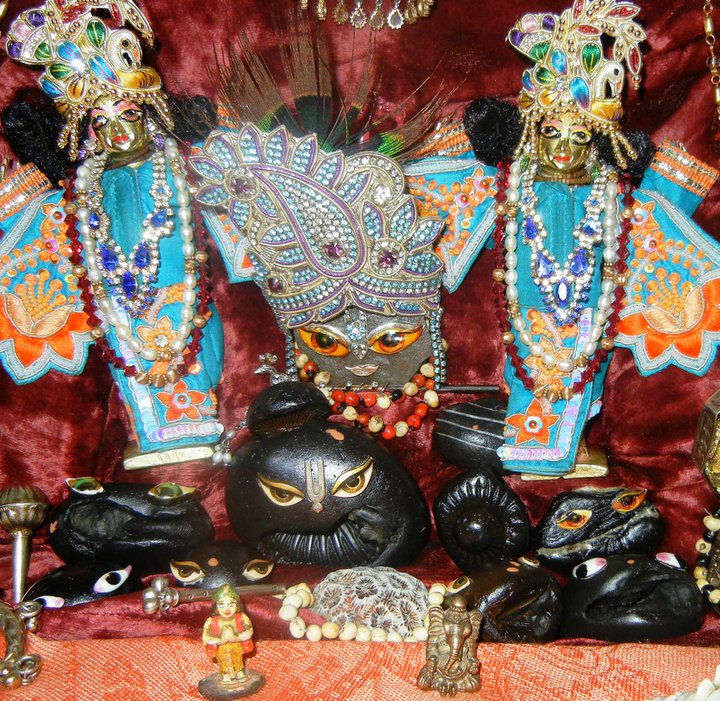 A picture from one of the Iskcon temples in Kathmandu. Along with Sri Sri Gaur Nitai is the beautiful Govardhan sila. Under Him you will see Ugra Narasimha. He has an indent on the top that perfectly fit the Ananta sesa. Next to him is a Damodara sila bound by 4 ropes. Very rare. This altar is in Patri prabhus room, who has developed the temples here for the last several years and done a wonderful service for Srila Prabhupada and his guru, Prabhavisnu Swami who was sent to Kathmandu by Srila Prabhupada in 1977.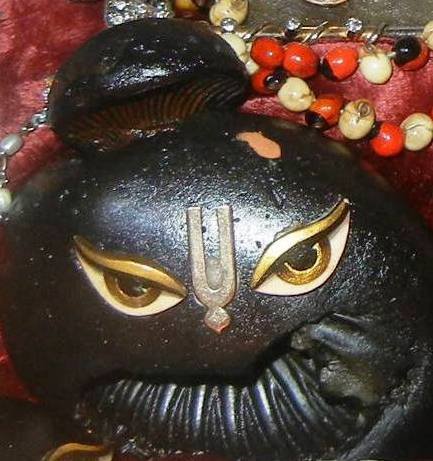 Search here for individual Sevaks and Deities World-wide.
A-B-C-D-E-F-G-H-I-J-K-L-M-N-O-P-Q-R-S-T-U-V-W-X-Y-Z

---