Krishnaraja dasa S - Kerala, South India
last updated 11th March 2014
Janmastami 2013
---
9th May 2012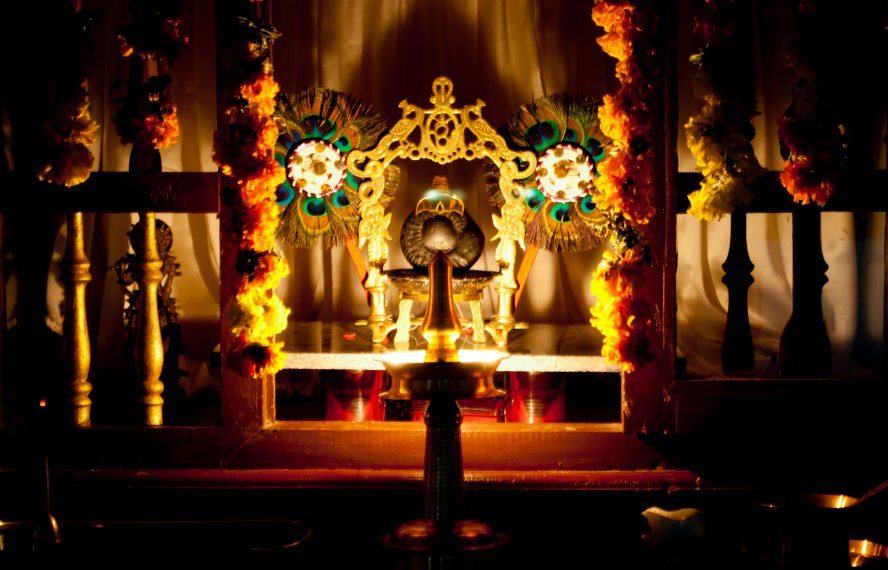 My Pooja Altar on the first birthday of my son, Govindanarayanan. Mahakeshavamurthi maharaj adorned with peacock feather 'Aalavattam' and vanamalas and the gold crown. //Daasoham Tava keshava//
---

25th July 2008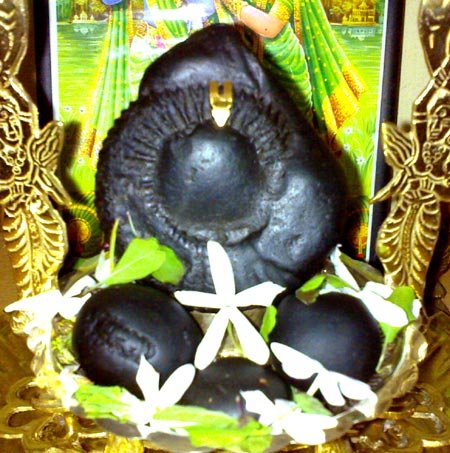 Maha Kesahava Murti
accompanied by (from left) Vamana, Bala Gopala and Govinda Narayana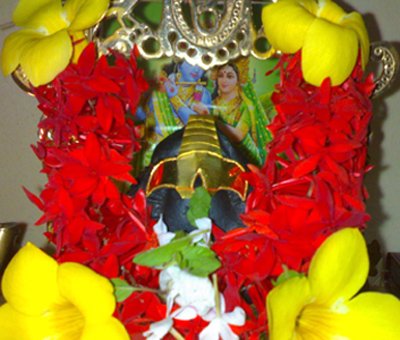 Lord Maha Keshava Murti adorned with his favorite flowers and golden crown.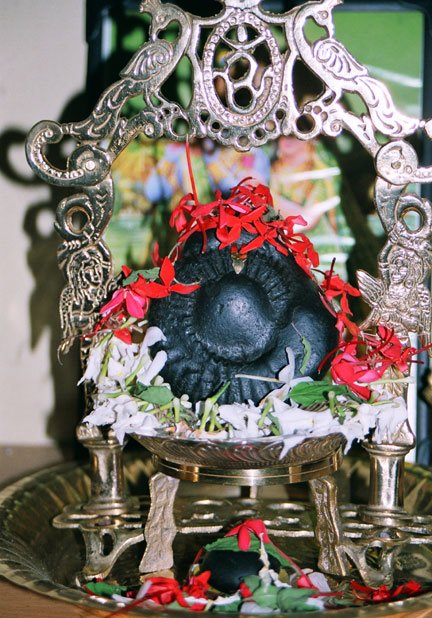 Sri Maha Keshava adorned with a beautiful vanamala. Below him is a small balagopala
The balagopala located at the bottom was the first sila that I ever had grace to worship. I got him from a sadhu in brahmakund near Kurukshetra. An year after I got the opportunity to recieve my main sila, Sri Maha Keshava. I got him from the great vaishnava, Sri Rajiv Krishna Dasa. The sila is a perfect Keshava. Jet black in color and adorned with a beautiful natural vanamala. The face is smooth and cold to touch. Also various alankaras can also be used as the sila is of a considerable size ...more than 8 cm in height. the lord also adorns a natural crown as well which looks like a knot of beautiful hair of Bhagawan Srikrishna.
The most important fact that could be easily noticed is that near to the left side of his face is a shangha and at the right side the vanamala forms a chakra. The number of sharp spokes of chakra is maximum at this side.
// Sri Maha Keshava murthaye namaha //
Sri Maha Kesava Murti Sila. Also to my astonishment when I took the photograph of the sila recently I recently noticed one thing. ie. The sila now seems to be much more healthy in appearance... you can see it for yourself if you compare earlier photographs already in our page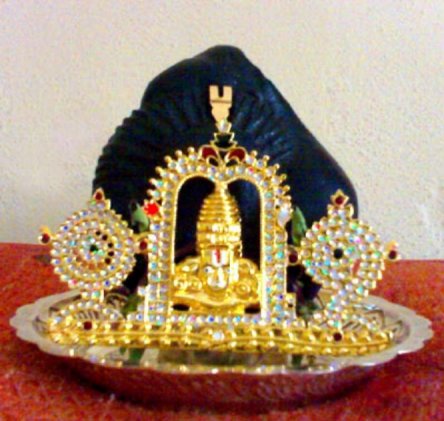 Sri Maha Keshava swamy, adorned with his sangha and chakra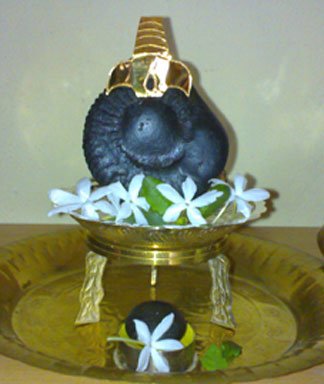 "Sri Maha Keshava, adorned with his new Crown made of Gold (Swarna Kireeda). All praises to Sri Maha Keshava Murti"
--
KRISHNARAJ S.
Chief Editor & Publisher
http://www.carnaticindia.com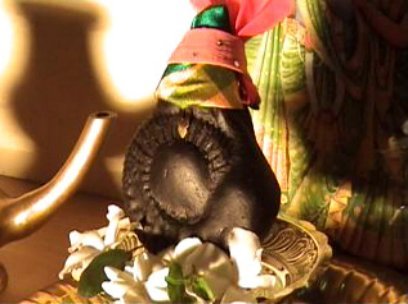 Maha keshava murthy in Altar - May 2007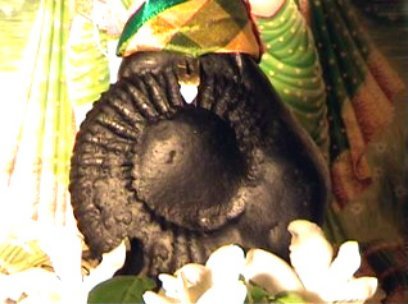 Maha keshava murthy side view
Keshava Murthy Stotram
PeetAmbarAngita Ghana syAma varna gAtram
Sankha chakradyAlamkruta pANi dvandvam
dvandva triguNAdi rahitamadvaita sAram
kEshavam tvam namAmi jagat swarUpam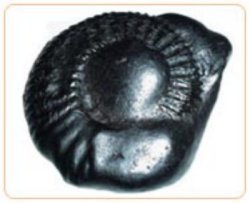 Jai Shree Krishna,
Jai Shree Maha Keshav Murthi
I am deeply privileged to be blessed by the presence of Shree Maha Keshav Murthi shila. He is having a perfect shape of Bhagwans smiling face with hair knot at the top of the head. The clear distinct chakra forms the hair and is extremely beautiful to look at. He blessed me with his presence a day back , on 15 th March 2007 an auspicious day indeed being the Papa Mochana Ekadashi Day. I Identified the importance of the day after several years of obtaining the Sila. Let Shree Maha Keshava Swami free us all .
--
KRISHNARAJ S.
a.k.a. Krishnaraja dasa




Search here for individual Sevaks and Deities World-wide.
A-B-C-D-E-F-G-H-I-J-K-L-M-N-O-P-Q-R-S-T-U-V-W-X-Y-Z