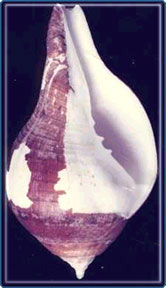 Sri Lakshmi Shank Club Global
last updated 21st December 2005

This page has been created for the benefit of devotees who either have or want to have a genuine Valampuri Dakshinvarti (Laxmi conch) Turbinella Pyrum.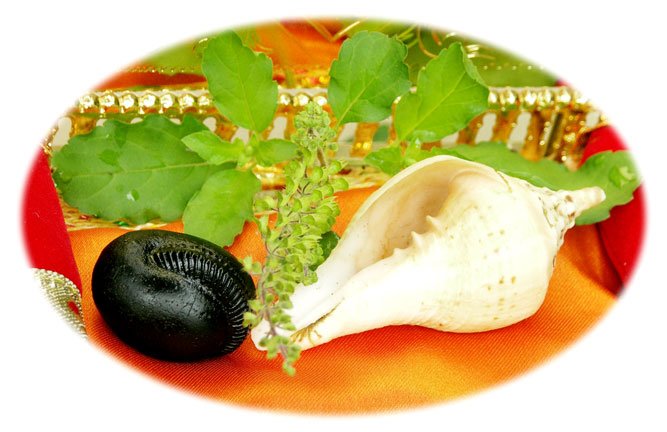 Sri Vasudev Salagram sila and the pure white Lakshmi conch - Valampuri Dakshinvarti
I'd love to start the "Sri Lakshmi Shank Club Global" and find out who has the real thing (Valampuri Dakshinvarti Turbinella Pyrum).
Please send your questions and comments to Hrsikeshananda dasa ACBSP
If anyone would, if you have, like to start a new section to this site to allow devotees to see your Laxmi conch then please send pics HERE,
but please no ordinary or common right handed bathing conches, referred to as Whelks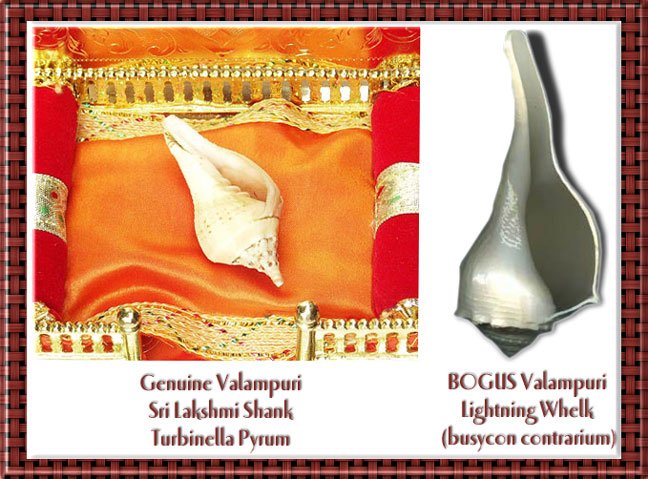 QUESTION: Most ISKCON temples have "Lightning Whelks" on the altar. I have heard from some that this is an accepted exception but I have very serious doubts. Any information about other kinds of sea shells besides conch shells. Maybe you could write a detailed article on the subject and I could circulate it to pujari types in ISKCON who should know the truth.
REPLY: Shastra says "bone" is impure, BUT, Conch Shell (Indian Turbinella Pyrum) is super-pure, even to bathe the Deities. Even Lakshmi Devi and Her Lord Narayana carry one in Their hand. Shastra doesn't say ANY SHELL or EVERY SHELL is pure, it's only Indian Shank (Turbinella Pyrum) that is pure. And these come in two types, normal left side opening AND special right side opening (Valampuri Dakshin-varti Turbinella Pyrum). Both are ruled by Goddess Lakshmi. It is not required to have right-side opening. Left side (normal) opening Shank is perfect for puja. And Lakshmi Shank is even better than perfect. It is said by Conchologists that only one Lakshmi Shank is found among 1,000 normal Indian Shanks. And ALL Indian shanks are pure and auspicious.
BUT common Lightning Whelk (busycon contrarium), with no internal formation and no ridges in the conch cavity - is a bogus non-pure shell. And as you mention so many temples use this non-conch shell, and they're doing puja with an impure non-conch shell simply because they have been hoodwinked by con men. It is embarrassing that temples use the wrong shell. And in many temples they openly display the fact that they have been cheated on a bogus Conch. And worse, they tell the public that they have a REAL Sri Lakshmi Conch, even though that is untrue.
Fact: The left side opening OR the right side opening Turbinella Pyrum Indian Conch - with 3 to 7 ridges in the conch cavity, and special internal structure is the ONLY Shank that is Vedic. The normal left-side opening Conch is very low price, even less than the bogus ones (Lightning Whelk), and only the Indian Shank is correct for puja.
Genuine Valampuri Lakshmi Shank Turbinella Pyrum Conch shells sell by the gram. Normal size is about 60-120 grams. Depending on quality and number of ridges in the conch cavity they sell for between Rs. 1,000 up to Rs. 3,000 per gram. This means that a genuine Lakshmi Shank can be had for a few thousand dollars ONLY. So no one has any excuse to use a non-conch shell. Everyone can use either a $2 normal Shank OR a $2,000 Lakshmi Shank. BUT, USE A SHANK, ONLY!
---
If anyone is desireous of purchasing their very own genuine Valampuri Laxmi conch below are some dealers who can arrange that for you.

Here are some genuine dealers. Buyer beware!!!

Please contact: Sahayji Fernando <valampuriimpex@gmail.com>


Please contact: SPS KATHIRAVAN
spskathiravan ravan <bb_22_72@yahoo.com>
Address: 106A DEPOT ROAD
#04-569
SINGAPORE 101106
Handphone cell/mobile: 0065-94243704


Fathima Trading Center <fathimatradingcenter@yahoo.fr>
BSYEDAHMED
Director
Fathima Trading Center S A R L
1er etage, Porte 10.
52 Avenu du parc
93290 Tremblay en france
FRANCE.
http://fathimatradecenter.tripod.com/


John Ravi <johnravi_135@yahoo.co.in>



John Ramnath <omegaa1@dataone.sancharnet.in>
---


Search here for individual Sevaks and Deities World-wide.
A-B-C-D-E-F-G-H-I-J-K-L-M-N-O-P-Q-R-S-T-U-V-W-X-Y-Z
---