Madana-mohana dasa - Moscow - CIS/Russia/Delhi/India
last updated 5th December 2007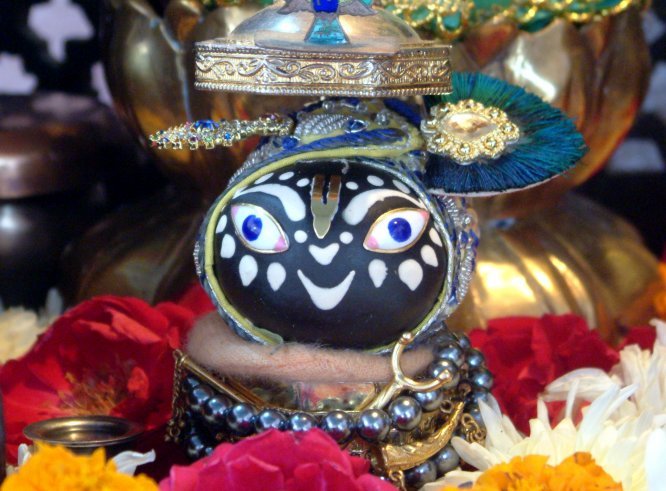 Please accept my humble obeisances. All glories to Srila Prabhupada.
Above is a photo of Sri Gopal with His new eyes, styled according to Sri Kavi Karnapura's transcendental vision:
Sri Krsna-karnamrta, 45
lilayitabhyam rasa-sitalabhyam
nilarunabhyam nayanambujabhyam
alokayed adbhuta-vibhramabhyam
kale kada karunikah kisorah
lilayitabhyam—playful; rasa—with mellows, with feelings of love;
sitalabhyam—cooling, soothing; nila—blue (at the irises); arunabhyam—reddish
(at the corners); nayana—eyes; ambujabhyam—lotus; alokayed—look upon;
adbhuta—wonderful; vibhramabhyam—rolling, moving, dancing; kale-the time;
kada-when; karunikah-kind, merciful; kisorah-adolescent (Krsna).
When will the time come when that merciful boy Krsna will look upon me with His playful lotus eyes, which are soothing and cooling with loving emotion, reddish at the corners and dark bluish at the irises, and wonderfully rolling and dancing?
My special gratitude to Radha Raman Prabhu of New Delhi who helped getting the eyes made.
your servant,
Madana-mohan das

---
below is from 3rd September 2005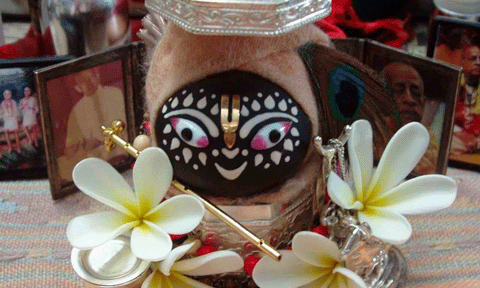 This is a picture of Sri Gopal salagrama sila, which I am fortunate to worship (November 2004).
He has markings of a footprint, cow's hoofprint (a bigger one), calf's
hoofprint (a smaller one), a "fluteprint" and a "stickprint". :)
Pictures from August - September 2005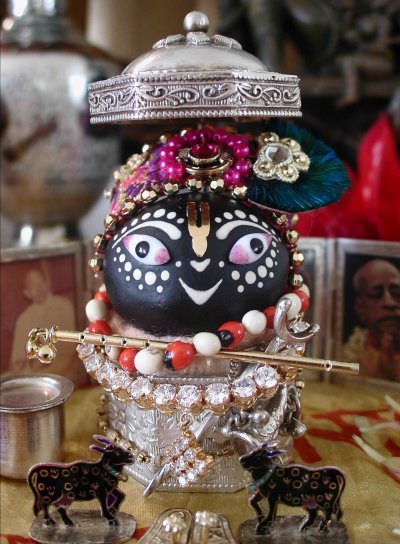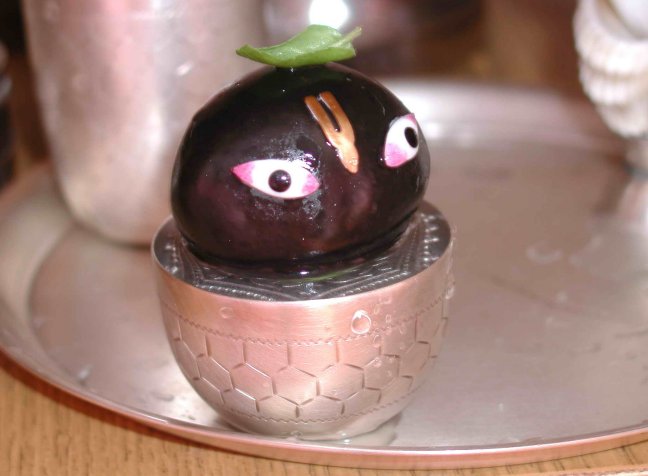 Sitting His bathing asana - in the snan vedi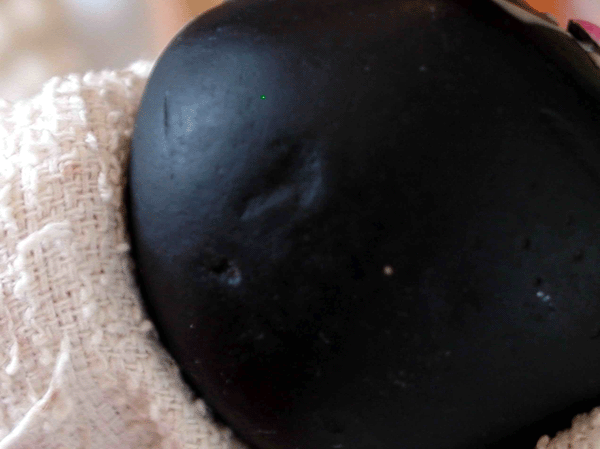 Hoofprint of cow, footprint of Krishna and flute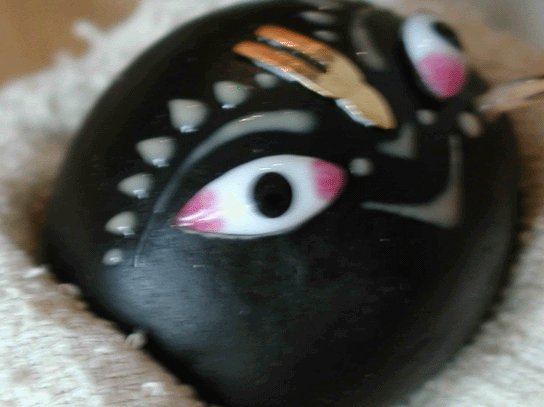 Painting in progress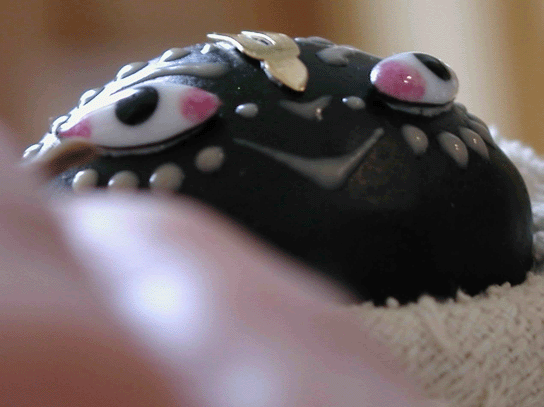 Painting His face still further in progress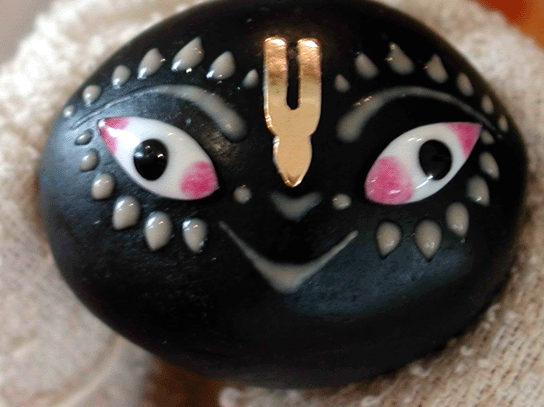 Krishna's smile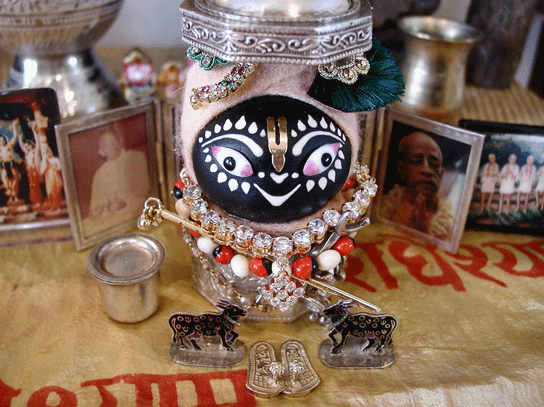 back on His simhasana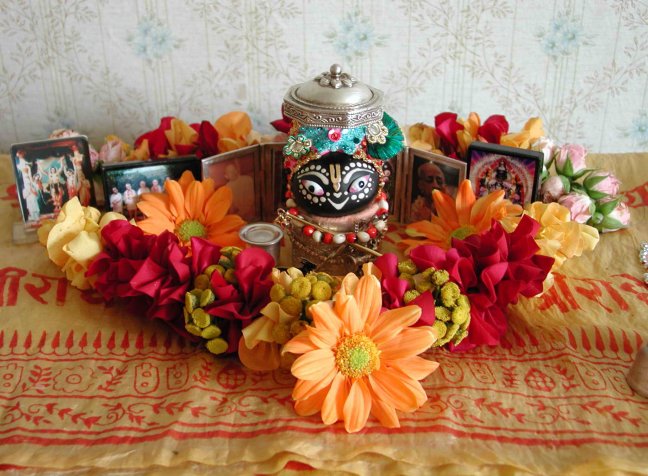 Sri Gopal ji ki jaya


Search here for individual Sevaks and Deities World-wide.
A-B-C-D-E-F-G-H-I-J-K-L-M-N-O-P-Q-R-S-T-U-V-W-X-Y-Z