Mathura dasa (KSB) - Lake Meade, PA., USA
last updated 27th September 2010
Sri Sri Laxmi Narasimha with Prahlada Maharaja. Laxmi Shank at Their lotus feet. Lower level is Laxmi Narasimha and my travel resin murti.
Black granite Ganapati from South India. Prana pratishta done by Gananathamritananda Swami of the Soma Matha. He has traveled to various temples up and down the eastern shore. In front are smaller crystal Ganesh Murtis and travel resin abstract Ganesh. In front and to your left is Pretraj. He is prayed to for the removal of evil spirits, prets, bhoots etc.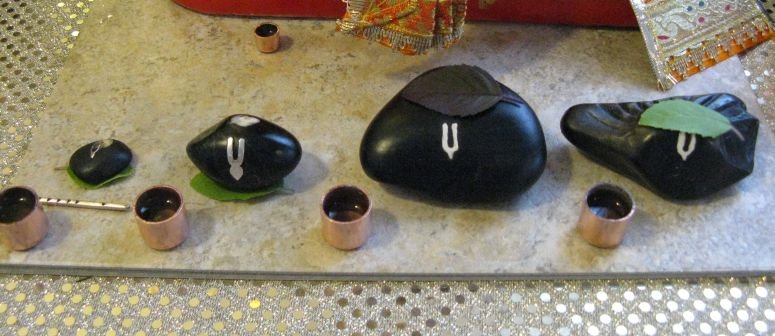 right Lord Muralidhar, Lord Damodar, Lord Shyamasundar and Lord Kurma.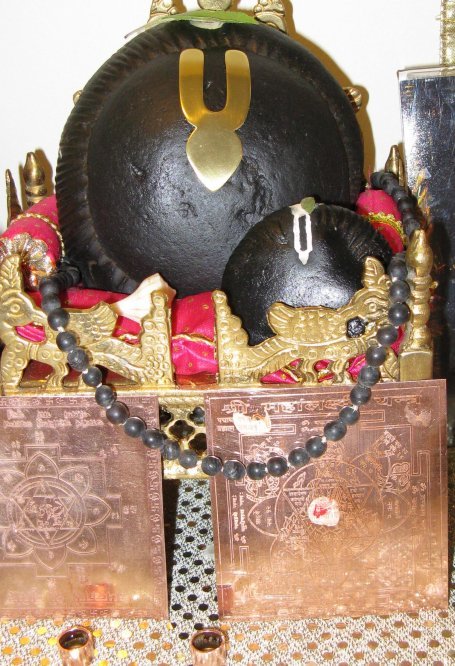 Narasimha silas
Sri Sri Ananta Krishna
website- www.mysticmantra.com
best,
Mathura dasa


---

19th July 2006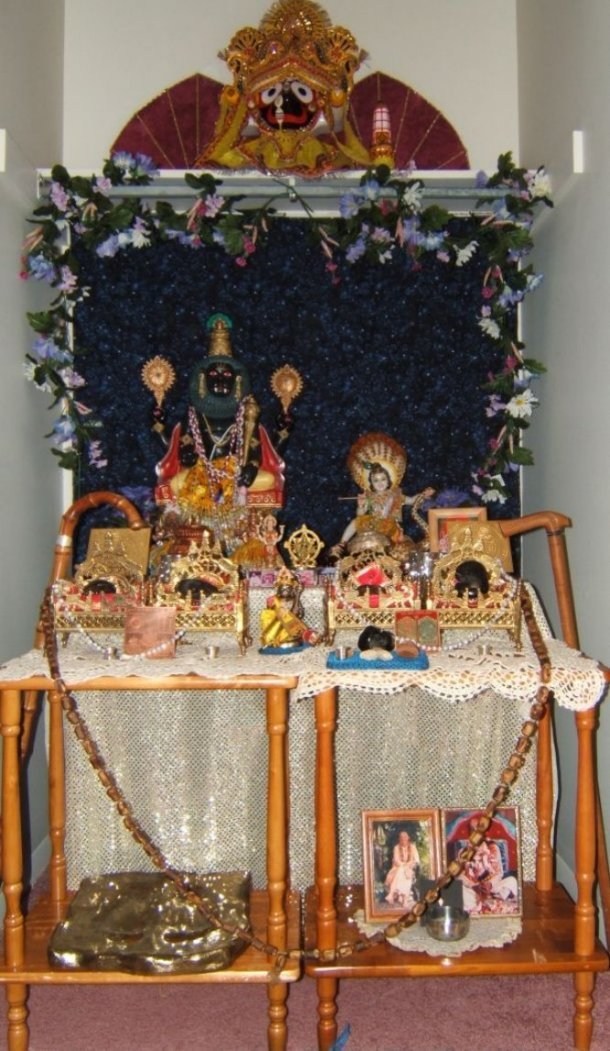 Full view of altar.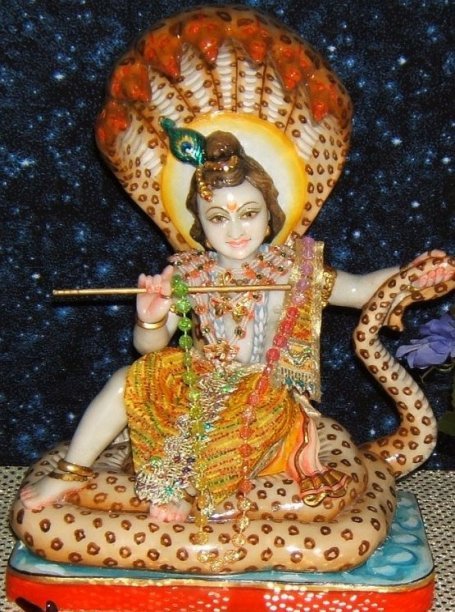 Lord Sri Ananta Krishna.
Lord Hanumanji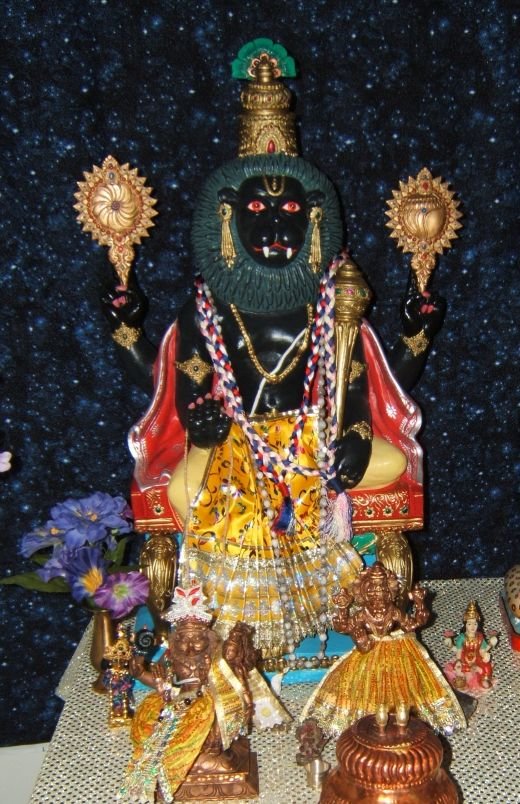 Narasimha group. The large murti is a copy of New Vrindaban's deity. He is made from Ganga clay and resin. In front are Laxmi Narasimha, a simple brass Narasimha and a small bronze deity that was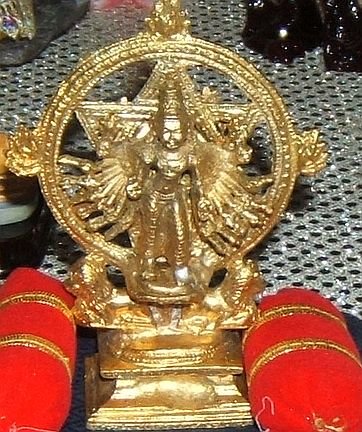 Sri Sudarshan. He is very difficult to please and does not like to be looked at. If you were to gaze at Him, it seems that His arms and legs begin to spin.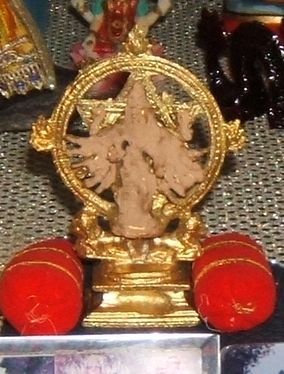 I bathe Him daily with cold water and normally cover with sandal paste.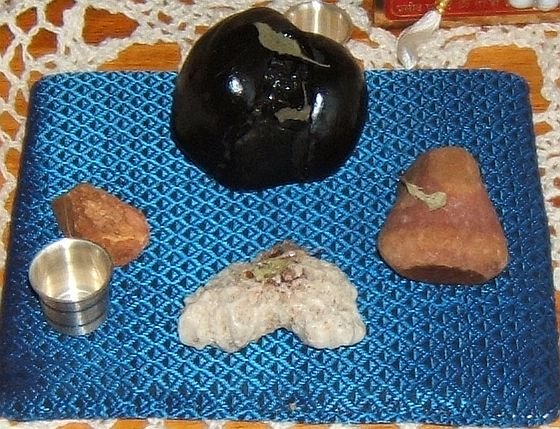 These are 2 silas from Ahobilam. 1 Dwaraka and and Salagram. Although you can not see from the photo, the inside of the sila contains 2 siral chakras, a gold brahmana thread and quartz heart. I very auspiscious Narayana salagram. The Ahobilam silas are stained with drops of blood from the slain asuras.

Narasimha sila on the left. The sila on the right has not fully reveled His identity. There are very deep jagged marks on the top and many symbols on the bottom. He fits into many catagories so I am hesitat to "name" Him until I am very sure. Next to His chakra you can see a clear conch shape.
On the left an intense Ugra Narasimha. On the right another Narasimha.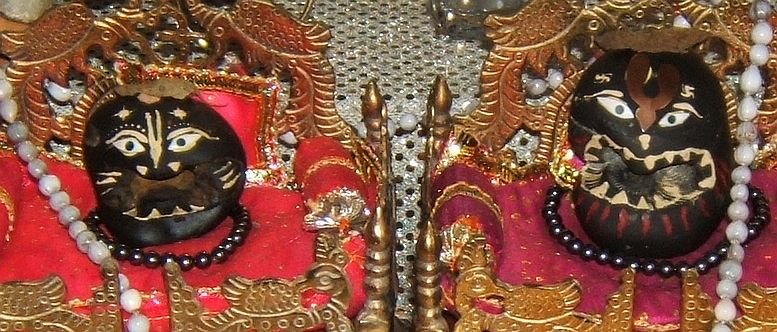 Painted Narasimhas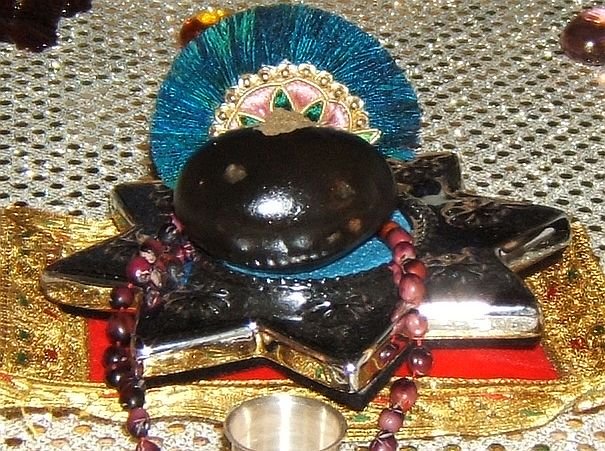 My pradhana sila. The two holes in the front lead into the sila. You can see His marvelous internal chakras in the correct light.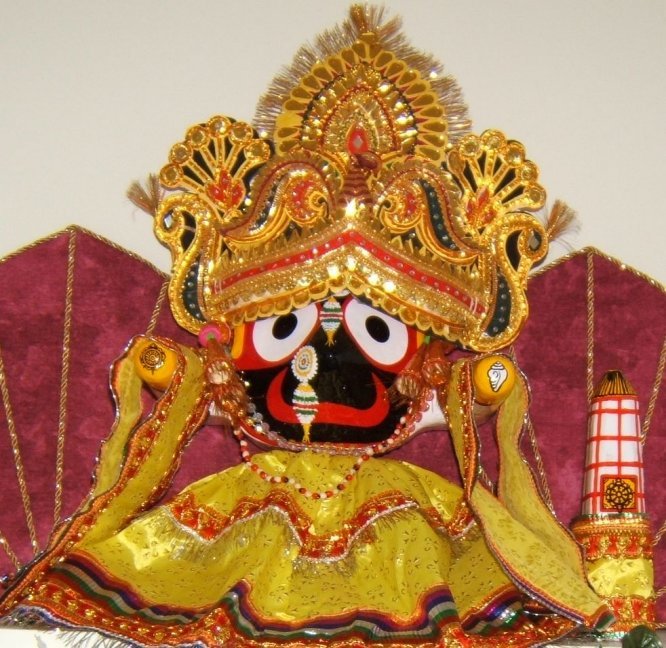 Patita Pavana Jagannath with Sudarshan Chakra.


Search here for individual Sevaks and Deities World-wide.
A-B-C-D-E-F-G-H-I-J-K-L-M-N-O-P-Q-R-S-T-U-V-W-X-Y-Z