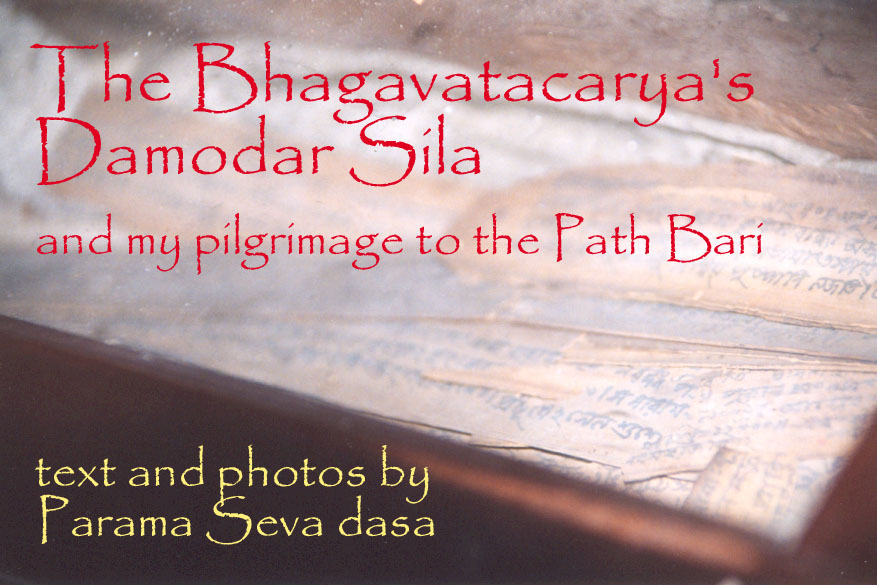 The original Srimad Bhagavatam of the Bhagavatacarya.
While living in Calcutta 6 years ago I found an article in the local newspaper about a place known as the Path Bari. Located just outside of the city, this place was visited by Lord Caitanya in the year 1513 to hear His disciple, the Bhagavatacarya, eloquently recite the Srimad Bhagavatam. The article was illustrated with an artistic rendering of the façade of a stately two-story building. Previously unaware of this significant holy place located so close to our residence, my mind was made up; "I must go there."
The story of the Path Bari is quite fascinating. After being initiated into the sannyasa asrama, Lord Caitanya was traveling down the Ganga from Nabadvipa to Jagannatha Puri. At a place called Varahanagar, the Lord heard the beautiful chanting of the Srimad Bhagavatam coming from a hut on the shore. Lord Caitanya alighted from His boat and danced in ecstasy as the chanter, Raghunatha Upadhaya, sang the glorious Sanskrit slokas so melodiously. The Lord stayed for three days at that spot and initiated his new disciple as the Bhagavatacarya, ordering him to spend his life reciting the Bhagavatam.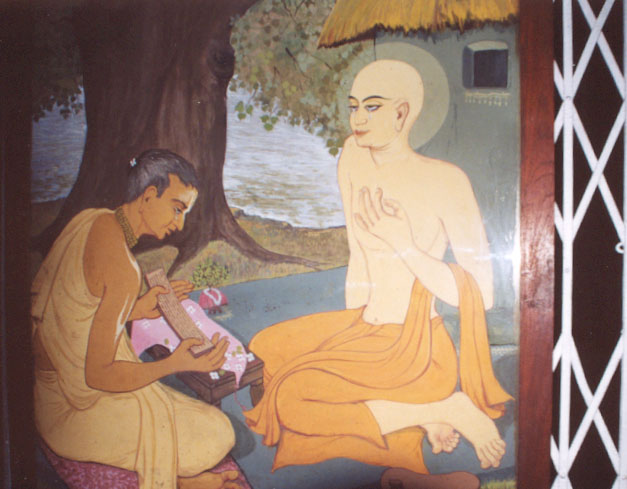 Not only did Bhagavatacarya follow the instructions given to him by his divine spiritual master, but he also kept a pair of the Lord's sandals there along with a salagrama sila and a small deity named Gopal. After his disappearance, the area became grown over and the Ganga shifted its course so Bhagavatacarya's hut was entirely lost. For hundreds of years nobody would know of the significance of that holy place.
Centuries later a brahmana who lived in the area named Kali Prasanna Chakroborty was desperately ill. He prayed to Lord Siva to protect him and in addition to being saved, he also was instructed to find the relics at Varahanagar and reestablish the worship there. He found all of the articles as well as the Bhagavatacarya's own Bhagavatam. It is said that Lord Caitanya and Nityananda Prabhu appeared to the Chakraborty in a dream and ordered him to have deities installed at that site according to their specifications. The two brothers posed for him in an unusual fashion: Lord Caitanya has his right index finger in the air as if to call his weapon, the sudsarshan chakra, and Nityananda Prabhu is displaying the palms of his hands in a merciful gesture.
Having been made aware of this fascinating history I was determined to visit the Path Bari, as it is now called. Path means "discourse" in Bengali and refers to the Bhagavatacarya's recitations of the Bhagavatam. Bari, of course, means "house." Unfortunately, my desire went unfulfilled for many years. Finally, in December of 2001 my family and I again visited Calcutta. As soon as we reached home, I searched for that article I had torn from the newspaper. It was found in my bookshelf, yellowed and smelling of moth balls. Immediately, I set out to visit the Path Bari as soon as possible.
We made plans to go with our family friend, Govinda, who has a small van. Last year he took us to visit Panihati, which is not far from the Path Bari, so I figured that he might not mind taking us. He also is a vaishnava so I asked him if he was familiar with the place and he responded, "My mother visited many years ago. I will find out where it is and we can go on Sunday." Elated, I eagerly awaited for that auspicious day to arrive.
One evening while reading the Sri Caitanya Caritamrita I happen to come across a reference to the Bhagavatacarya There is a brief mention of Lord Caitanya's encounter with the Acarya, and in the purport Srila Prabhupada states that it the Path Bari is located just north of Calcutta in a town called Varahanagar but that the temple is not as well maintained as it used to be. So Srila Prabhupada had visited the Path Bari as well! Knowing that makes me even more eager to go and I feel that finding that particular verse is no coincidence.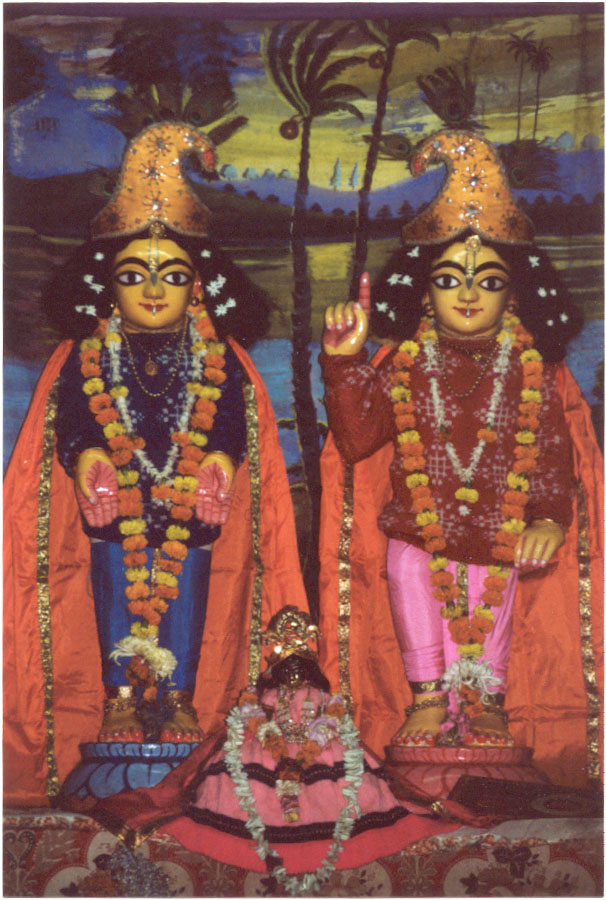 The deities of the Path Bari. Gopal is in the center.
Finally, the Sunday before Christmas arrived and Govinda showed up at our house ready to go. He came a bit late and we wouldn't reach there before nightfall, but I figured that we could at least enjoy the evening aroti. My aunt, Mamee, and uncle, Mama, also want to go with us. They are not Vaishnavas themselves, but have taken care of their mother's deities of Radha- Madhava since her demise. They also had a deity of Narayana for some years and one day, while Mama was bathing in our lake, he found a deity of Laxmi that was the perfect size to sit next to Narayana. I was happy that they were coming but didn't want them to be disappointed if it really wasn't so well maintained, as Srila Prabhupada had mentioned.
Mama seems more interested to visit a sweet shop named "Amrita" which Govinda claims is the best in Calcutta. Sweet shops are a hotly debated topic in this city and everyone claims to know who makes the best rossogulla, sandesha, or gulabjuman. "Amrita," which means "nectar" in Bengali is said to have the best mishti dahi, a sweet, thickened yogurt preparation. If I had to choose, I would agree, too. [On the road that night I even noticed a shop boldly declaring that it had invented the rossogulla! Yeah, right…] Mamee, however, wants to see the Path Bari and I hope that she and Mama appreciate the importance of this small pilgrimage.
The ride there is long and bumpy through the crowded, smokey streets of Calcutta. We travel through some rough areas that remind me of the South Bronx back home in New York. It takes us a full hour to reach the Ganga. After crossing the small bridge, Govinda begins asking directions from people on the street. Everyone knows where it is and in another twenty minutes we see the front gate at the end of a narrow lane. After traveling so far and inconveniencing Govinda so much, I really hope that we are able to have darshan and that it isn't as run down as I fear.
Pulling into the temple complex fills me with hope. Under a canopy of large mango trees the court yard is expansive and clean. There is a pillar in front of the temple with many luxuriant Tulasi trees perched on top. We are surprised by the open air temple surrounded by large columns that can easily accommodate hundreds of visitors. A rousing kirtana is in progress and many guests have come for darshan. As a young pujari greets us with a smile and tells us about the temple's history, the other guests crowd around and everyone is eager to hear about the pastimes of the Lord and His devotee at this sanctified place.
All of the deities here are wonderful and so attractive, but my eyes cannot stray from the salagram sila. The pujari tells us that it is a Damodar sila and that there are also many other silas there including a Laxmi-Narayana, Goverdhana sila, and others. After all of these years waiting to have the darshan of this special sila, worshipped by Lord Caitanya's own disciple with great love, I am feeling just so satisfied.
The pujari then left us briefly only to reappear a few moments later with the remaining pages of Bhagavatacarya's Srimad Bhagavatam. He held the glass box out for the guests to honor by placing it on their heads. I had been afraid that the temple might have a policy forbidding visitors to take photographs, but the pujari called me over to take a picture of the ancient manuscript. Although I had a long lens on my camera to photograph the deities that were at least 20 feet from where we could stand, just to please him I snapped the best shot I could. It is obvious that the devotees here are proud to serve in this beautiful temple and they enthusiastically preach to all of the pilgrims.
We offer our heartfelt obeisances to all of the deities there and then proceed to the side of the temple where Lord Caitanya's sandals are kept in a glass box. They are protected by an iron grating but I see Mama place his head reverently upon the steps before them in a very humble gesture. I squeeze my camera through the grating to get the best shot I could of these amazing artifacts as well as a nice painting of the Lord listening to the Bhagavatacarya's recitations. Odd location for such an important painting to be kept as it is barely visible. We are told that the original shoes were decayed when they were excavated but could be clearly seen; the white area in the center of the sandals were the original pair and the rest of the sandals were copied from the pair located at Gambhira in Jaganatha Puri. I'd had darshan of those sandals at Gambhira as a newer devotee many years before, but the pleasure I feel tonight seeing this pair is a new experience to me.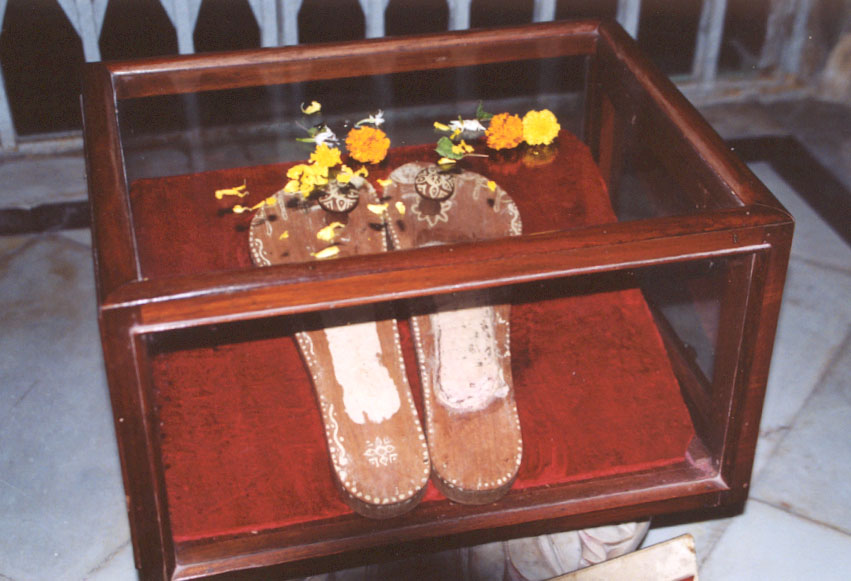 The Lord's sandals
I notice a Bengali verse written on top of the tabernacle where the sandals are housed. It describes how Lord Caitanya Mahaprabhu danced in ecstasy while hearing the recitations of the Bhagavatacarya. Unfortunately, no reference to any scripture is mentioned.
The evening aroti is about to begin and the pujari requests us to stay. The aroti is beautifully performed; the various items offered in small, graceful circles before the deities while the kirtana group swells to about 30 devotees chanting with fervor. A very tall devotee is expertly playing the mridunga drum and the beats seem to resonate somewhere in my heart and not my eardrums.
After the aroti is finished the pujari takes a sala leaf and placed some flowers and chandan-covered tulasi leaves in it for us to take home. He hands me a single tulasi leaf that he had just removed from the salalrama silas. I hold it above my mouth and drop it in, relishing the flavor of that prasad. It is difficult to find words to describe my satisfaction so I keep my thoughts to myself. We are also offered a handful of cira-dahi, chipped rice and yogurt, which seemed appropriate given the proximity of this place to Panihati where Nityananda Prabhu had organized the famous cira-dahi festival 500 years earlier.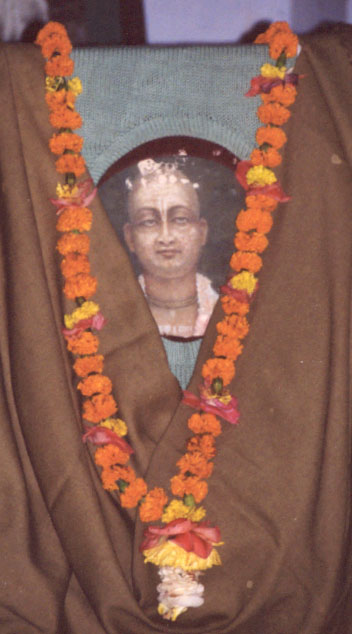 A portrait of the Bhagavatacarya
Behind the temple there is a samadhi for the Bhagavatacarya and a separate samadhi mandira for the more recent gurus who served here. We met an elderly widow there who enthusiastically preaches to us about the history of the temple and their spiritual masters. She practically demands that we take a tour of the temple compound and we visit the spotless prasad hall, the new guest house, and the goshalla. The temple also houses a grantha mandira, where ancient Sanskrit and Bengali manuscripts are kept, but unfortunately it has been closed for the night. I ask about an elusive Bengali scripture that I have been eager to read and we are brought before the senior devotee who is in charge of the collection. The Sannyasi sits on his bedding in a spartan room and Govinda respectfully places his head upon Maharaja's feet. With a grave face he affirms that they have the manuscript but that he is unable to let us see it tonight. He invites us to come another time and we promise to return on our next trip. We are also offered sweet rice made from fresh cows milk, date molasses, and an undeniably large amount of devotion. To say that it was pure nectar would be an understatement. We took leave of the Maharaja and sat on a wooden bench in the courtyard honoring the prasad.
It turns out that the building illustrated in the old newspaper clipping was the grantha samadhi. Sitting there enjoying the prasad under the moonlight on such a beautiful, clear night is an experience I will never forget. It is getting late and we have a long way home but I am feeling so satisifed here that I can hardly think of leaving.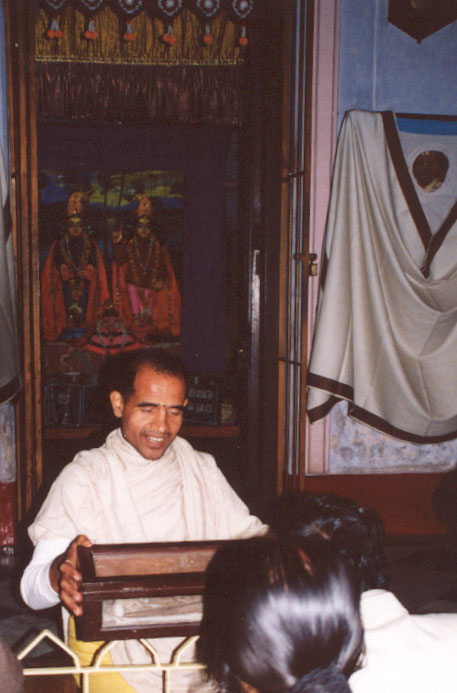 The pujari allows the pilgrims to have darshan of the Bhagavatacarya's shastra.
All along the way the widow is escorting us and telling us about the history of the temple and its devotees. She is obviously very advanced and to see her preaching spirit and energy is inspiring. We are all impressed by how nicely the guests are treated here and know that we can learn much from their example. One thing we notice is that the devotees don't seem to favor honorifics, devotees are not referred to as "prabhu" or "maharaja" but everyone places special emphasis on the dasa affixed to their names. My friends in ISKCON usually just call me "Parama," but here I am Parama Seva dasa.
We are introduced to a friendly brahmacari named Govinda dasa and he insists upon showing us their ashram. The brahmacaris here live in one cavernous room beneath the grantha samdhi. Upon entering we are all astounded - it must be 50 feet long and 30 feet wide! There is precious little to be seen besides some rudimentary bedding and mosquito nets. Srila Prabhpada's maxim of "simple living, high thinking" is in effect here.
Mamee calls me over and thanks me for taking them along. Indeed, everyone has been pleasantly surprised by the beautiful temple, the deities, and the zealous devotees. We are all very happy to have finally come to this special place. Under the moonlight we crowd in Govinda's van and the devotees bid us goodbye through the window and make us promise to visit the next time we are in Calcutta.
As soon as we get started my uncle, Mama, asks Govinda if we can still go to have yogurt at Amrita, but it has gotten late and it really isn't possible. Mamee interrupts by declaring, "What is the use of going to Amrita when we just had such amrita?"
That night I dreamt of a beautiful Damodar sila, much like the one Bhagavatacarya worshipped. For the next few days, I could hardly think of anything else except the wonderful experience I'd had at the Path Bari. I hope that one day soon I can return.
Two days later Christmas arrives in Calcutta. I have spent many Christmases in India and I always feel as if I am somehow missing out. No snow, no presents, no cards, and no feasting with my friends at the local ISKCON temple. The day passes just like any other day. That evening however, I decide to visit Mama and Mamee and cook some pizza for their deities and then feed everyone some unusual prasad for this part of the world. As I am cooking , I overhear Mamee say, "That temple where Parama Seva took us the other night, I enjoyed it soooo much….The next time you come we must go again. My grandson will love it there, too." Happy that my family members have appreciated the holy site of Lord Caitanya Mahaprabhu's pastimes, I roll out the pizza dough with a large smile on my face. Christmas had finally arrived.
Here the Damodar sila of Bhagavatacarya sits on a silver simhasana in front of deities of Jagannatha, Baladeva, and Subhadra. In the foreground are a variety of other silas being nicely worshipped there. The darshan area is about 20 feet from the actual alter which is why Damodar, who is only about 3" tall, appears so small in this photo.

to Parama Seva prabhu's home page
---