What an auspicious day; marking the one year anniversary of the installation of little Radhika Raman Thakurs, plus Tulasi Salagram vivaha, plus Sri Krishna Rasayatra, all on the last day of Karttik, in the association of our wonderful little community of devotees. Our humble attempt to glorify Their Lordships through these festive events is always so inspiring to all of us, it enthuses the devotees and makes us closer, eclipsing any material differences or short-comings.
This year we observed Karttik with some extra vratas; performing Damodarastakam daily, offering lamps daily, reciting 1000 names of Lord Vishnu, giving up all favourite foods as well as the normal urja vratam of Urid dahl etc, eating once per day in the afternoon, no sweets, no fries, no chutneys etc, eating simple kitri daily. Giving in charity to devotees, to temples (Auckland and Wellington), giving sesame seeds to temple (Auckland), feeding the devotees, staying awake some nights, rising early in the morning, planting Tulasi seeds and transplanting Tulasi trees, circumambulating a temple, avoiding any criticism of devotees, and not the shaving face or head for the entire month (itch itch hahaha). (incidently I just shaved it off this morning, ....that was real sense gratification)
Okay back to the festival, my wife and I spent a few days preparing as usual. Extra rose flowers were ordered from Auckland (thanx to bhaktine Beverly for sending them down on the courier), thanx also to mother Kailash for her kind donation to cover all costs to put on the festival, and of course thanx to all the devotees who took part; cooking and chanting and being so enthusiastic and inspiring.
Sadly we were still missing a few, some down in Christchurch, Hamner Springs and Whakatane, and others with exams a couple of weeks away couldn't get away, locked in with last year assignments to complete, but we were thinking of you all too.
From here on we'll try to show what went on through some pictures. Needless to say devotees were so absorbed in the festival that not too many pics got taken, but still we got some good ones. (eh) All the first sequence of offering asanam, swagatam, padyam, achamaniyam, arghyam, madhuparka and sugandam tailam and the blowing of the conch were all missed, so we start these pictures with devotees coming forward to reciprocate with the Deities by offering Them various substances to bathe Them with. I'll try and identify what they are: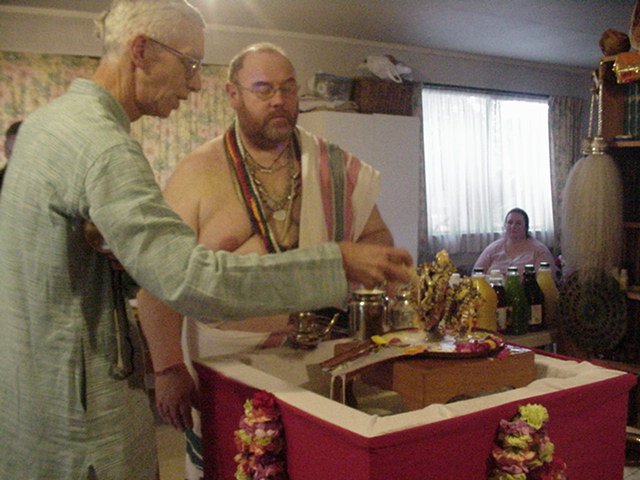 Atmananda prabhu ACBSP coming forward to bathe Their Lordships with milk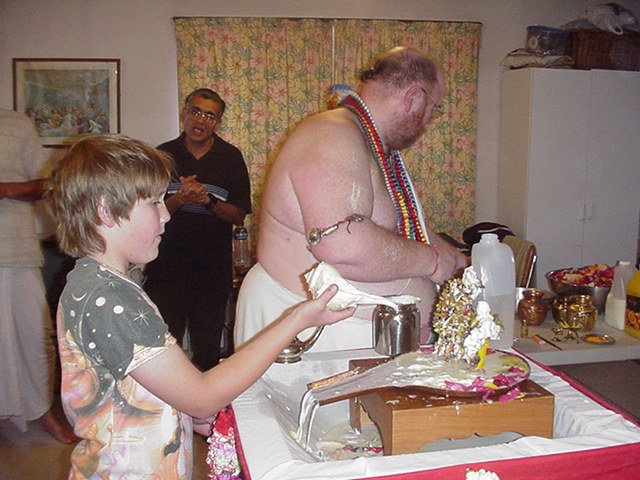 Narad bathed Their Lordships with yogurt
no pics were taken of the ghee, honey, sugarwater and water(s) being offered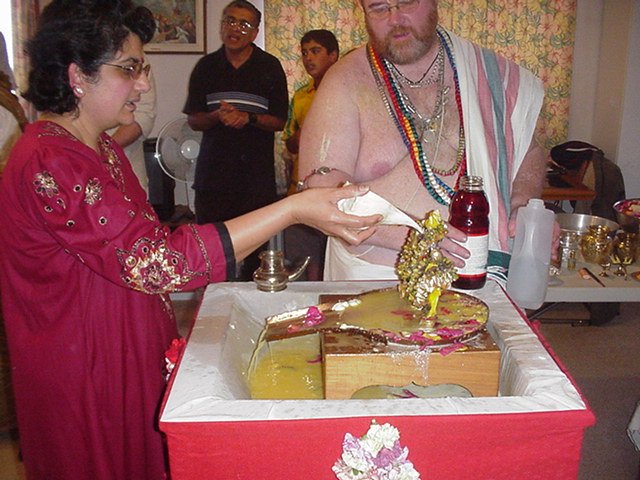 Mother Sumi bathing Their Lorships with Orange juice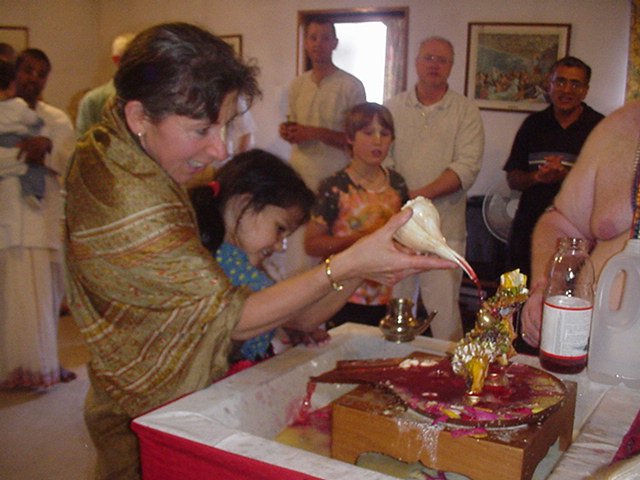 Bhaktimarg mataji with Ganadhiraj and Indira mataji's daughter bathing Their Lordships with Cranberry juice
We didn't get a pic of the apple juice being offered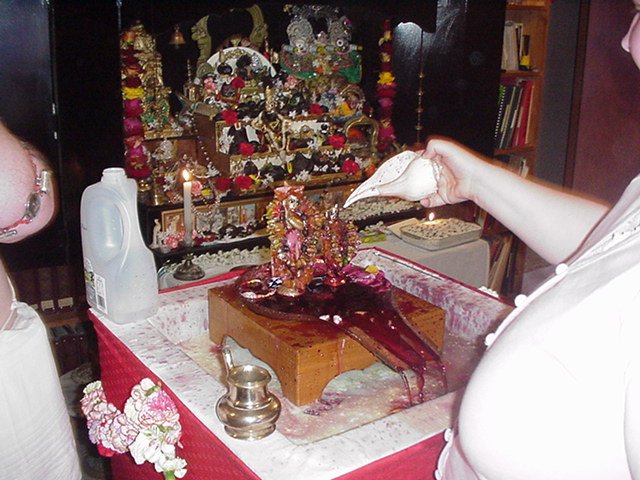 Mother Indira bathing Their Lordships with Dark Grape juice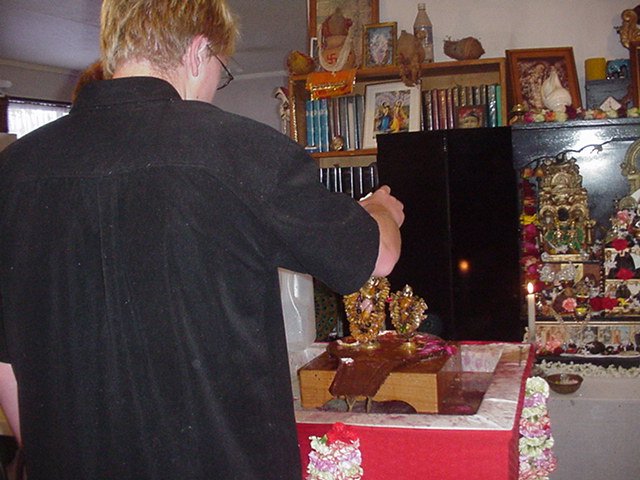 Bhakta Kalib bathing Their Lordships with Kiwi fruit juice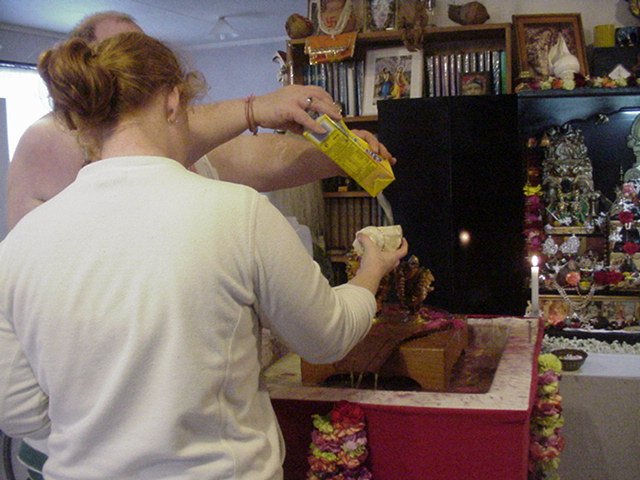 Tungabhadra devi bathing Their Lordships with Apple and Pear juice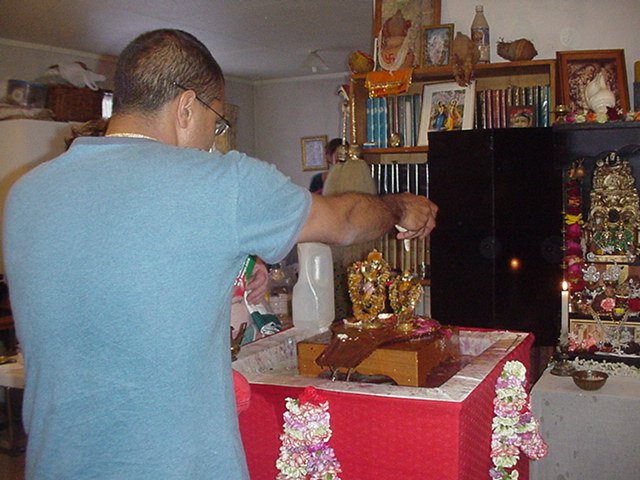 Ament prabhu bathing Their Lordships in Orange & Mango juice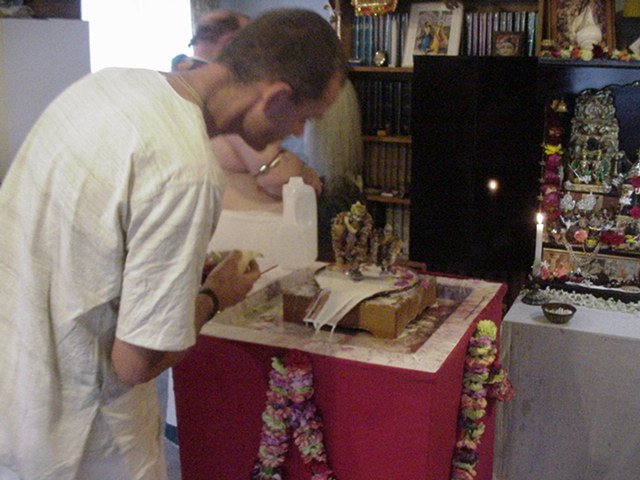 Ramachandra prabhu bathing Their Lordships with rose scented/flavoured milk
Ramachandra prabhu holding the Sahasra dhar as we pour in scented waters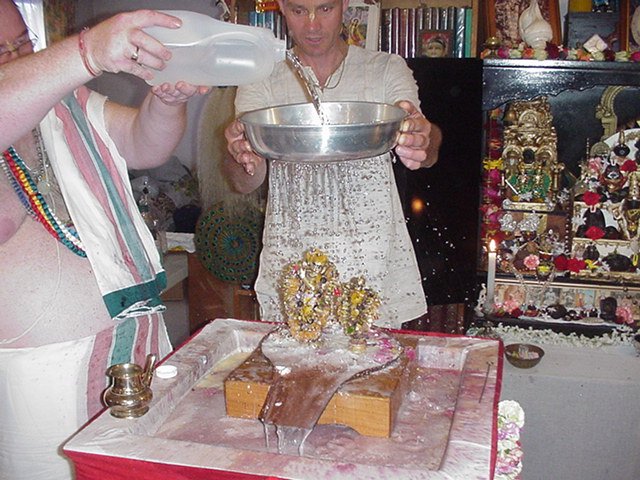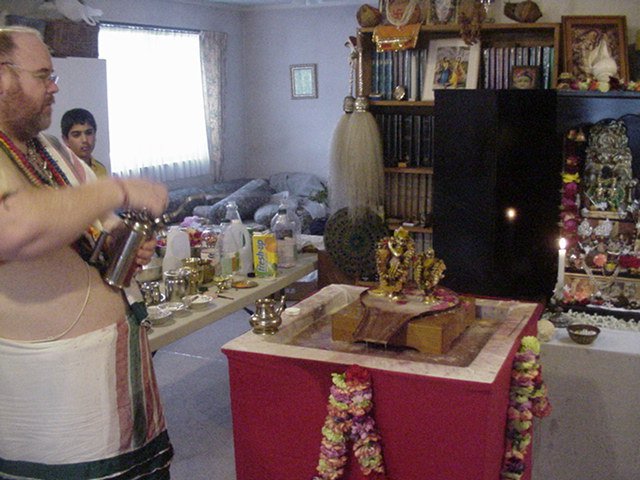 Here we are offering pure Rose water through a fine spray for Their Lordships pleasure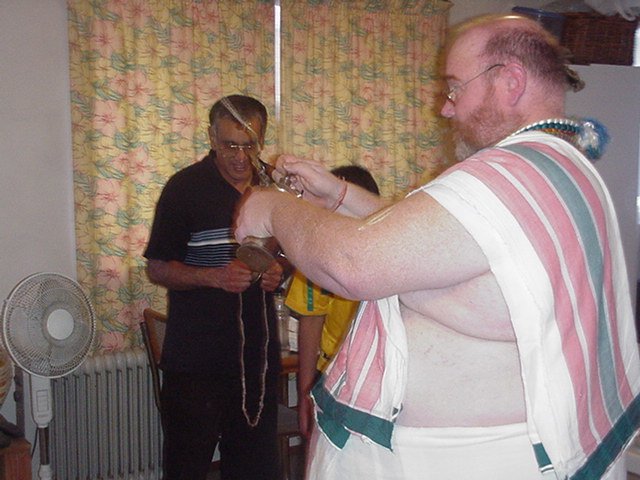 now we share that with the devotees present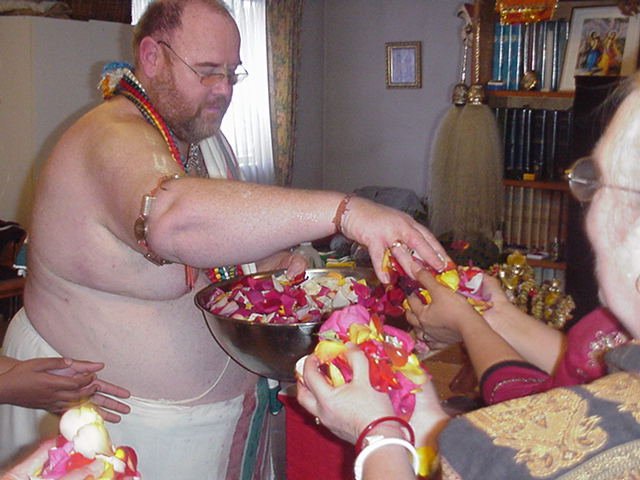 loading everyone's open hands with rose petals
we lost the picture of everyone showering the Deities with flower petals.....was pretty nice too.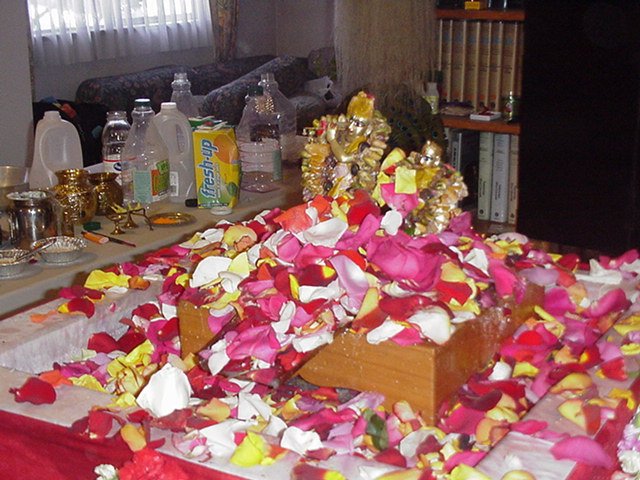 inundated with flower petals Radhika Raman standing with Their pistachio nut garlands, dried apricots, and sultana garlands on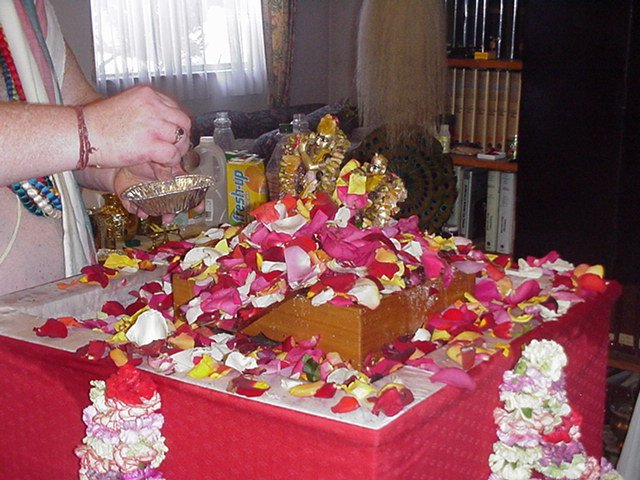 Then we re-dressed Radhika Raman ji
In the mean time the devotees chanted as the offering was prepared and brought round after the re-dress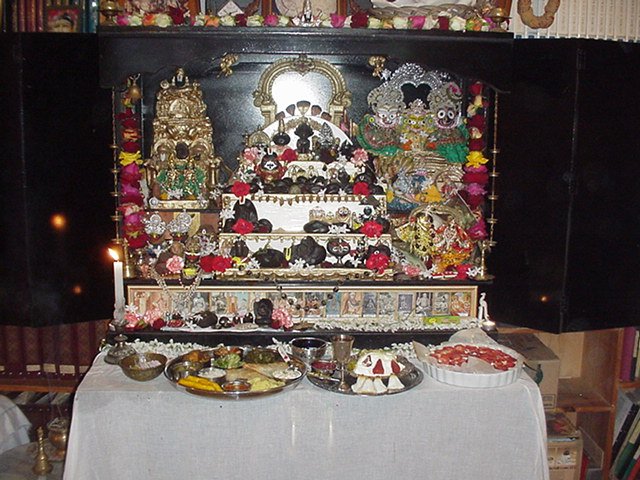 Then the naivedyam food offering was made
There was Rice, Dahl, Spinach and potato sabji, Sweet and Sour sabji, and Fried Curd - Potato and Pea and tomato sabji, Cornmeal polenta cheezy bread sticks, Gujarati Dokla, Spinach and Feta cheese Filo pastries, and coconut and green chili yogurt chutney, and pooris.....and a mixed vegetable Garden Salad too.
Sweets were; Strawberry cheese cake, coconut caramel - boondi - sweetballs, macaroons with a jam topping, and a huge triffle with custard, jelly, cream on top decorated with passionfruit and strawberries.
The drink of the day was the bathing waters from the Abhishek.
After making the offering to the Deities we moved across the room to the Rasa vedi for the Tulasi Salagram vivaha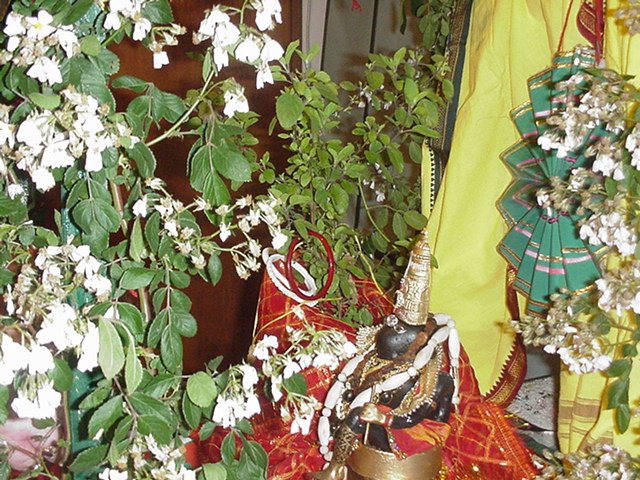 We made the mandap and covered it with sprawling and incredibly fragrant miniture rose branches from the garden.
Then we invited Radhika Raman Salagram to come and be the groom, then we brought Srimati Tulasi devi to be the bride.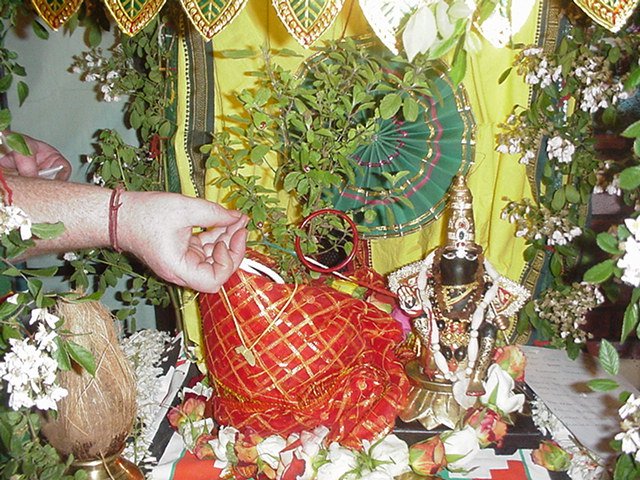 To the left there is the Mangal ghat, we joined the bride and groom with granthi bandam mantras and joined Their cloth together and bound Radhika Raman's right wrist to Tulasi's branches with a red thread. We also placed a beautiful Rose garland around Them. Here we are seen sticking red bindi's on her leaves, and putting sindhur and kumkum too. We also carefully placed red and conch bangles in her branches with recitations of Om namo Bhagavate Keshavaya namah swaha.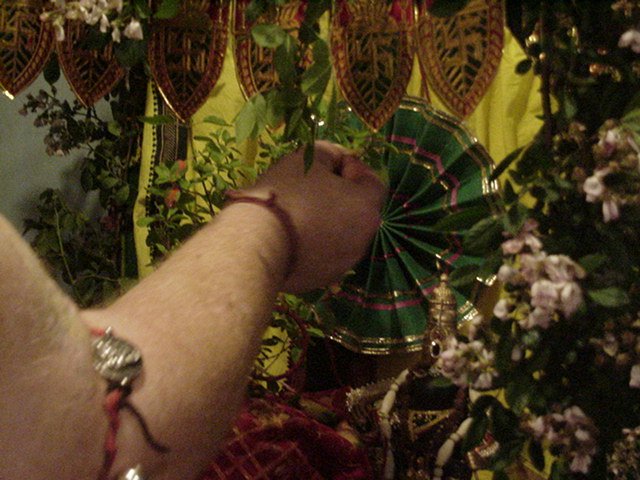 Radhika Raman Salagram is seen seated in His grandure Rajasana pose wearing a Tulasi necklace with Radha and Krishna carved on the big central bead, and wearing a garland of Salagrams, and a garland of dried fruits.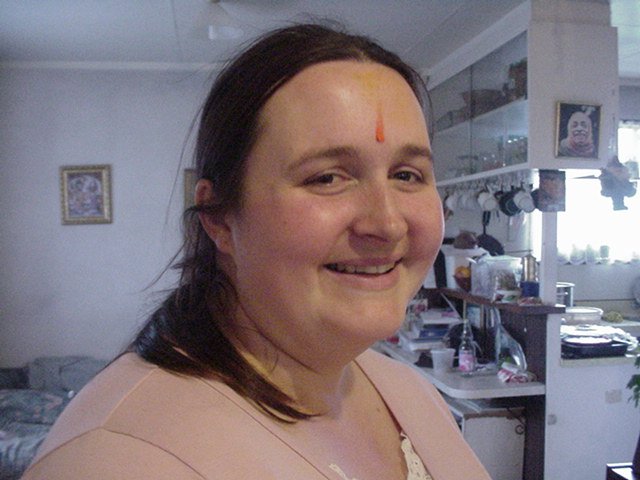 We then had five sumangalis (auspicious women folk) to blow conches. Indira mataji wearing some of the sindhur from Tulasi devi on her forehead.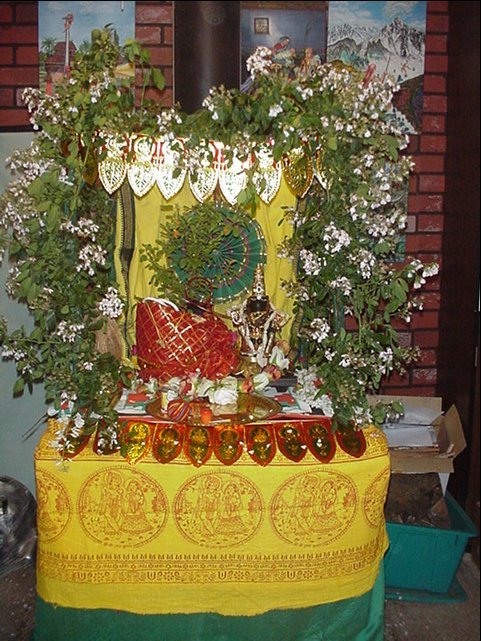 The Divine couple seated on Their Rasa Vedi mandap
toward the end of the arati.......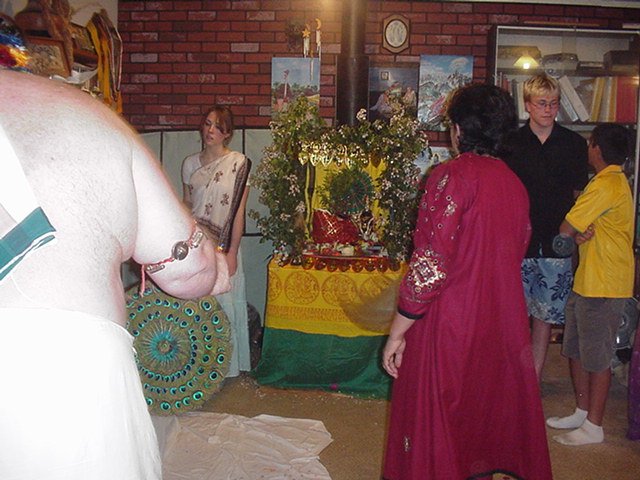 we got mother(s) Sumi and Anjali to come forward to fan the Lord.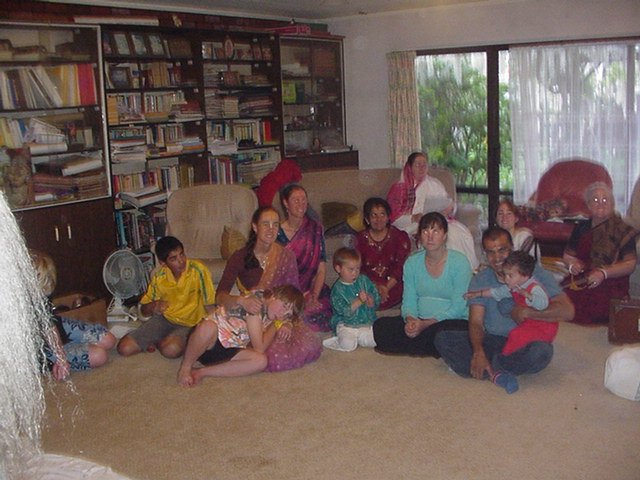 a very blissful Nrsimha prayers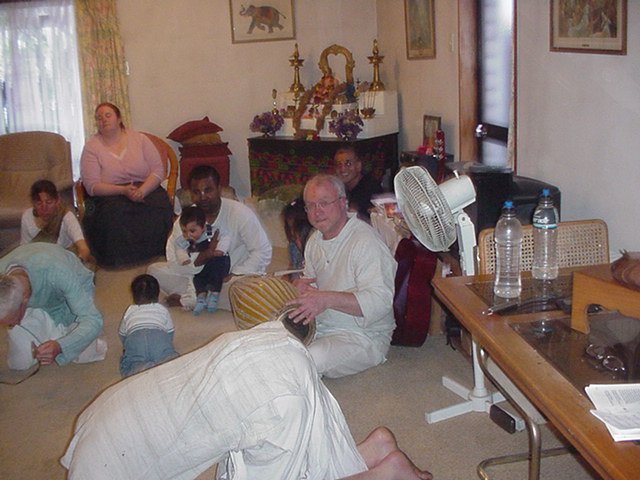 Devotees all came forward to offer lamps (akash dipam vrata) and sing the Damodarastakam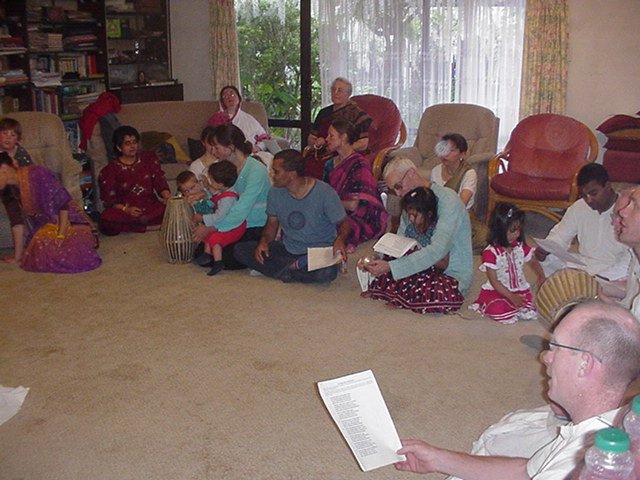 Everyone singing the Damodarastakam of Satyavata muni - sorry no sound......think of Vrindavan....okay you got it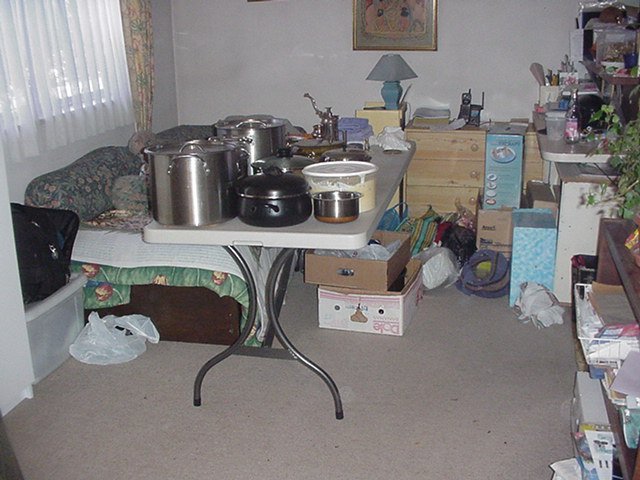 all the prasadam all lined up and ready to go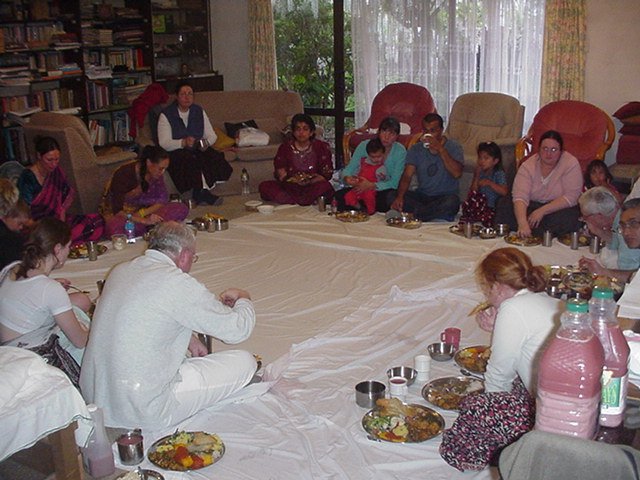 hahaha I was so absorbed in serving out that I nearly forgot to take pictures of this most important part of the function.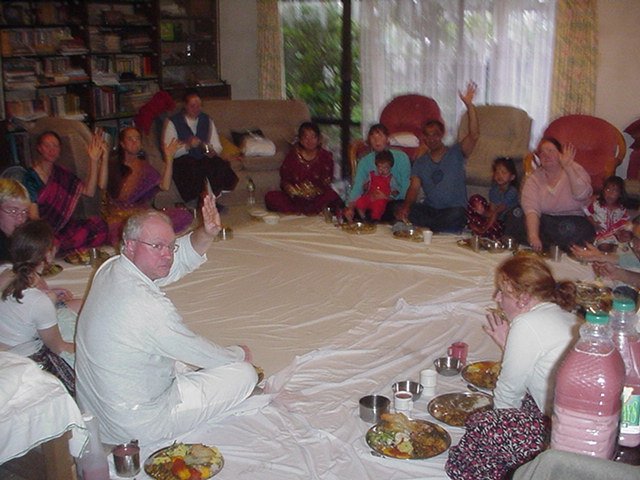 Haribol !!!!!
Devotees dragged away from their prasadam to wave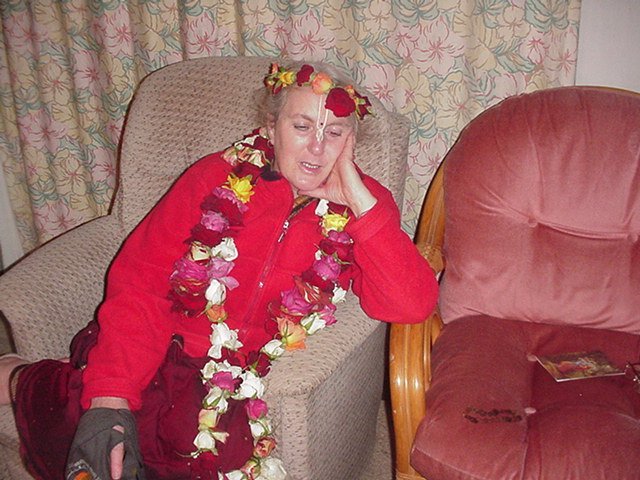 ...a very tired Vedavati (my wife) catching up on a few rounds after we sorted the place out a bit.
(wearing Prabhupad's garland on her head, the altar garland joined together round her neck......and a little maha-prasadam sultana garland on the chair)
Sri Sri Radika Raman ki jaya, Sri Tulasi Salagram Vivaha ki jaya
Srila Prabhupad (by whose grace we know of these things) ki jaya



If anyone is so inclined to sponsor any of our festivals you can do so by sending Donations
through PayPal HERE