Sri NarasimhaDeva at Sri Salagrama Giri - Salem, Tamil Nadu
Sri Narashimha Swami Temple
Namakkal, Tamil Nadu ,
last updated 18th December 2005




.....we are in Tamil Nadu state just very near to these states. In Tamil Nadu state, SALEM is our district. In that district , NAMAKKAL is our city name. SALAGRAMA GIRI ( round shape rock made up of single stone ) is center of that city. In that rock , our Swami Narashimha prabu is sitting with mercy.
Our Narashimha swami is in a cave of SALAGRAMA rock. Lord Sri Hanuman bought 1 SALAGRAMA for his worship and he put it in ground floor by accident. Then, SALAGRAMA grew as a rock and Sri Lord Narashimha Swami gave darshan to him and ordered Sri Hanuman to worship him after Sri Rama went to Vaikunda. In the same way, Sri Hanuman is in front of SALAGRAMA rock with the height of 18 feet. Sri Narahsimha Swami is in VEERASANA with the height of 10 feet with in a cave of SALAGRAMA rock .
Sri Mahalakshmi Devi is sitting in front of Lord facing Lord's face and chanting ASTHAKSHARA Mantra here. We can not see this any where of world like this,. Here, Sri Mahalakshmi is the first devotee of Lord.
Note : Like SALAGRAMA SILA having one hole and round size, This SALAGRAMA rock is exactly round in shape without any tree or plants in it and having a single cave in center of the rock.
We can see the red lines of blood of Hiranyakashipu in ritht palm of Lord Sri Narashimha Swami ...
Everyone has to worship Sri Lord Narashimha .
Because of this only, we are planing to offer a SALAGRAMA neckleas to Swami.
with regards
S.Mohan Ram

---

The three forms of Vishnu
http://www.chennaionline.com/toursntravel/placesofworship/narasimha.asp

Sri Narasimhaswami Temple is in Namakkal and the main deity is Lakshmi Narasimhar. Naamagiri is the Thaayar's name. This place was called Sri Sailakshetram once, but later on came to be called as Namakkal. Jack fruit tree is the sthala tree and Lord Lakshmi Narasimhar is also called Giridhara Narasimhar.

Salagramam is usually found in Nepal's Khandaki River with a single head. But when Lord Anjaneya bathed in this river, he found a two-faced Salagramam. After he replaced the Sanjeevi mountain in its original place, he handed the two-faced Salagramam to Naamagiri Thaayar and meditated on Rama.

After some time, unable to carry the Salagramam in Her hands, the Thaayar placed it on the ground. When Anjaneya finished his meditation, to his surprise, he saw that the Salagramam had turned into a mountain.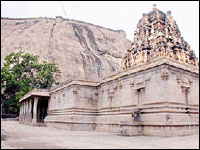 He tried to move it but could not do so. He thought for a second of Rama and Mahavishnu appeared before him in the form of Narasimhar to bless him. He told Anjaneya to finish serving Rama and then fulfil the wishes of the devotees who come to pray to Him.
Obeying His order, Anjaneya stayed there. The main temple is Lakshmi Narasimhar temple and the sanctum sanctorum of Anjaneya is a part of it.
It is said this temple belongs to the 8th century. According to some, it is a 'Kudavarai' temple (hewn out of a huge rock or mountain) carved out during the reign of the Pallavas.
The Lord appears in three different postures in this temple: He appears in the lying posture as Lord Ranganatha, in 'Veeraasana' posture as Narasimhar and standing posture as Lord Varadarajar.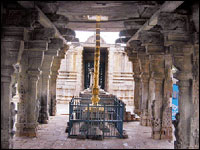 It should be specially mentioned that inside a 25 ft cave temple, Giridhara Narasimhar is found in the lying posture along with Sooriyan, Chandran, Brahmakumarargal, Sivan and Brahma. Sri Ranganatha is found lying on a fierce-looking Kaarkodan snake.
The Salagramam which turned into a divine mountain lies in the middle of Namakkal. It is said a single-faced 'rudraksham' is a rare feature and so is a two-faced Salagramam.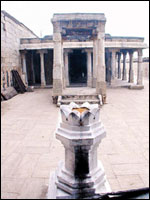 If one undertakes vratham for 12 days by staying inside the temple's premises and does service, it is believed that the Thaayar will appears in one's dream. She fulfils their prayers also, according to tradition.
The devotees offer thirumangalyam to Naamagiri Thaayar and perform 'angapradhakshinam' also. When their prayers are fulfilled, devotees offer curd rice and paanagam to Lord Narasimhar.
'Panguni ratha utsavam' is celebrated in this temple for 15 days. In the same way, Narasimha Jayanthi and Navarathri utsavam for Naamagiri Thaayar are also celebrated with equal fervour.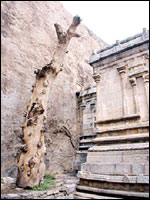 KT Sri
Translated by Radha N

---

Here is the article that appeared on Divyadesham Online http://www.divyadesamonline.com/articles/salagramamtypes.asp

Types of Salagramam

Salagramam means one kind of stone, that should not be treated as an ordinary stones like pebble or marbles etc. It is more precious and valued than any other stones, which are said to be Hamsam of Sri Vishnu and has lots of Power in it.

It is said that by doing poojas for the Salagramam in a proper way, we can attain good level in our life but at the same time, not doing poojas can also lead us to bad way. So, if we have Salagramam, we should be clean and poojas should be done for it.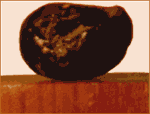 These Salagramams are found in various shapes and structures. Depending upon the holes and the shapes, they are classified as given below:
1. Sri Lakshmi Varaha Murthi Salagramam:
Big and long hole and shining appearance. Two chakkarams will be found inside the hole and lots of lines will be found.
Another kind of this salagramam are also found which will be somewhat black and yellow colour mixed and two sides, Chakkaram will be found and both the holes will be of same sizes.
2. Varaha Murthi:
This Salagramam will be of Indra blue colour and 3 big lines will be found. This Salagramam is rare to be found and has very great power.
Another kind of the same category is found with a long faced which will be covered by flower like structure and chakkaram will be found in the hole.
3. Matsya Murthi::
This kind of Salagramam will be long, looks like a Lotus and on its mouth, lines will be found. The shape will be like a Fish and will be smooth with dots on it. On the mouth, 2 holes and Chakkaram will be found.
4. Koorma Murthi::
This Salagramam will be in Indira Blue with 3 lines and its end will be slightly raised upwards and has "Avartha Regai" (lines).
Likewise, lots of Salagramam are found namely

Suvetha Varaha Murthi
Poo Varaha Murthi
Sudharsana Murthi
Janarthanar
Maha Koorma Murthi
Koorma Varaha Murthi
Hayagreevar
Achyutha Murthi
Sri Seetha Rama Murthi
Lakshmi Gopala Murthi
Santhana Gopala Murthi
Shatsakra Murthi
Dhuvadha Sathma Madhavar
Puroshothaman
Damodharan.

Generally, Salagramam represents about a particular Murthi (Perumal) and they have the shapes corresponding to that particular Perumal.
This is referred to as "Vajjra Kreetam". Inside these Salagramam, the Perumal and Lakshmi Piratti are said to be found and by doing proper poojas to these Salagramam will give us lots of credit and the Final Stage, the Mukthi.
Taking care of these precious Salagramams in a proper way may lead us towards the final destiny, the divine feet of Sriman Narayanan and at the same time we should follow the proper method of doing pooja to these Salagramams. So, if you have Salagramam in the house, by doing proper poojas and by dedicating daily food, pure water and expressing the proper Mantra to it can lead us to attain the Paramathma, Sriman Narayanan.


Search here for individual Sevaks and Deities World-wide.
A-B-C-D-E-F-G-H-I-J-K-L-M-N-O-P-Q-R-S-T-U-V-W-X-Y-Z

---