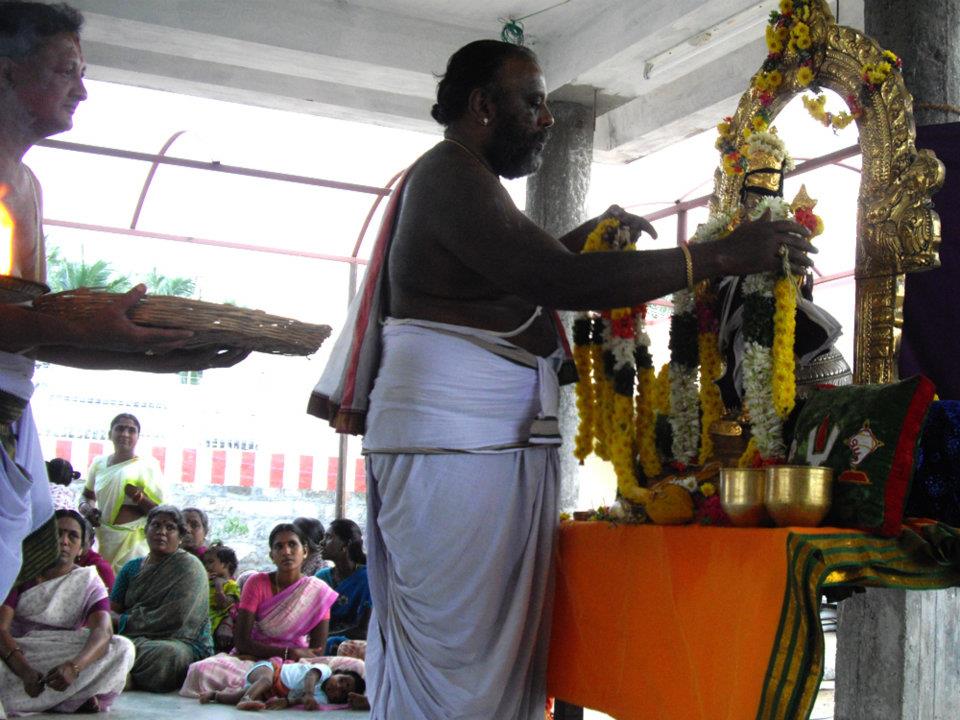 Saligrama Mahimai - Sacred Facts about Saligrama
by Ven. Murali Battar
---

Nava Vidha Bakthi – Nine Forms of Bakthi by Murali Battar
---

Greatness of Salagramam - 01 (01.11.2012)

Many of my friends requested me to provide them in english also.

Hence with the help of Shri Raja Desikan, I am reproducing the 'Glories of Salagrama' here in english also.

Let us also go through the Greatness of Saligramam in the coming days. Sri Sri KrishnaBremi Swami has also given some elaborate and rare information about this subject in his SriBh
agavatha Dharma Sastra. We will also cover some aspects from the same.

Generally it is said that Women Folks are not suppose to perform Pooja for Saligrama Perumal
The details given below are from Brahan NAraTHEEyam Samhidai.

Evil Spirits wont prevail in the area where Saligrama Perumal Pooja is carried out.
House where Saligrama Pooja is performed is considered as Thapovan (Sacred Garden), Puniya Theertha (Sacred Water). It is of sure that the LORD is residing in the House.
On the Contrary, where Saligrama Pooja is not performed the house is unsanctified.
- Brahan NAraTHEEyam
---

Greatness of Salagramam - 02 (03.11.2012)

Saligrama Mahimai - 02 (Sacred Facts about Saligrama - 02)

Saligrama is nothing but the shell of a Divine Insect. This Insect can be spotted in Kandagi River. It intakes only Thulasi as its food.

Similarly, at Dwaraka River, a Thickly Densed , white colored material is seen. This is called as ChakraSila or Dwaraka Saligramam which is al
so divine and Sacred.

Padhma Purnam has some rare facts about Saligrama.. Let us see those..

1) Those who worship ChakraSila / Saligrama will not be born again.

2) Dwaraka Sila and Saligrama will clear One's Sin for the past 100 Births

3) One person who worship Saligrama and takes the Theertha Prasada, though has committed Thousand sins, will get rid all of them.
Saligrama worship is capable of get rid of Bharmahathi Sapa.

4) Puniya Theethas will get collected within 100 Yojana (Nearly 100 Ft) from the house where Saligrama Pooja is performed.

5) Saligrama worship and offerings made is manifested 100 times more than Kasi Kshetra. The House is also considered more Sacred than Kasi Kshetra.

6) Worshipping Saligrama, having saligrama Theertha is considered equivalent to performing Million Yagas! Million Cow Dhanas(Offerings). It is also sure that the person who worship Saligrama will not have rebirth.

- Let us talk.. Saligrama Mahimai - 02 (Sacred Facts about Saligrama - 02)

Saligrama is nothing but the shell of a Divine Insect. This Insect can be spotted in Kandagi River. It intakes only Thulasi as its food.

Similarly, at Dwaraka River, a Thickly Densed , white colored material is seen. This is called as ChakraSila or Dwaraka Saligramam which is also divine and Sacred.

Padhma Purnam has some rare facts about Saligrama.. Let us see those..

1) Those who worship ChakraSila / Saligrama will not be born again.

2) Dwaraka Sila and Saligrama will clear One's Sin for the past 100 Births

3) One person who worship Saligrama and takes the Theertha Prasada, though has committed Thousand sins, will get rid all of them.
Saligrama worship is capable of get rid of Bharmahathi Sapa.

4) Puniya Theethas will get collected within 100 Yojana (Nearly 100 Ft) from the house where Saligrama Pooja is performed.

5) Saligrama worship and offerings made is manifested 100 times more than Kasi Kshetra. The House is also considered more Sacred than Kasi Kshetra.

6) Worshipping Saligrama, having saligrama Theertha is considered equivalent to performing Million Yagas! Million Cow Dhanas(Offerings). It is also sure that the person who worship Saligrama will not have rebirth.

- Let us talk..
--------------------------------------------------------------------
Saligrama Mahimai - 03 (Sacred Facts about Saligrama - 03)

some of the collections from the websites reg Salagrama..!

Chakra Shaligram represent milky way galaxy which is Vishnu of our universe. See the information from different Purana.
With Keshava in the form of Shaligram sila reside all the devatas, asuaras, yaksas and the fourteen worlds.--- Padma Purana
The Lord resides in many places in which he may be worshi...
pped, but of all the places Shaligram is the best.---Garuda Purana
Any person who has seen Shaligram shila, paid obeisances to Him, bathed and worshipped Him, has achieved the results of performing ten million sacrifices and giving ten million cows in charity.--- Skanda Purana – Hari-bhakti-vilas
"Merely by touching a shaligram one becomes freed from the sins of millions of births, so what to speak of worshiping Him! By Shaligram puja one gains the association of Lord Hari."--- Gautamiya Tantra
"Shalagramas do not require installation ceremony. When one begins the worship of shaligram, however he should start with elaborate puja using all articles. The worship of shaligram is the best form of worship, better than the worship of the sun."--- Skanda Purana
"All those holy rivers awarding moksha, such as the Ganga, Godavari and others, reside in the charanamrita (bath water) of shaligram."--- Padma Amala Harinam Darling
"Shalagrama should not be placed on the earth or ground and worshiped."---Sammohana Tantra
"By taking the remnants of foodstuffs offered to shaligram, one will get the result of performing many sacrifices."--- Skanda Purana

-------------------------------------------------------------------------
Saligrama Mahimai - 04 (Sacred facts about Saligrama - 04) - 04.11.2012

Some of the Saligramas have Gold or Silver Rekhas(Linigs) on them. These are more Sacred and Superior too. Some of the Merchants in Nepal, break these kinds of saligrams to check for selling, which is disheartening. We admire the sacredness of these Saligrmas which can produce Gold and Silver of their own.

Now, Let us see some of the greatness of Saligramas as described in Padhma Purana.

7) One who worship Saligrama will attain Soul Sanctity and get rid of Kama(Desire)

8) One who worship Saligrama will get treated as MahaVishnu

9) By Looking the Scultpture of Saligrama, even a Murderer will get rid of his Sins

10) By Tthinking, having Darshan and Worshipping Saligrama, all the Sins will get away from us like how other creatures get away from seeing a Lion in a Forest

11) One is assured of Mukti (Eternal Abode) just worshipping saligarma with Bhakti, without Bakthi or even accidentally.

12) Person who worship will not be scared of Yama (God of Death)

13) Person who worship Saligrama with Santhanam (sandal Paste), Flowers, Dupa (Instense), Deepa (Harathi) and Na Li Niivedhyam will always live in VishnuLokha.

- Will talk More ..
-Murali Battar.

---

Saligrama Mahimai - 05 (Sacred Facts about Saligrama - 05)

Have you seen Periyaperumal at Srirangam ? As per our anscestors, Periya perumal's entire Thirumeni(Divine Bodily Form)is made out of
1000s of Saligrama. Infact this also explains the sanctity of periya perumal as well. Brahma was worshipping this same Periyaperumal made of saligramas isnt?
Think.. how much is the depth of Divine Prideness and Sacredness PeriyPerumal have?
There is a Prakaram (Temple Round) around the Sanctum Sanctorum of Periya Perumal which is named as ThiruVenAzhi Prakaram
(Need to analyze how this name would have come..!). As per sayings, this Prakaram is surrounded by thousands of Saligrama.
Hence, Udayavar (Sri Ramanujar) didnt laid his foot on this Prakaram and came all along in his Knees is also noted.
If we just have one darshan, it is equivalent to many puniyam. Renganatha's pride and fame is something unmeasurable.
Now, Let us get into some more facts about Saligrama
14) One who worship Saligrama with Bakthi will attain the Devas Status. He will be a great human.
15) Saligramam - Place where God resides... Wipes off all the Sins.
16) Even 1000 RajaSuya Yaga is not equivalent to the Palan (resultant) of one day Saligrama Pooja.
17) Those who are sinned will attain heaven by saligrama worship; will attain Mukti if worshipped with Bakti
18)
As Agni(God of Fire)is residing in the Arani Kattai(Kind of Wood)
, Bhagvan HARI is residing in Saligrama
19) More than HIS presence with SriLaksmi and SriVaikunda,Bhagvan HARI is present completely in Saligrama
20) Saligrama Pooja is paralleled to AgniGothram and Poodhanam(Land Sacrifice)
The following information is shared by Shri Ramana Bhattar. I thank him for the same.

Melum salagramam 12 serthu thiruvaratham seiythaal oru divya desa thiruvartahanam seiytha palan kidaikum, melum andha moothyin thejas namai sutri 1.20mail suththyai undu panumaam. Salagrama aarathanam seiyum edangalil yema kingarargaluku edamillai...
Melum salagramam nithya suthy udayathu.
Oru velai thiruvarathanam seiya eyalatha sandharbam undahinaal
Maru naal seerathinaal(pasum paal) kondu thirumanjanam seivika
Andha dosam neengum.
Salagrama silaa vaibavam enkira pusthakathil adiyen padithathu....
Dasannnnnn...See More - Murali Batta

---

Saligrama Mahimai - 06 (Sacred Facts about Saligrama - 06)


On 05.11.2012, I was mentioning about the ThivenAzhi Pradakshanam and the naming reason behind it. To my surprise, I got the reason in the same day.
Thiru - Azhaghiya /Thrimal ;
Ven-White
Azhi- Kadal (Sea)

This implies that the Prakaram is nothing but Parkadal (Shirrapdhi) and Periyaperumal is none other than ShirapdhiNadan. This can even more be felt during the 10 days of Rappathu where Periya Perumal will adorn the Muthangi (Completely Pearl Studded Covered Dress) and will bless as ShirapdhiNadhan only.

SriRanga Mahatmiyam describes that PeriyaPerumal ascended to Srirangam along with the Thanga Vimanam. Perumal self appeared. Then it is evident to derive that the Saligramas which forms part of his Tirumeni should also have been formed self.
For many years, I myself was having a doubt..that the Periyaperumal should have the "PachaiMaa MalaiPol Meni" as descirbed by the Azhwars..Only Arangan knows this Divine Secret..!

Let us talk further about the Saligrama as described in Padhma Puranam.

21) One who worship 12 Saligramas will get the Blessings equilvalent to worshipping 12Crore Sivalingams for 12 Kalpa Years in 1 day

22) One who has Kama (Wordly Pleasure) and Kortha (Enimity Character) will attain Mukti by worshipping Saligrama.

23) One will attain Mukti by worshipping Saligrama even without visiting to Punya Theertha and performing Yagyas..

24) Saligrama Theertha Prasadam is signigicant and comprable to bathing in all Punya Theerthas and provide the out come of performing Yagya. Many Punya Theertha Devatha's are residing in Saligrama.

25) One who worship Saligrama by reciting Vishu Sahasranama will attain Vishnu's Lotus Feet.

26) Entire Universe and all Devathas will exists in the place where Saligrama is worshipped

27) Why we need PanchKavyam (Sacred Purifier made of 5 Elements inherited from Cow)!....we have Saligrama worship to purify our inner and outer.

28) One drop of Saligrama Theertha .. it is sure that we wont be in a position to take Mother's Milk again. (Means rebirth will not be there)

Let us talk Further..

---

Saligrama Mahimai - 07 (Sacred Facts about Saligrama - 07)

This Tamil month of Iypasi is called as "Thula Month". Holy bath in Kaveri will get us more good deeds/results. In this entire Month, Holy water from Kaveri for Pooja is brought in Golden Pot in Srirangam. Also another aspect to be noted is that PeriyaPerumal, Namperumal and Renganayaki Thayar will be adorned with Saligrama Mala, only in this month.This darshan is available for only this month only. Hence one who worship perumal at Srirangam after holy bath in Kaveri this month, will get the dual blessings of Holy bath and perumal Darshan together.

Let us see more from PadhmaPuranam:

29) A insect in Saligrama Sannathi will attain Mukti

30) If we offer the Pinda(Prasad given to Ancestors) in Saligrama Sannathi, our Ancestors are pleased.

31) Offerings and Bath made in Saligrama Sannathi, is considered 100times greater than deeds done in Kasi

32) There is no equivalence for Saligrama in this Earth, Heaven and Bhatala Loga.

Let us more information from other Puranas in the coming chapters..

- Murali Battar

---

Saligrama Mahimai - 08 (Sacred Facts about Saligrama - 08)

Sri Krishna Chaitanya Mahaprabhu was born in the 14th Century. He is celebrated as Lord krishna's Incarnation. He came to Srirangam in the year 1510 A.D. In that period, Sri Venkat Bhattar who was my Ancestor was performing Kainkaryam to Perumal. That was a SathurMasaya Period (ie Month of Iypasi) when Mahaprabhu visited Srirangam. As requested by Sri Venkat Bhattar and his Assistant Sri Thirumalai Bhattar, Sri C
haitanya Mahaprabhu stayed in their Home. (I am very much blessed to be born in the same house..!). Sri Mahaprabhu made the Thirumenis(Statues) of Sri Krishna, Sri Balaramar and Sri Subhadra and installed the same for worship. These Idols are even now seen and worshipped in Sri Jagannath Math in Srirangam in North chitra Street (Opposite to my House).

Sri Venkat Battar was having a Son, named Sri Gopala Battar. As per the Order of Sri Mahaprabhu, Sri Gopala Battar went to Brindhavan. Sri Gopala Battar who was a Brahmachari (Bachelor) also took Sri Prabhodananda Swami who was with him in the same house from his Childhood. In Brindhavan he was Christened as "SriGopalabattar GoSwami" by Sri MahaPrabhu and was performing poojas in a Sannathi in Brindhavan itself. There was no Idols in that Sannathim instead only Huge Saligrama was there. One night Sri GopalaBattar Goswami was aspiring to have an idol instead of Saligrama in the Sannathi. To everyone's Surprise, the Next Day morning, the Huge Saligrama was self turned to an Idol of Lord Sri Krishna. Even Today, one can have darshan of this Idol in the temple "SriRadhaRaman".

This incident is an evidence to know that Saligrama Pooja will sure to materialize our wishes.

In the Book "Inhabitants of Bharata Varsha" , Sri G. Obert has mentioned about Saligrama as ""As this stone possesses besides considerable magnetic force, one need not be surprised that divine or supernatural powers are ascribed to it, and that it is regarded as manifestation of the deity"

Let me also share the incident happened today. I never decide the Topic or Subject. Infact, I was having desire to write about Bheesma and Sri RengaNachiyar as well. But it is always Arangan, who decides on the Topic and I am only the protocol. Whatever it comes before the System, I pour my thoughts. Today, I was just looking around my book shelf for books about Saligrama, to my surprise, I got a very old Grandha Book named "Saligrama Silothbhati".

This shows that Arangan will help us to travel for Miles if we attempt to take one step towards the path. It all needs is Focus and Dedication in our work.

Life will be as per our thoughts.

- Murali Battar

---

Saligrama Mahimai - 09 (Sacred Facts about Saligrama - 09)

Saligrama Mahatmiyam is accepted by everyone. Evidentially, the Conch, Chakar, Ghada and the Lotus Flower Forms of Saligrama confirm this more. Also many scholars and Scientists accept that this cannot be a Man Made forms and should have been created naturally by some Insect.

The insect is named as "Vajra Keedam" and puranas describe
it as "PonVandu" (Golden Bee). This has the capabilities to Fly and Swim. It is a Surprise to know that, as same as the LORD, this insect is also not seen by humans still now.

MukthiNath Khestra is nearly 12500 Ft above the sea level. Kandagi River which originates from Saligrama Mountain is further above Mukthinath, which is nearly 17000 Ft above. These places always have tough and extreme climatic conditions where humans cannot travel. Saligramam is getting formed in this place only. Hence it is apparent that humans haven't seen Vajra Keedam. We collect only those Saligramas which fall in the river without these insect. As said earlier, as these insect are Golden in color, the impressions made by them on the Saligrama are also gold, which is a divine work.

"Bhramaha Haivartham" , Purana also describes Saligrama Worship as:

All Poojas are useful. Beyond those Saligrama Pooja is more significant.
Saligrama contains all the Punya Theerthas. One who worships Saligrama will attain Mukthi and enter the Lotus Feet of LORD KRISHNA.
A house which has housed the SriSila Saligrama is celebrated to be having the Sri Chakra of the LORD. All the Punya Theerthas are prominent to be present there.
One who intakes Saligrama Theertha is believed to attain Mukti and enter Abode in a Pearl Palanquin, whichever place he dies in the world.
It is to be noted that Saligrama worship is much more powerful than worshipping the LORD in the form of an Idol. This will give the totality of fulfillment in Worship.

- Let us talk more. Murali Battar

---

Saligrama Mahimai - 10 (Sacred Facts about Saligrama - 10)

The Raw Minerals of Saligrama are naturally coolant. Moreover, as these Saligramas are originated from a place of purified Air and Water, where no human beings are seen, Saligrama are believed to spread the same purity in the place where they are worshipped. The house where Saligrama is worshipped will experience good health and people will not indulge in confrontational behaviors. Those Family and House are considered equivalent to Temple.

Swami Sri Madhvacharya stayed in VedhaVyasa Ashram in North India for 8 years and worshipped various rare and magnificent Saligramas. When he started travelling across India , he decided to place those Saligramas to various Temple as he may not be able to do Poojas for them Daily. He gave 6 of such Saligramas to Subramanya Swami Temple (Details not clearly known), one in Madhya (Centre) Gaya and the other one in Udipi Krishna Temple. Hence we a
re also suppose to perform poojas to Saligrama. Incase if we are not able to continue the poojas, we should handover the same to proper person who can continue the pooja or to temples where it can be handled.

Let us see more information from Puranas..!

Daily poojas can be performed using Saligrama, Bell, Mantras and Prathima. It is not significant to worship in temple where there is no Saligrama.

One should get Saligrama with Impressions on it, black in color and which are coolant in nature. This will lead to Moksha.

Performing Pooja for 12 Saligrama is more special. Having Dwaraka Sila Saligrama is more significant. Our Ancestors reside in the Saligrama Dwara (Hole). The place of Saligrama worship itself is considered sacred and special. (One who intakes the Saligarma Theertha will attain Mukthi and get rid of Ancestral curses if any is evident)

The Jeevathma who is sprinkled with Saligrama Theertha during its Death time will attain Mukti.

DwarakaSila is the relevance of Chakra and it is the Chit roopa and PrakruthaRoopa.

- Above are from Brindhavana Mahatmiyam.

---

Saligrama Mahimai – 11 (Sacred Facts about Saligrama - 11)

There are many Puranas which describe the Origination of Saligrama. Let us talk about One such Purana which has been advised by Nampermal (Arangan) to speak out...!.. Here I should also say one thing... Whenever I get a conflict of cross roads, I always use to make over a petty Chit before Nampermal and drop it and select one of them as
Namperumal's Wish.

Back to Topic….

Once Lord Brahma has a genuine concern about the increasing strength of sinners and got sweat in his Chin and Throat. The Sweat which dropped from his Throat, transformed as a woman named "Kandaki" (Kanda – Throat) Kandaki vigorously meditated and Lord Brahma appeared before her. She asked a boon that all the Devas should be born as her children. Brahma Categorically refused it. Kandki went of anger. She Cursed all devas to become as worms/ insects. Devas gave a reply back cursed as to transform Kandaki as Jalahubee.(water Format).

The confronting rivalry was going on for sometime and hence became violence. Finally they decided getting into Sriman Narayanan's Lotus Feet and pleaded for mercy and way out from these Cruses. The LORD told that it is not possible to take back the Cruses (Remember the same Phrase in Tirukural as well. Once said in words, cannot be taken back..... This also implies that only Arangan's Lotus Feet is the only way to get surrendered)

But LORD Narayanan gave a way out. He said, "Two of my Bhaktas will born and attain Moksha as Elephant and Crocodile in this place only. Once they are dead, you get birth as worms named VajraKeedam in their remains. Kandaki will originate as a River. Miles Away from here, there is a Place called as Chakra Theertham where I reside as well. The Substance which is found there is called as "Dwaraka Chakra". You should hide in the stones of the mountain and live in Kandaki River there. By this gesture, Kandaki's wish will also be fulfilled. One who worships those Substances where you will be residing and got converted as Saligrama and Dwaraka Chakra will be attaining Moksha." LORD disappeared.


- Will See more!

Dasan - Murali Battar-

---

Saligrama Mahimai – 12 (Sacred Facts about Saligrama - 12)

KarthamaPrajapathi and Devahuthi had 2 sons named Jayan and Vijayan. There followed all Dharmas and were mutually co-operative to each other. They were worshipping LORD VISHNU daily. In this period, their King, Maruthan, decided to perform a Yaga. Both Jayan and Vijayan were invited for the Yaga. Jayan presided over the Yaga in the place of Bhrama and Vijayan performed the Yaga well. Marthan was happy on the completion of the Yaga and hence honored both of them with more wealth. On returning back home, while they were trying to partition the wealth given, there was a clash broke out. (Even today we can see the same Scenarios in many houses ..!) While the Elder told to divide the entire wealth, the younger argued to keep the portion of the wealth as it is as awarded to them by the King. Jayan cursed "Since you are so greedy, you will be born as a Crocodile". Vijayan re-cursed "Since you are talking like a mad elephant, you will be born as an Elephant".

Because of these Curses, Jayan was born as an Elephant named Gajendra. Vijayan was born as a Crocodile and was living in a pond near Kandaki River. Even after taking this birth, both of them were still worshipping LORD VISHNU daily. One day when Gajendra went to the pond to pluck a Lotus Flower, the Crocodile caught hold of Gajendra's Leg with its sharp teeth. Gajendra started pleading in loud voice for help to the God. LORD VISHNU who came immediately on the spot killed the Crocodile with his Chakra. Both Gajendra and the Crocodile attained Moksha. Because of the Lord's Chakra's was being showered on the rocks, all the rocks got the impression of Lord's Chakra. This is called as the Dwaraka Sila. The place where this story held was called as Hari Kshetra. The Pond was called as Chakra Theertham. Since the trees in the mountain around were called a Sala Trees, the place was also called as Saligramam. Devas were born in the mortal remains of Elephant Gajendra and the Crocodile as VajraKeedam. Kandaki was born the River. Thus Saligrama was formed.

Hence as per Saligrama Mahimai, Saligrama was the place were exactly Gajendra Moksha was held.

Those worship Saligrama and Dwaraka Sila will attain the Lotus Feet of LORD VISHNU.

Let us Talk..
---

Saligrama Mahimai – 13 (Sacred Facts about Saligrama - 13)

Until the period where Nepal was ruled by the KING, all the Saligramas belonged to the Palace only. If some Brahmins wished to take Saligramas, they can get the same from Kandaki River. But with one condition that the Saligrama should not fall off from their hand..! We were not aware if there can be someone who had this seen. But a note
from an Englishman, Hutson, refers that he has witnessed this.

A rare and divine Saligrama means it will float in the water. In fact some of them may also swim in the water. These are very rare. This is scared as LORD VISHNU is manifested in it. A person who possesses this type of Saligrama is considered to be of good soul from the past births.

Some of the Saligrama will be filled with Water. Those will be of more black in color and shining. These will be cool when handled. These are divine and priceless. The houses and Temple where such Saligrama is housed is considered to be Divine. Kandaki Devatha is residing in these Saligrama. VajraKeedam is also residing in it. Such Saligrama is also called as "Jalaja".

Most of the Saligrama we worship are hard in nature. These have inscriptions and Forms of LORD VISHNU. These are called as Sthalaja.

The Sathalaja Saligramas are classified into two.

Mattha – Condensed and hard. Little low in Polish. Looks green in color. Will have Lakshana (Divine Forms)
Kesara – Clustered with many Formations of Thread like carvings. Will be less in weight. Will float in Water. High adorable.
Superior Saligrama, if kept in Milk or Rice Bowl for certain period, will gain weight. These types of Saligramas are more pure and divine.

Till now we have exchanged information about the benefits of worshipping Saligrama, information about Saligrama as described in Puranas, classifications of Saligramas. Now on, let us see how to identify a Saligrama Moorthy from its Lakshana (Formations).

Let us Talk.. !

Murali Battar

---

Saligrama Mahimai – 14 (Sacred Facts about Saligrama - 14)

To bless those who do not even posses knowledge, Bhagavan Sriman Narayanan with benevolence and kind heart, has taken the simplest form inside Salagrama as HIS place of abode. There is no need for a wide space or high expenses for worshipping Salagrama. Little water with lot of love is enough for Thirumanjanam. Sure we will be bestowed
with huge benefits.

We should not worship with 2 Salagramas. 1 or 3 or more than that is allowed. A home which is housed with 12 or more Salagramas is equivalent to a Divyadesam. That is not affected Sparisa Dosha (Sins made of bodily Contacts).

Salagramas are significant and important in SwayamVyakta Khestras (DivyaDesams which are formed of its own). These Salagramas in fact sustain the divinity of the Temple in those Kshetras. Even if the Divya Mangala (Idol) worship got any stoppages, it won't harm, due to the presence of these Salagramas. Hence we should have atleast one Salagramas in all the Vishu Temple.

The Salagrama which is as small as a Amla Fruit is precious and easy to perform pooja and worship.

We get 3 kinds of Salagramas.

1. Salagramas which do not have any inscriptions or sculptures on them. They look like pebbles and glossy in nature and also black in color. These are called as "Hiranya Grabha" Salagrama. Though these type of Salagramas can be worshiped, they are not considered to be much precious.

2. Salagramas which are seen as split into two halves and inscribed with Chakra symbol.

3. Salagrama which are seen with holes and also formed in the shapes of weapons of LORD VISHNU. These are precious to be worship.

Some of the Salagramas are available in different colors too. In those Salagramas, it is advisable not to have Salagramas which have more holes / pores and also which have a wider hole.

As per sastras, we should not purchase Salagrama against Money.

Donating a Salagrama is considered equivalent to donating a Land.

Let us Talk.. !

---

Saligrama Mahimai – 15 (Sacred Facts about Saligrama - 15)

From the Previous chapters, one of the readers has requested whether it is acceptable to worship Salagrama which is broken into two pieces. In fact, not even two pieces, if the Salagrama is broken into several pieces too it is divine. There is no Dosha as per Padhma Purana. Will we shed away a child with broken hand? No isn't? Same way
even if a Salagrama is broken we should worship it as per Padhma Purana.

One of our readers has requested why we should discard Salagramas which are wide open and more pores. As per Salagrama Silothpathi, Wide open Salagramas will fetch fall of the family dynasty and Salagrama with more pores or holes will inculcate gossiping nature in household.

More over it also describes that, worshipping Salagramas which are, soft will fetch self desires, small sized will fetch Moksha, Cool will fetch Happiness, Black will fetch fame, reddish will fetch ruling power, blue will fetch descendents, green will fetch fertility and health, Yellow will fetch wealth. Finally Grey color is to be worshipped by Sanyasis (sage).

Let us also see some of the Laskhanas (Forms of Salagramas)

Vasudevan – Should be rich Blackish in Color. Should have two chakars inscriptions in the open.

Sankarshanan – Should be Red in Color. Should have two chakars inscriptions in the open.

Pradhyumnan – Should be Blue in Color. Should have more pores / holes. Should have minute / delicate Chakras. (Not to be bothered on the more holes for this Form of Salagrama)

Anirudhan – Should be Yellow in Color. Should have Padhma (Lotus) inscriptions.

Narayanan – Should be Black in Color. Should be round shaped. Should have a big and wide Opening.

Let us Talk…!

---

Saligrama Mahimai – 16 (Sacred Facts about Saligrama - 16)

A Grandha named SreeThathuvam describes that only those who had upanayanam can perform Salagrama Pooja. Some also say that only Samasrayanam (Having symbols – Tatoo of Chakra and Conch on the Shoulders) will make one eligible for Salagrama Worship. In both cases, women folks are not entitled to do Salagrama pooja. Women if help in Salagrama Pooja and worship Salagrama itself will make them achieve more benefits.

Bachelors and Sages should worship Salagramas with more Chakra inscriptions. Married Men should worship more subtle and mild Salagramas.

SreeThathuvam also prescribes that one should not have two SivaLingas , two Dwaraka Chakras, two Conch, three Ganapathy Vigraha, three Devis Vigrahas in home for worship. Only even number viz 4,6,8,10,12.. except 2 , Salagramas are allowed to keep for worship. But at the same time odd numbers like 3, 5, 7, 9 numbers of Salagramas are not allowed while only one Salagrama is allowed for worship.

Further let us see some of the Lakshanas of Salagramas:

Pramesti Salagramas will have lotus, chakra inscriptions along with one Bindhu (Dots). This has one hole on the backside.

Vishnu Salagrama will have big Chakra and linings (Rekhas) in the middle.

Narasimha Salagrama will be blacker in Color. Will have bigger Chakra inscriptions, along with five Bindhus. This is as described in Agni Purana.

Garuda Purana describes that Narasimha Salagrama will be in golden color or Kapila color and centre part in elevated manner with three to five Bindhus.

Both the above are applicable to Narasimha Salagramas.

Varaha Salagrama will be triangular in shape. Will have two rings in the left side. Will have two uneven chakras (Agni Purana).

Will have long facet, ringed with flowers and will have Chakra inscriptions in the hole. (SreeThathuvam)

Let us unfold one by one in the coming Chapters.. !

Murali Battar.

---

Saligrama Mahimai – 17 (Sacred Facts about Saligrama - 17)

Salagrama does not require "Prana Pradhistai" as it is done for idol worship. THE LORD, Sriman Narayanan, has willingly manifested in Salagrama. These Salagramas will be possessed by someone only due to the earlier birth good deeds, Bakti and only by the LORDS blessings.

If Salagrama is worshipped in someone's home, the entire house an
d surroundings will be experiencing good happenings. They will come out any hurdle and shine better. Even Yamas aides won't near them.

Mathsya Purana, Agni Purana, Garuda Purana, Padhma Purana and Brahan Naradheeyam speak a lot about Salagrama.

People who are poor to perform Salagrama Pooja and Women folks can offer Milk and Prasada (Plain Cooked Rice) and perform simple Aarathi daily. They can perform a full fledged pooja, commencing with Milk Thirumanjanm, whenever some scholarly people visits their home.

Salagrama Forms (Lakshana):

Kurmam:
Black or Royal Blue (Indra Neel) colored. Circular in Shape. Will have Protruding Back. Delicate and will have 3 linings. (Agni Purana)

Salagrama which is having more elongated back and Avartha linings along with the above characteristics will bring more prosperity. (Agni Purana)

MahaKurmam:
Circular in Shape. Will be having one or more of the inscriptions like Garland, Lotus or Chakra. Will be seen in Golden color with dots on it similar to Purasai Flower. This is a rare form of Salagrama. (Sreethatvanidhi)

Kurma Varaha Moorthi:
This form of Salagrama will have two dotted Chakra inscription or Sanga (Conch) inscription. All the five arms / weapons of LORD will be visible more on these Salagramas. This will get all the desires fulfilled. This Salagrama is not so easily available to anyone.


Let us Talk.. !

Murali Battar…
---

Saligrama Mahimai – 18 (Sacred Facts about Saligrama - 18)

Many people who have read the earlier chapters are questioning whether these benefits are true?

For them..
Please do your worship in a involvement of your mind. Don't do anything expecting the benefits. Expectations will lead to disappointments too. Do your duty with dedication. Don't have dilemmas. To provide or bless with result is
the decision of Arangan.

THE LORD without any lavishness, to uplift us, has manifested himself in the simple form of Salagrama. This is divine and sacred. Let us not ignore this. Let us take much care and worship Salagrama.

"Salagramashila Yathradevo Dwaravathi Bhava:
Ubhayo: Sangamey Yathra Yathra Mukthi: Na SamSaya:"
Meaning of the above Sloga: "Where ever Salagrama is present, in those places, Lord Vishnu and Dwaravathi are present. Those who worship these couplets will attain Mukthi – No suspicions" (Garuda Purana)

Dwara means Main Gate / House Main door entry. Mahalakshmi resides in this gate. She is called as Dwaravathi. Please do put incense to Dwaravathi daily or else atleast on Fridays. It is sure that Mahalakshmi will stay in the home and Lakshmi Kadashakam will be present. Evil Eyes wont harm the home. Similarly Mahalaksmi is also residing in Salagrama's hole (Entry).

Salagrama Forms (Lakshana):

Mathsyam:
Mathsyam will be elongated lotus shaped and will have linings in the mouth side. (Garuda Purana)

Mathsyam will be elongated with three dots on the top. Chakra and Hole will not be present. (Agni Purana)

Mathsyam will be long shaped, Colored like Kasi Beads, will be formed with 3 sections. (Agni Purana)

Fish Shaped, Chakra inscriptions inside, Bindhu similar to SreeVatsakaram and will have Malai(Garland Shape). This Salagrama will bring all pleasures (SreeThatvam)

Fish Shaped, Polished surface, Dotted, may have 2 protruding teeth like structure (SreeThatvam).

A Salagrama which have any one of the above forms is to be considered as Mathsya Salagrama.

Let us Further Talk.. !

Murali Battar..
---

Saligrama Mahimai – 19 (Sacred Facts about Saligrama - 19)

SalagramaSila Punya Pavithra DharmaKaarani!
Yasya DharsanaMaathrena Brahmaha Suththeya Nara:!!
Thath Giruham sarva Theerthaanam PravaramSruthiNoothitham!
Yatrayam sarvatha Moorthi: SalagramaSila Sila !!
- Padhma Purana

Salagrama Form is the reason for Punya, Purification and Dharma. Man will get purified the moment he worship Salagrama
. The house will also get purified by all the Theerthas. The worship of LORD through this form will give more prosperity.

Salagrama Forms (Lakshana):

HayaGreevar:
Blue colored. Bindu will be present. Inscription like Angucha can be seen. Dots will also be seen (Agni Purana)

Angucha shapped Facet. Long shaped Bindu. Will be colored like a Naval Fruit. (SreeThatvam)

Worshipping these forms of Hayagreeva Salagrama will bring more Knowledge and Power. One will be blessed with knowledgeable children.

Another Similar Salagrama which has Angucha inscription but will be larger in shape. Only one Chakra can be seen. This is called "Ambuja". This will bring child birth and fulfillment of all desires.

Let us Further Talk.. !

Murali Battar..
---

Saligrama Mahimai – 20 (Sacred Facts about Saligrama - 20)

When we do poojas for Salagramas in our household, we should perform Thirumanjanam for Salagrama, wipe Salagrama with a dry cloth, show Sambrani and then place Salagrama in the place / Asana for it.

Whereas in Temples, we should not wipe Salagramas after Thirumanjanam. We should directly show Sambrani and place Salagrama in the holder
s / asana kept for it. (Let us discuss more on the Pooja steps in our later chapters)

Salagrama Forms (Lakshana):

Sreedhara: Sphere shaped. Will have 5 rekhas (inscription) on the top. Vanamalai Symbol inside the hole (Agni Purana)

Will be colored like densed grass. Will have Vanamalai Symbol. Will have unpredictable Chakra symbol. Will bring all prosperity. (SreeThatvam)

Vamanar: Very small Sphere shaped. Blue colored. Will have only one dot (Agni Purana)

Royal Blue colored. Vanamali or Lotus Flower symbol wherein either both or one of this symbol will be inscribed in this form of Salagrama. Will be short and small sphere shaped.

Kayampoo Colored. Dots on outer side. Kundalam beside the hole. Dots inside the hole. Small sphere shaped. (Sreethatvam)

ParasuRamar: Axe like inscription. Green colored like Grass. Will be tall. Chakra Rekha in the mid of the Form.

Let us Further Talk.. !

Murali Battar..
---

Saligrama Mahimai – 21 (Sacred Facts about Saligrama - 21)

Nepal is referred as Avanti Desh in various Puranas. River Kandaki originates from the peak called Hariparvath in the Himalayan range here. Salagramas are formed here only. Salagramas contain 14 types of Mineral ore. These inscriptions are also seen on Salagramas. One after offering Thulasi in Kandaki River and pray for getting Salagramas and then only should bath in the Kandaki River. If they are blessed, they are sure of getting Salagramas.

Salagrama Forms (Lakshana):

Sri Ramar: Bow shaped Inscription / Rekha. Big , Long, Green Colored, Dotted, Chakra inscription in the Centre, many holes. (Sreethatvam)

Seetha Ramar: Egg Shaped. Kudala Rekha (Studded Inscription). Same sized Chakra or KalpaVirusha rekha near the hole. Leftside near the head portion chakra Rekha. This Salagrama provide knowledge and Mukti.

Gopala Murthi: Colored. Dotted. Hole in the Backside. Makara Kundalam.(Fish Shapped ear ring). Bhana Rekha in the left side Forehead. Beautiful to look. Worshipping this Form of Salagrama will destroy the enemies. Give child birth. Also gives all prosperity.

Krishnar: Sphere shaped. Black colored. Small Hole.

Hiranya Garbha: White Shaped. Smooth. Big in Size. Long too. Chakra Rekha in hole (Sreethatvam).

Some people also claims that Small egg shaped without any Forms or Lakshanas which is in darkblue colored and smooth is also as Hiranya Garbha
Let us Further Talk.. !

Murali Battar..
---

Saligrama Mahimai – 22 (Sacred Facts about Saligrama - 22)

Once, Nampillai (A Acharyan in Guru Parampara) was learning Sri Bhasyam with Namjeeyar (His Acharyan who is also in Guru Parampara). During that time, the Prasadam for Perumal was ready to offer. Namjeeyar told Nampillai to do the Tiruvaradhanam (Pooja) for Perumal.

Nampillai replied that he don't know Thiruvardhanam procedures. Namjeeyar reverted to him "I only know Salagrama Thiruvaradhanam. You can pronounce Second Phrase of Dvayam (SriMathe Narayanaya) and clean Perumal Tiruvadi and then do offer the Prasad to Perumal" .


Nampillai once again doubted," When Sriman Narayanan is manifested in all Archai (idol) Forms, how to offer Prasad to only one Archai ?" . Namjeeyar replied back," Add 'Sarva Mangala Vigrahanya' (Manifested in all forms of Idols) in between the First phrase and Second Phrase of Dvayam and then perform the offerings and complete the Pooja".

In this incident, we are able to infer clearly that our Acharyas always refer and utter Dvayam for any worship during poojas.

Hence..

First do perform Thirumanjanam for Salagrama

Next.. Dvaya Mantra First Phrase "Sriman Narayana Charanam Charanow Prabhathey: "

Next Text to add: 'Sarva Mangala Vigrahanya'

Then, Dvaya Mantra Second Phrase "Srimathe Narayanaya Namaha: "

Now utter the First Phrase – Text to add – Second Phrase and do the Tiruvadi Pooja and then Offer the Prasadam to Perumal.

See how Simple is Namjeeyar has shown us the Pooja Procedure.

There is no need for explaining about Thiruvardhanam (Pooja) for those who know about Salagrama Thiruvardhanam.

But before Thiruvardhanam please remember one thing:

"Aradhanam' means Deep Love. Hence do not perform Aradhanam for namesake. Considering Salagrama and other Pooja Deities as same as our beloved Friend or Father or Son, perform the Pooja. Open your heart and speak to the deity. Preferably Perform Pooja in the Language Known to you. Sure that your house will become Temple and your Pooja room will attain Sanctity.


Let us Further Talk.. !

Murali Battar..

---

Saligrama Mahimai – 23 (Sacred Facts about Saligrama - 23)

I am happy to note that many of the readers / viewers are interested in knowing about Salagrama Thiruvardhanam. Soon in the coming chapters, I will detail, to the extend of my knowledge, about the Thiruvardhanam procedures for both the section of Vaishnavas and also for those non Vaishnava Sections of the Society.

Now let us see a Dhyana Sloga about Salagrama:

"Thulyap prabham Thappana Kotti Praphaja
Chakra Kowmodhagi Thara Virajitha Pani Padmam !
Lakshmi Mahi Sahitha Matha Vichitra Bhodam
Narayanam KapilaVacha Samasrayami"

(I pray and meditate, The LORD Sriman Narayana, who has manifested himself with Sri Mahalakshmi and his all Five Weapons inside a small and scared form of Creature)

(If anyone knows more detailed Sanskrit, please do detail the meaning more and can rectify any mistake as well)

Salagrama Moola Manthra:

"Om Namo Bhagavathey Vishnavey Sri Salagrama
Nivasiney – Sarva Bheesta Bhalapradhaya
Sakala Thuridha Nivarine Salagrama Swahah..! "

(I Pray the the LORD Sriman Mahavishnu, who is residing inside the Salagrama which Provides all wishes , Full Fills all desires, Quickly remedial to all our prayers)

Those who wants to learn about Thiruvardhanam, please note the above two slogas and by heart them.

Let us learn the Pooja Procedures slowly.

Let us further Talk.. !

Murali Battar

---

Saligrama Mahimai – 24 (Sacred Facts about Saligrama - 24)

Salagrama inscribed with Chakra is manifestation of LORD VISHNU. If we were not able to locate the inscription too we can consider it as LORD VISHNU and worship.

"Harir Uvacha : NirlakshanaSubha SukranvidhaSilarchanath"

Meaning: LORD Hari Says:- It is more preferable and easy to worship Salagramas without any inscription than Salagramas with Chakra inscriptions.

This is easy too. We can assume the Lord of our desire on these Salagramas and can worship.

Though not possible to worship specially, having Salagrama in the household itself is more divine and sacred.

Those who are unable to perform poojas and regular Aradhanam (formative worship), can offer Milk and Rice and perform Aarathi is enough to get benefits.

Women folks can too offer Prasad without touching Salagrama.

Vaishanavites are advised to get Samarsrayanam (Pancha Samskaram) for performing Salagrama Aardhanam. Remaining can get blessings and directions from a Guru and then start performing Salagrama Aardhanam.

Whatever it is , the main core element to be in mind is "HARI BAKTHI".

Now.. before commencing any Aardhana, the following five 'Suthi' (Clean up) is very important.

Sareera Suthi (Bodily Clean Up)
Sthala Suthi (Worship Place Clean Up)
Pathra Suthi (Things /Utensils Clean Up)
Kara Suthi (Hand Clean Up)
Manas Suthi (Mind Clean Up)

It may be questioned that Hand may come as part of Body, so why to clean up separately. But these are Cleanup by Mantras. So it is required.


Let us Talk…!

Murali Battar
---
Saligrama Mahimai – 25 (Sacred Facts about Saligrama - 25)
Many of the readers are asking the soft copy of the Salagrama Mahimai. I am compiling the chapters and may get concluded in couple of chapters. I will soon publish the PDF for the benefit of all.
Some clarifications about Salagrama Dhyana Sloga is also there. There are some corrections and in the process of making the same.
As informed earlier, Thiruvardhanam for both the Kalais – Sections (Thengalai and Vadagalai) of Vaishanavites are given below in the link. (English Version will be annexed post the completion of the Chapters)
All you have to do is to worship the Salagrama in your household by assuming the LORD in the form of Vigraha (Idol).
Exceptionally, if not possible to do Thiruvardhanam, we can follow as told by Namjeeyar by uttering Dvaya Mantra.

Thiruvaradhana procedure for Vaishnavite – Thengalai (Tamil Version)
http://srirangapankajamsite.files.wordpress.com/2012/03/tengalai2.pdf
Thiruvaradhana procedure for Vaishnavite – Vadagalai (Tamil Version)
http://srirangapankajamsite.files.wordpress.com/2012/03/vadagalai-thiruvaradhanam.pdf
Let us talk …!
Murali Battar.

---
Saligrama Mahimai – 26 (Sacred Facts about Saligrama - 26)
We have seen that Salagrama are various types. In this,
Sri Krishna Salagramam - 16 Types
Sri Narashima Salagramam – 13 Types
Sri Rama Salagramam – 12 Types
Sri Narayana Salagramam – 9 Types
Sri Gopala Salagramam – 6 Types
Sri Kurma , Varaha and Sudarsana – 4 Types
Sri BalaRamar , Vamana, Parasurama, Damodaran, Vasudevan – 3 Types are available.
If there is
1 Chakra – Sri Sudarasana
2 Chakra – Sri Lakshmi Narayana
3 Chakra (inside)- Sri TriVikrama (Detailed as Sri Achuda in SreeThatvaNidhi)
4 Chakra – Janardhana
5 Chakra – Sri Vasudeva
6 Chakra – Sri Pradhyumna (Detailed as Sri Sankarshana in SreeThatvaNidhi)
7 Chakra – Sri Sankarshana (Detailed as Sri Varaha in SreeThatvaNidhi)
8 Chakra – Sri Purushotama
9 Chakra – Sri NavaVyugar (Detailed as Sri Narasimha in SreeThatvaNidhi)
10 Chakra – Sri Dasavatram (Detailed as Sri Vamana in SreeThatvaNidhi)
11 Chakra – Sri Anirudha (Detailed as Sri Pradhyumna in SreeThatvaNidhi)
12 Chakra – Sri DhvadasaAthma (Detailed as Ananthan or Paramathma in SreeThatvaNidhi)
Even if there is some minor difference in the formation of the Salagrama, referring and following any one of the Puranas, will benefit us both in the journey of the earthly world and eternal world.
Let us Talk .. !
Murali Battar.
---

Saligrama Mahimai – 27 (Sacred Facts about Saligrama - 27)

Salagrama Lakshana (Forms) described between Puranas has always have difference as we have detailed in the earlier chapters.

One can follow one Purana and get to know the Lakshana and start worshipping is advised.

For those, who have still doubts in identifying the Salagrama Lakshana, the one word would be ..

"Don't worry.!. Visualize the form of the LORD in which you wish to worship. Start envisioning your Salagrama too in that form. Sure if you pray and start considering Salagrama as your beloved LORD which you wish to be your worshiping LORD, one day your Salagrama will turn to be the same LORD. This is true.. !

"Yath Bhavoo Thath Bhavathi !"


Gopala battar was born in our Family clan in beginning of 15th century. Sri Krishna Chaitanya (who is considered as the incarnation of LORD KRISHNA) visited Srirangam in the year 1512 A.D. (It is also said as 1510 A.D). Gopala Battar joined with him and he also took him to Brindhavan. Gopala Battar became one of his prime Disciples and was called as 'Goswami'. Goswami's pooja deities were Salagramas only. One night before going for sleep, he was imagining how it could be to worship an idol in the place of Salagramas. He went for deep sleep too.

Next day, when he opened the Pooja room, he was surprised to notice that none of the Salagramas which he worshipped were present. Instead, all the Salagramas were formed into an idol with a charismatic charm and smile to the extend of his imagination. He was deeply touched and was filled with profound joy. He named his LORD as 'SriRadhaRaman' and worshipped the LORD till he lived. Today too one can visit the SriRadhaRaman temple at brindhavan and have darshan of the same LORD who was worshipped by SriGoswami.

That's why I said, "Yath Bhavoo Thath Bhavathi !".


Let us talk.. !

Murali Battar.

---

Saligrama Mahimai – 28 (Sacred Facts about Saligrama - 28)

The LORD is present in everyone's heart and soul. This state is called as "Jeeva Antharkatha Bimbam". This form is called "Naija Vibhudhi".

The LORD is present in the Statues and idols sculptured by artists and made divine by worships and poojas, also in Cow's Body, Thulasi Plant, Divine Trees. This form is called "Ahidha Vibhudhi".

The LORD is present in Salagrama and also in the deeds which involves divine Agni. This form is called "Sahaja Vibhudhi".

Among the three Vibhudhi's , the form of Salagrama shows LORD's modesty and divinity and Simplicity. For Salagrama, there is no need to incarnate or provide Salagrama attain divinity by rituals involving pundits and Scholars. It is equivalent to a Divya Desam where LORD has incarnated himself as 'Swayampu'. Each Salagrama is as equal to a Temple Sanctum Sanctorum. That's why, it is advised to women, to avoid touching Salagrama even in home. They will gain numerous benefits for assisting for pooja and worshiping Salagrama.

A 'Uthrani'(Single drop from a Tea Spoon) Salagrama Theertha is enough to get rid of all our sins. It is because that the LORD himself has manifested in our front when we take the Theertha.

Note: There are some Slogas for Salagrama Worship. I intend to annex the same when I publish the chapters as PDF.

LORD BRAHMA says to Sage Narada, "Whom so ever, sincerely listens or reads the Salagrama Mahimai, their sins will disappear like a due drop exposed to SUN. They will be blessed in their current birth and also in the Abode too".

Seems, the LORD has told about you who had read the chapters and given me such an Opportunity to provide the Salagrama Mahimai.

Long Live Vaishnavism and Bhagavathas..!

My heart filled thanks and wishes to all Arangan's Devotees.

Let us meet once again through "NavaVidha Sambhandam" (The Nine ways of Relationship with GOD)

Thank you All..!

Murali Battar.

---

More coming soon, please come back or go to Murali Battar's Facebook