Bhakt Taruni Mohan dasa - Modi nagar / Vrindavan / Jalandhar, India
last updated 22nd November 2010

i have been initiated on 8th of this month (Karttik 2010) by HH RADHA GOVIND MAHARAJ ji
in vrindavan. MY NEW NAME IS BHAKT TARUNI MOHAN DAS.
Hare krisna
All glories to shrila prabhupada
pamho ., agtsp., agtsg&g.,
dandavats!!!!!
HARI BOL!!
Prabhu ji i am sending pics with text in these mails I thank you for ur kind help.
I am not rich so I have small altar but I feel happy that my shilas will be displayed in ur site.
TEXT:
This poem is written by Narayani dasi and is very dear to my heart .
I like to read it again and again :
Garden of devotion .
There is one beautiful garden in my heart where my creeper of devotion is growing and the water is sravana kirtana- the hare krisna mahamantra.
There is fence for my garden and it is made up of all the devotees who are keeping me with krishna.
May be one day my creeper will go to golok vrindavana and take hold of krishna lotus feet.
Until then, where my creeper rest? a creeper needs support without it.
But my creeper has found its support in this world: attachment to ur lotus feet SHRILA PRABHUPADA.

MY ishta devta is narsimha shila which is SUDRASHAN- BERUNDA NARSIMHA SHILA.
The Bhagavata Purana narrates: even after killing Hiranyakashipu none of the present demigods were able to calm Narasimha's fury,. So all the gods and goddesses called his consort shree laxmi ,but she was also unable to do so.
Upon request of demi gods Lord shiva assumed the form of sri sharaba but then our lord assumed the form of the ferocious gandaberunda, bird-animal to combat Sharabha and cosequently killed incarnation of shiva thus removing his pride.Then, at the request of Brahma, Prahlada was presented to Narasimha, and finally, he was calmed by the prayers of his devotee
The moral given is Nobody can pacify anger of lord by force not even his devotee like shiva.
Only when a person surrenders completely to supreme personality of godhead - one can get lord's full mercy.
Hari bol!!!!
Tarun kumar.
Krodha Narsimha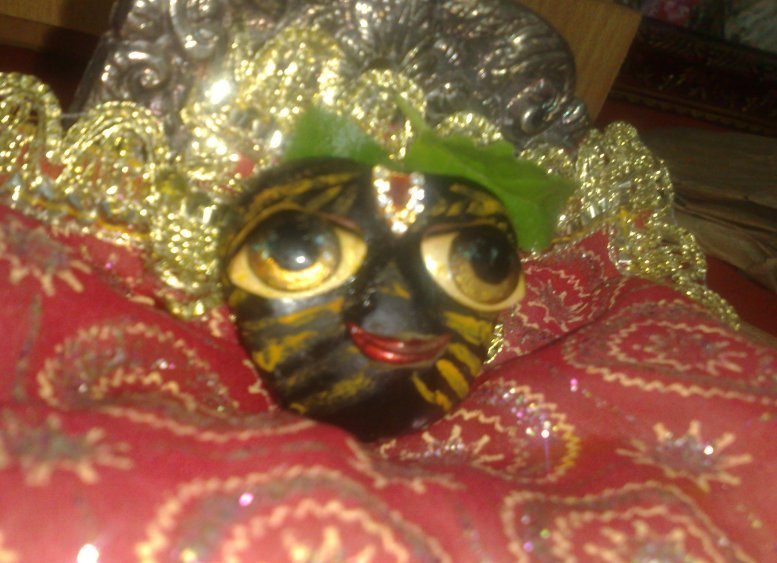 JWALA NARSIMHA-YELLOW FLAMES COMMING FROM LORD'S MOUTH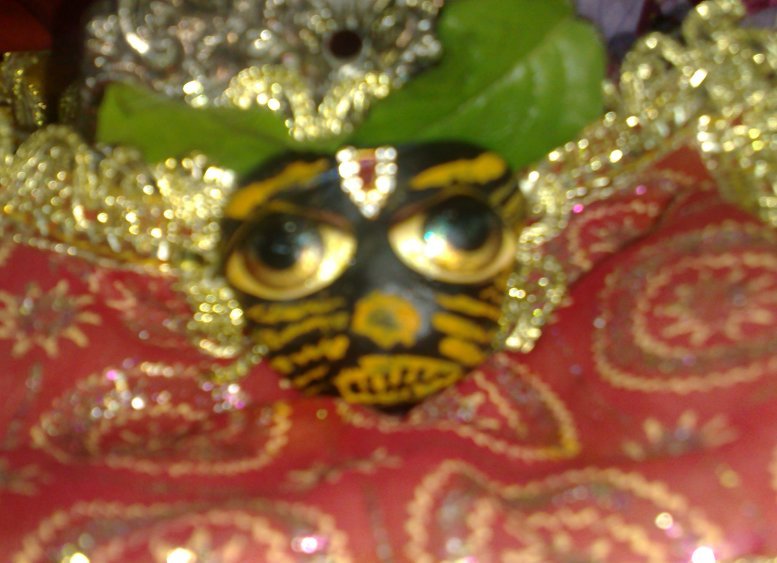 UGRA NARSIMHA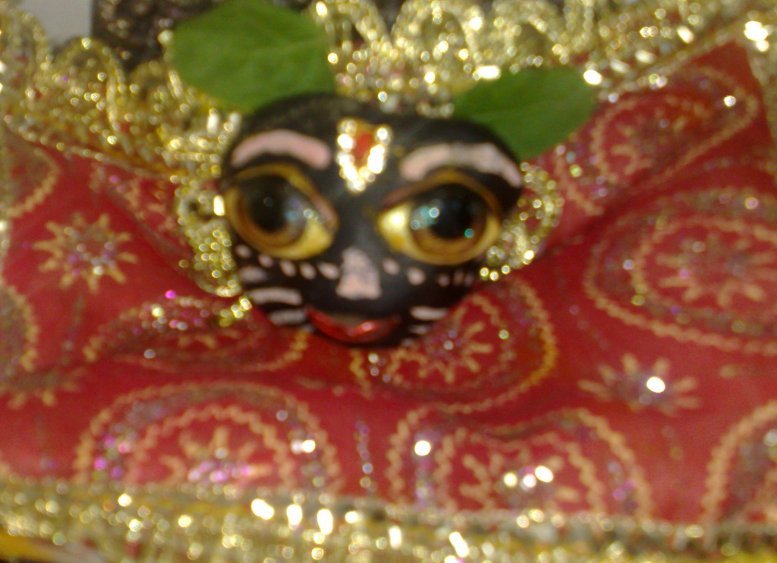 YOGA NARSIMHA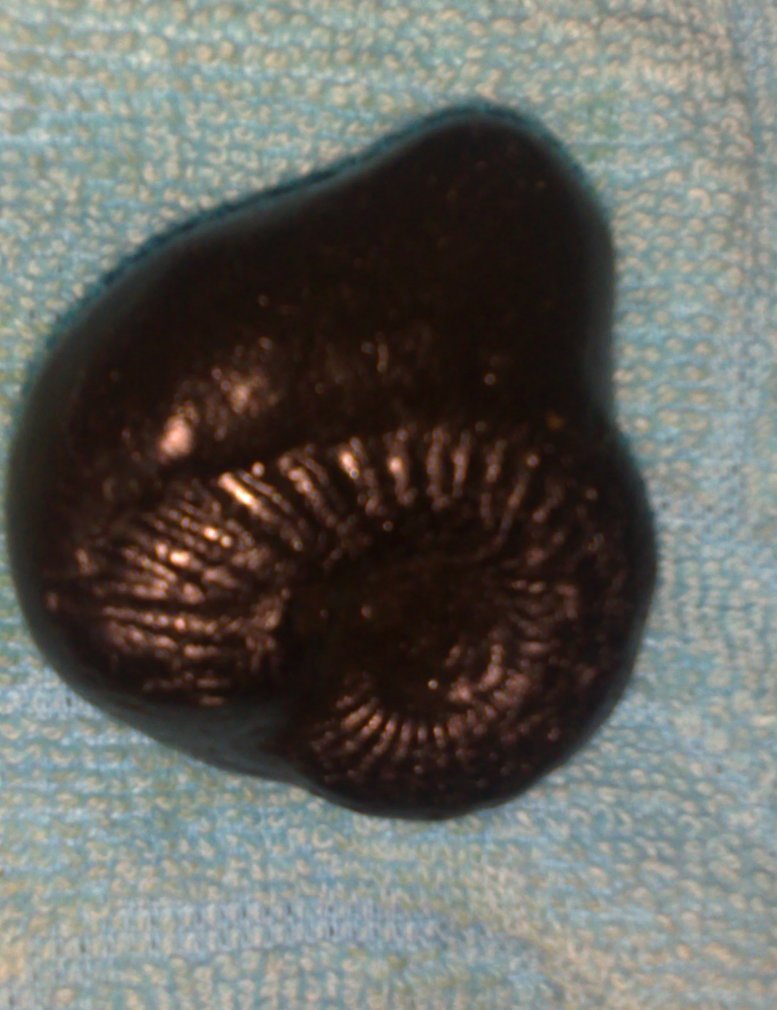 BACK SIDE OF NARSIMHA SHILA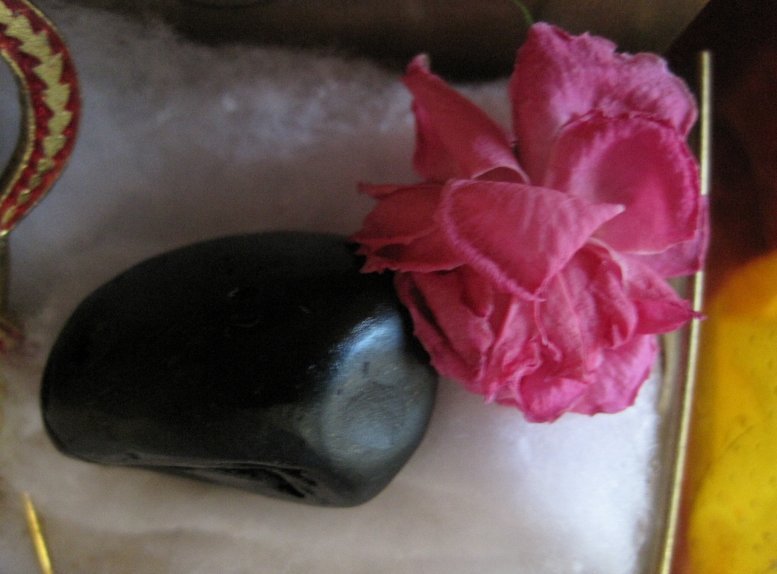 TARAKA SITA RAMA SHILA-SIZE OF JAMUN FRUIT
TEXT:
WHAT IS TARAKA SITA RAMA SHILA:
THE SRI VAISHNAVA SITE (http://salagram.net/sstp-SriVaisnavONsilas.html) SAYS:
Taaraka bramha sita raaman (with six chakras)
==========================
With bow and having the clefts of a cow - these are the lakshanas of this murthy.
Three openings and six chakras, of black color, uplifted and slopy rear side, of the shape of a big jamun fruit - this is the taaraka sita raama.
why tha name taraka : this is because shree ram does take his incarnation in different
universes at different times.
There is on story regarding this:
Once there was no major work for lord hanuman. so shree ram ordered him to go to saintly peron and listen to ram katha.
the saintly person kag muni narrated that hanuman burnt lanka with the power of his tejas(accumulated bec of chanting of lords name) comming from his body instead of fire on his tail as lanka was fire-proof. But lord hanuman had doubt so he got disintersted. Being omniscient and omnipresent lord knew everything. so while talking with lord hanuman lord dropped his ring and told hanuman to catch it. But as hanuman went single step ahead the ring also moved ahead accordingly.
Later on it came to one ocean trench and dropped in it.
This was an link point of this universe with another universe. so following the ring lord hanuman entered another universe where he
say huge golden gate.The ring went inside via hole in the gate. Then lord hanuman told the guards that he has come there for searching
the ring by order of lord rama . Listening the name of lord the guards let him in.
Inside the door lord hanuman saw a huge white monkey . He asked him about his identity. The monkey informed that he is hanuman of this universe.
Later when lord hanuman told white hanuman his purpose of visit white hanuman brought a pot full of rings and tols these are rings
of rama incarnation in differents worlds but when hanuman failed to detect ring of his lord white hanuman by praying to lord rama
picked one ring from the pot and gave it to hanuman saying" this is the ring u searching for"
But when lord hanuman took permission to leave the white hanuman requested "plz
pay my obesiences to lord rama and also to hanuman of that world who has burned lanka with tejas of his body"
listening to above statement lord hanuman realised that it is infact true that lord name can burn
even the fire than what is fire proof lanka in front of it!!!!!!!!!!!!!!!!!!!!!!!
JAI SHREE RAM!!!!!!!!!!!!!
TARAK SITA RAMA - 3 HOLES AND 6 CHAKRAS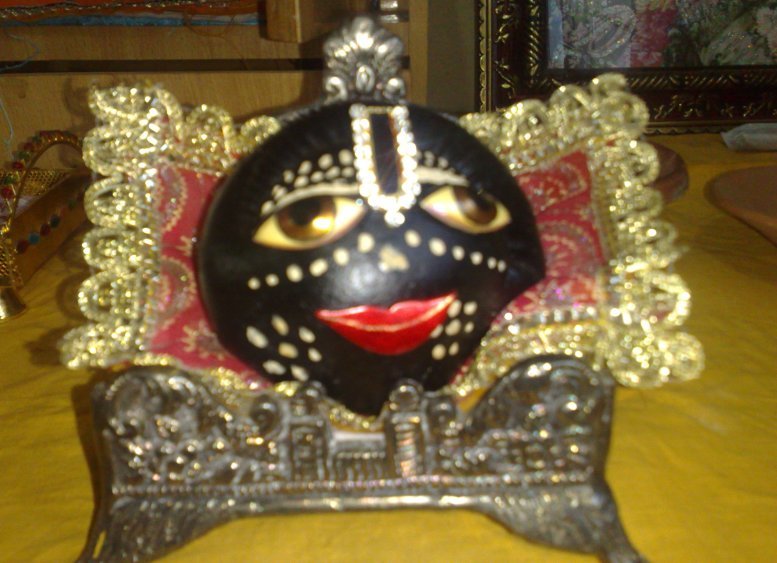 SHREE KESHAV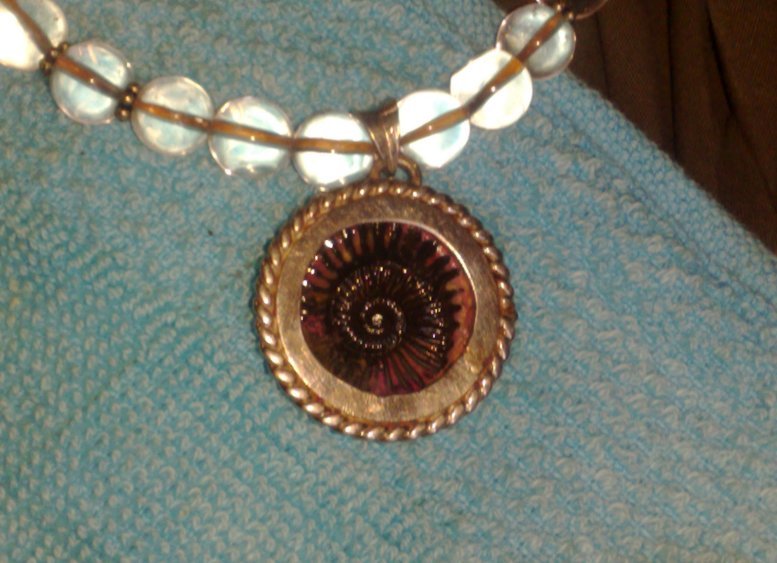 SUDARSHAN SHILA
LADOO GOPAL



Search here for individual Sevaks and Deities World-wide.
A-B-C-D-E-F-G-H-I-J-K-L-M-N-O-P-Q-R-S-T-U-V-W-X-Y-Z