Vrindavani devi dasi & Sahadev dasa, Croatia
last updated 21st March 2008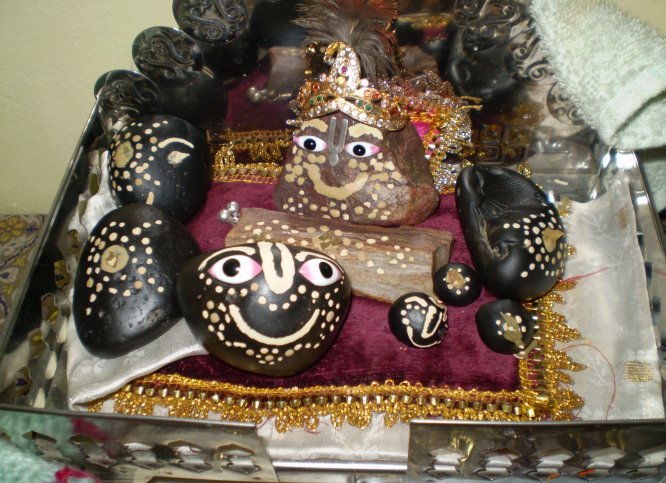 "Shilas sitting on their thrones after their happy bath at Gaura Purnima 2008- Gaurabda 522"
"Shilas sitting on their thrones after their happy bath at Gaura Purnima 2008- Gaurabda 522"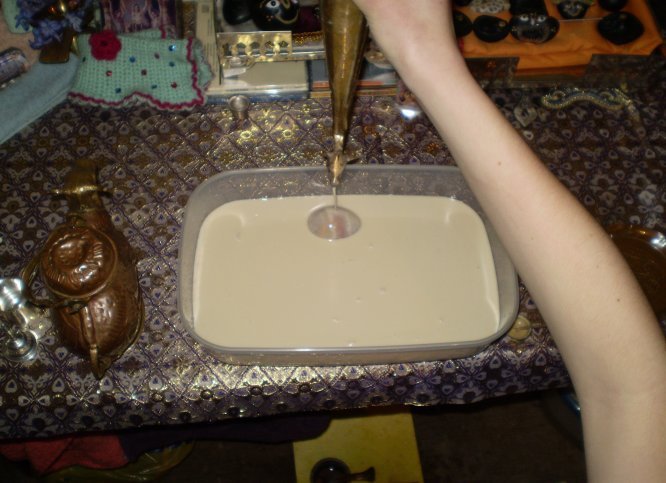 "Shiva Ratris shivalingam abhishek, with milk, honey, yoghurt and juice..."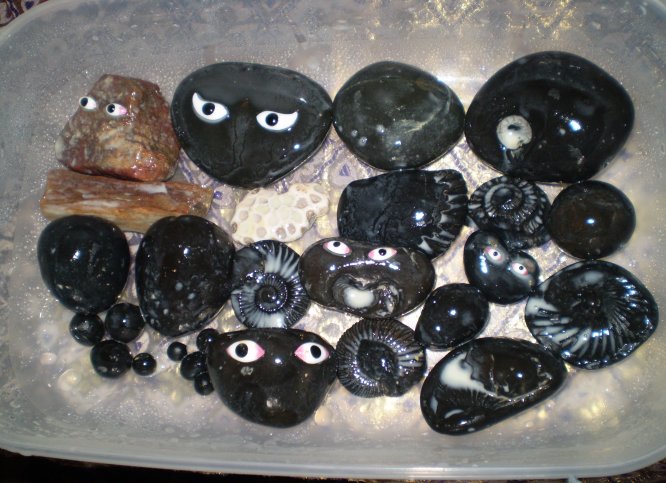 "Gaur Purnima ki jay! Shilas are waiting for the cold shower after abishek..."
"Radha Govinda after Gaur Purnima bath...."
"Sita Ram Lakshman Hanuman"
"Panca Tattva decorated with fragrant flowers the morning of Gaur Purnima"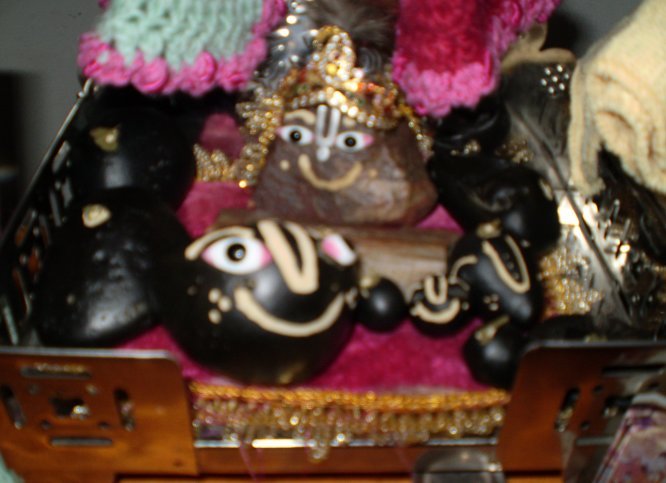 Radhe! the 2 pictures i'm sending are the 2 asanas full of shilas. on the first are Giriraj, Girirani, Krsnaji,
Radha Raman, Bala Gopal, Matsya and small Gopal and 2mor small Krsnas.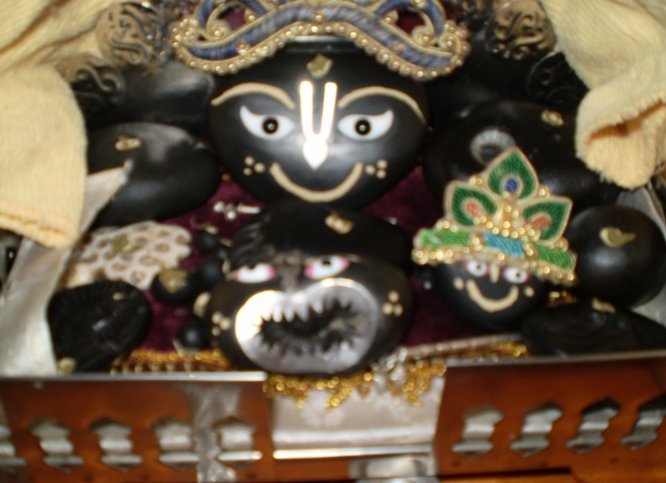 Radha Raman, Damodar, Govinda, Vasudev, Suryadev, Meru, Kaneya, Visnupad, Nrsimhadev, Sudarshan, Balaram,
Matsya and shridhar from Mukunda, and 6small Krsnas.
"Radha Raman... He is very smooth and always shining and smiling..."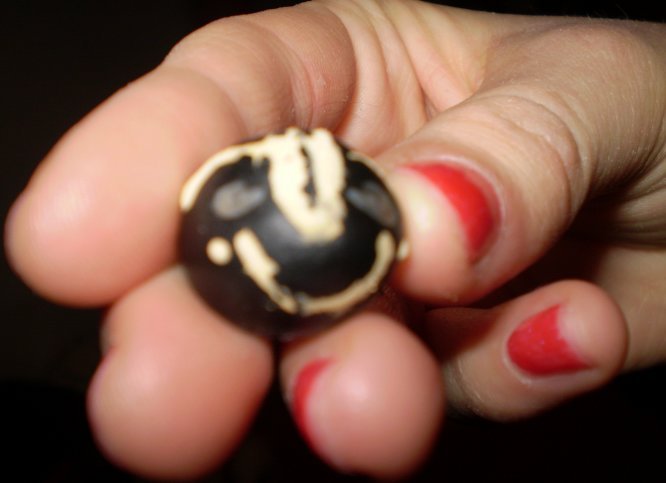 "Gopal... If I could say I have a favorite shila, than it would be He... His natural eyes are so enchanting, in a perpetual smile, that nobody can resist His charm..."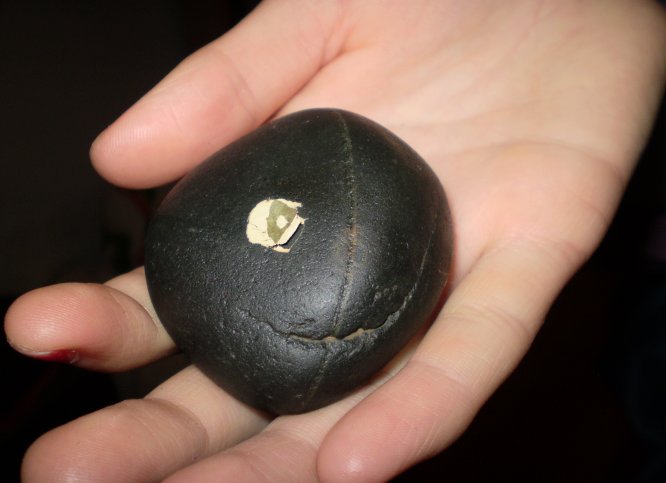 "Damodar... This shila is very special, since an upavita is lining him all around from the left to the right and a big smile is perpetually there..."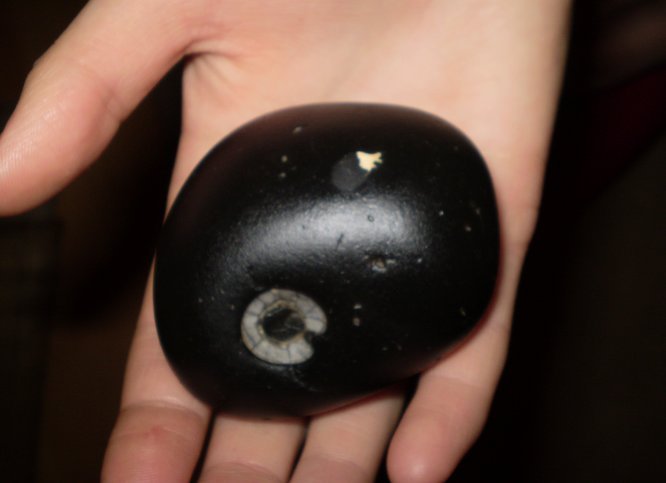 "Govindaji, with a big calfs hoofprint..."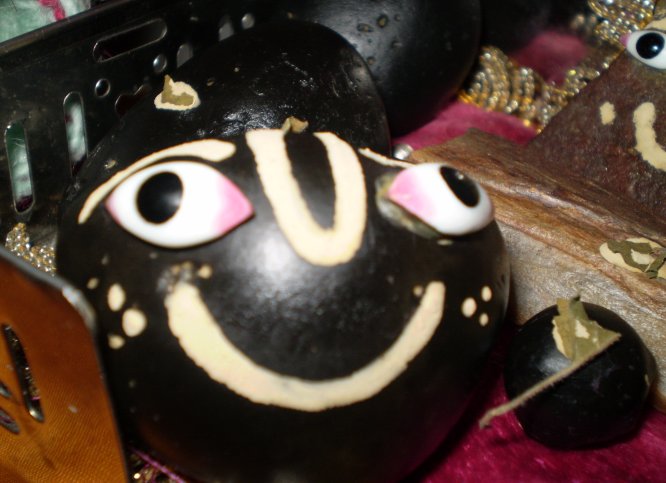 "Bala Gopala... His smile is really enchanting... Each time that my mother Gaurangi sees Him, she goes in extasis..."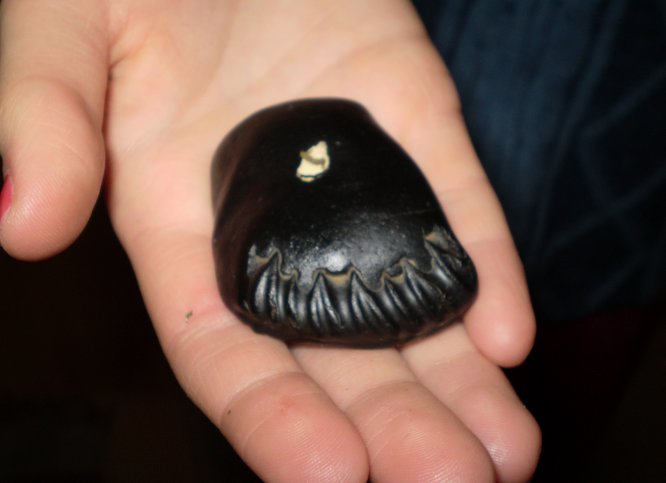 "Visnupad, Sri Krsna's lotusfoot... His fingers are very detailed and on the backside He has a chakra (see below)."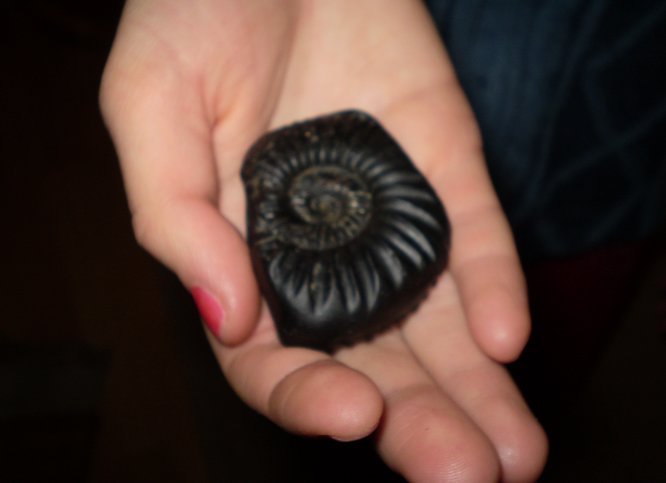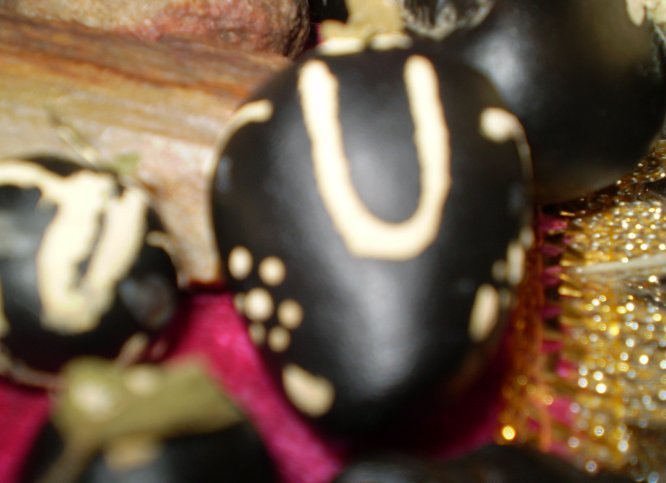 "This shila we got as a marriage present from Mukunda. He is Shridhar and He is also very special as He has natural eyes and mouth."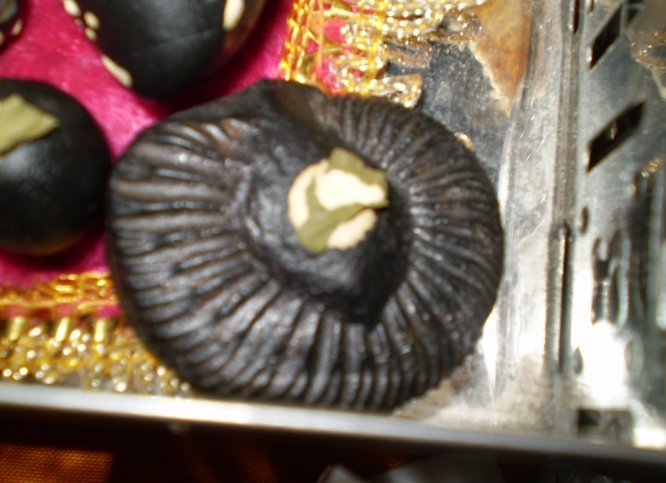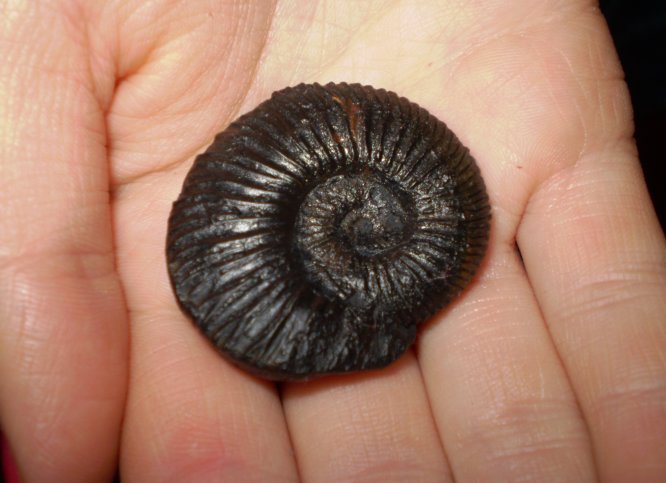 "This Matsya shila was also given to us by Mukunda.On his front side you can see very distinctly the shape of a fish, and on the back side is a big chakra"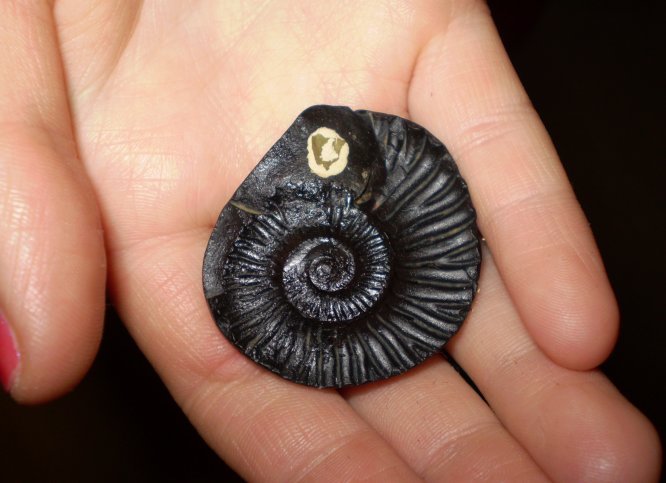 "Sudarshan, always present on Nrsimhadevs right..."
"This Nrsimhadev is a very peaceful and sweet baby... if you take off His teeth you can see how sweetly he is smiling..."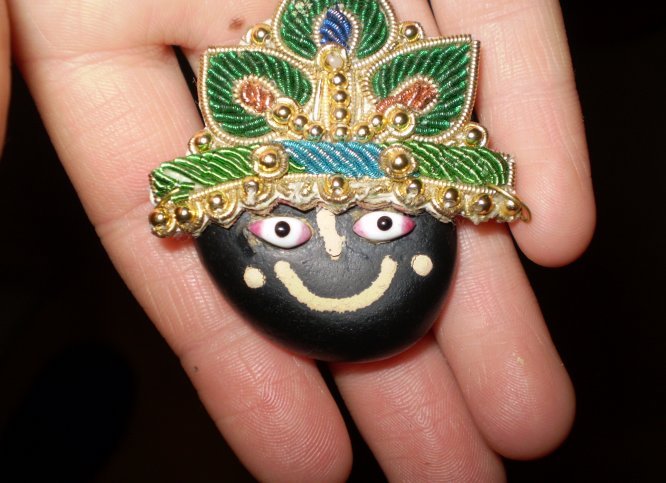 "Krsna Kaneya... His head is heart-shaped, a small lover of the Gopis..."
"Mount Meru..."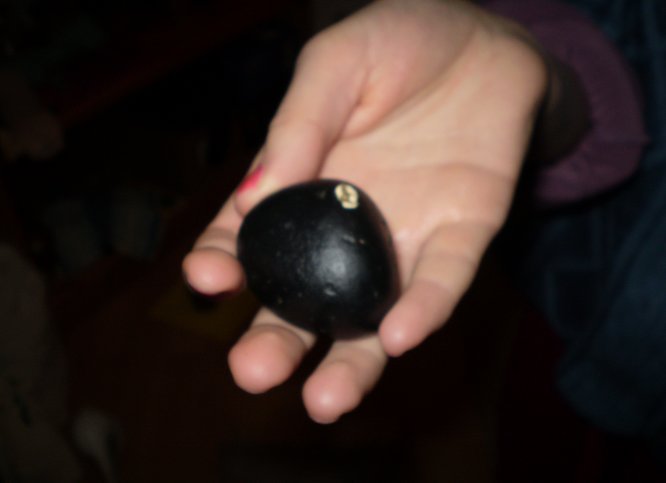 "Krsnaji"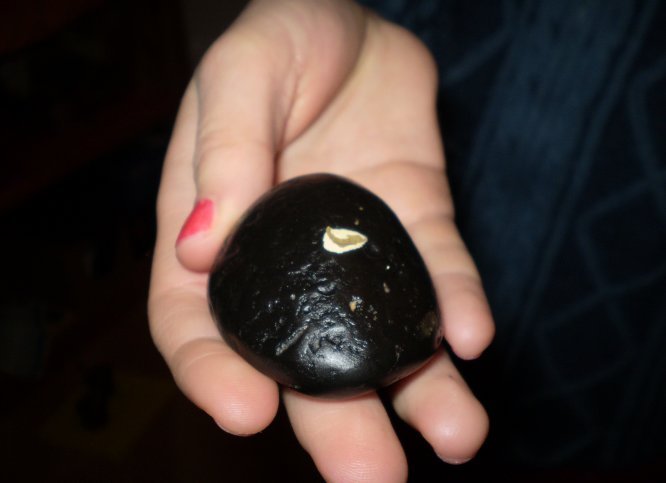 "Radha Raman"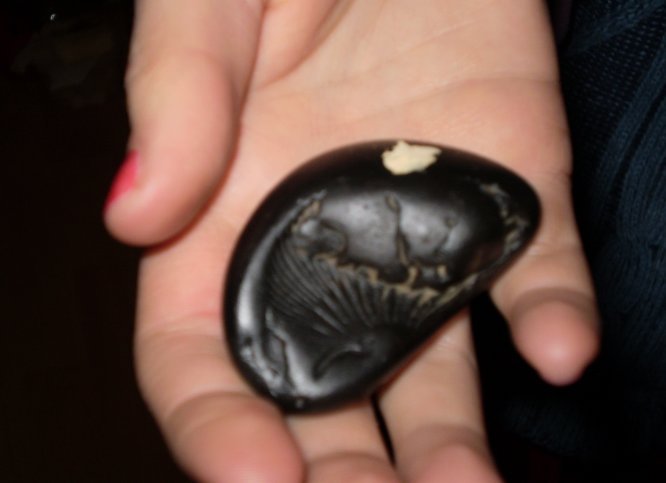 "Matsya... Can you see how He is swimming in the ocean???"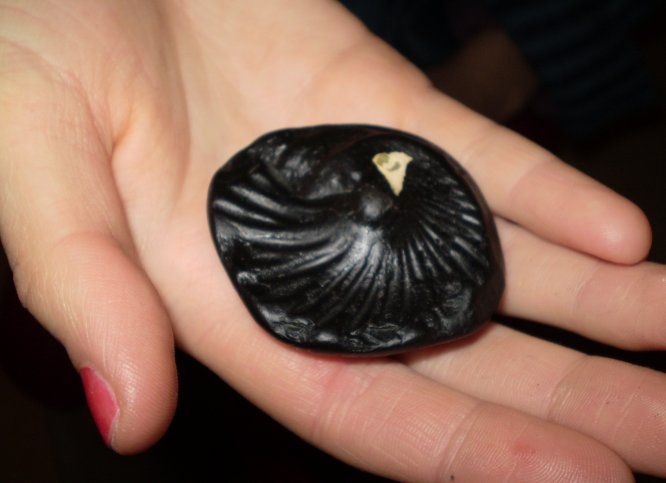 "Suryadev... ki jay!"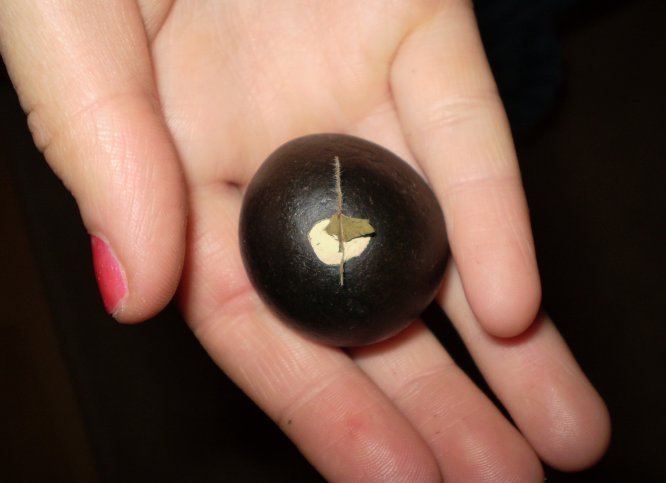 "Vasudev Krsnaji... He is perfectly round..."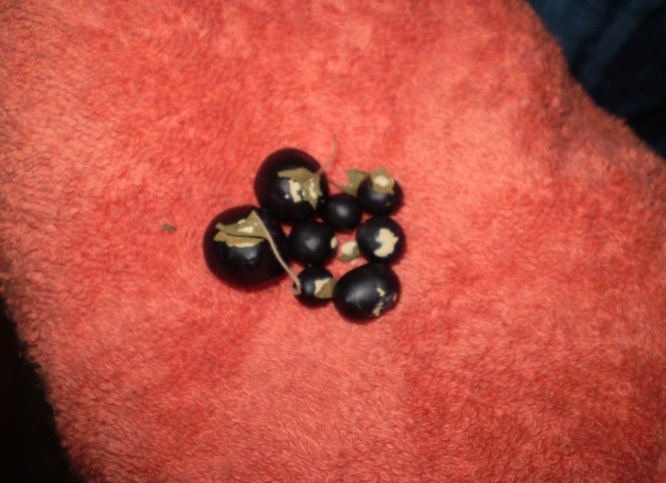 "8 small Krsnas..."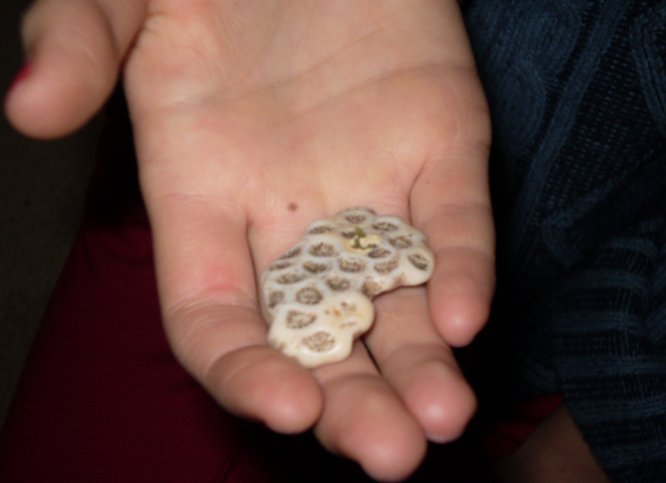 "Balaramji... This shila is coming from Krsna Balaram Mandir, Vrindavan."
Our Giriraj
" He has a natural mouth under the one we are painting. Before He was like Balaram, white, you can see in the lower right corner a small piece left, but He became dark red, so now He is Krsna"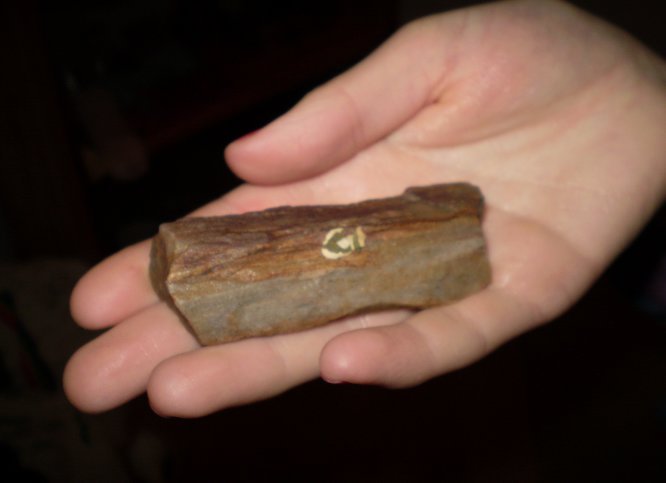 Now i'm sending you Girirani " She is coming from Varshana and is said to be the Lotus Finger of Srimati Radharanis hand" and Mahadeva "This shivalingam is original from Narmada river, perfect shaped and natural. Many bhaktas could not belive and was asking if He was artificially made smooth or if He is from marble..." below.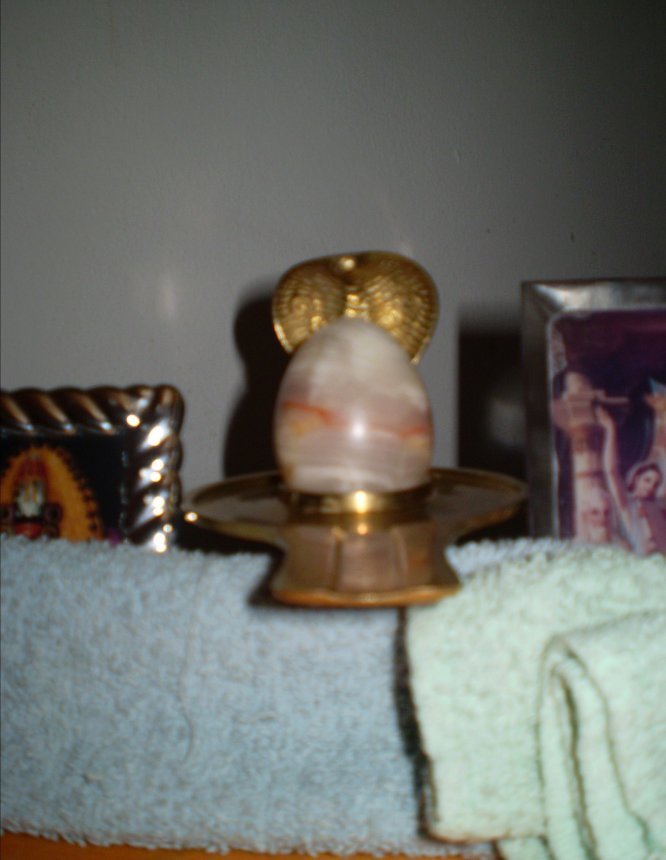 Mahadev- Narmada Shivaling





Search here for individual Sevaks and Deities World-wide.
A-B-C-D-E-F-G-H-I-J-K-L-M-N-O-P-Q-R-S-T-U-V-W-X-Y-Z