Best Quality Puja Paraphernalia
Now Available Through Us On-line on the WWW
Nepa Rudraksha
&
Nepa Saligram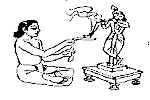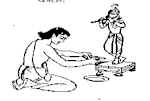 PLEASE NOTE:
Sriman Mukunda Khatiwada @ http://www.nepalirudraksha.com/ (Kathmandu) has agreed to give preferential treatment and a gift of a Shaligram upon request to devotees who when purchasing from their site make mention of their coming through our Shaligram Tirtha Pradarshini site. So please see what you need for the service of the Lord, and make best use of this offer to everyone's mutual benefit. =>:-))

Also due to popular demand Mukunda has been forced to make further facility to help devotees by creating http://www.saligram.org/ So please visit Mukunda prabhu's Saligram site. There he has much information and wonderful items that you may purchase to adorn your Saligrams, or assist with the seva pujan.

Please note that these are Nepali and Tibetan style of items and not so readily available in India.

Mukat for Saligram to wear


Chamara yak tail fans


Saligram sila-vihara


Silver asana front


asana cushions


silver asana back

Please visit Nepa Saligram to see more on Saligram puja, pictures of Saligrams available, selected information about Saligram seva pujan and more........

Sri Laxmi-Narasimha

Now also arranging guided tours, treks and pilgrimages to the Kali Gandaki, to Muktinath, and Damodar Kund etc.
For more information

Sri Muktinath
...and much much more !!!
To buy any of these Puja items from either Nepa Rudraksha or Nepa Saligram click on these links and receive your free Shaligram Sila gift upon request.
Contact: Sriman Mukunda Khatiwada
Address: Pashupati-8
Dakshina Murti Margh -163
Kathmandu, Hindu Kingdom of Nepal
Ph : 4486214, 4461476
cell: 9851059764
For a complementary contrast of other puja items:
| | |
| --- | --- |
| All Holy Items | Astrological Gems |
| More Puja Items | Divinity Collection Malas |
For the same preferential treatment and a free gift please visit http://www.rudraksha-ratna.com/
and mention that you came through this site.

Agarbhatti - Finest world class incense on-line



Nilachal Exports for all Incense and Fragrant Oils for puja


---