Lord Balaram's Appearance Day and Jhulan Yatra of Sri Sri Radhika Raman
28th August 2007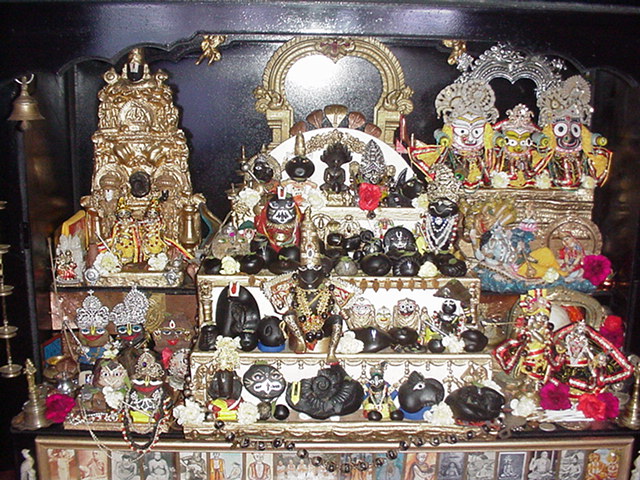 Lord Balaram's appearance Day and Jhulan Yatra festival observed on Sunday 26th August 2007 here in Katikati
due to the Total Lunar Eclipse on Tuesday 28th August.
There are 108 Tulasi leaves spread throughout all the Silas here, if you look carefully.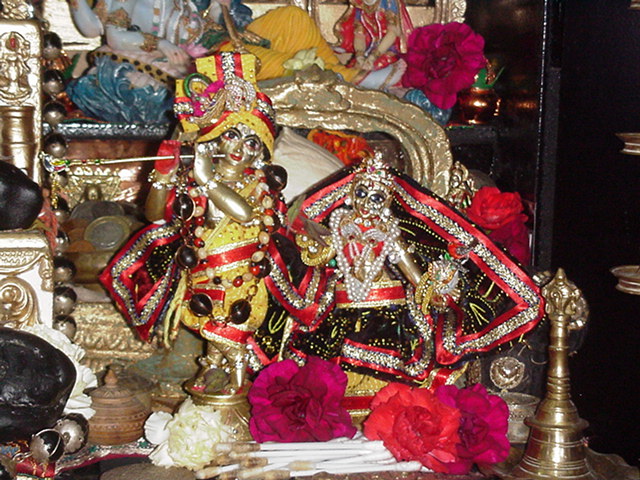 The yellow material was sent by Lilavilasini mataji from Italy and my good wife Vedavati devi dasi put the set together for the pleasure of the Lord.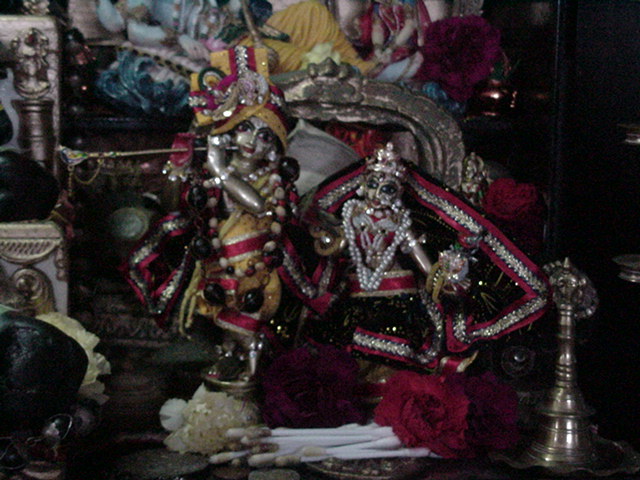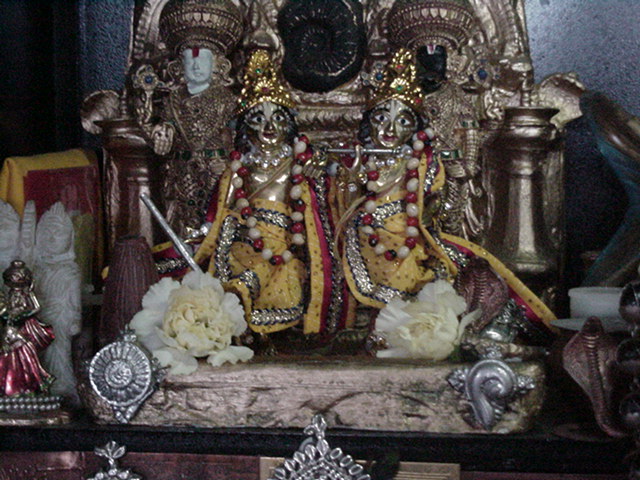 Krishna Balaram ki jaya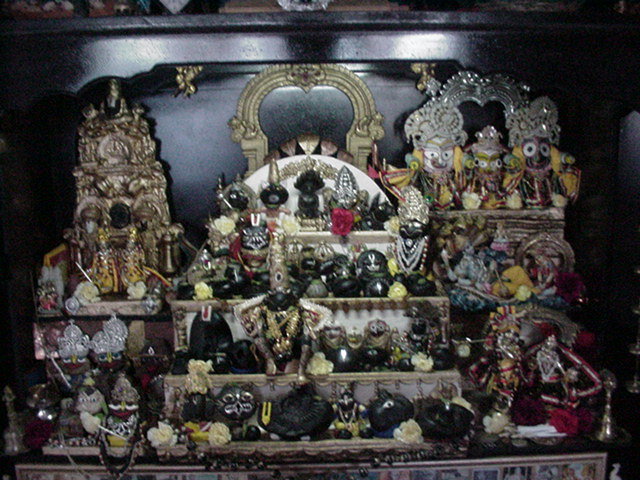 hahaha sorry folks, I'll get some new glasses one day - this was a shot taken in the morning after the puja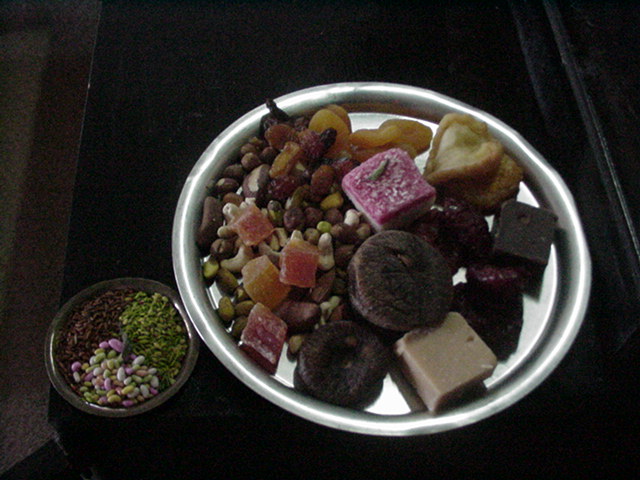 The puja naivedyam
Krishna Balaram just dressed ready to go to the snan vedi for the afternoon festival
back on the altar wearing dried cranberry garlands waiting for everyone to come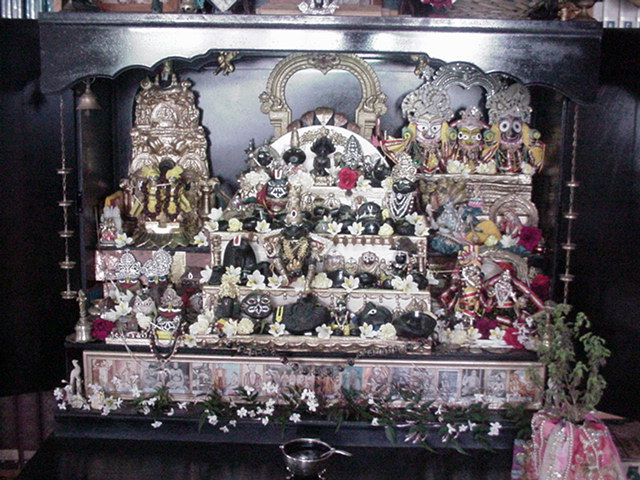 now is spring here in NZ and all the freesias, jasmine, jonquils (early cheer) etc are coming out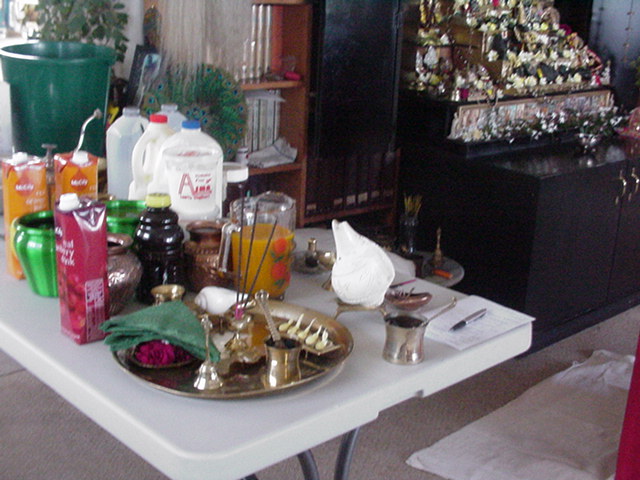 all the various ingredients ready for the Lord's Abhishek
The Jhulan all ready and waiting for the devotees to arrive to begin
Sri Sri Radhika Raman on Their swing after being swung by all the devotees who first offered fragrant flowers to Them before offering their swinging seva.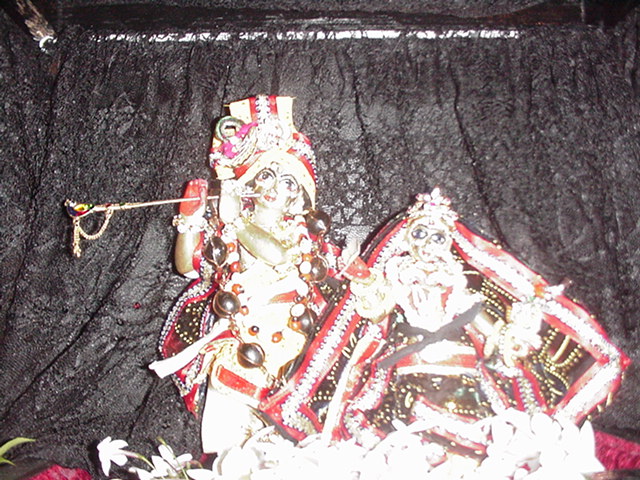 Hmmmmmmmmmmmmmm from one extreme of no lighting to dazzling brahman...........
My wife took some random pics during the function and I took a few before of the Deities, but we messed up with not taking any pics of the offering or prasadam (its a whole story in itself my wife changed the setting on the camera to "LCD backlight off" so when I went to use it to take pics of the offering it looked like the battery was dead, cos the lights were off, some energy saving device that I didn't know was on it, and with so much happening I couldn't spend time playing with it and the wife was in the kitchen sorting that side out.....so we blew that bit - need a designated/dedicated photographer for these events, maybe Krishna will send someone.....).
The program was bhajans and kirtan to "loosen up" - "acclimatize" which went for about an hour. Then I gave a little talk on Vrindavan and the flavor of serving the Lord there, and where the swing festival fits in as the temperature changes and the climate from hot summer when we put on sandalwood pulp at chandan yatra, the sweat comes and the breeze cools it and so air conditioning is formed hahaha, but as the heat increases in Vrindavan the only place to be is in the Yamuna hense we have snan yatra, and I went on a bit about how the different temples of Vrindavan observe snan yatra and how my favourite was/is Radha Raman temple where everyone there taking darshan of RR taking bath after He's had His bath they turn on the sprinkler system and we all take bath, and its nice at 45+ C......... as the temperature rises and the humidity increases too and then monsoon breaks and its rain rain rain, no breeze thick humid atmosphere the last thing you want is water, so the Supreme Enjoyer and His friends and consort arrange to make Their own breeze by sitting on a swing and everyone rendering service by gentle swinging Them and making a breeze to please Them..........the whole mood of our rendering seva is to please the Lord blah blah blah waffle waffle on and on.....hahahaha and then we brought out Radhika Raman in Their new set of clothes my wife made and put Them on the swing and after receiving a few drops of water on the hands devotees received some jasmine, freesias and jonquils (early cheer) to offer before they began to offer jhulan seva. Everyone came forward, about 30 devotees altogether, with Trivikram prabhu leading kirtan throughout.
Then after placing Radhika Raman ji back on Their place on the altar we sounded conches and welcomed Krishna Balaram murthies and Prahlambari Balaram Salagram to the snan vedi. I did some initial offerings of padyam, achamaniyam, arghya, madhuparka, punar achamaniyam, fragrant kasturi oil sugandham tailam and then bathed Them in panchamrita (milk, yogurt, ghee, honey and sugar water). Then we got each of the devotees to come up and also have a turn in bathing after purifying their hands. First we did panchamrita again and everyone offered three conches each, and then we got into the pure fruit juices and pulps; mango, cranberry, dark grape, orange, kiwi fruit, pineapple, apple, prune, a few bottles of Ganges water and then mashed bananas, followed by warm water and cool scented waters through the sahasra dhar, and rose water from the spray can, which we also distributed out among the devotees soaking everyone in fragrant rose water. Here's a few pics that my wife took while everything was going on.
at the front is Prahlambari Balaram salagram sila
Their Lordships watching the varuni being filled up in the conchshell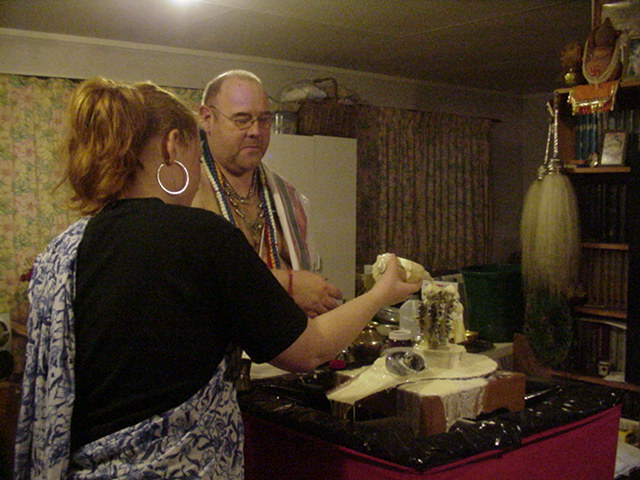 our youngest daughter Tungabhadra bathing the Lord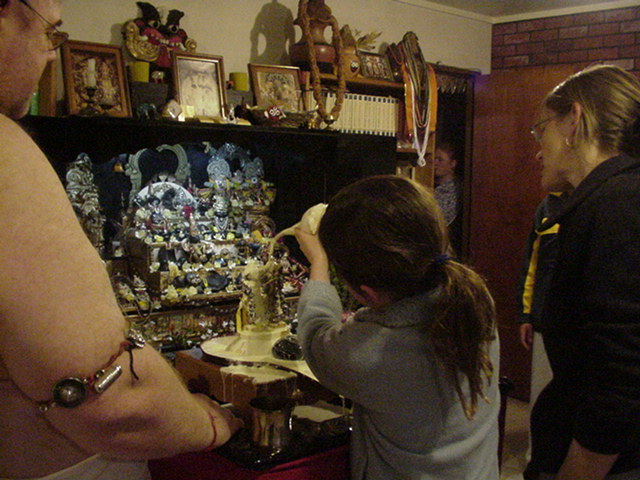 little Lilasara dasi and mother Suhmukhi devi dasi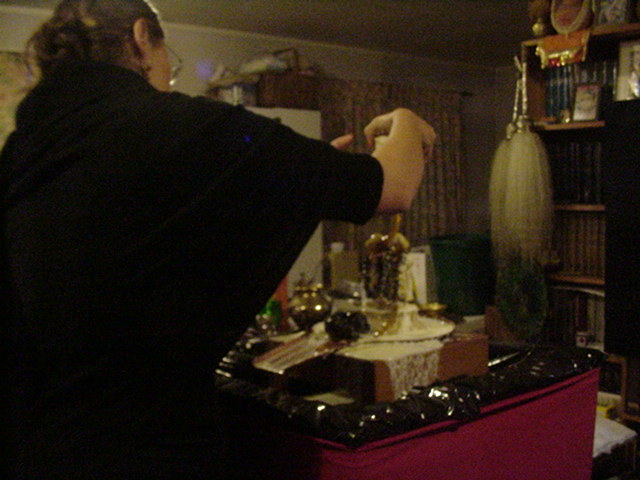 Gaura Nataraj and Sitaseva's daughter Karuna visiting from Australia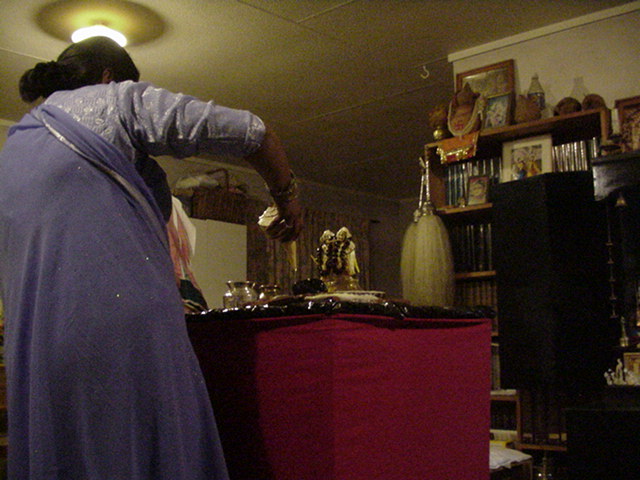 mother Karmela bathing the Lord
Trivikram prabhu takes a short break from leading the kirtan to bathe the Lord.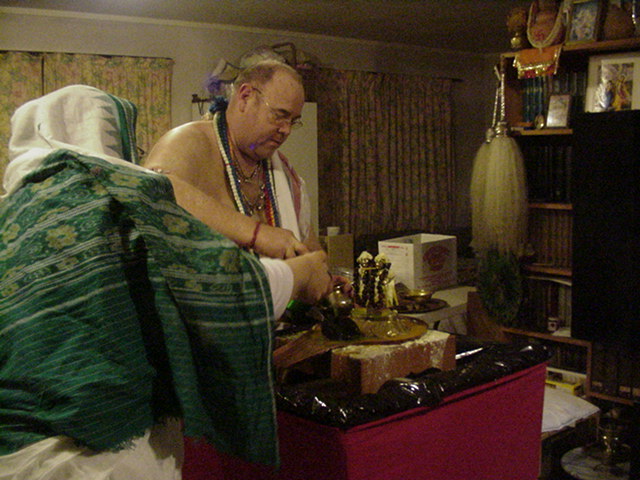 mother Sitaseva bathing the Lord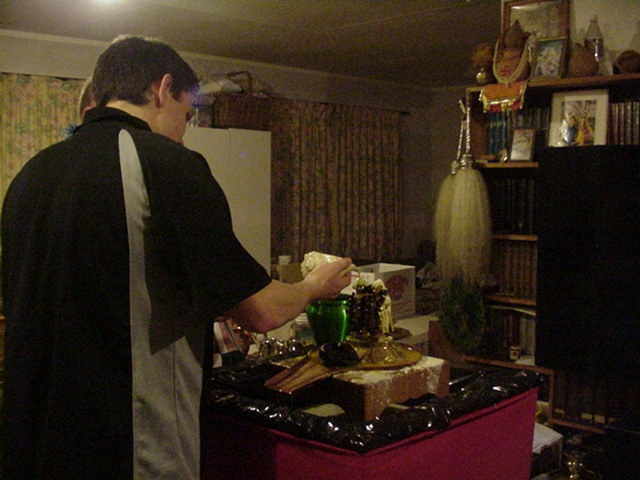 Nitai in there bathing the Lord
Ramachandra prabhu our transcedental and generous milkman bathing the Lord
Gaura Nataraj bathing the Lord in fruit juices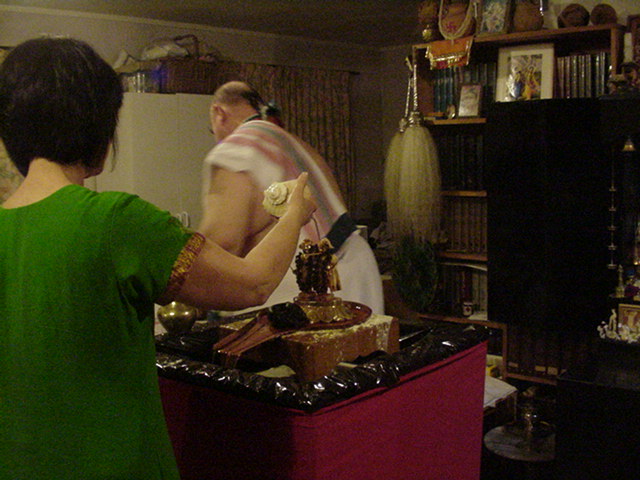 mother Jo' (of Jo & Bill) bathing the Lord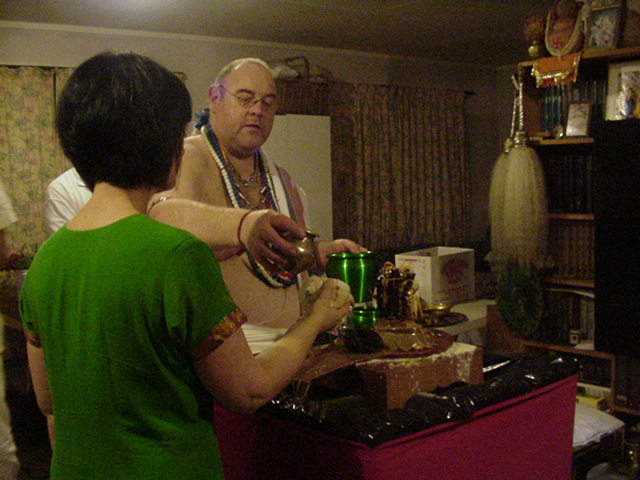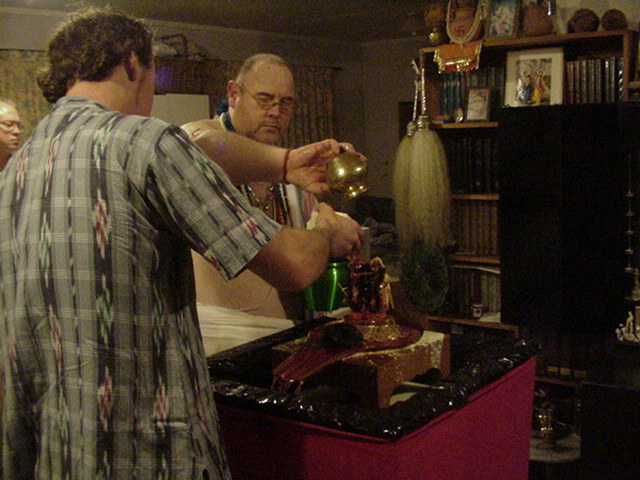 our son Gaura Gopal bathing the Lord - incidently Krishna Balaram are his Deities.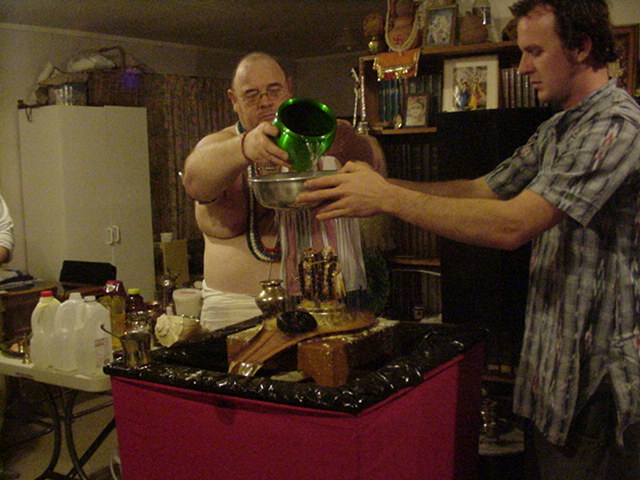 scented waters through the sahara dhar to finish off the bathing
Then I carefully undressed Them and threw the bathing sets out to the devotees who scrambled for them like a transcendental "lolly scramble". Placing towels on altar and putting up the screen Krishna and Balaram were re-dressed in Their new set, and the bhoga offering was given consisting of; fluffy basmati ice, cuddy type sauce/dahl, spinach and black eyed bean sabji (Chaturmasya not being followed on festival days), cauliflower, potato and pea with sour cream sabji, luchi puris, wonderful curd pakoras with tartar sauce, suji dokla, feta cheese with olive and lettuce and capsicum etc salad. The sweets were honey soaked walnut and almond Baklava and honey soaked Lagglues with chopped figs, dates, papaya, plums, apricots, sultanas, lightly roasted almonds, cashew nuts and pistachios mixed with edible camphor and channa bandies all rolled together to make balls. All washed down with two buckets of nectar, one with Varuni in the form of the panchamrita bathing waters, and the other of the combined fruit juice bathing waters. Everyone was very happy with everything and most too away stashes for "breakfast" and bottles of juice and Varuni "for friends" - yeah right

It all started at 3pm and the last of the devotees left at 9:30pm
I still had a couple of rounds to chant and fell asleep in the chair attempting to complete them - mission accomplished
Lord Balaram ki jaya
Krishna Balaram ki jaya
Radhika Raman's Jhulan yatra ki jaya