JTCd's page - Radhastami 2007
last updated 28th September 2007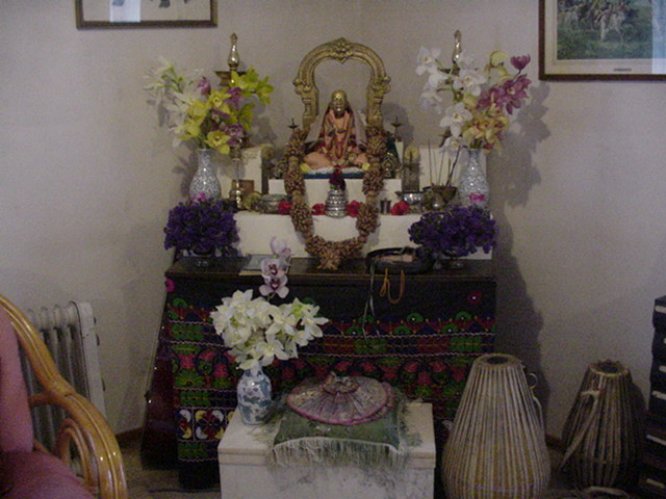 A friend of my wife's donated all these orchids, so she made these nice flower arrangements in vases
that our eldest daughter Kirtida Sundari donated, as an offering of love to Srila Prabhupad.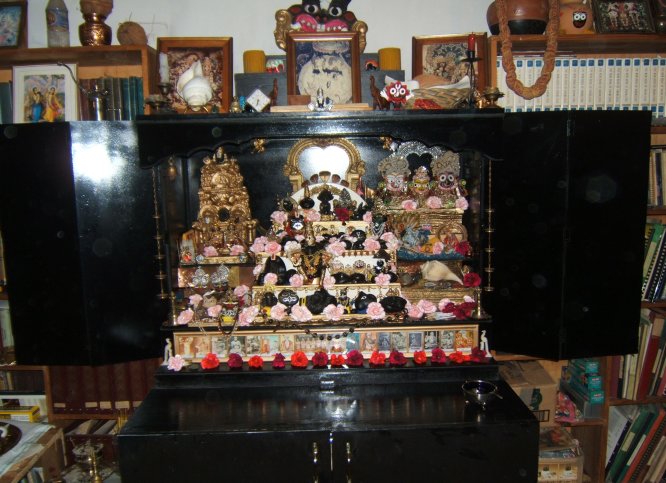 .....hey there's Someone missing !!!!! Where's Radhika Ramanji???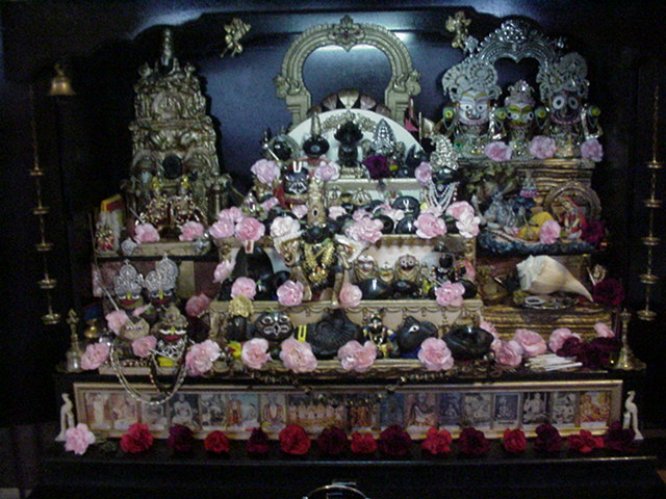 Radhastami day altar decorated with fragrant carnation, yes actually fragrant.
to the right of the altar we constructed a rasa-mandap for Radhika Ramanji
It's all blurred, yeah I know, so check out the following pics.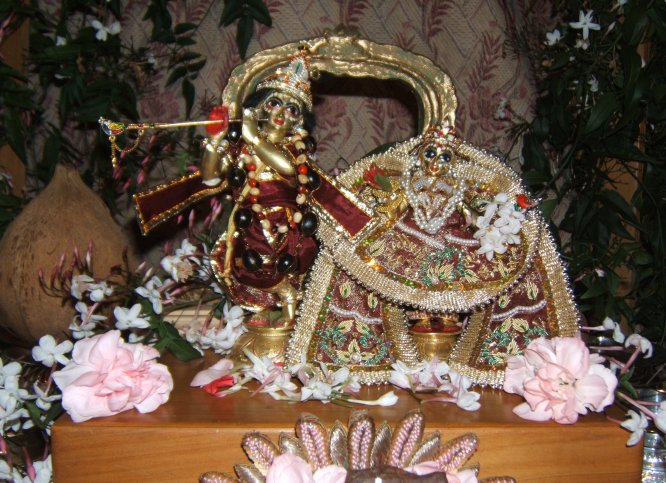 Jai Sri Sri Radhika Raman ji
Jai Sri Radhe
...and as you can see, hopefully, Radhastami is the one day a year where Radharani's lotus feet are availabale for viewing, so grab the mercy now.
Below Sri Sri Radhika Raman is Radhika Raman Govardhan sila Who has a natural face of a woman imprinted on It,
and is yellowish in colour, especially on the rear side. You'll be able to see better on the close-up below.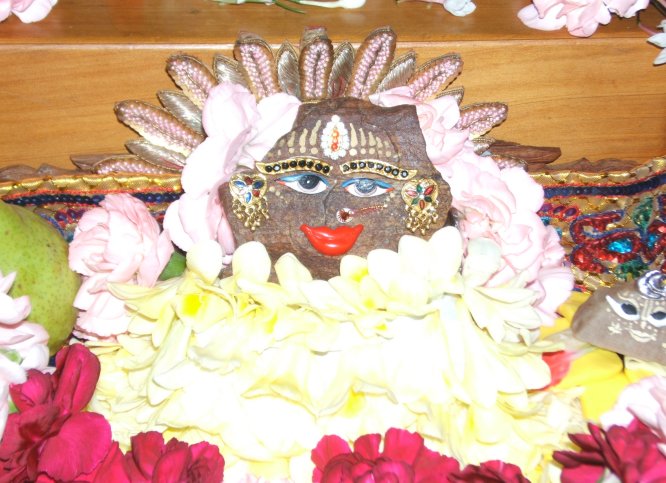 my wife made the nice flower dress of freesiers and jasmine, the whole thing was so fragrant it was near intoxicating and heady.
on the right side Trivikram prabhu's Srimati Varsana-nandini came over to join in the fun.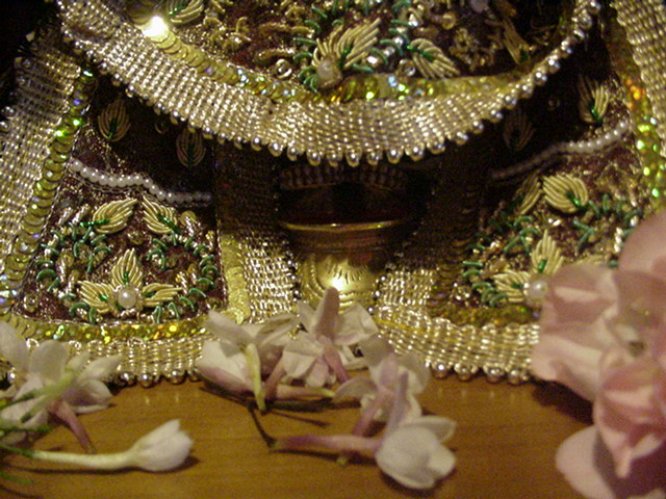 Here's a closer shot making available Srimati Radharani lotus feet
Jai Sri Radhe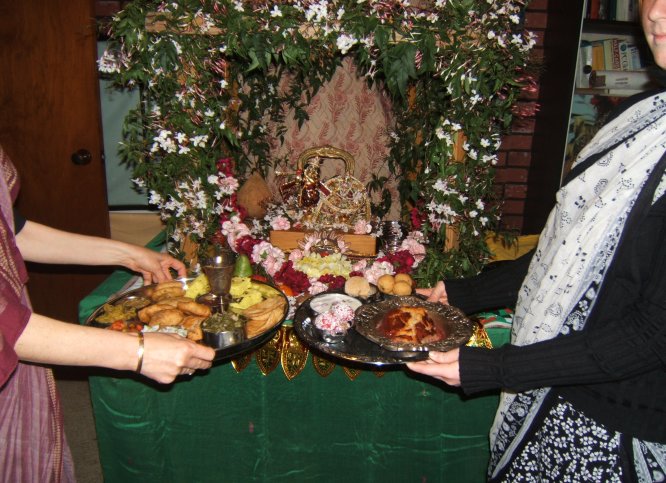 a couple of local gopikas offering the naivedyas (bhoga offering)
If you look closely you can tick off the preps: Spinach and blackbean sukta, Curd and pea sabji, Arbee sabji (sweet potato, green chilie, amchur dried mango powder, dhaniya powder and leaf), Radha Ballabh kachoris, Radha Red plum and camphor chutney, Mint nuts chutney and Fulca, Dokhla, Luchika Puris, Rajma dahl, Fancy cashew rice, and salad. The drink was lemon and barley with soda water, like a Vraj nimbo pani.
Sweets were: Self saucing plum and apple pudding, ice cold Raspberry sweetrice, Pistachio and saffron pure milk barfi, Raspberry and coconut barfi balls and Pera just like you can purchase outside Bankebihari mandir.
Sadly the devotees brining Radharani's cake coudn't make it to the program at the last minute, some family emergency.
annapurne sada purne sri krsna prana vallabhe
jnan vignam siddhairtam bikhshyam dehi radhike
"By the mercy of Srimati Annapurna Devi (Radharani) the prasadam will satisfy everyone endlessly."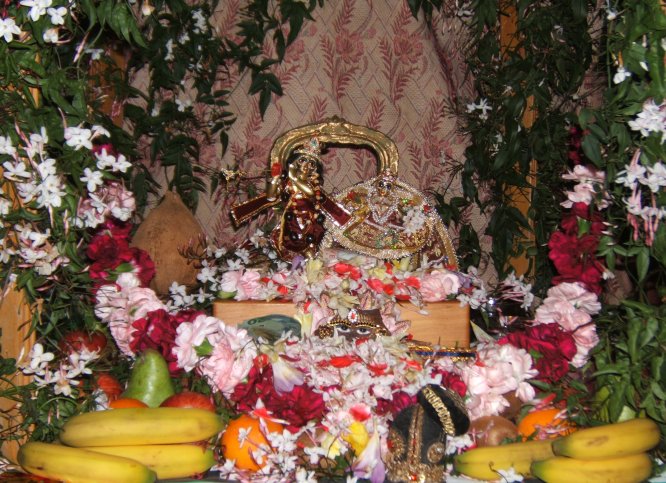 after the offering everyone came forward and offered flowers and touched Srimati Radharani's lotus feet and asked for Her blessings.
By the way, the curtain at the very back is maha-prasada from Tota-Gopinath temple in Jagannath Puri. This curtain used to be in front of the Tota-Gopinath Deities, which incidently were one of the sets of Deities that Chaitanya mahaprabhu was seen entering into when He closed His pastimes 500 years ago, there's a small golden crack on Gopinath's knee where He entered into. Those Deities are also the personal Deities of Sri Gadadhar Pandit, Who was an expansion of Srimati Radharani. Gopinath is quite tall, and as Gadadhar Pandit grew older He found it difficult to place the garland around Gopinath's neck, so the Gopinath Deity knelt down for Him. On that bent knee is where the golden crack where Lord Chaitanya enetered into. This curtain from that temple was kindly given by Chaitanya Nitai prabhu, Golokaprema mataji and Chitralekha mataji. It was given to them by Manasi Ganga mataji about ten years ago. She received it directly from the pujaris after she went there, saw the need for some nice new curtains, donating some cloth and she received this maha-prasadam curtain.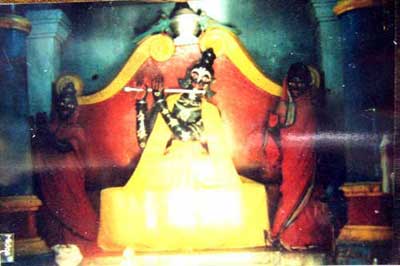 Tota-Gopinath in Jagannath Puri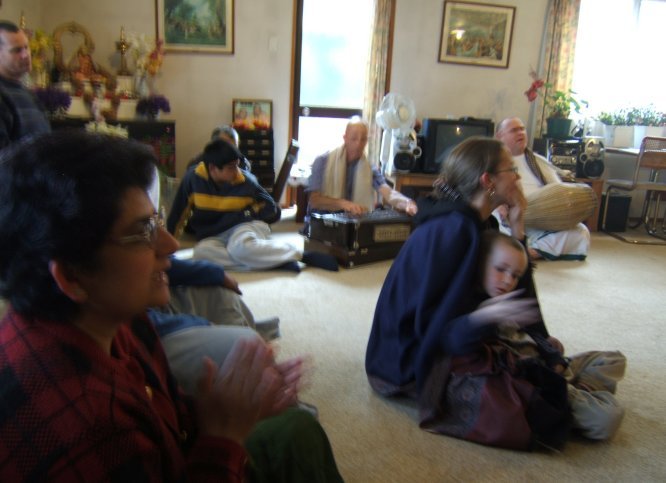 Bhajans glorifying Radharani went for several hours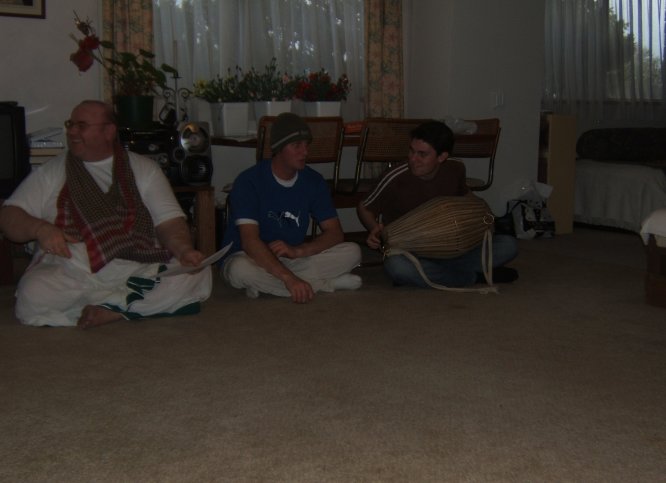 and into the evening as the light faded......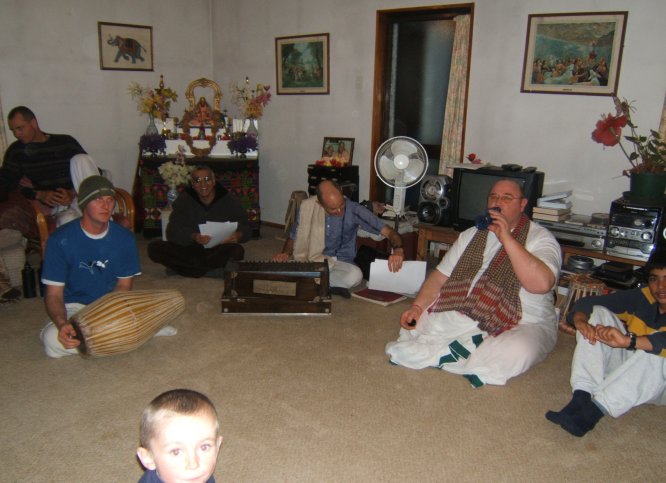 the nectar got sweeter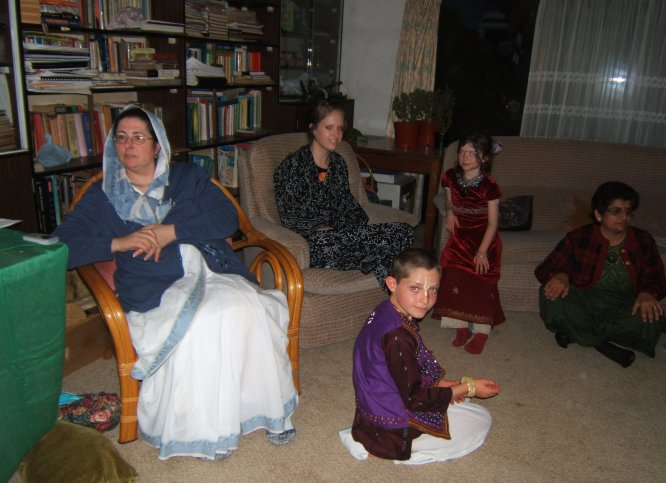 everyone feeling comfortable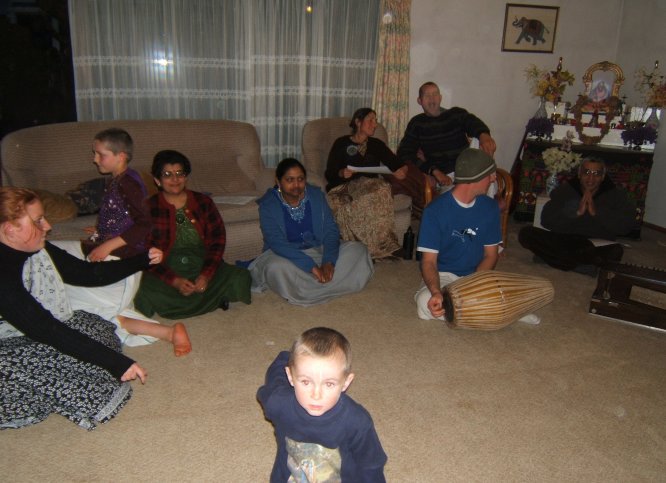 my wife Vedavati running around with the cameras between bhajans hahahaha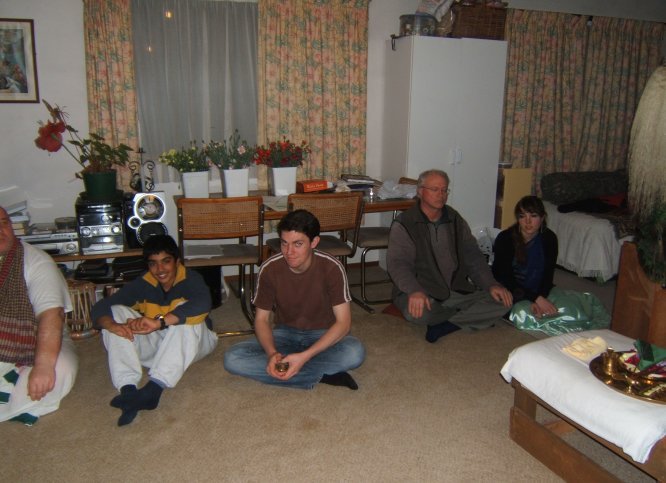 Jai Sri Radhe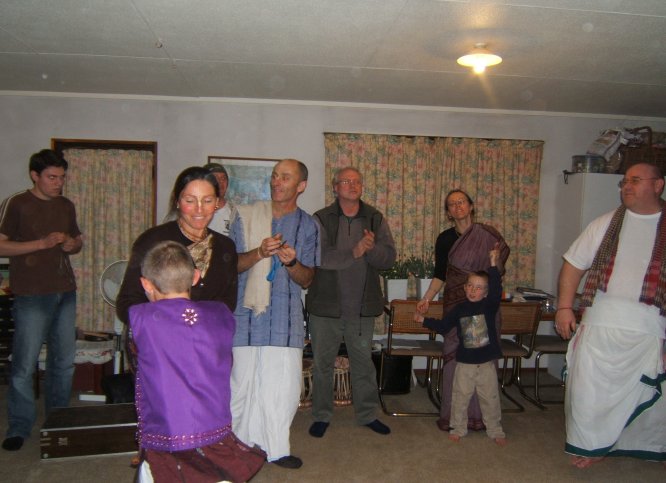 Radharani ki jai maharani ki jai
Varsana vari ki jai jai jai.........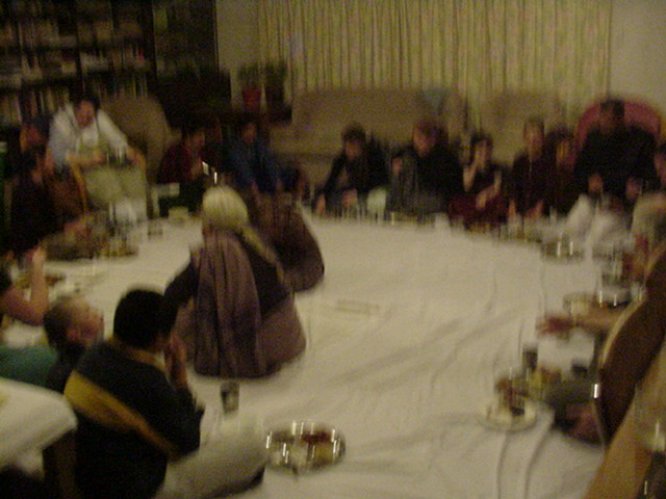 devotees all sitting together taking sumptuous prasadam
my daughter Kirtida Sundari (left) and friend Shaz (right) in separation from Srimati Radhika already.
the mood of separation from Vraj was obviously too much.........