Here's a few close ups of the Archa murthys
last updated 8th September 2015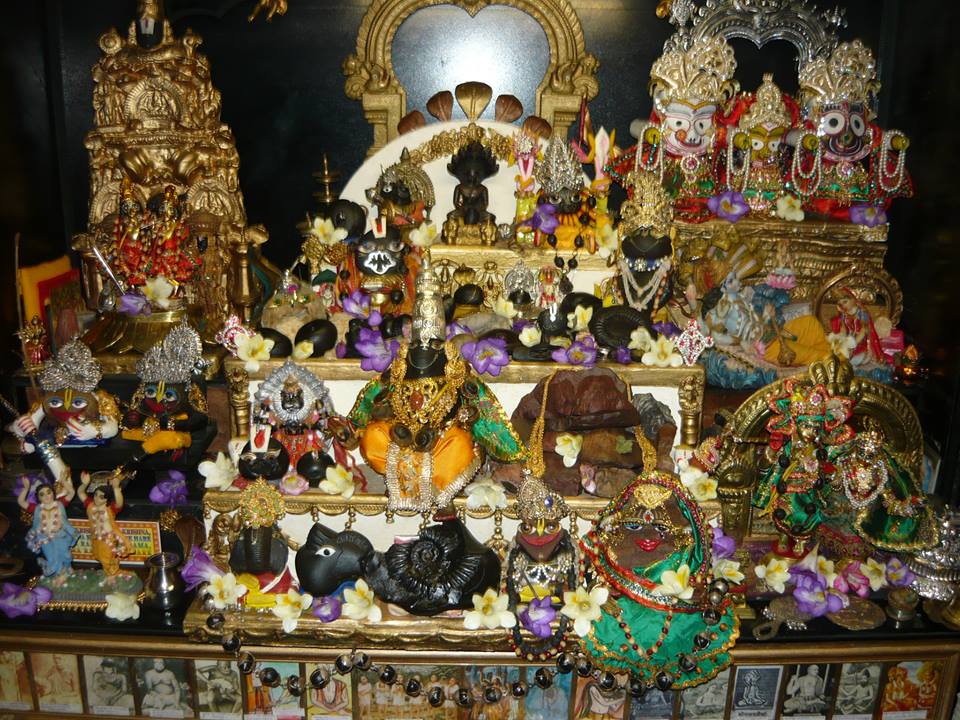 Janmastami 2015 darshan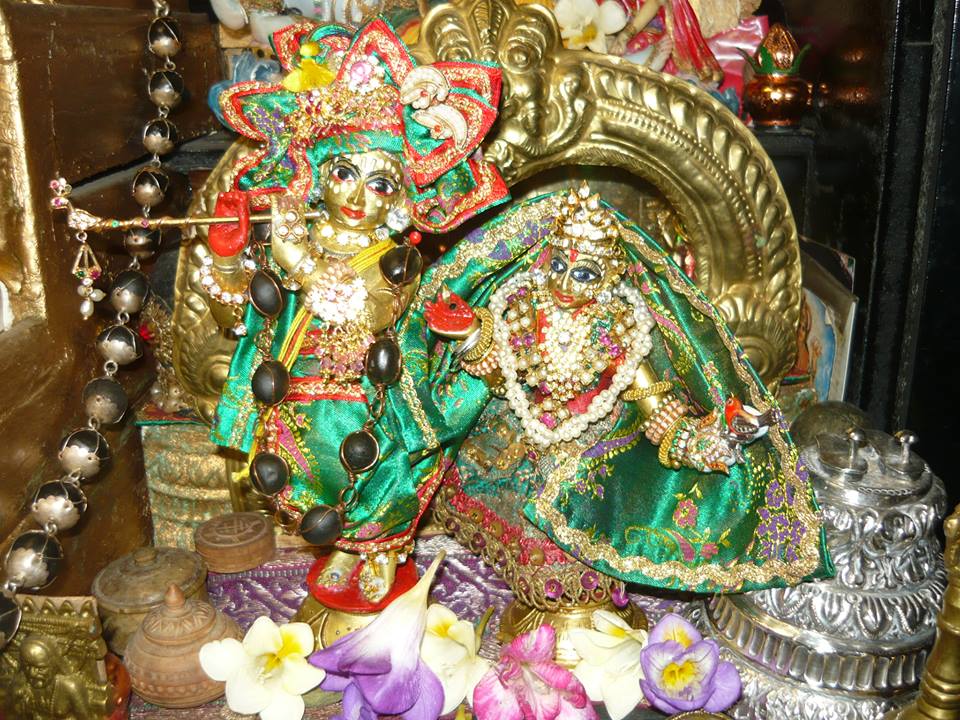 Sri Sri Radhika Raman ji darshan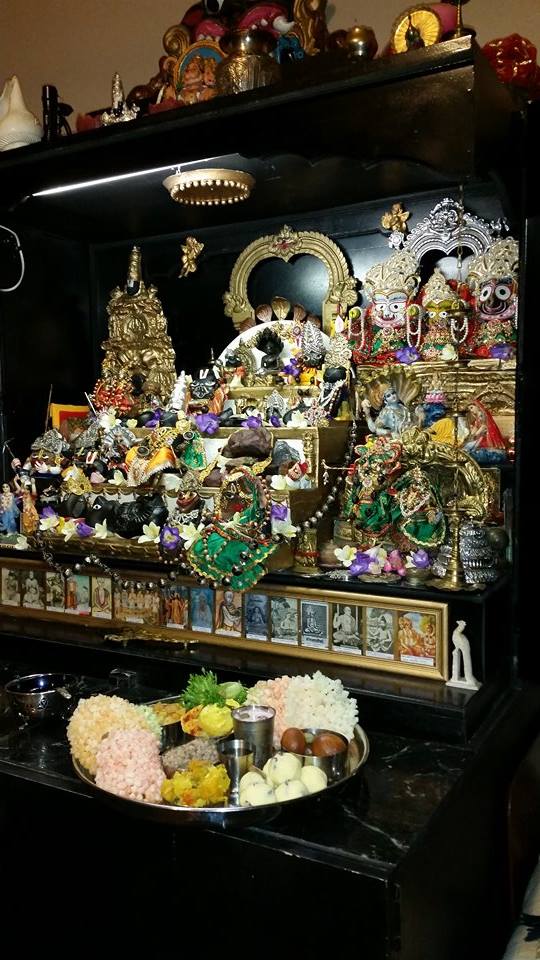 Ekadasi style midnight offerinmg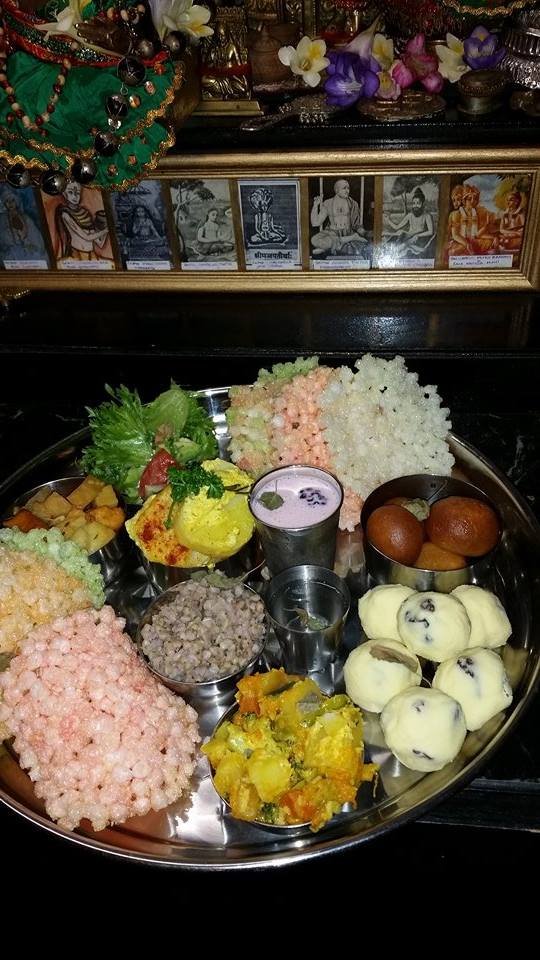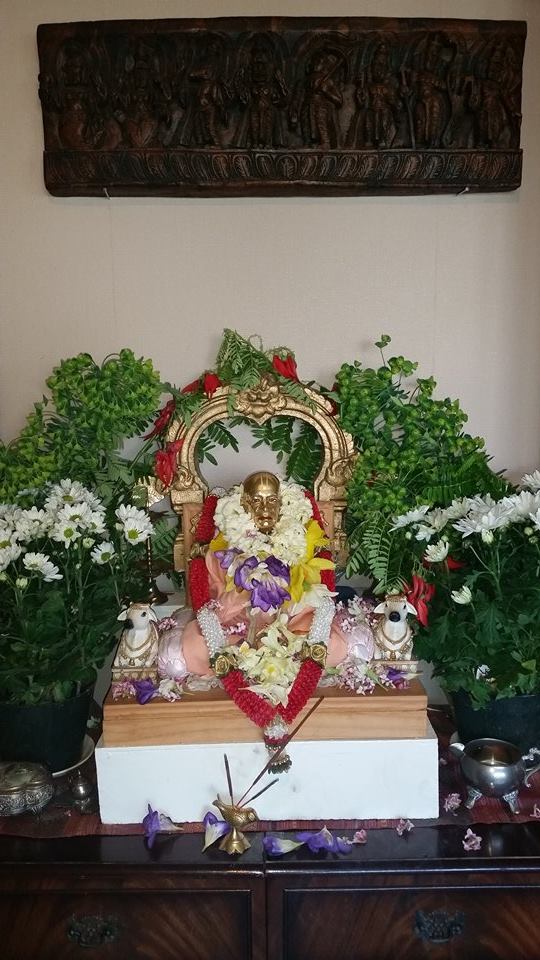 Srila A.C. Bhaktivedanta Swami Prabhupad Vyasa Pujan day after the pushpanjali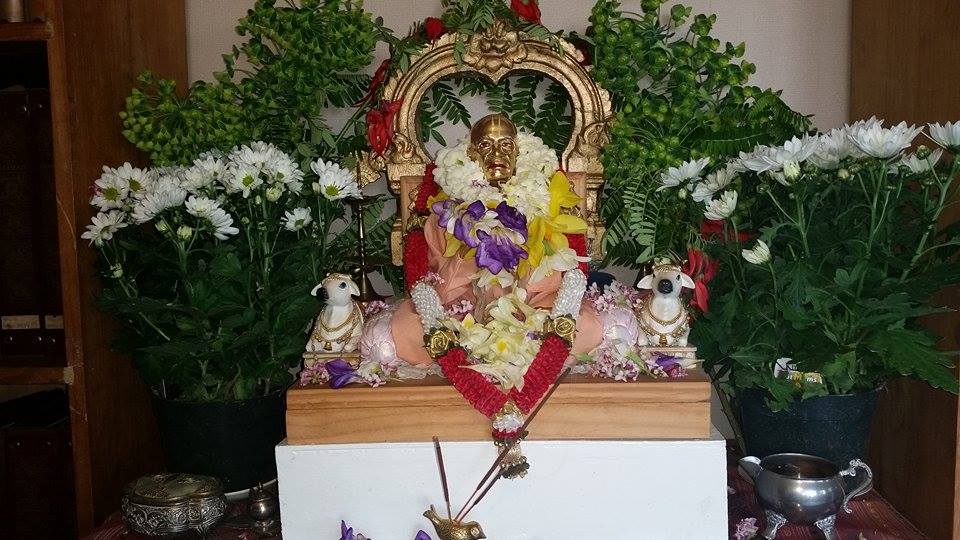 Srila A.C. Bhaktivedanta Swami Prabhupad Vyasa Pujan day after the pushpanjali

---

31st March 2014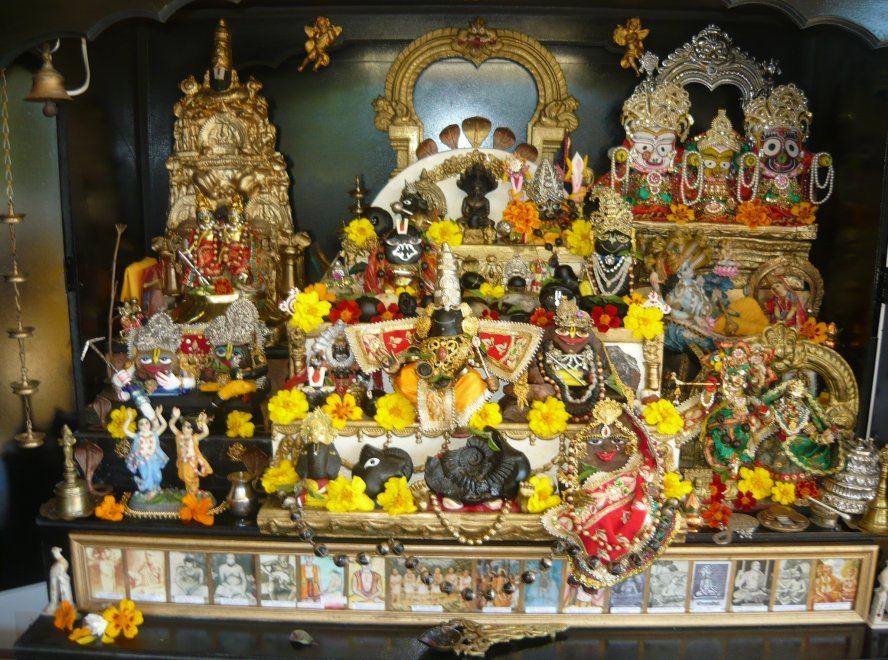 The Altar 29th March 2014
the wonderful 60th Birthday cake made by Hiranyangi mataji for Vedavati devi dasi's 60th Birthday
Sri Sri Radhika Ramanji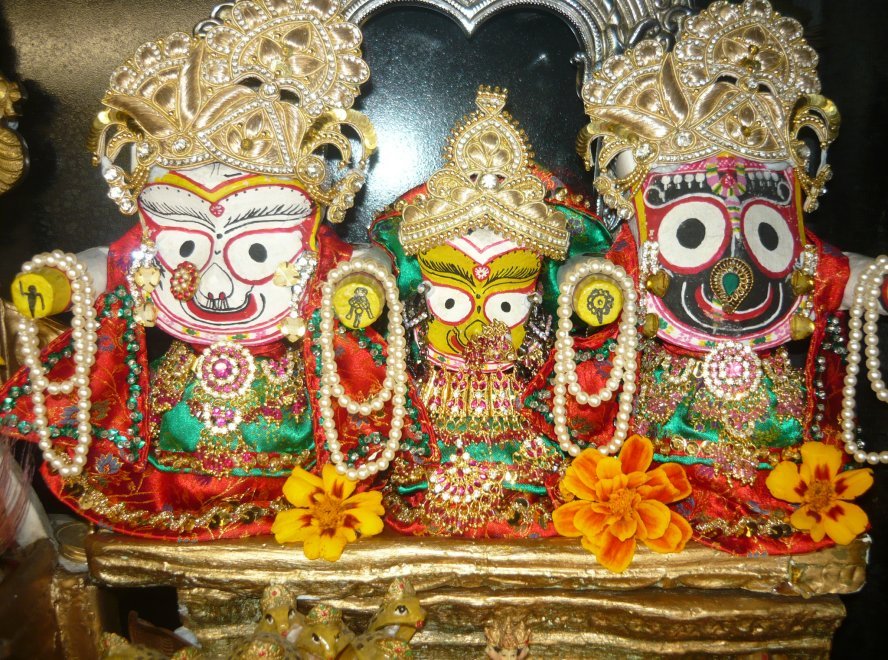 Sri Sriyuts Jagannath Baladev Subhadra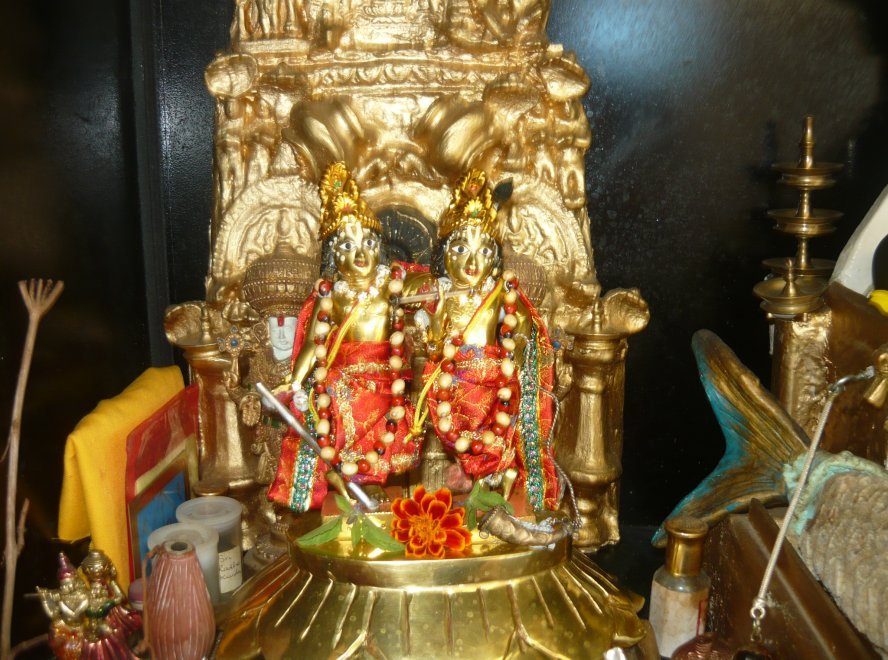 Sri Sri Kanaih Balaih - Krishna Balaram murthys
Sri Sri Kanaih Balaih - Krishna Balaram Govardhan Silas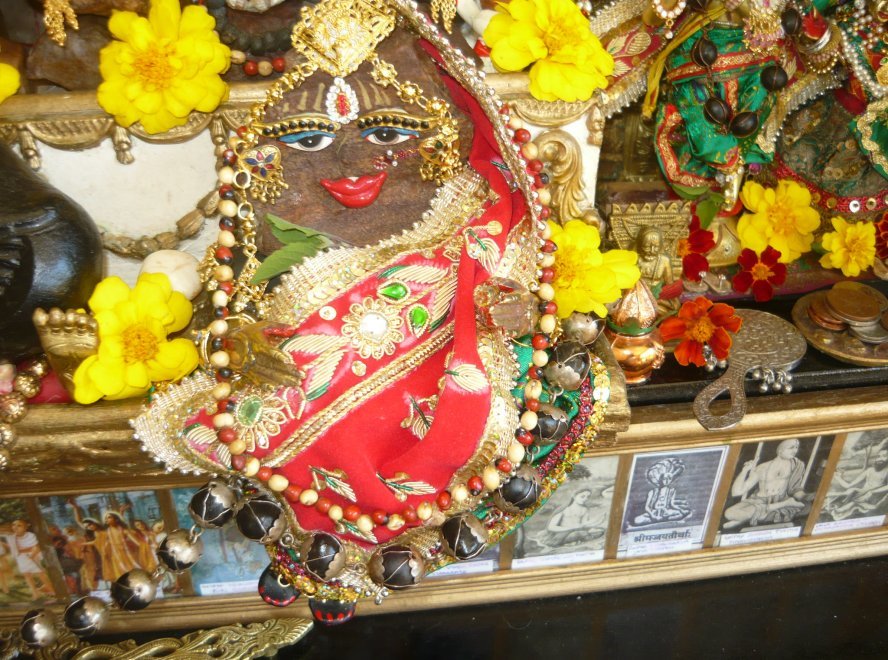 jai Sri Radhe - Govardhan Sila
---

17th March 2014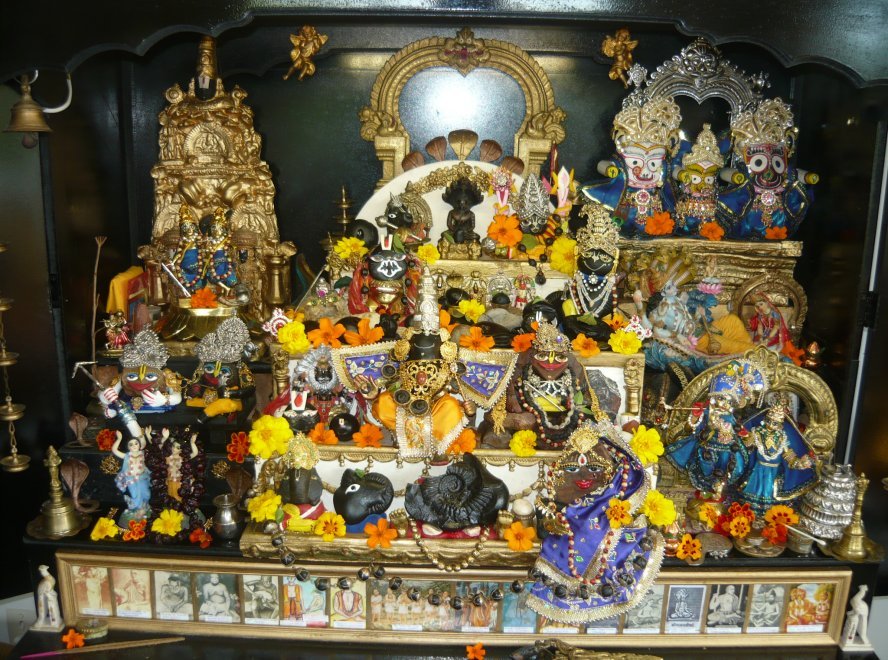 Gaura Purnima 2014 - 16th March 2014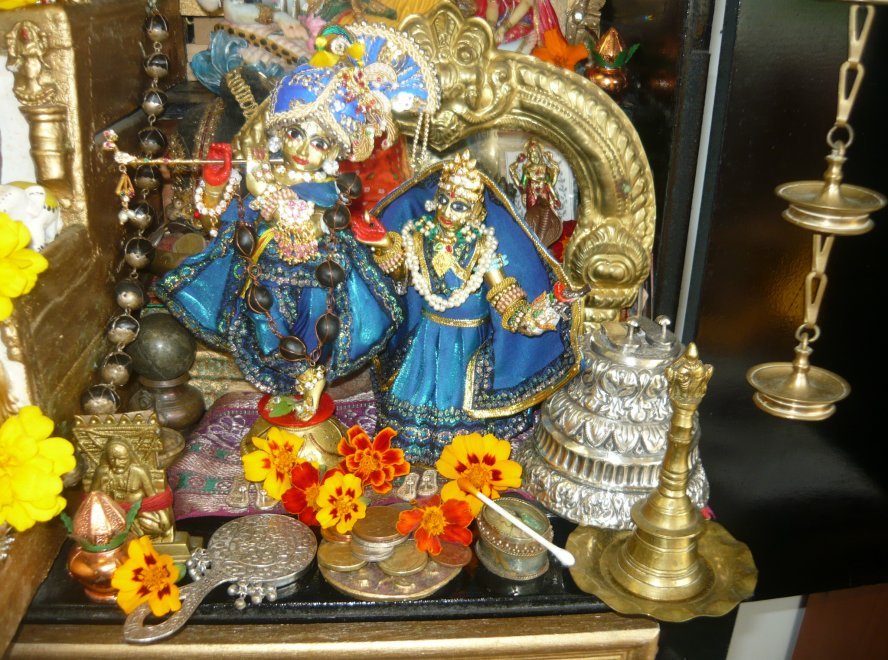 Sri Sri Radhika Ramanji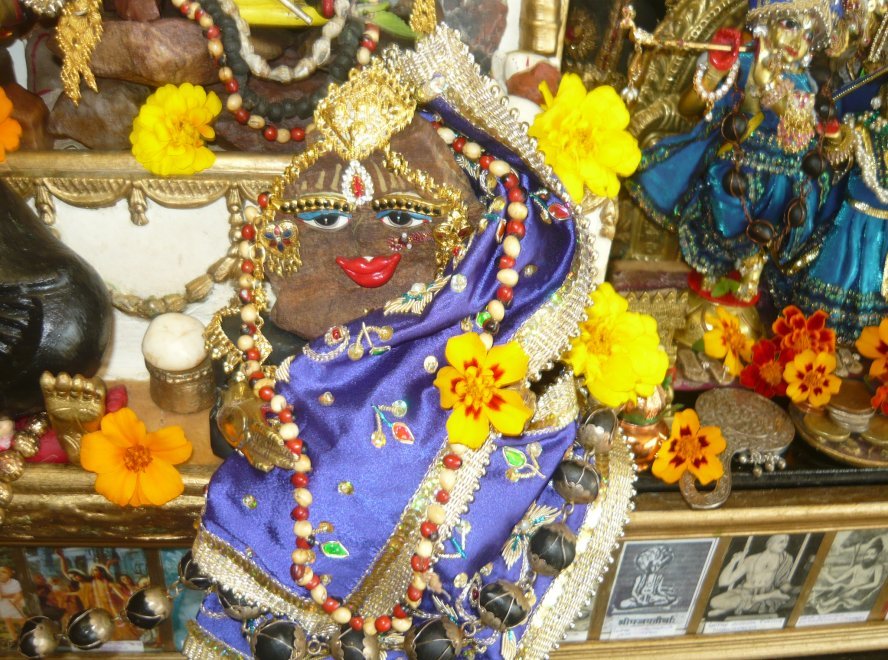 Radhe Govardhan sila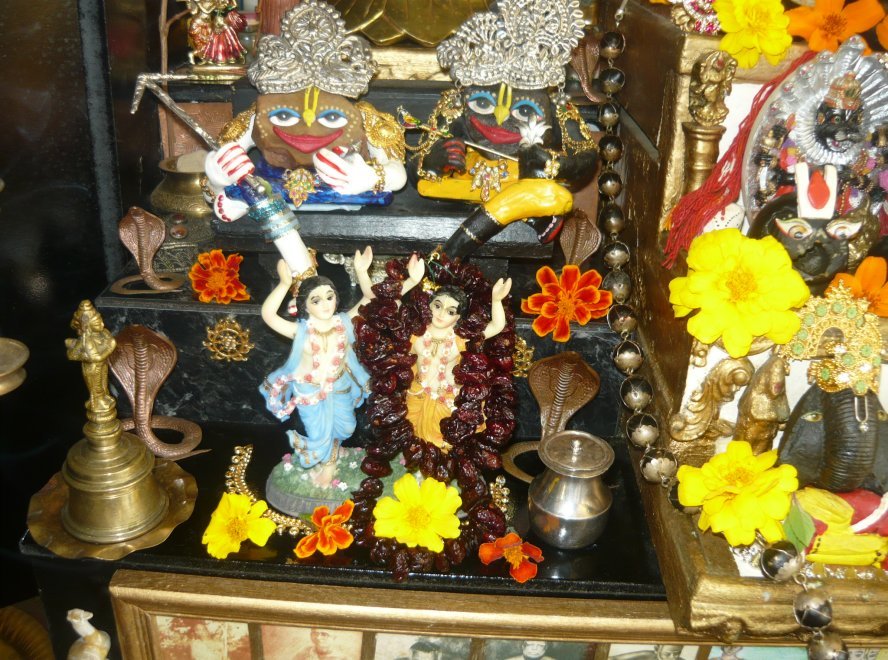 Gaura Nitai with Lord Chaitanya adorned with Cranbery garlands
Sri Sri Kanhai Balaih murthys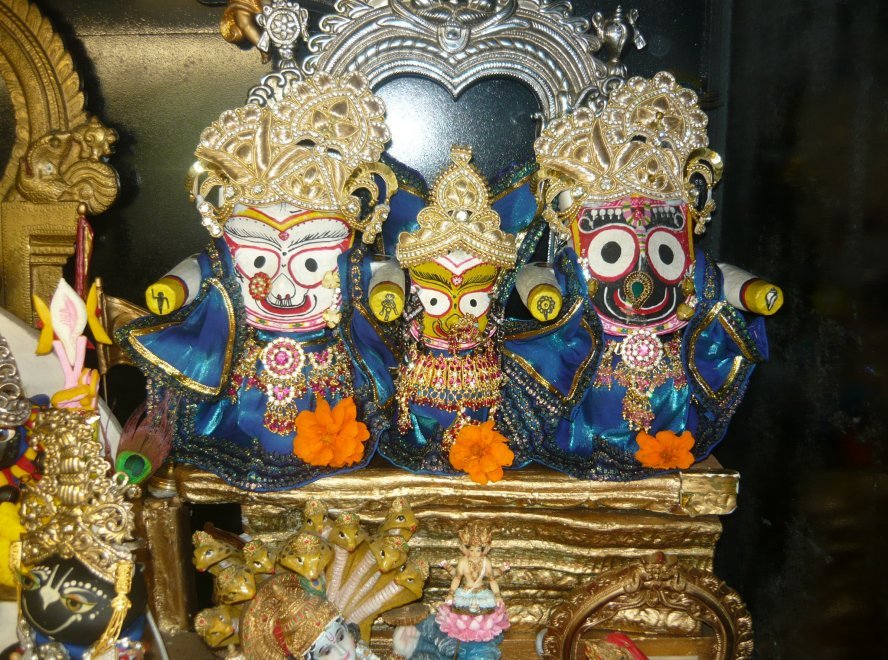 Sri Sriyuts Jagannath Baladev Subhadra Devi
---
16th February 2014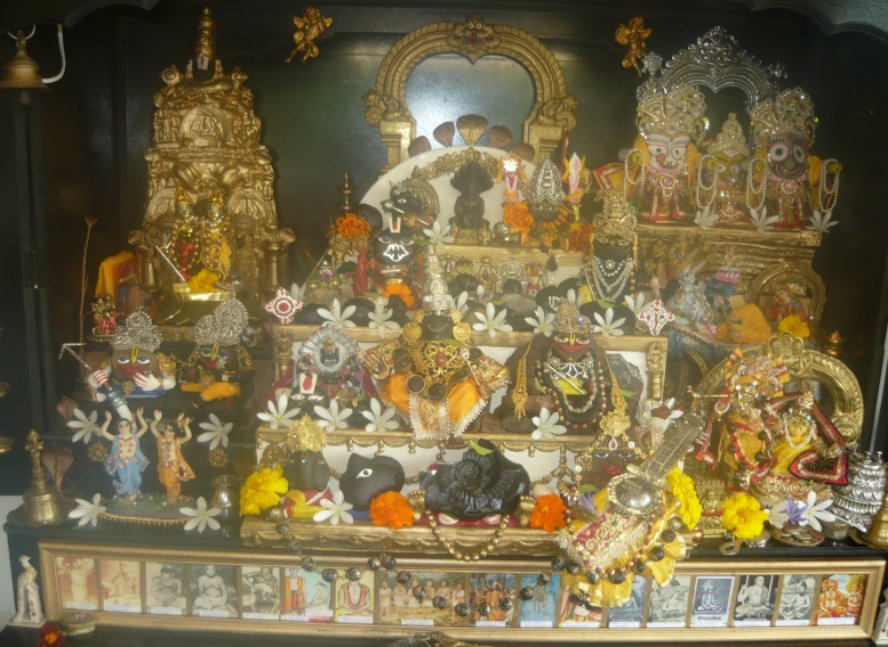 Vasant Panchami traditionally everyone wears yellow
as it is also Saraswati puja our Radha Govardhan Sila took on the aspect of Saraswati
tvaà siddhis tvam svädha svähä
sudhä tvam loka pävani
sandhyä rätrih prabhä bhütir
medhä shraddhä sarasvati
You are siddhi, nectar, Svaha and Svadha, O purifier of the worlds. You are twilight, night, effulgence, opulence, intelligence, faith, and Sarasvati.
tväm mätä sarva bhütänai
deva devo harih pitä
tvayäitad vishhnumä chädya
jagad vyäptam charächaram
You are the mother of all creatures, as that God of gods, Hari, is their father. And this universe, consisting of moving and non moving entities, is presently permeated by you, as well as Visnu.
änvikshhiké trayi värtä
danda nitis tvaà eva cha
saumyäsaumyair jagad rüpais
tvayaitad devi puritam
You are the science of dialectics, the three Vedas, Varta, the knowledge of chastisement. O goddess, the universe is filled with Your gentle and terrifying forms.
as mentioned in Laksmi stuti from Visnu Purana, VII.9.116/138.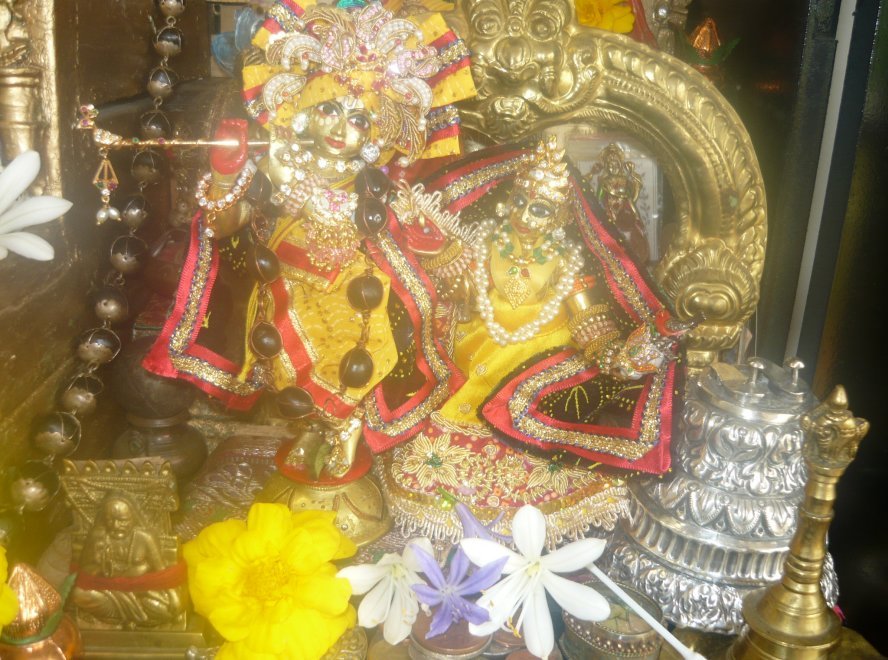 Sri Sri Radhika Ramanji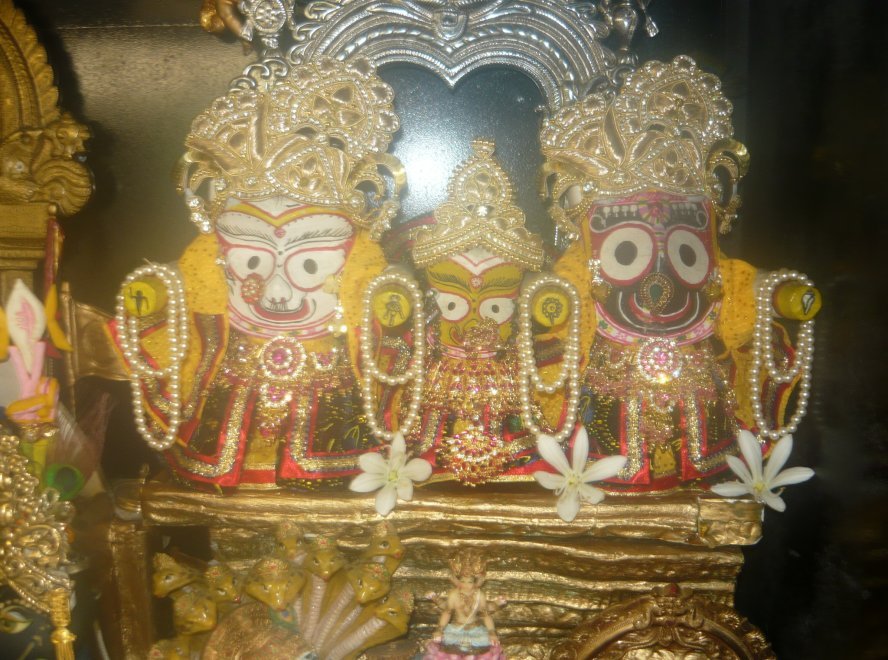 Sri Sriyuts Jagannath Baladev & Subhadra devi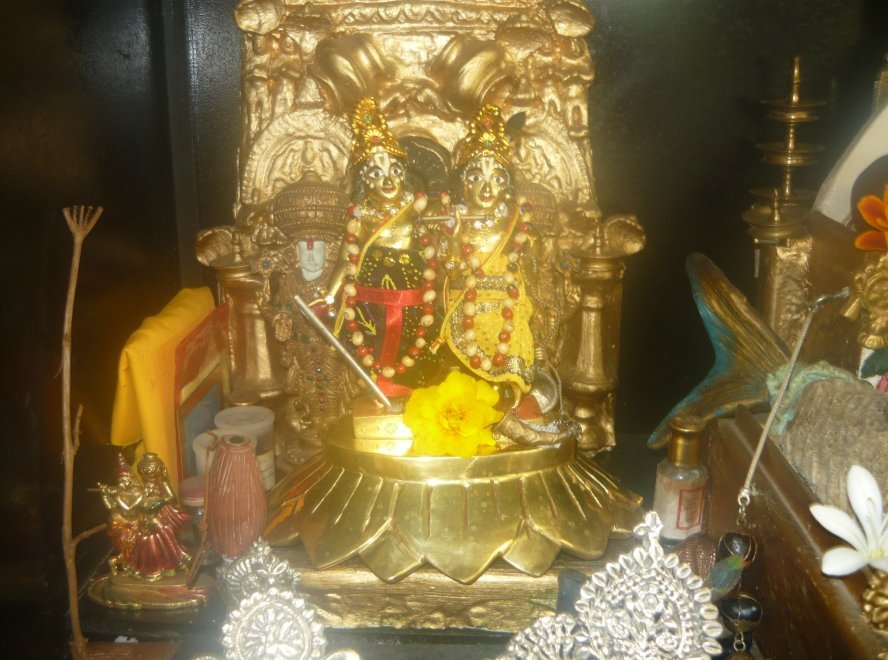 Sri Sri Kanaih Balaih
Krishna Balaram murthys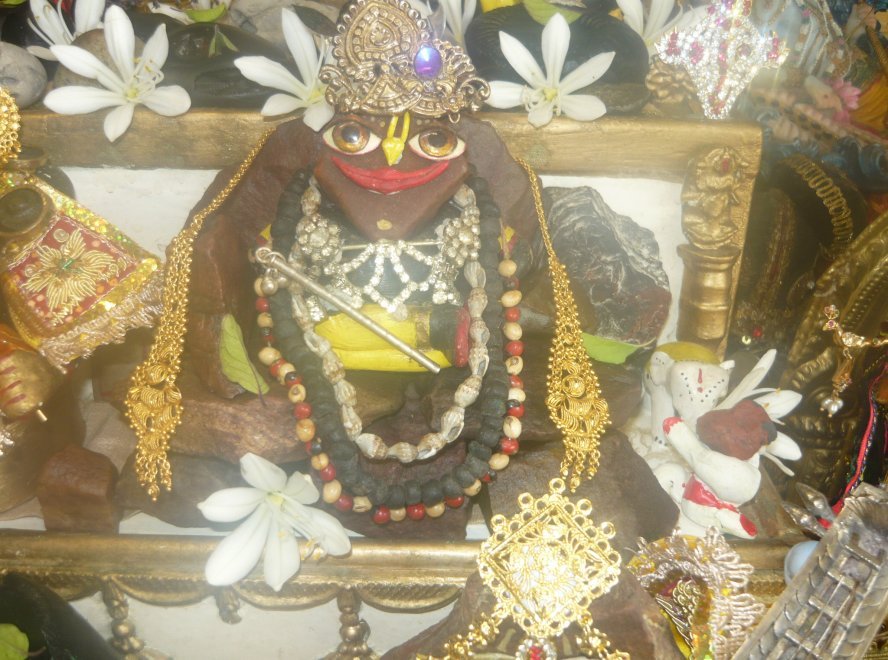 Sri Vithal Giri on His new seat upon Govardhan hillock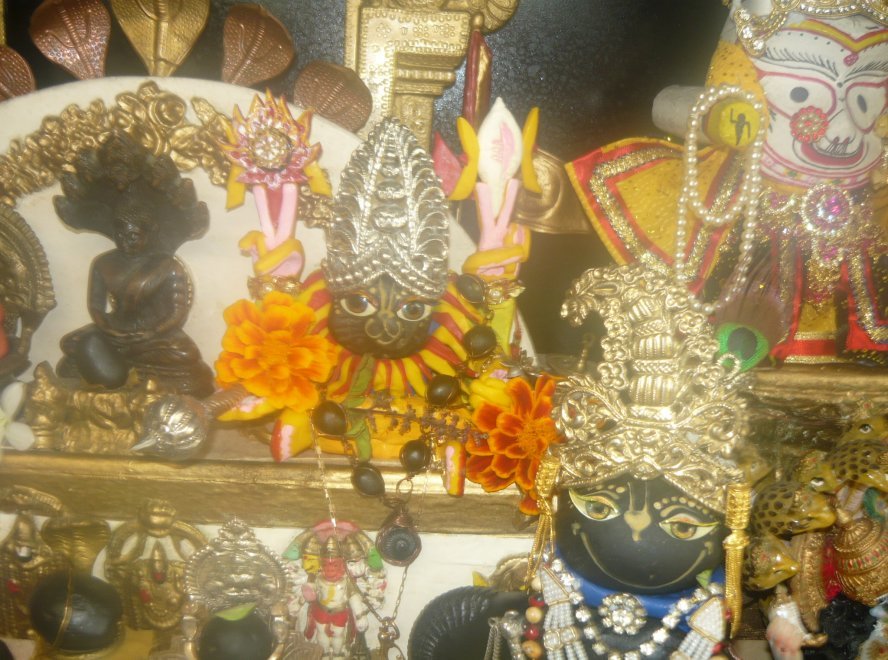 our Pradhan Sila Sri Chaitanya Nrsimha (centre) and Gopinath (front right)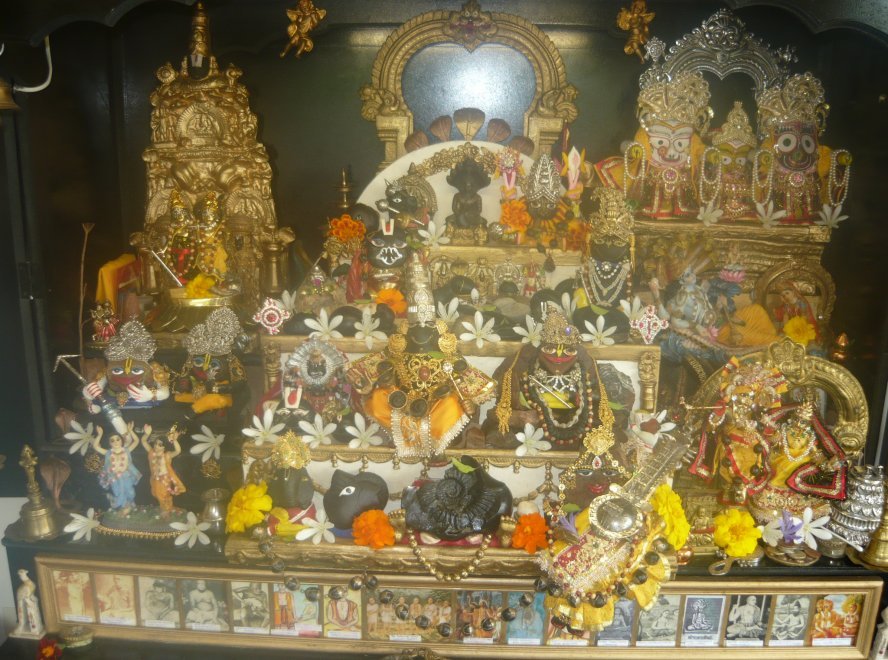 Everyone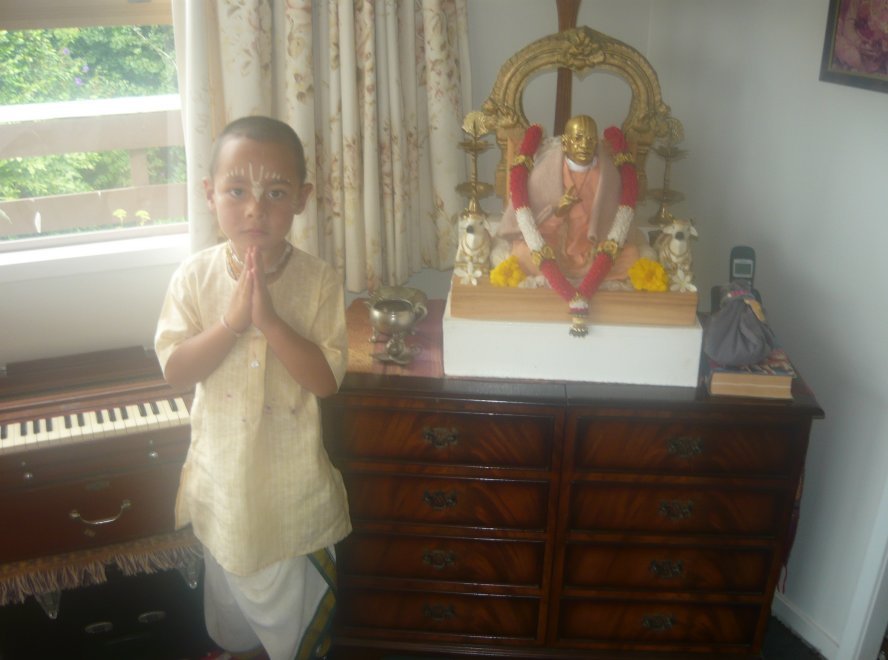 Srila Prabhupad, and our grand son Shyam

---

5th January 2014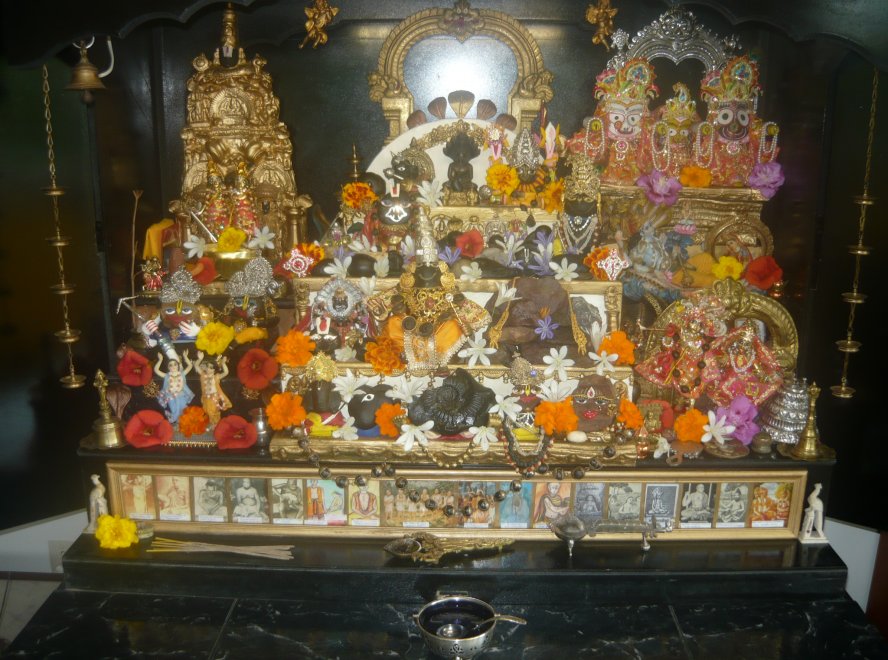 This is the altar as of 5th January 2014
by Krishna's mercy we are living in a place that has an abundance of seasonal flowers,
we have also been developing a nice vege garden for the Lord's pleasure also http://www.salagram.net/JTCds2013garden.html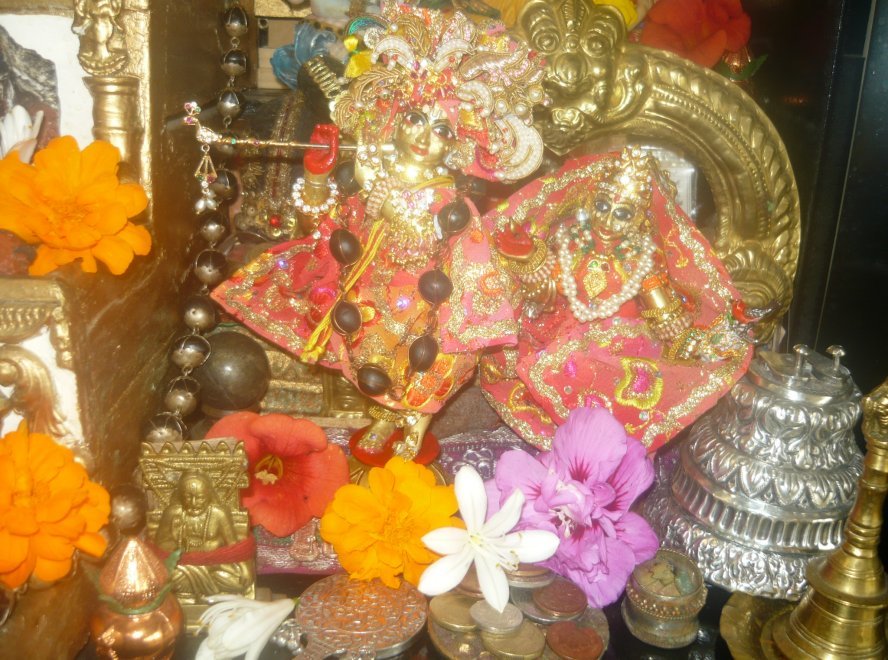 Sri Sri Radhika Raman ji - 5th January 2014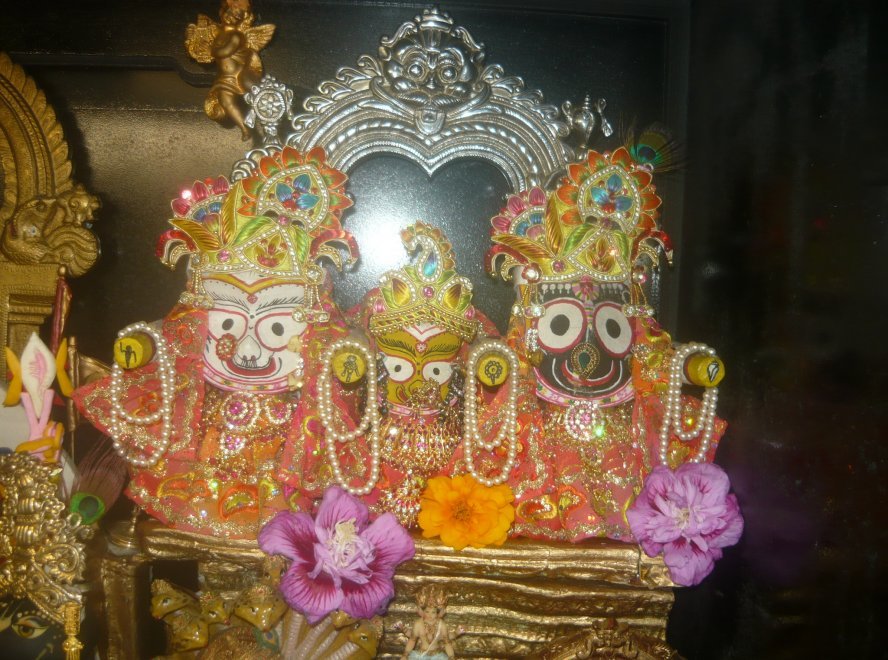 Sri Sriyuts Jagannath Baladev Srimati Subhadra - 5th January 2014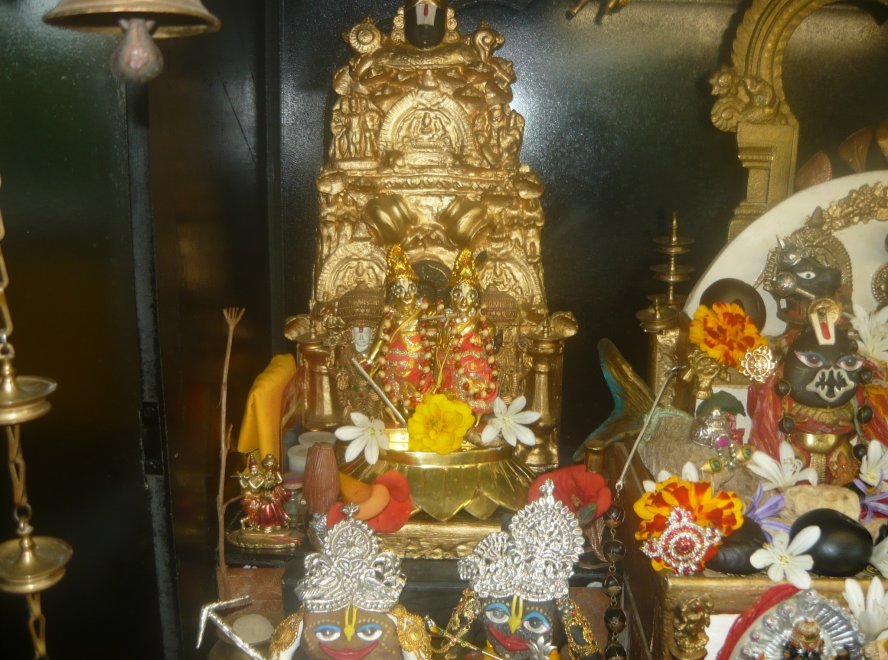 Kanhaih Balahaih - Krishna Balaram - 5th January 2014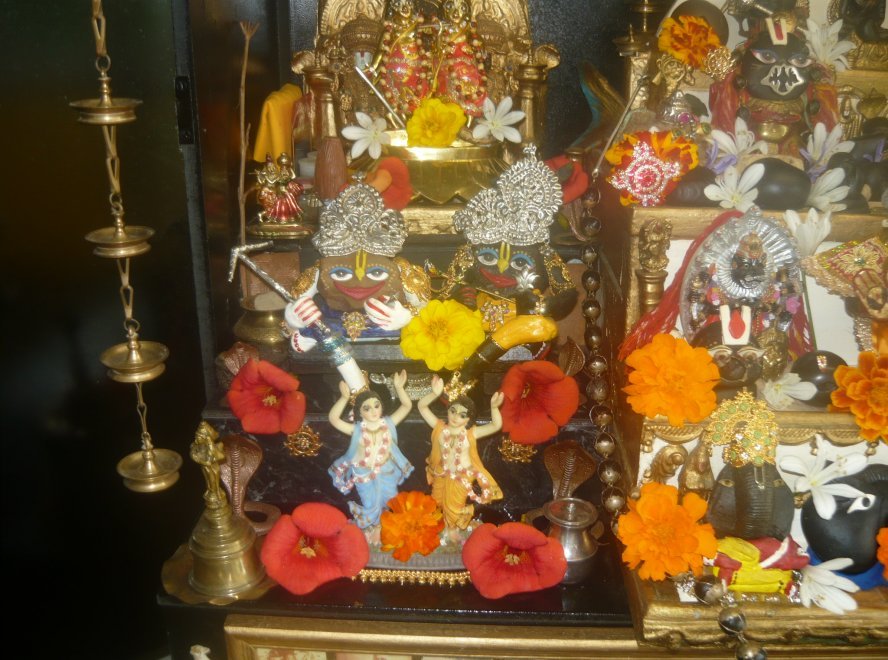 Krishna Balaram - Nitai Gaura - 5th January 2014

---

8th July 2013
8th July 2013 darshan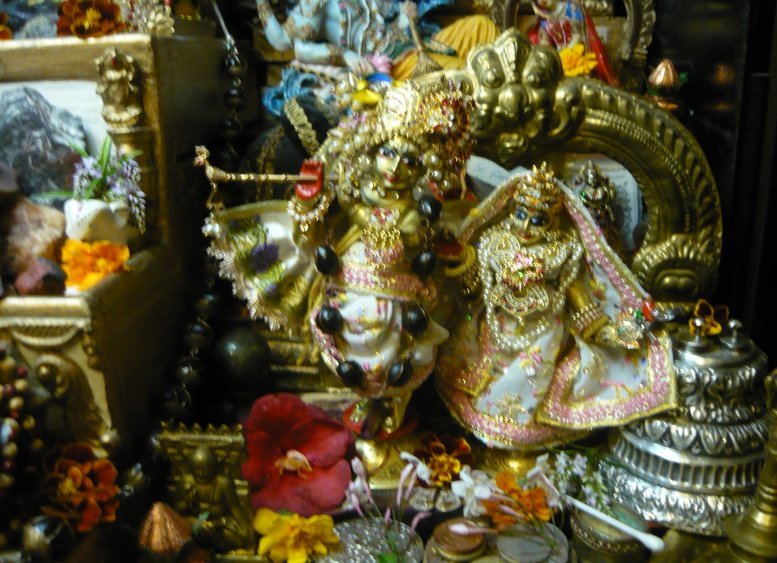 Sri Sri Radhika Raman murthys - 8th July 2013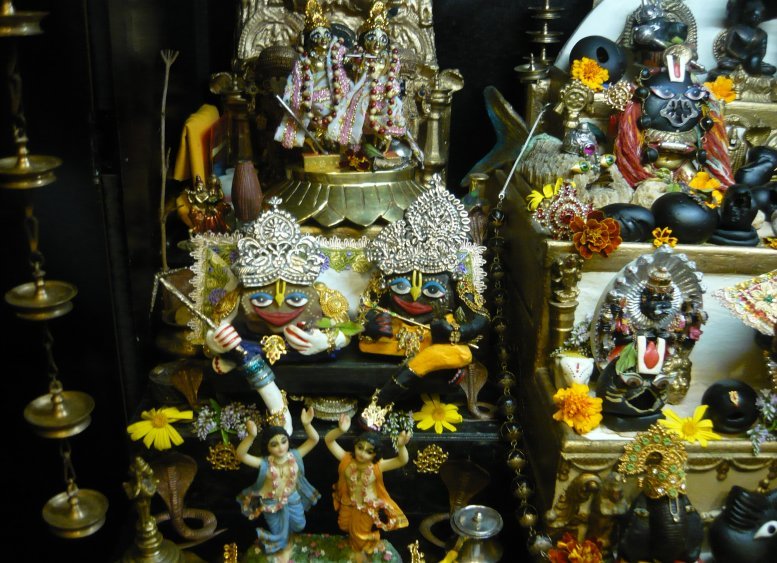 Sri Sri Nitai Gaura - Kanhai Balhai - Krishna Balaram - 8th July 2013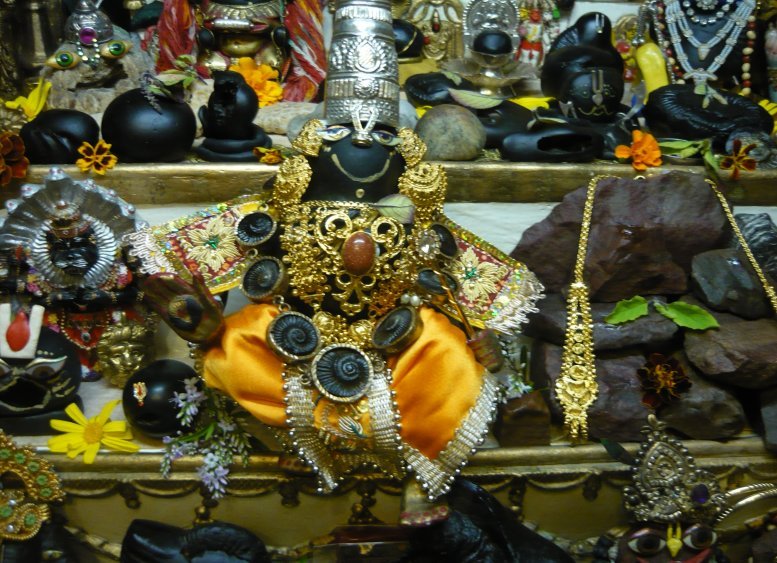 Sri Radhika Raman Shaligram & Girigovardhan - 8th July 2013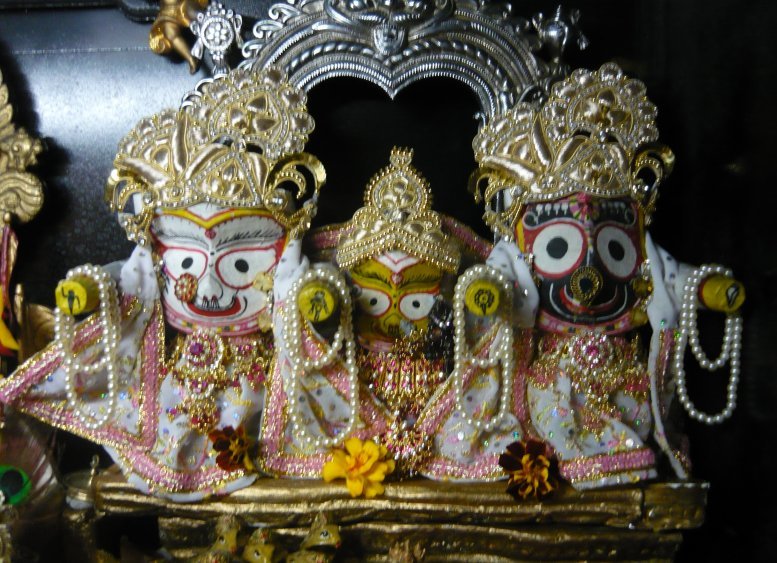 Sri Sriyuts Jagannath Baladev Subhadra - 8th July 2013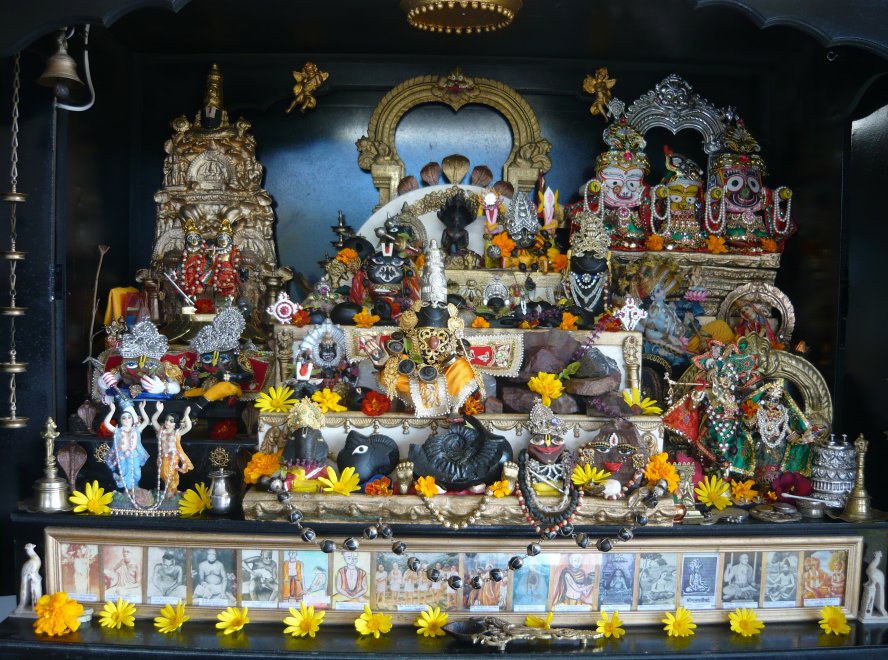 2nd June 2013 - The Altar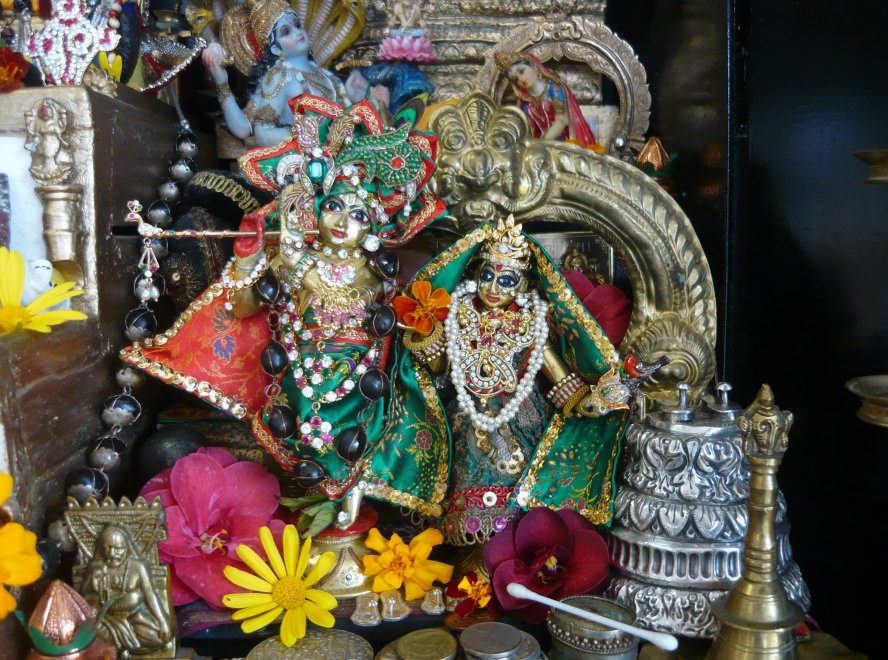 2nd June 2013 - Sri Sri Radhika Raman murthys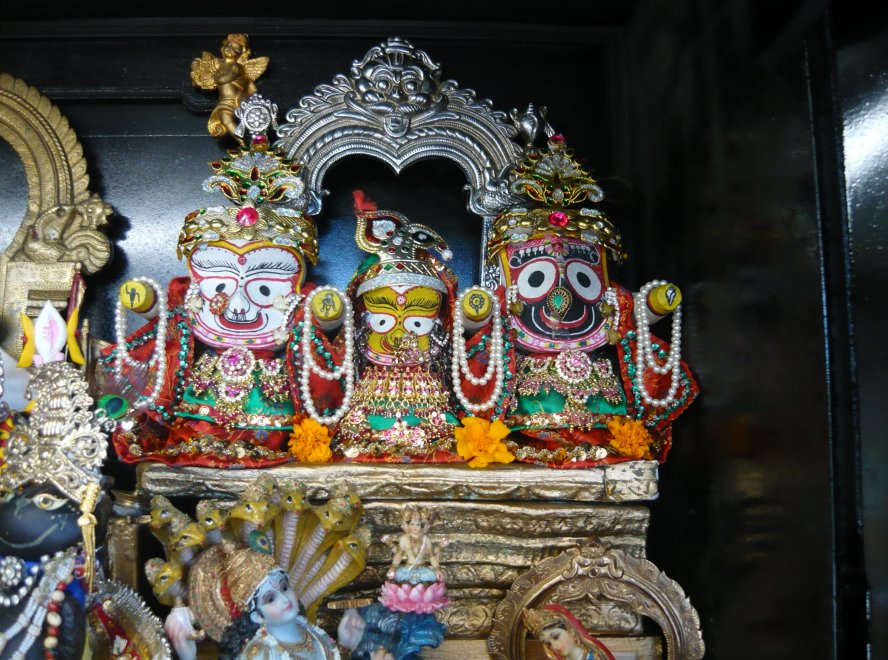 2nd June 2013 - Sri Sriyuts Jagannath Baladev & Srimati Subhadra Devi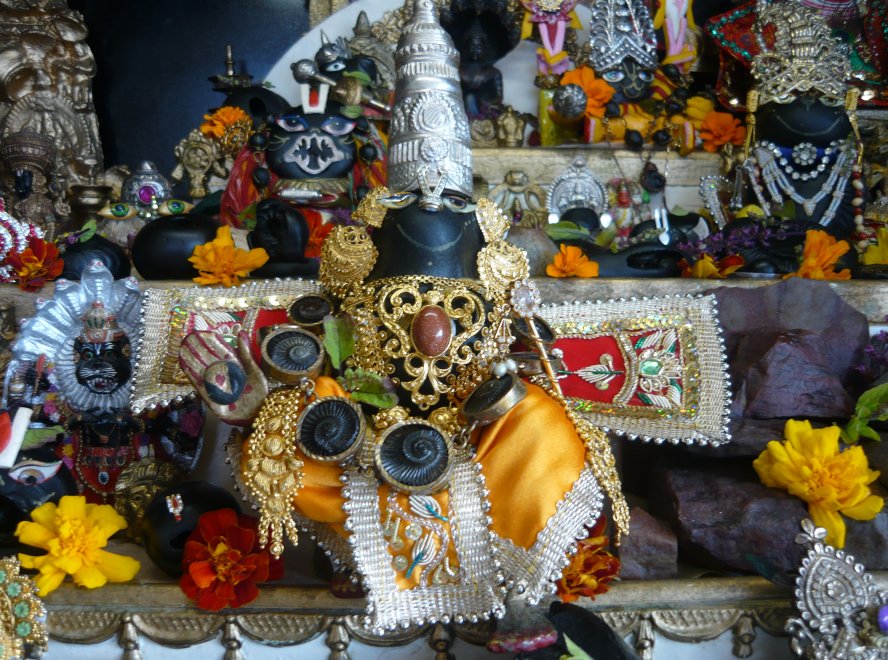 2nd June 2013 - Sri Radhika Raman Saligram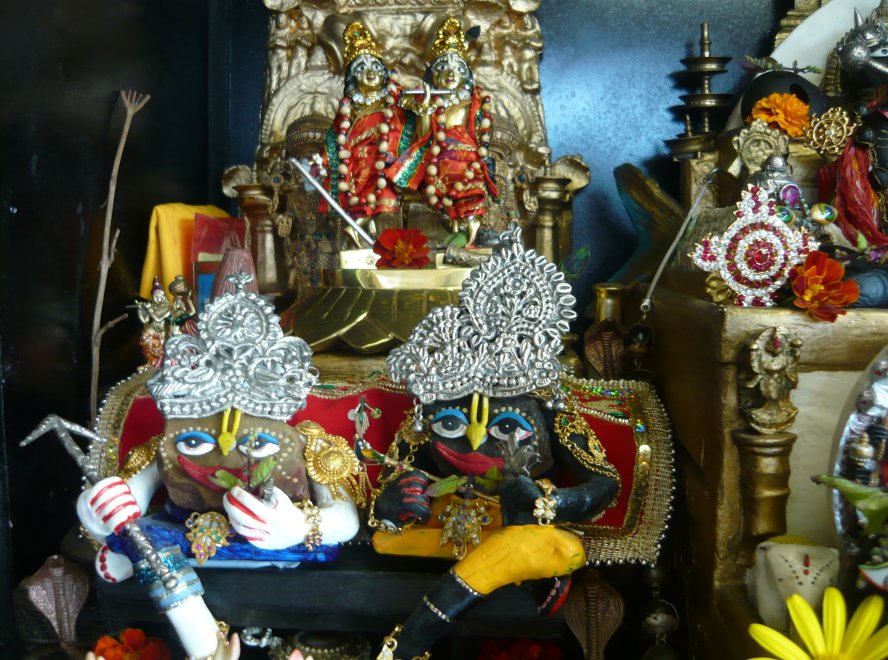 2nd June 2013 - Sri Sri Kanhaih Balaih and Krishna Balaram murthys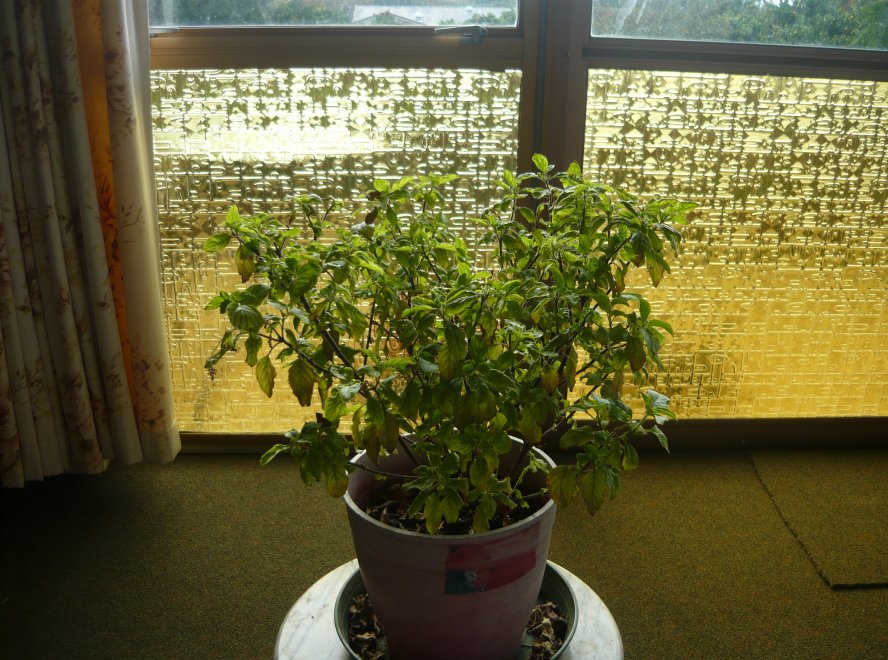 2nd June 2013 - Srimati Tulasi Devi

Sri Radhastami - 23rd September 2012
Radharani covered in flowers, the swab to the right is saturated with pure Kasturi oils, said to resemble the bodily fragrance of Srimati Radharani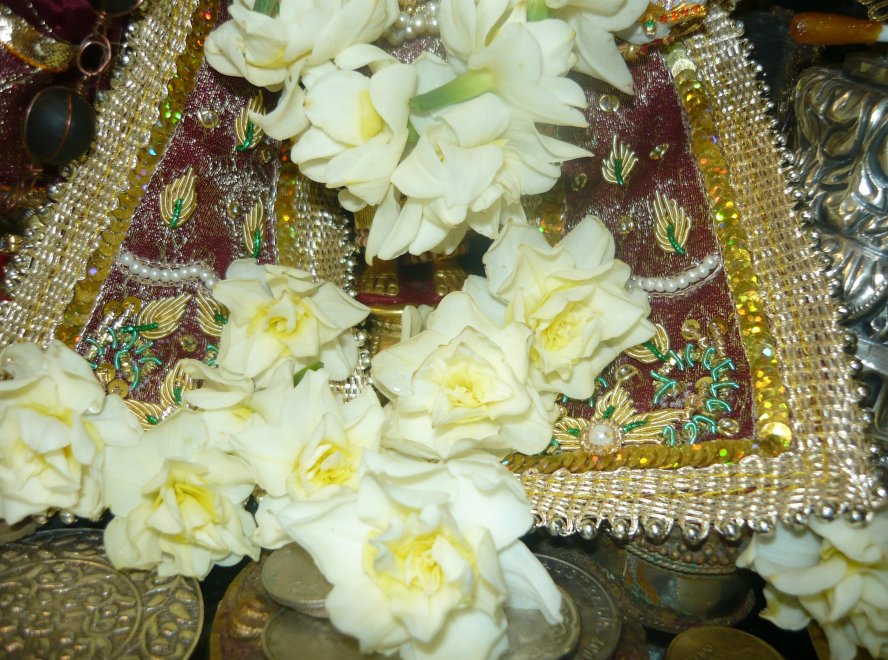 Sri Radha Charan darshan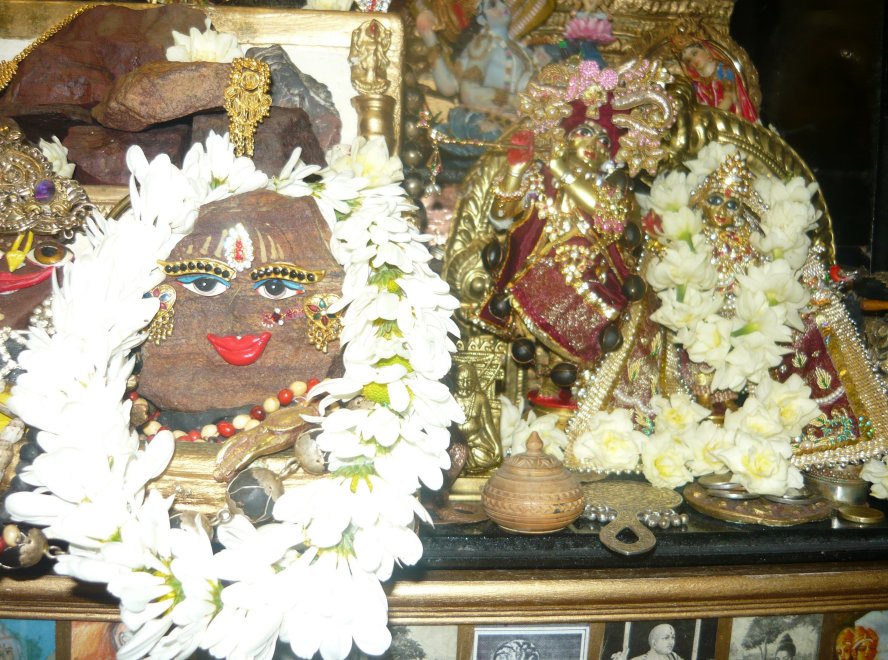 This is yellowish Govardhan sila I found at Govinda kund that has a face of a woman indented into it like a cameo. In Vritti Chintamani of Vishvanath Chakravarty Thakur he say that different coloured stones from Govardhan hill show Their association with different personalities. White stones are places where Balaram had some pastimes, Reddish represents where the gopis embraced Krishna and the kumkum from their bodies marked the hill. The yellowish stones or those marked with yellow are where Radharani had some contact or pastimes. So this one with a woman's face cameod into it naturally and yellowish, and very yellow on the rear side - jai Sri Radhey.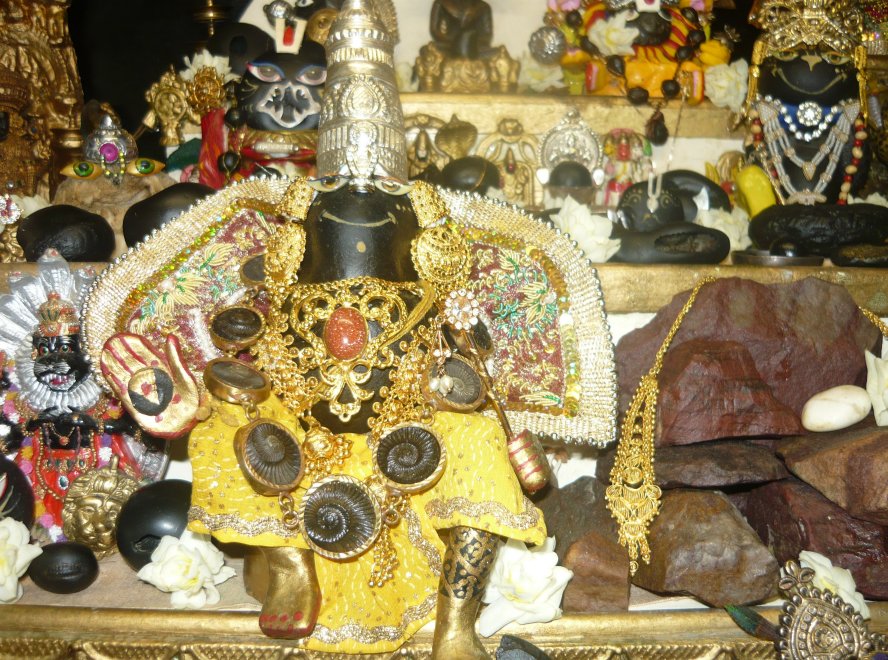 Sri Sri Radhika Raman Shaligram, and notice the pure white Govardhan sila on the pile of Govardhan silas,
Sri Padma Nabha Gosai from Radha Raman temple in Vrindavan said this is a rare form of Radhika Govardhan sila.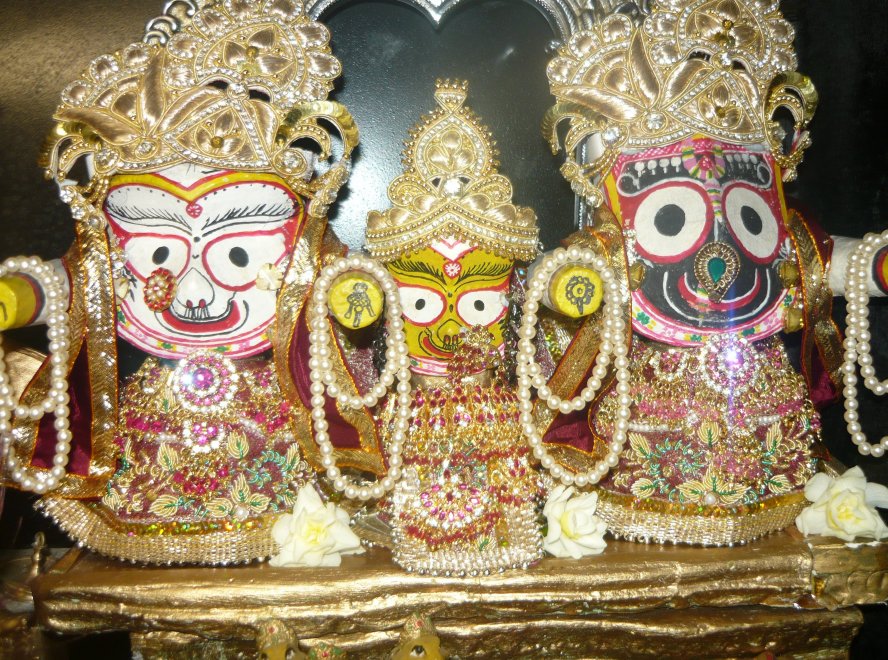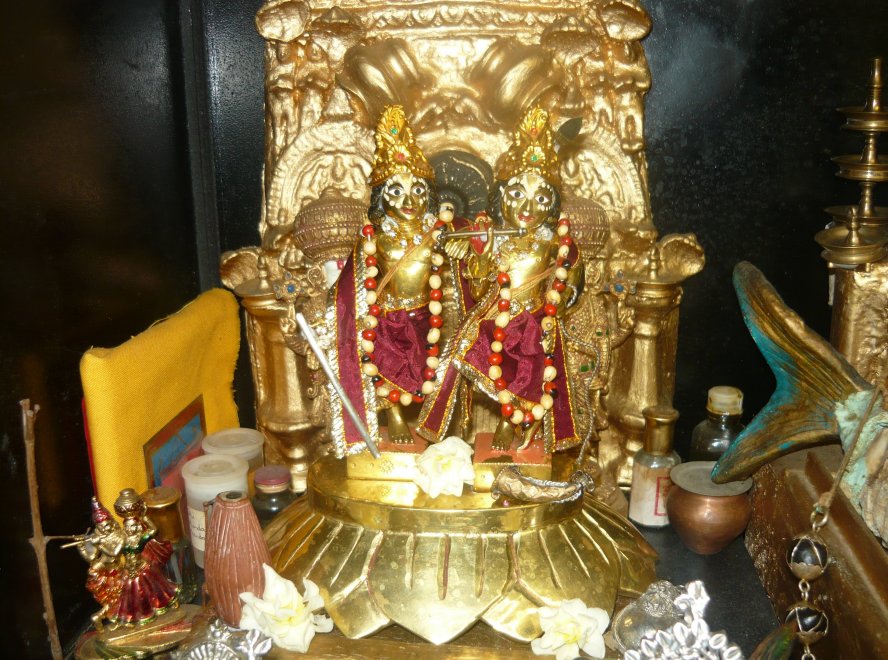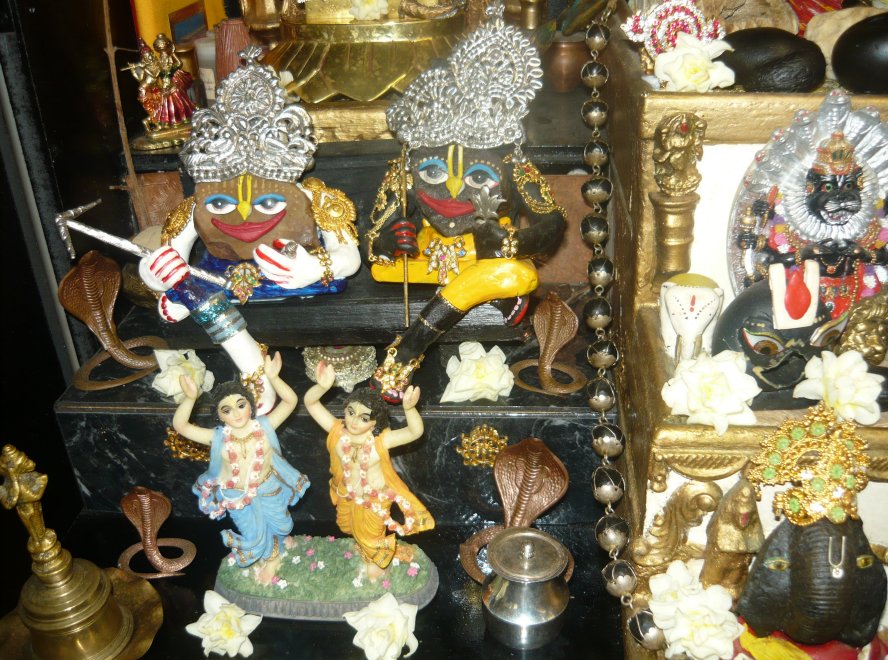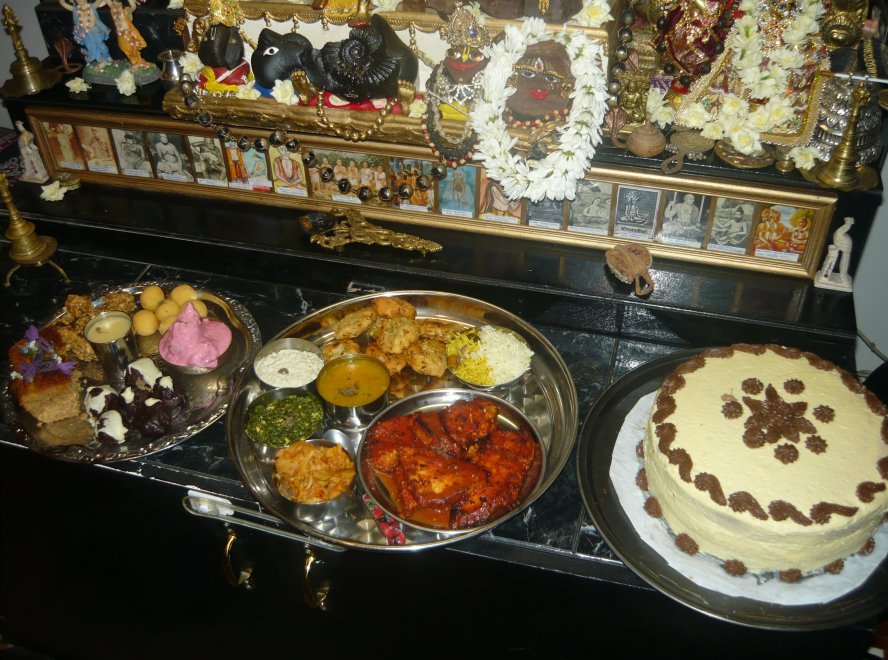 Let me try to remember what the preps were: Palak paneer, jackfruit cauliflower and tomato sabji, fancy rice with cashews, and plain basmati rice, spicy channa dahl, urid dahl vadai and coconut chutney, and curd steaks made from Gopaladev & Hiranyanghi mataji's cow Kumkum's milk. Raspberry malpoura, pure milk barfi balls, bandhi laglus, banana and golden syrup cake, Vegan fruit balls covered in dark chocolate and icing, pineapple and coconut drink, and Radharani's birthday cake.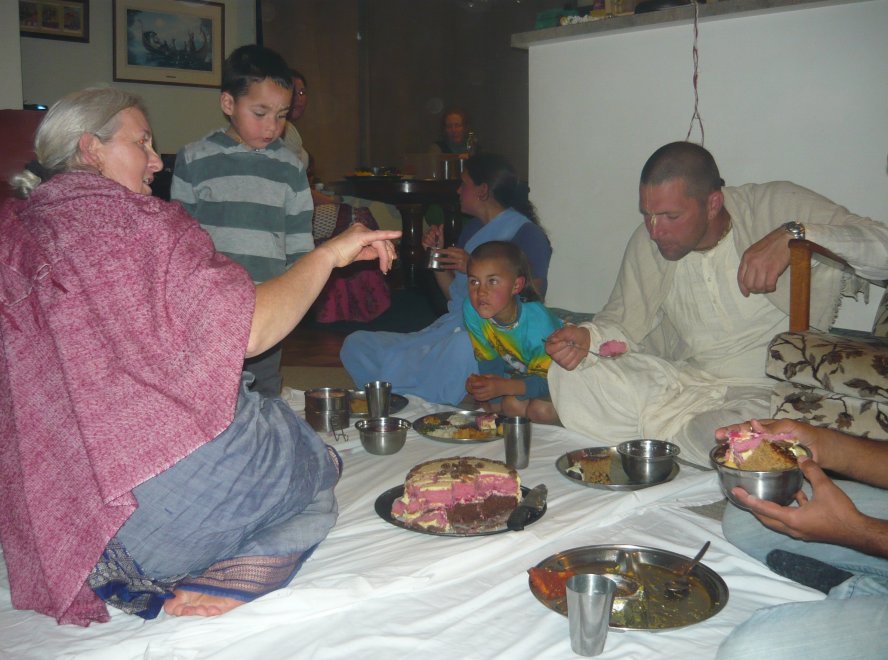 Here's a look at the inside of the cake that Hiranyanghi mataji made for Srimati Radharani, and my wife is in the process of serving out under the watchful eye of little Shyam (verticle grey stripes) and little Bhakti listening attentively, Gopaladev poised with a spoonful of malpura taking his attention to the full. Jai Sri Radhey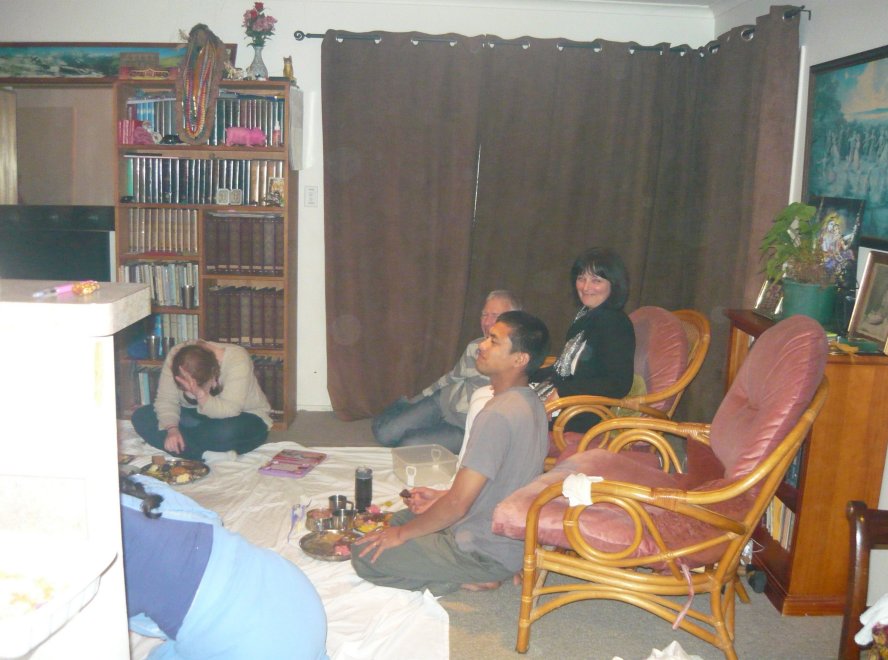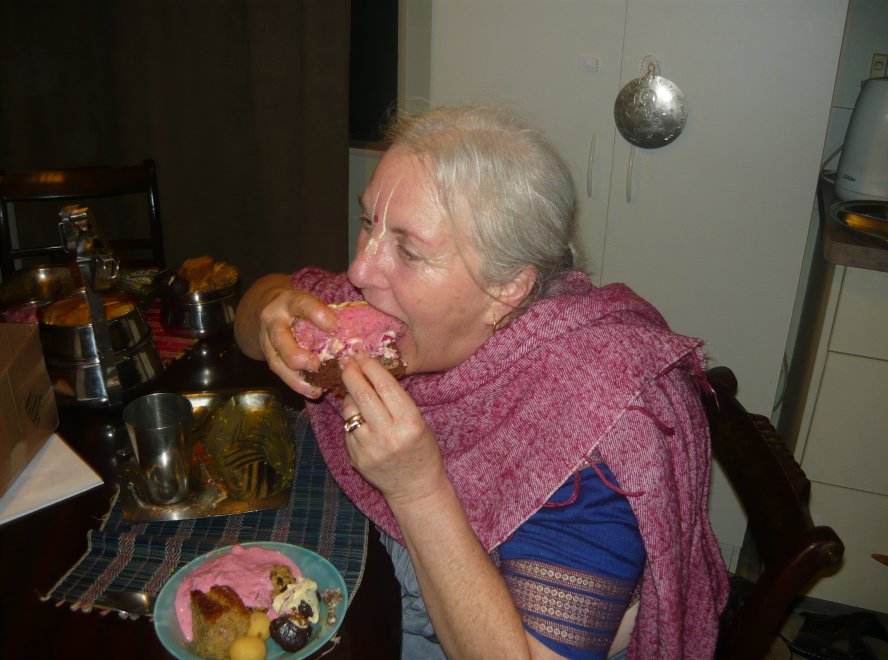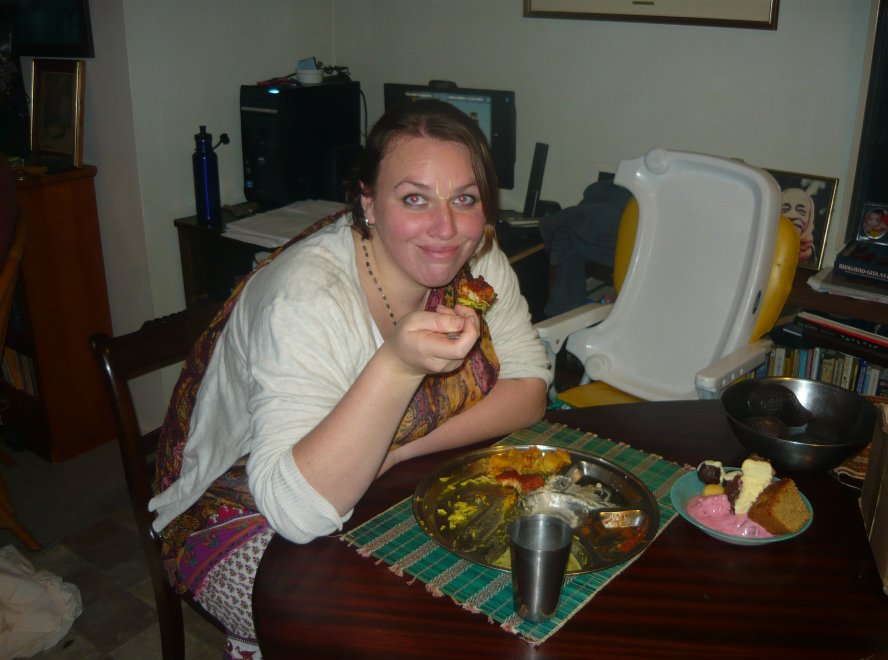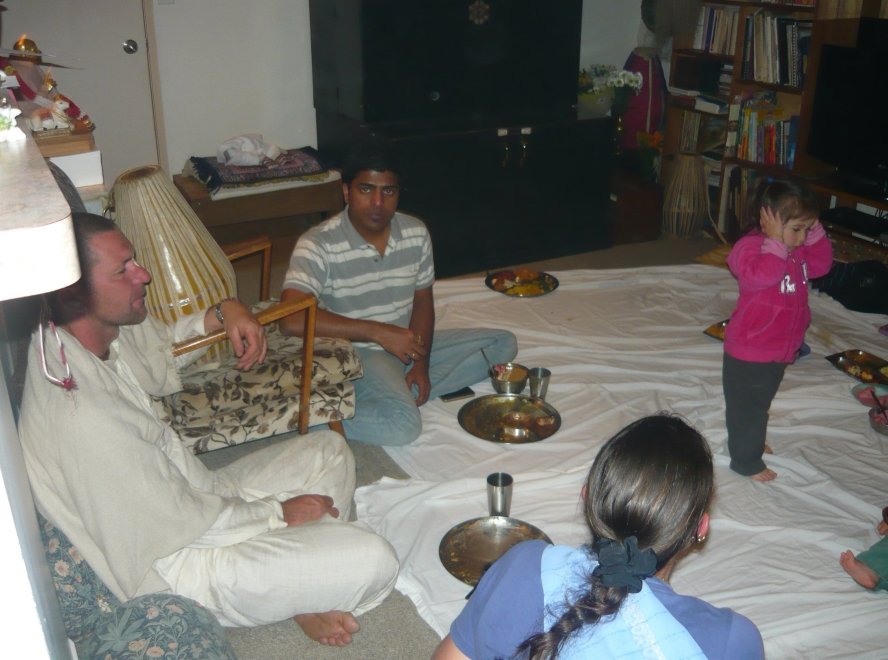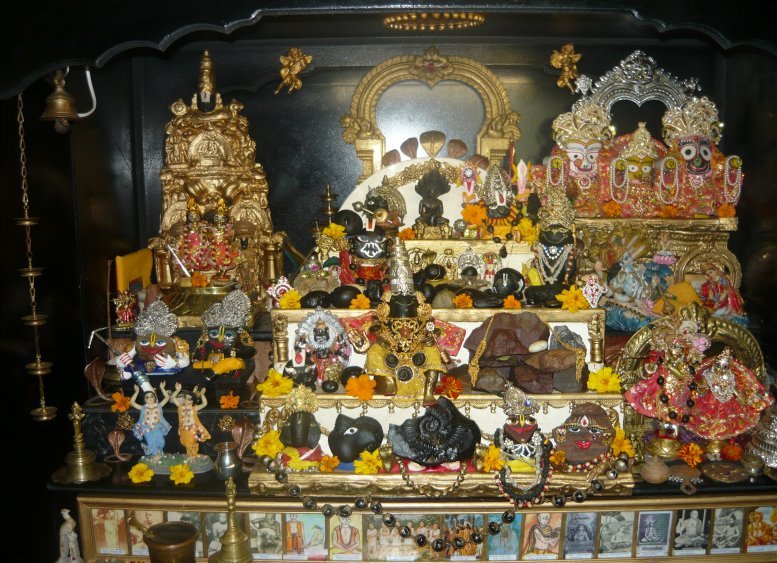 The Altar July 2012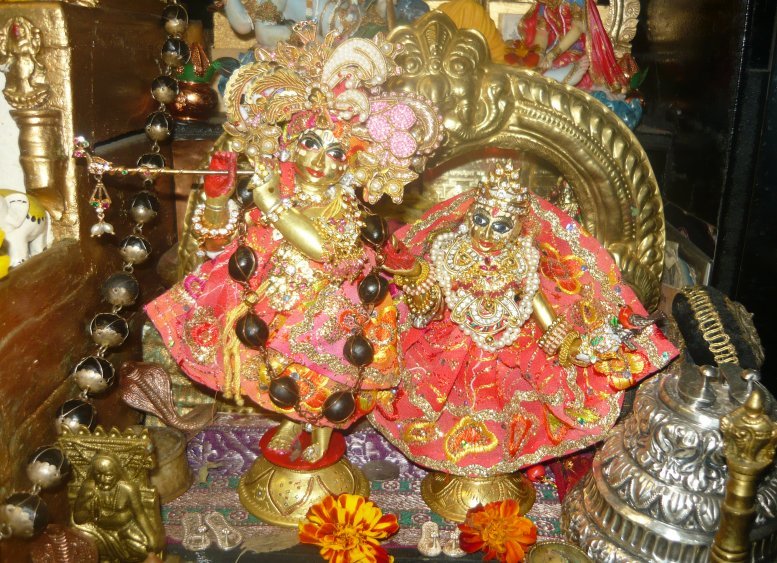 Sri Sri Radhika Raman murthys
Sri Sri Radhika Raman Salagram with new Sudarshan vihara necklace kindly donated by Himanshu Singhal of http://www.rudrakshguru.com June 2012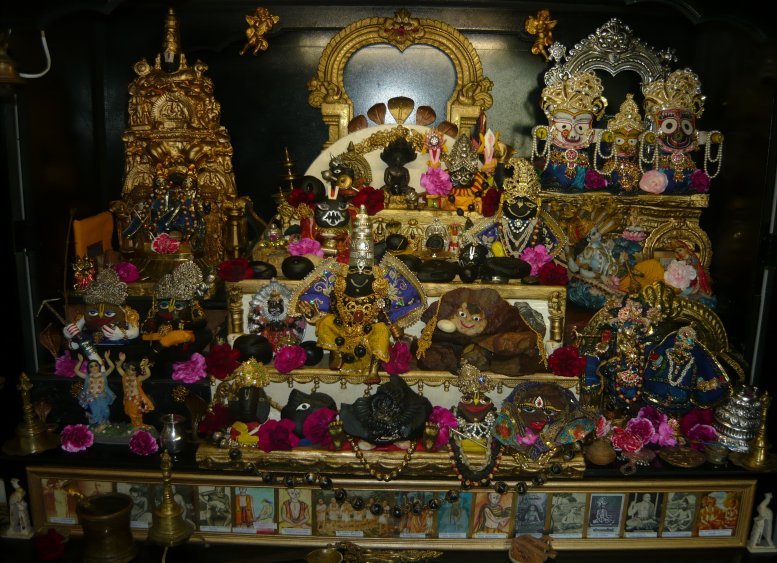 The Altar on Sri Radha-astami - 5th September 2011
Kanaih - Balaih Govardhan silas
and Nitai Gauranga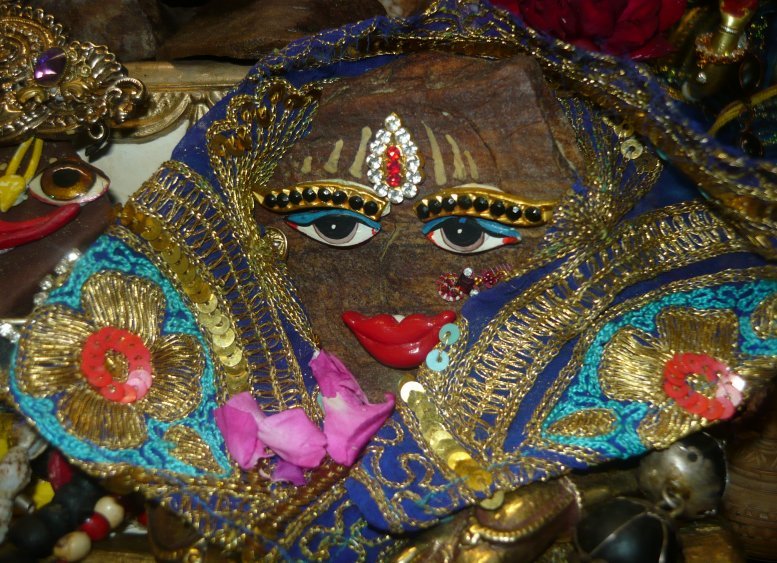 Govardhan sila dressed as Radhika due to the yellow complexion and cameod face impression within the sila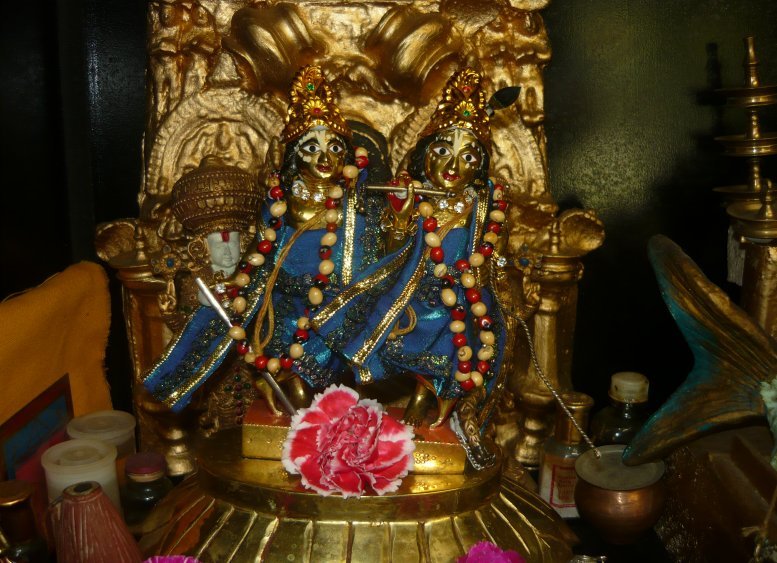 Sri Sri Kanaih Balaih - Krishna Balaram murthys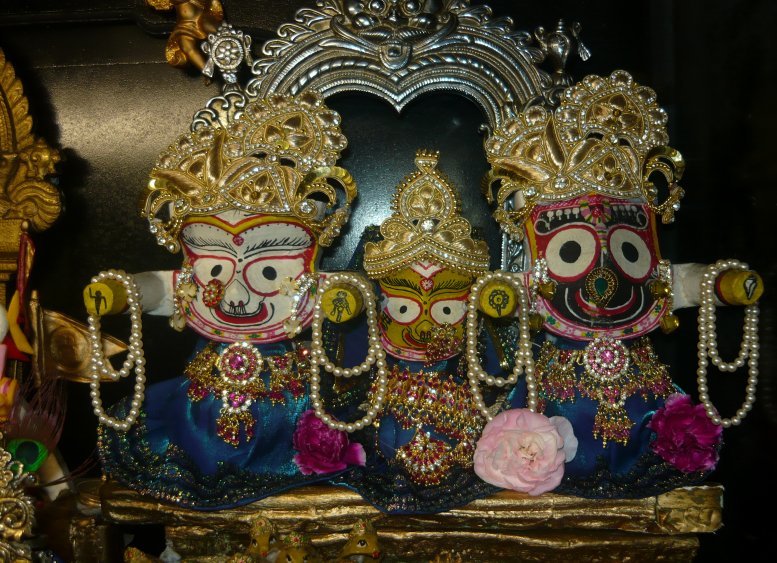 Sri Sriyuts Balaram, Subhadra and Jagannath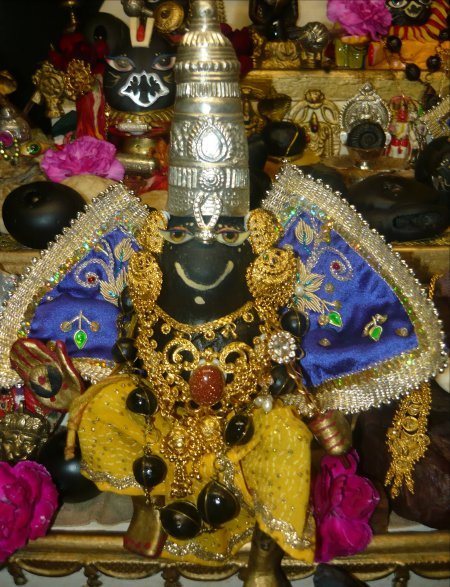 Sri Sri Radhika Raman Salagram sila and sila vihara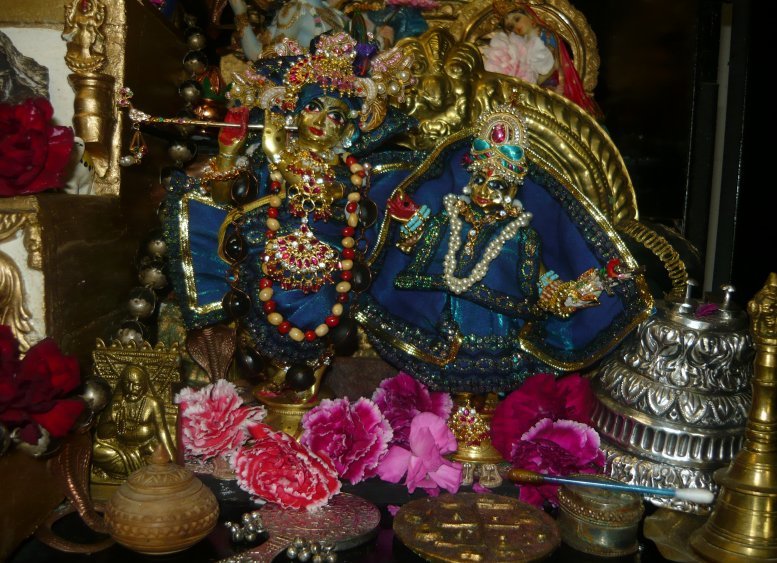 Sri Sri Radhika Raman murthys with Radha Rani's lotus feet showing
see below for a close-up of Her most merciful lotus feet.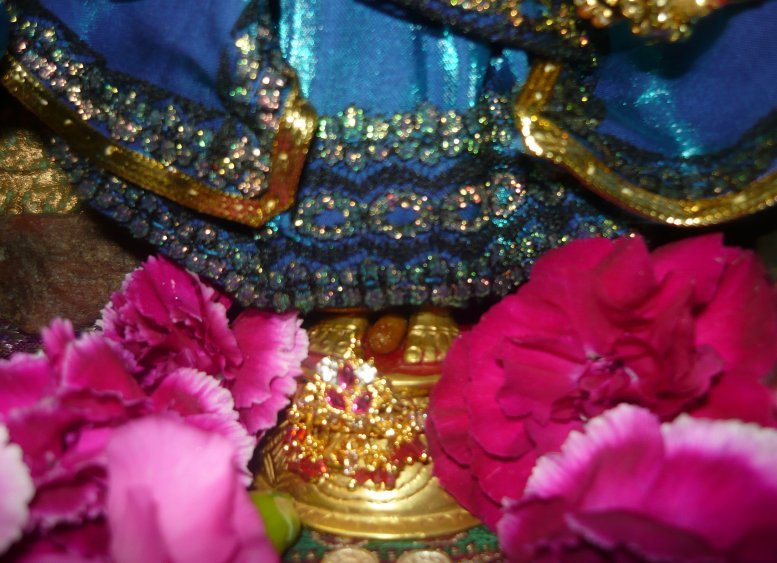 This is the one day per year that Srimati Radharani's feet are exposed for the blessing upon Her devotees.
Worshipping Srimati Radharani's lotus feet
(from Sri Radha Rasa Suddha Nidhi by Srila Prabhodananda Sarasvati)
Dhani Dhani Radhika ke Charan
The lotusfeet of Sri Radhika are my only treasure
(from Sri Radha-rasa-sudha-nidhi)
alam visaya varta ya naraka koti bibhatsaya
vrtha sruti kathasramo bata bibhemi kaivalyatah
paresa bhajanon mada yadi sukadayah tatah kim
parantu mama radhika pada rase mano majjatu
May my mind always float in the ocean of divine nectar emanating from the lotus feet of Srimati Radharani. No more fear of millions of hells. Studying of the scriptures has become simply troublesome. Merging into the brahman effulgence is terrible. The ecstatic symptoms of devotion to the Lord that are felt by the great devotees like Suka have lost their charms.
upasya caranambuje vraja bhrtam kisori ganaih
mahad bhirapi purusair apari bhavya rasotsave
agadha rasa dhamani svapada Padma seva vidhau
vidhehi madhuroj jvalam iva krtim mamadhisvari
O Radha! You are my sole Ruler and only shelter. Countless gopis of Vraja swarm around Your lotus feet and worship them wholeheartedly. Your lotus feet are an inexhaustible fountainhead of the quintessence of universal love and are inconceivable to great saints. That is perhaps the reason why great devotees are striving with ever increasing courage and hope to catch the sweetness and beauty of the grace that flows from Your lotus feet. O Queen! Will You be pleased to show me the particular manner in which I should serve Your lotus feet?
atisnehaduccair api ca hari namani grnatah
tatha saugandhadyair bahubhi rupa carais ca yajatah
paranandam vrndavana manu carantam ca dadhato
mano me radhaya padamrdu lapadme nivasatu
Lotus chanting of the holy name of Lord Hari with love attracts my mind towards Sri Radha's feet. This attraction becomes very strong as soon as the delicious ingredient of Sri Radha's service is added to the chanting. Meditation on blissful Krsna as He roams about in Vrndavana has put me under the shade of the tender feet of kind Sri Radha.
kamam tulikaya karena harinayalatka kairankita
nanakeli vidagdha goparmani vrdai tatha vandita
ya sanguptaya tatha upanisadam hrd yeva vidyo tate
sa radha carana dvayi mama gatih lasyai kalilamayi
My only shelter is Sri Radhika's lotus feet which I yearn to worship with love and devotion. These lotus feet of Srimati Radhika are painted by Krsna's soft fingers with a feather dipped in the most fragrant red-colored juice. The gopis follow Krsna's example and worship the same feet for the happiness of all living entities. These feet are glorified in the Upanisads, and are found in the depth of the hearts of pure devotees.
vrndavanesari tavaiva padaravindam
premamrtaika makaranda rasau gha purnam
hrdyar apitam madhupate smaratapa mugram
nirvapayat parama sitala ma srayami
O Vrndavanesvar! O Sri Radhe! I pray for the shelter of Your lotus feet. Your lotus feet are treasure house of nectar of divine love. Syamasundara keeps them safely and dearly in His heart. These feet are the supreme cooling remedy for the blazing fires of this material world.
yadi snehad radhe disasi ratilam payata padavi
gatam me svaprestam tadapi mamnistham srunu yatha
kataksai raloke smita saha carair jata pulakam
sama aslisyamyuc cai atha ca rasaye tvatpadarasam
O dear Sri Radha! When out of sheer compassion, and moved by Krsna's overwhelming love for You, will grant Him His prayers to message Your lotus feet? At that time, I shell look at the ecstatic smiling faces of both of You, and so encouraged I shall hug Your feet with my hands, and taste the nectar of Your lotus feet to my full satisfaction.
yasya aste bata kinkarisu bahusas catuni vrndatavi
kandarpah kurute tavaiva kim api prepsuh prasadotsavam
sadrananda ghananuraga lahari nisyanda padambuja
dvandve sri vrsabhanu nandini sada vande tava sripadam
O Vrsabhanu-nandini! I bow down to Your lotus feet with great awe and reverence, from which selfless love is ever pouring forth in abundance. In His ceaseless and tireless efforts to win Your grace, Sri Krsna, the God of love of Vrndavana and Supreme Almighty, always solicits the favors of Your servants with love and affection.
radhapada saroja bhaktim acalam udviksya niskaitavam
pritah svam bhajatopi nibhaira maha premnadhikam sarva sah
alingatyatha cumbati svavadanat tambulam asyer apayet
kante svam vanamali kamapi mama nyasyet kada mohanah
I know, and it has been confirmed by all reliable authorities that Madana-Mohana Krsna would be so ecstatically delighted to see pure devotion unto Sri Radha's lotus feet that he would descend from His worshipped throne to embrace, kiss, give His chewed betel nuts, and garland to Sri Radhika's devotee. When shall I be blessed with such devotion, getting such treatment from Krsna as my reward for devotion to Radha's lotus feet?
sat premasindhu makaranda rasau gadhara
sarana jasramabhitah sravada sritesu
sri radhike tava kada caranaravindam
govinda jivana dhanam sirasa vahami
O Radhika! When shall I enjoy the fortune of having my head used by You as Your footstool? Your feet, which are the life-treasure of Govinda, will then be a crown on my head. They will further bathe my head with a pure nectarine flood of love that always flows among Your devotees.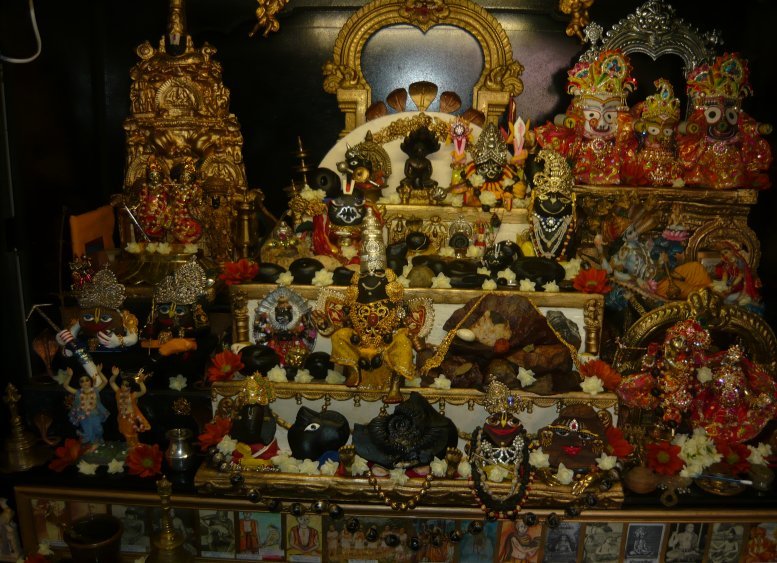 The Altar - Sunday 7th August 2011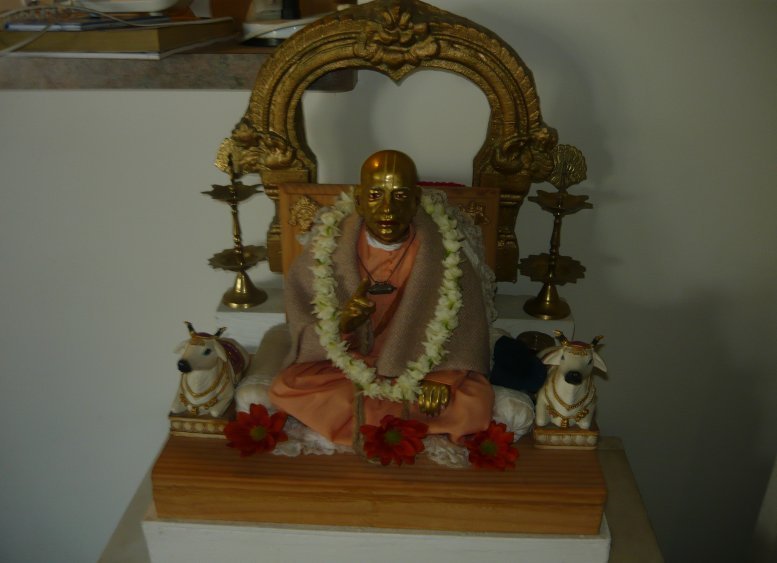 Srila Prabhupad with his super fragrant "Early cheer" garland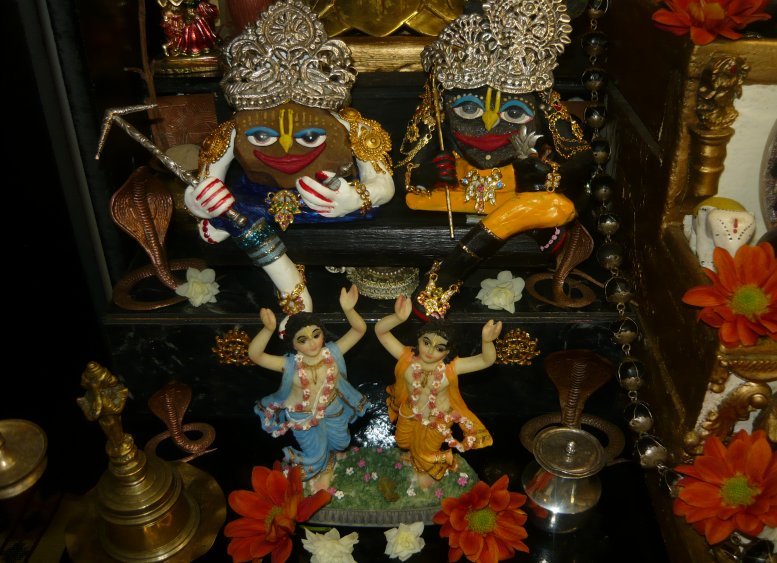 Nitai Gaur and Kanaih - Balaih Govardhan silas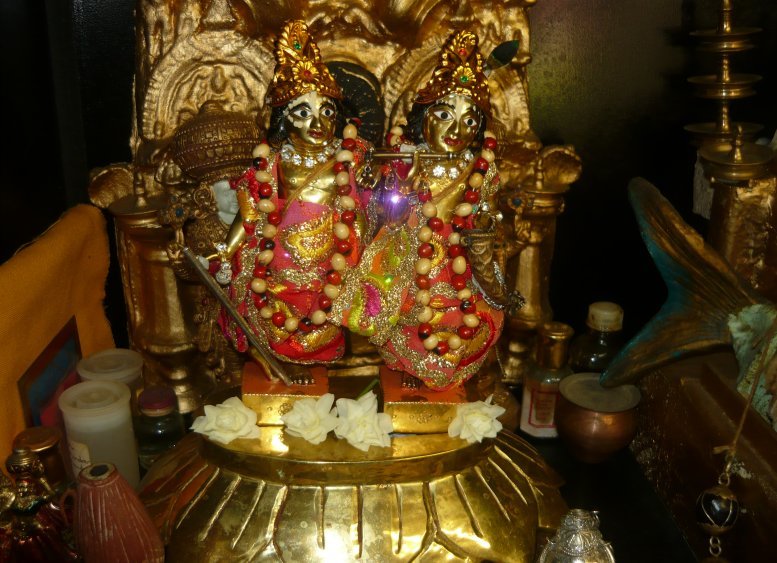 Krishna Balaram murthys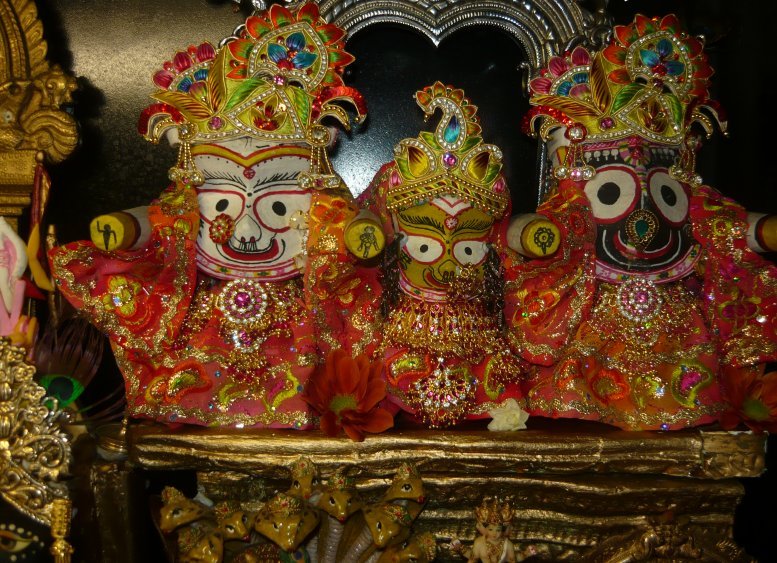 Baladev, Subhadra and Jagannath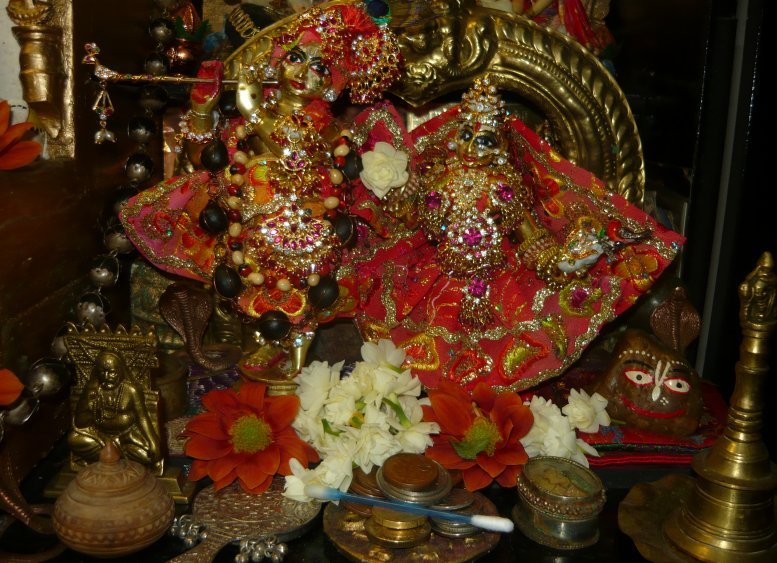 Sri Sri Radhika Raman ji


---

2nd June 2011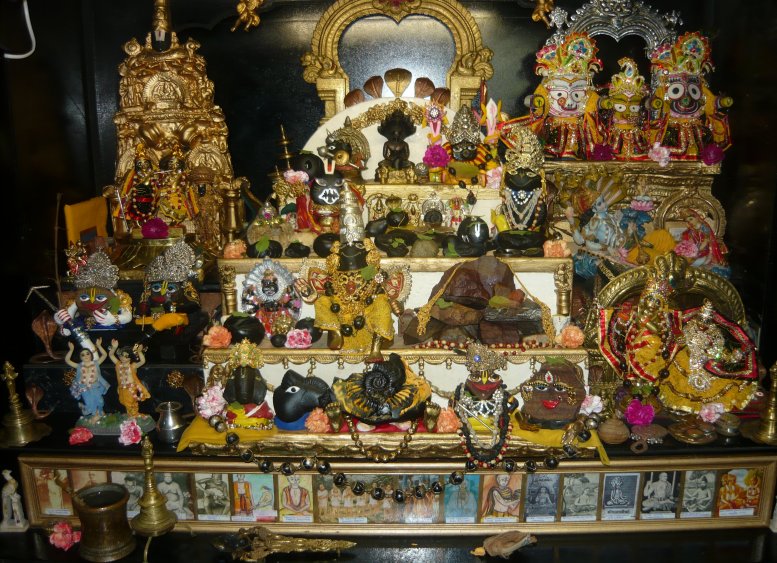 May 2001 for Indradyumna swami's Vyasa pujan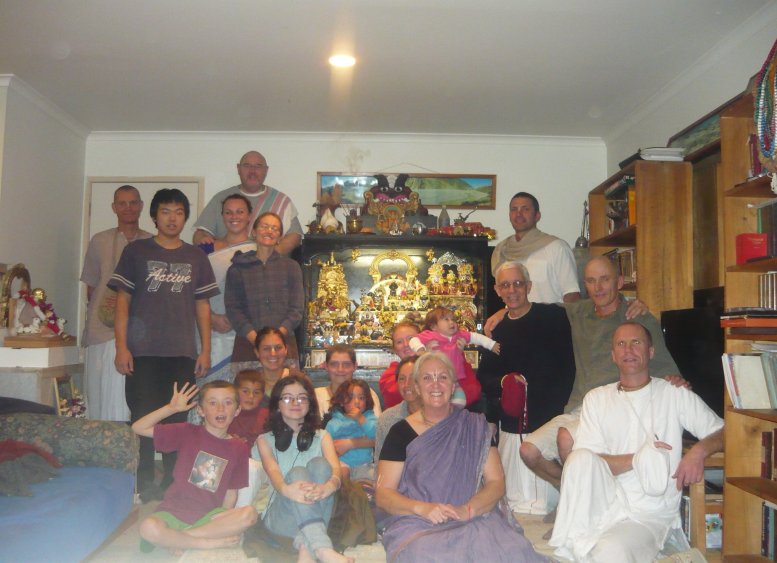 some of our group of devotees who came to help us celebrate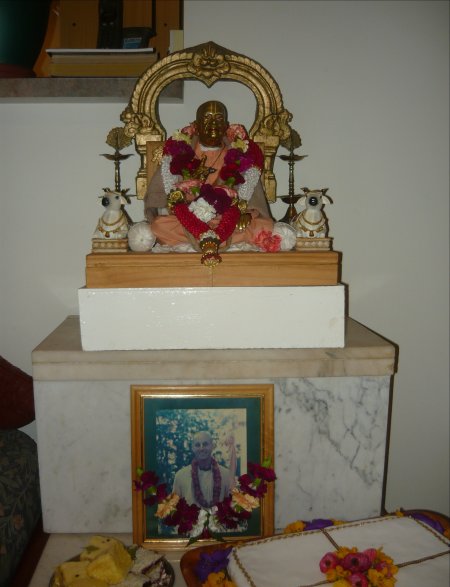 the offering to Srila Prabhupad and Indradyumna swami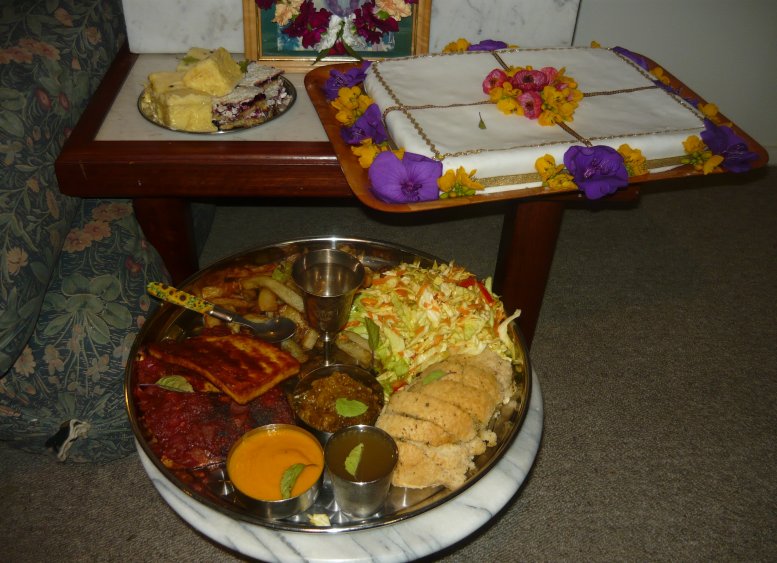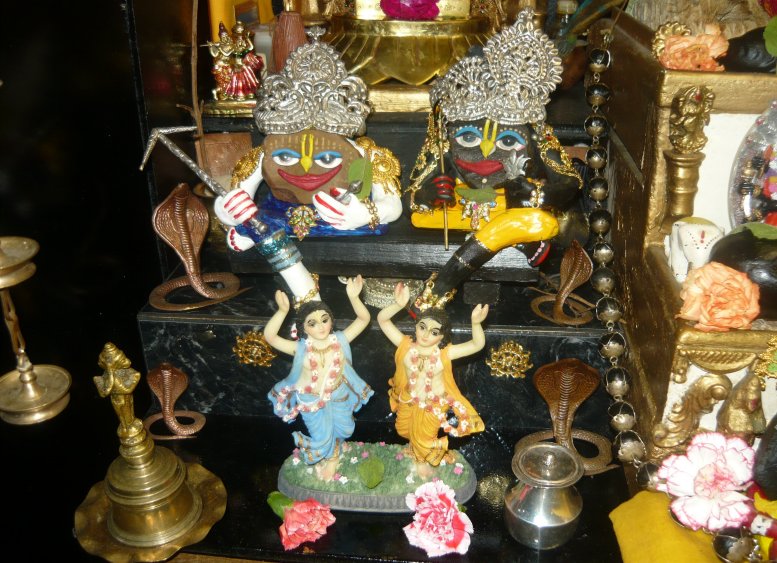 my wife made this set a couple of years ago with materials she got from UK & Vrindavan
Kanaih Balaih - Krishna Balaram
Sri Sri Radhika Raman
Group photo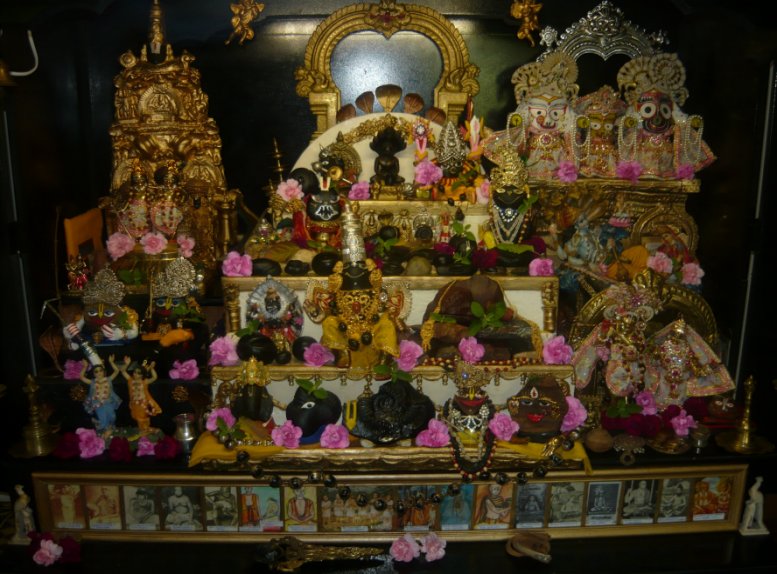 Gaura Purnima - 20th March 2011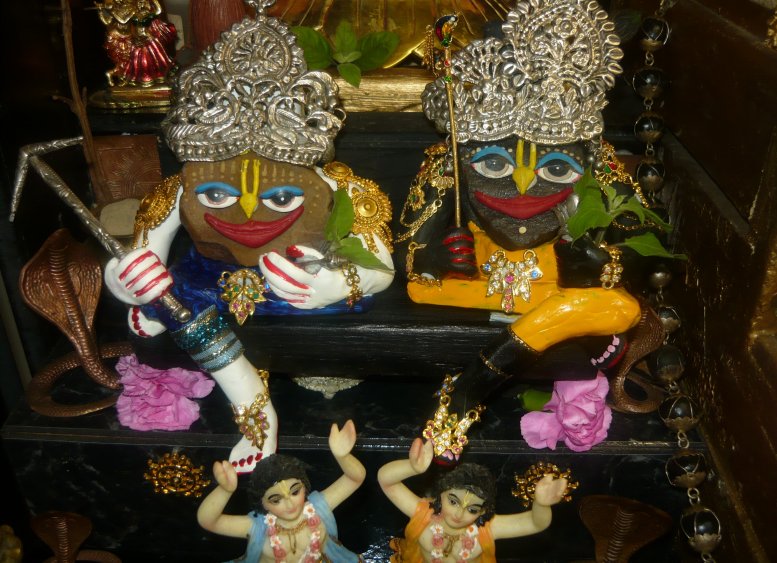 Kanaih Balaih Govardhan silas and Gaura Nitai below.
Sri Sri Radhika Raman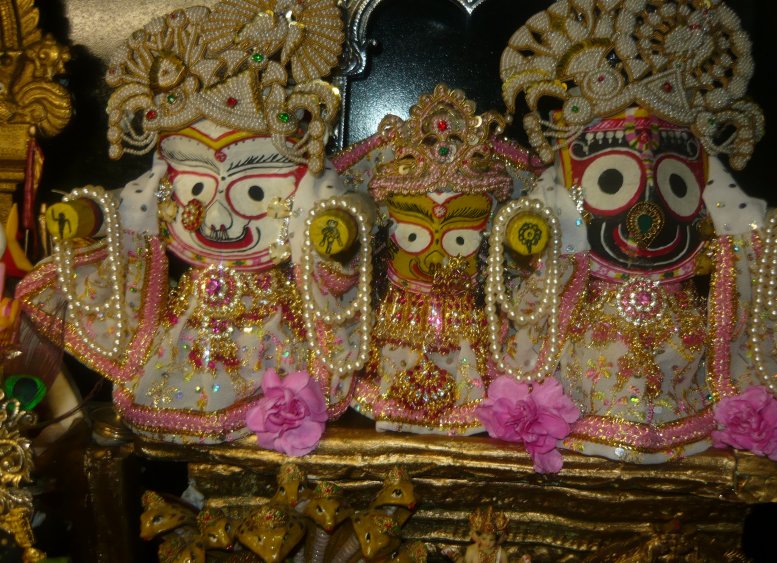 Lord Balaram, Lady Subhadra and Lord Jagannath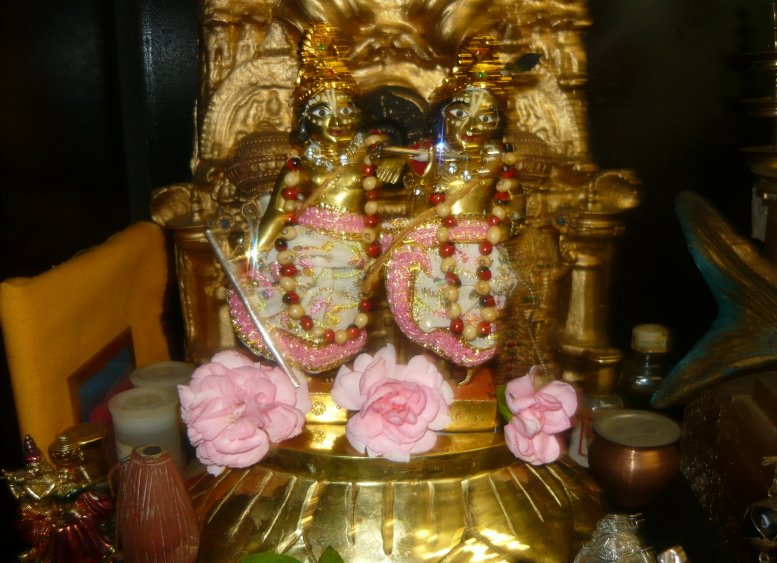 Krishna Balaram murthys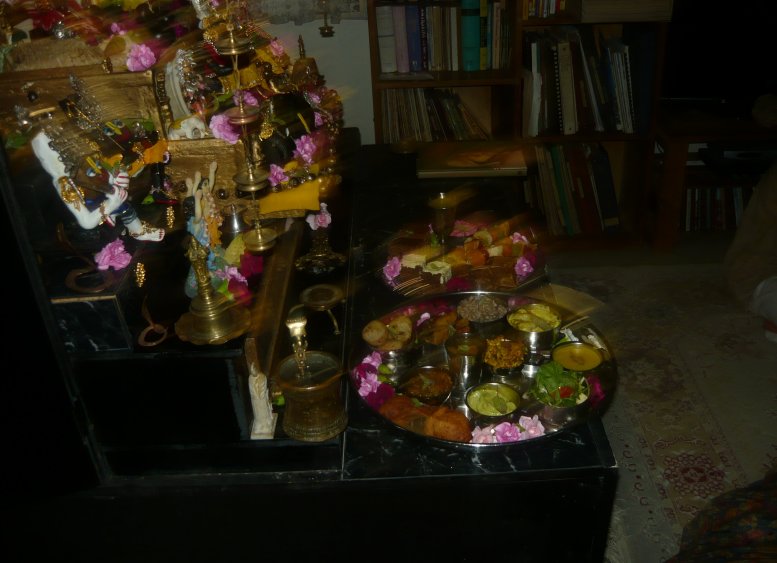 S hot just after the feast was offered to the Godz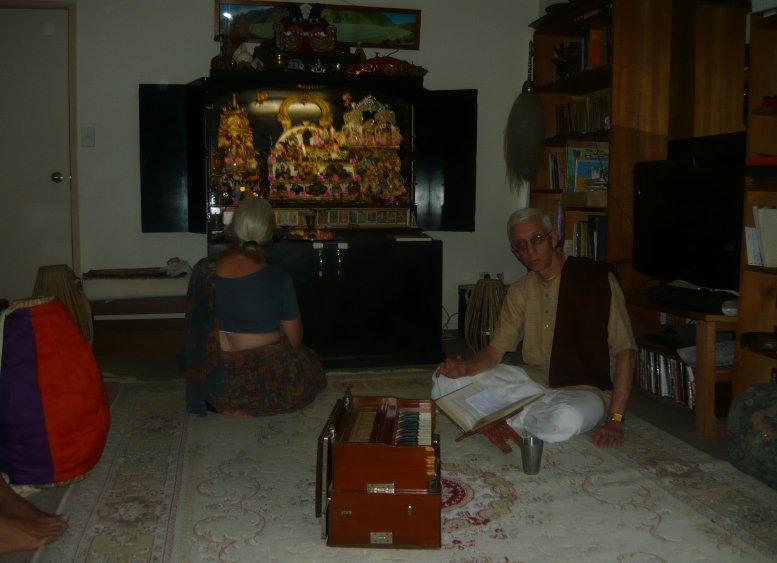 .........my wife Vedavati devi dasi doing the offering,
..........while Atmananda prabhu ACBSP was giving his talk about the life of Sri Krishna Chaitanya Mahaprabhu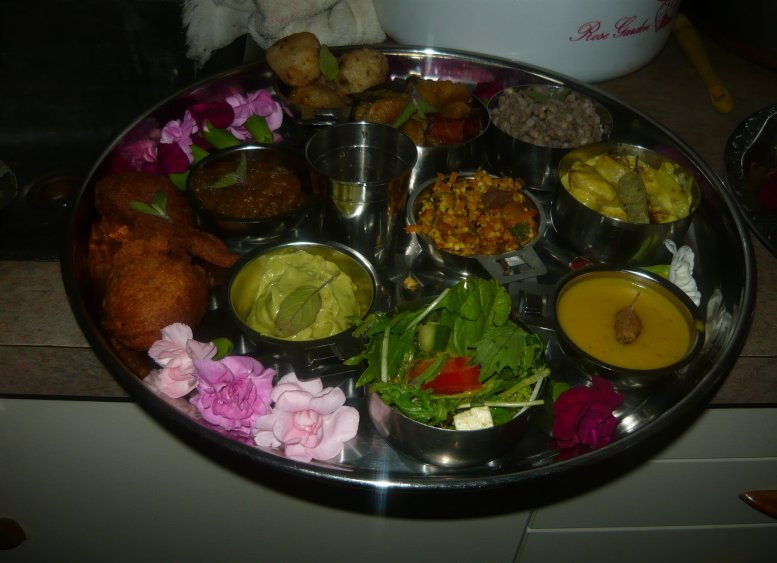 Savoury offering plate: palak paneer (spinach and curd), Sabhudana kitri, "Meat eaters delight" with potatoe, fried curd, fried eggplant and whey, Gauranga potatoe, Buckwheat groats "rice", Apple chutney, Pumpkin soup, buckwheat puffs with avacado yogurt and parmesan cheese dip, Aloo & Sago tikis, and salad.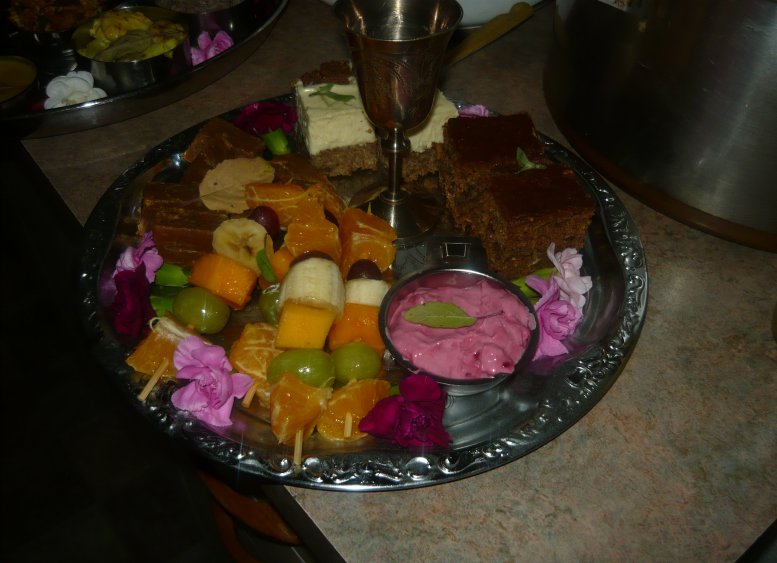 Hmmmm the sweet offering plate: buckwheat base cheese cake, ekadasi style cake with dates and walnuts etc, boyson berry srikhand, pistchio barfi, ekadasi cookies, fruit kebabs, and fruit juice punch.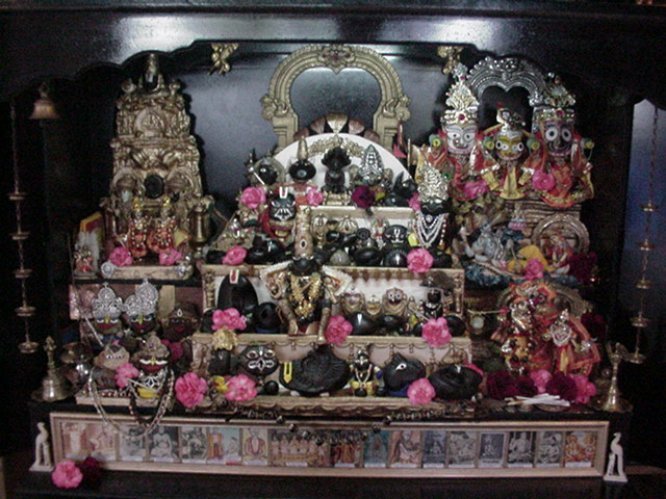 No special occassion really - just a day of new enthusiasm
This was the 2007 Gaura Purnima set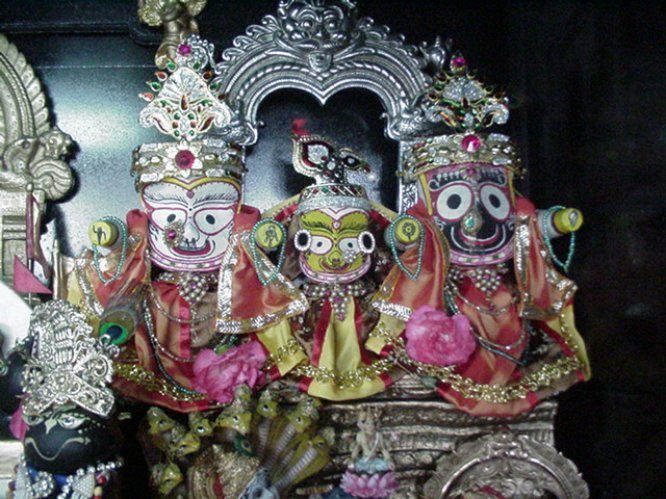 These nice crowns were just sent in by Sheela Muralidhar from the UK (and Bangalore)
she got them in Bangalore for Jagannath Baladev and Subhadra - Thanx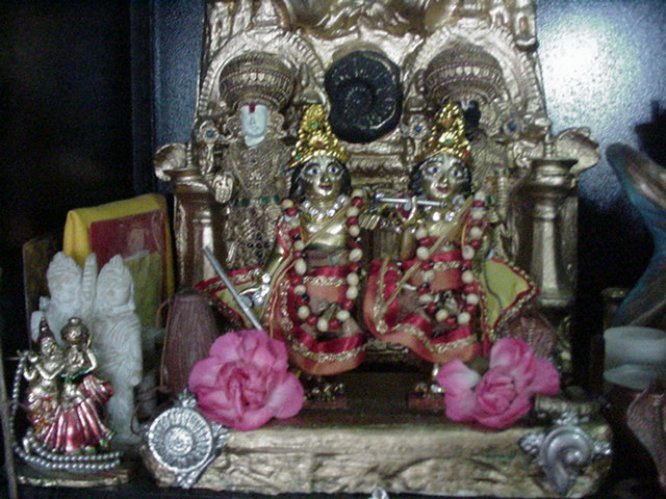 Kanaih and Balai radiant as ever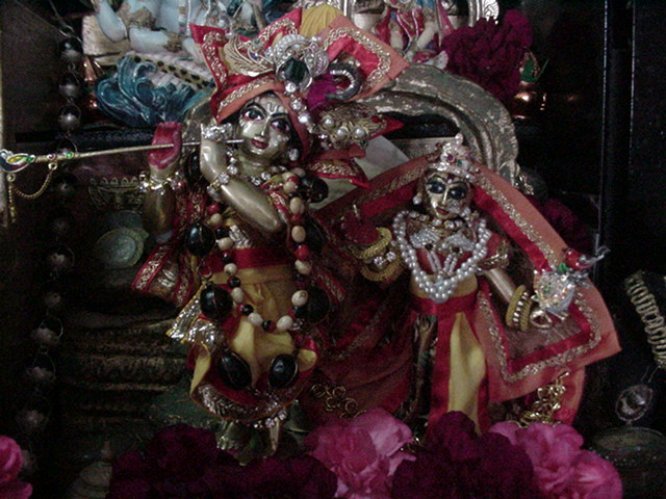 Sri Sri Radhika Raman - little heart melters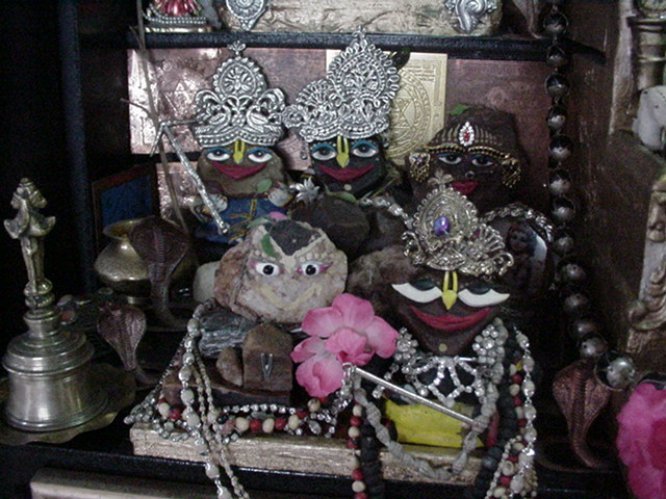 Giriraje namo namah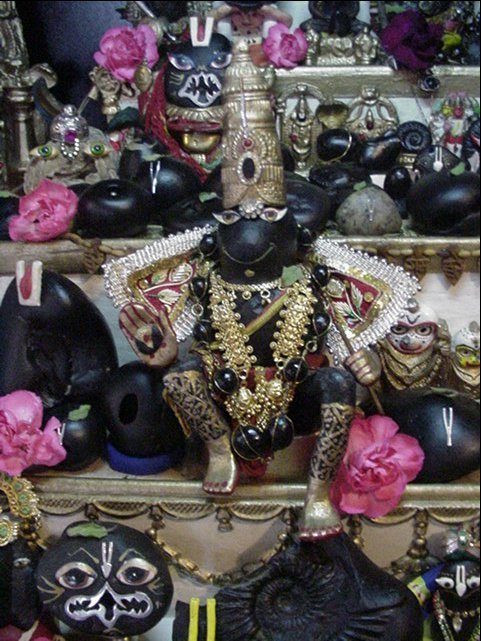 Sri Radhika Raman Salagram sila with ear to ear smile bestowing His ashirvadam blessings upon all of us.

View all Radhastami 2007 photos HERE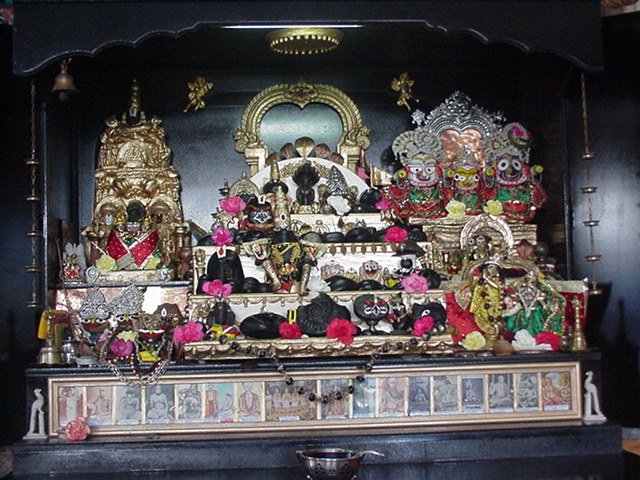 The altar on Jhulan yatra 2006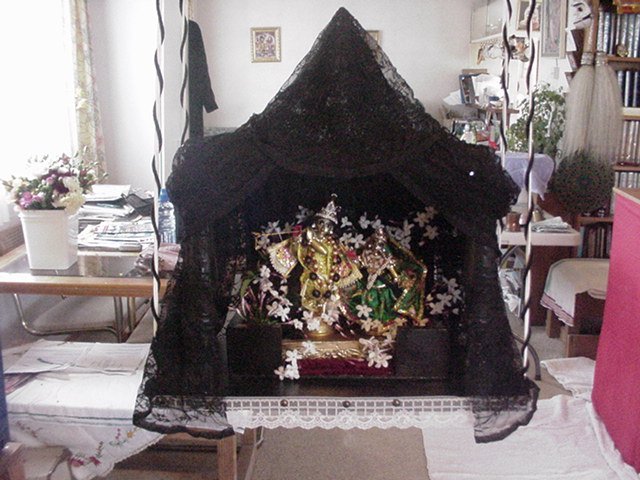 Jhulan yatra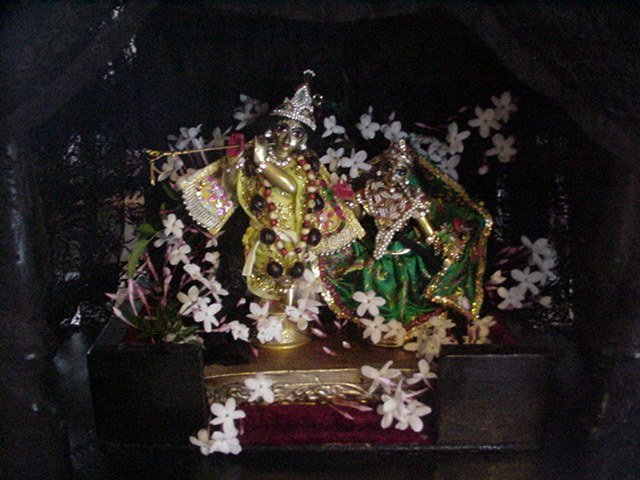 Sri Sri Radhaika Raman on Their new Jhulan (swing) on Jhulan Yatra 2006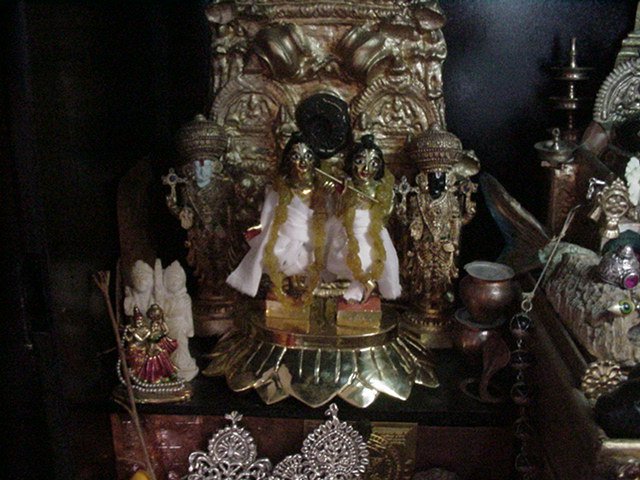 Sri Sri Kanaih - Balaih (Krishna Balaram) on Their snan-vedi just before the abhishek
(somehow all the abhishek pics got lost)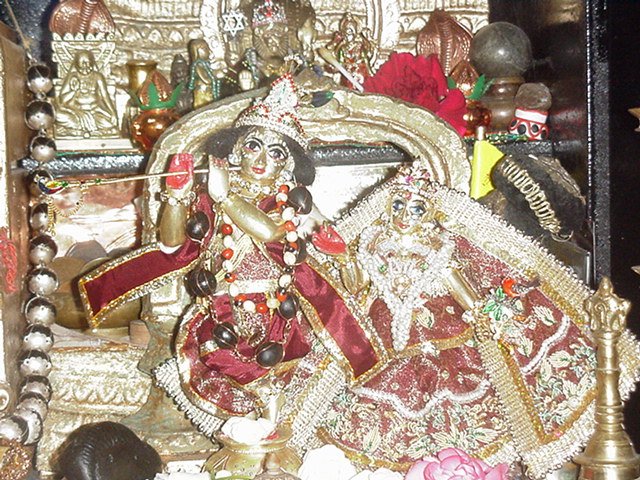 Sri Sri Radhika Raman murthys in Their Janmastami set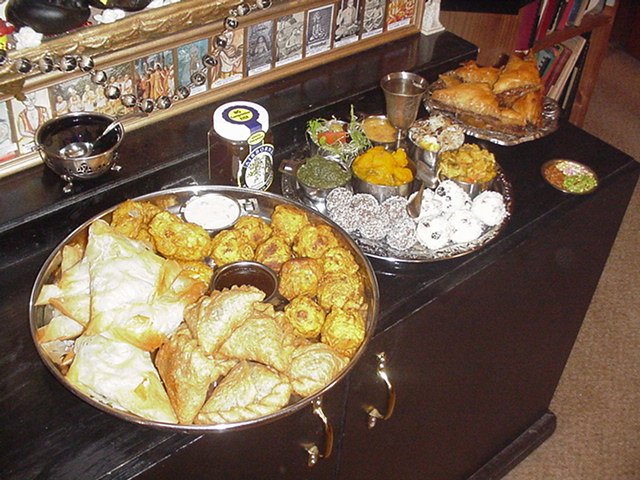 Lord Balaram's feast 2006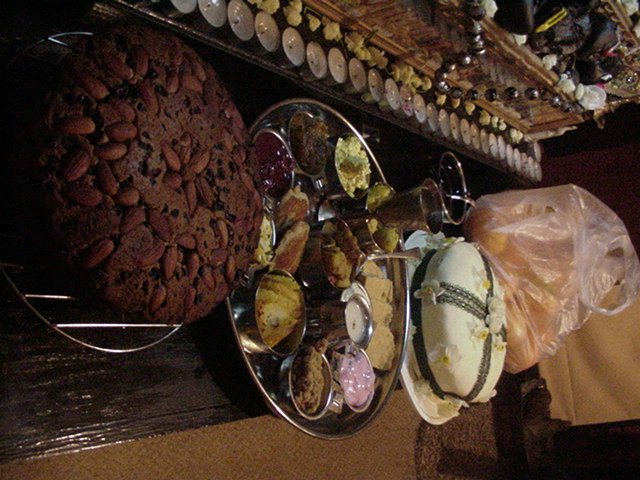 Janmastami feast offering 2006
(just as the offering was being done our next door neighbours brought over the bag of Oranges seen on the end)
Janmastami Feast offering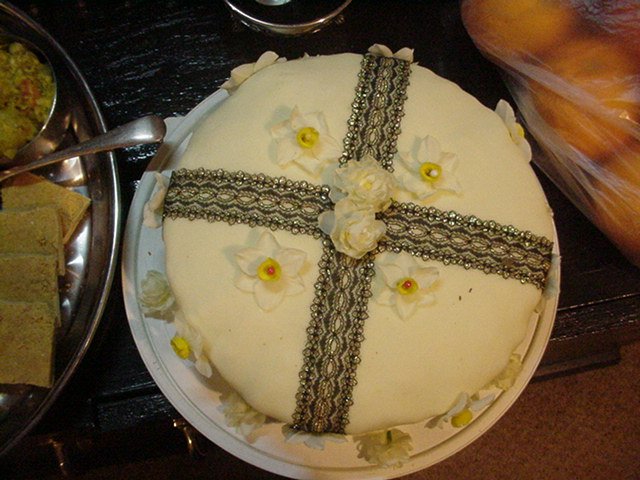 Krishna's birthday cake
Janmastami at mid-night 2006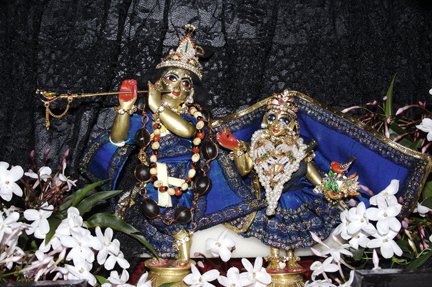 (photo by Lisa O'Callaghan - Nitai's Lisa)
Radhastami on the new swing 2006
(check out Radharani's feet)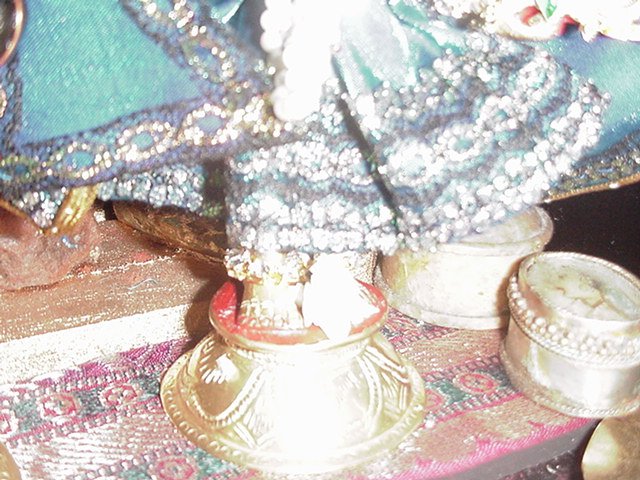 Srimati Radhika charan (lotus feet)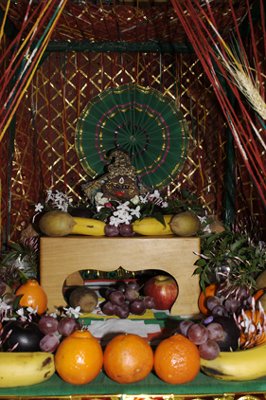 (photo by Lisa O'Callaghan - Nitai's Lisa)
Radhika Raman Govardhan sila on the Sarvotbhadra madala @ Radhastami 2006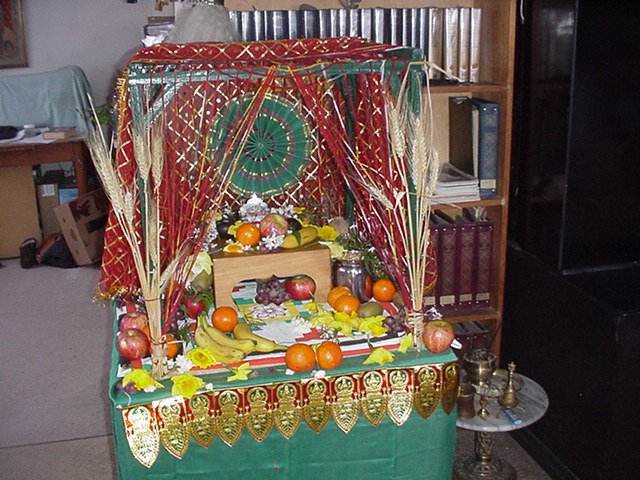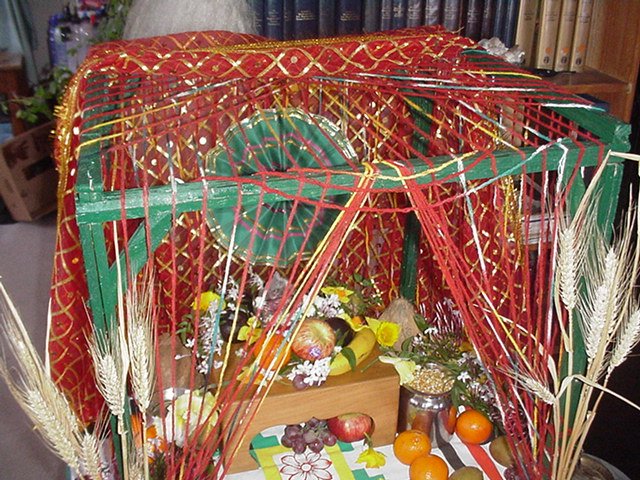 a couple of close-ups of the mandap for Radhastami

(photo by Lisa O'Callaghan - Nitai's Lisa)
Sri Sri Radhika Raman murthy on the swing - in action on Radhastami 2006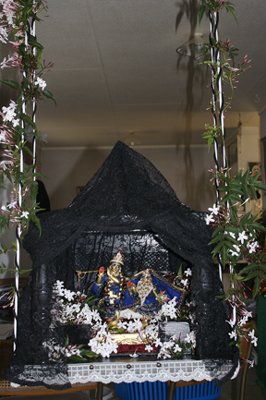 (photo by Lisa O'Callaghan - Nitai's Lisa)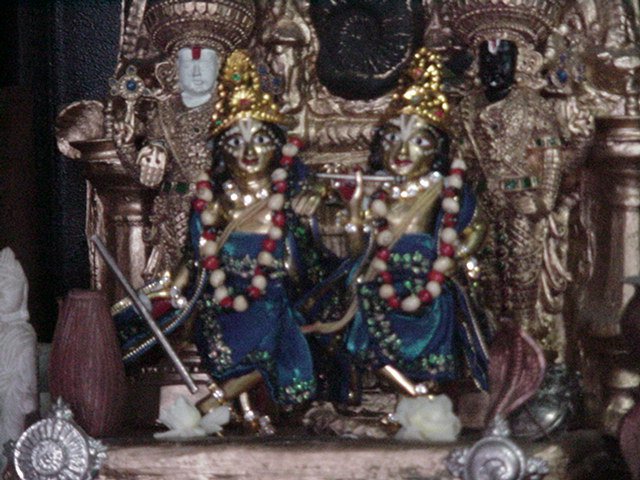 Krishna Balaram murthys looking very blissful on Radhastami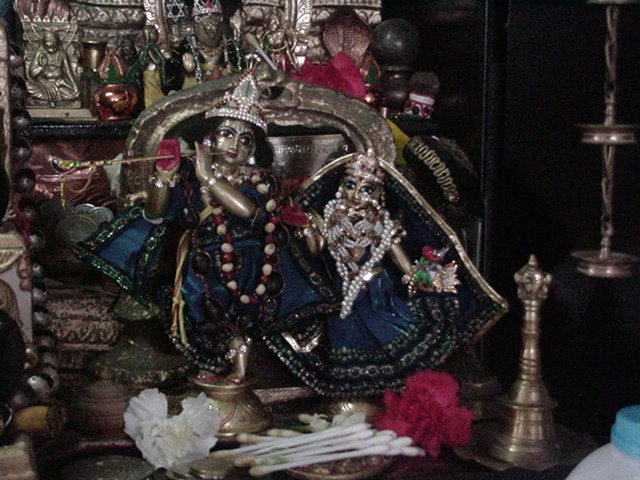 Radhika Raman back on the altar after the swing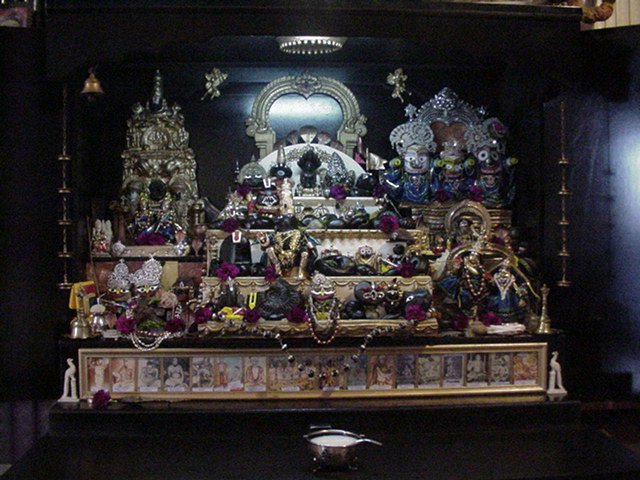 The Altar as of 8th April 2006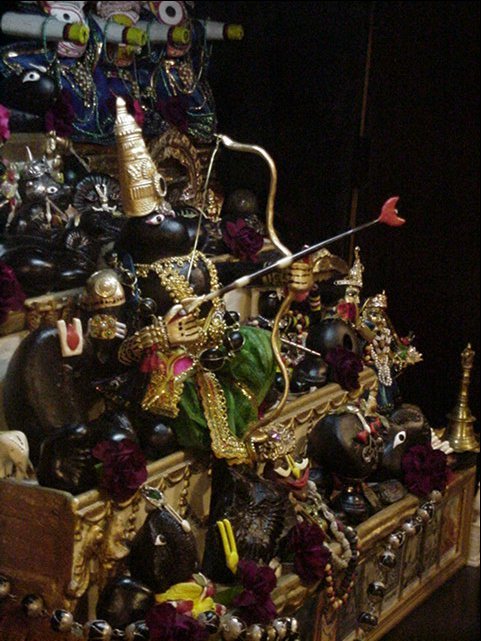 Radhika Raman salagram sitting on His Rama vesh for Ramanavami 7th April 2006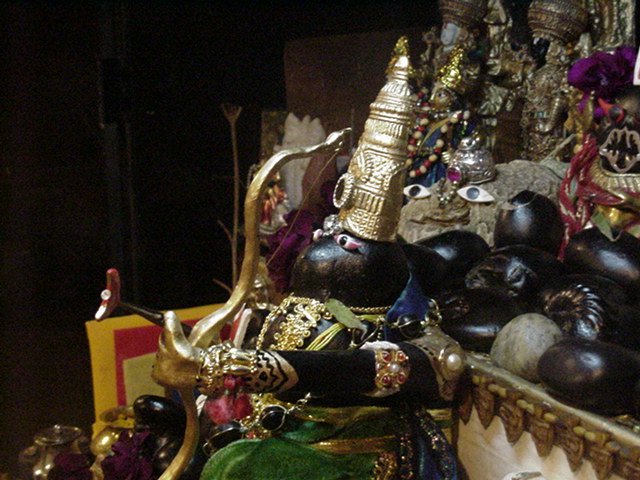 from the other side.......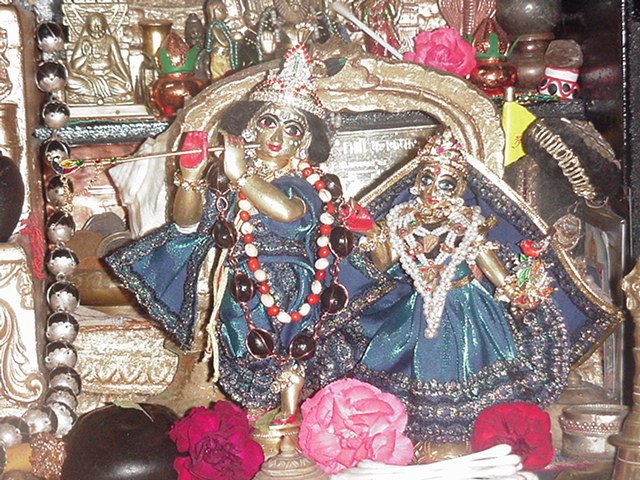 Sri Sri Radhika Raman - April 2006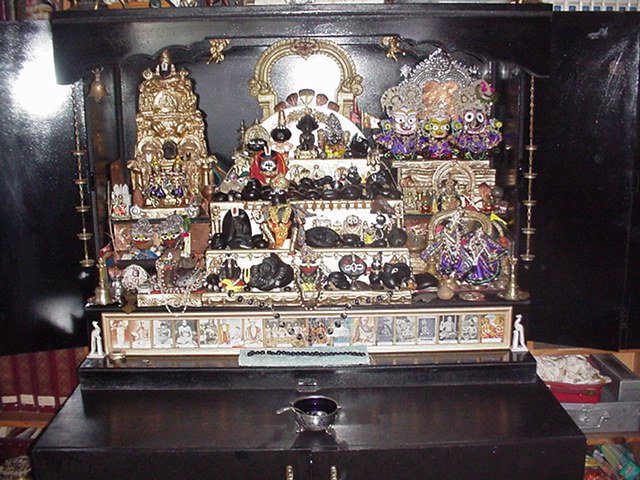 The Altar December 2005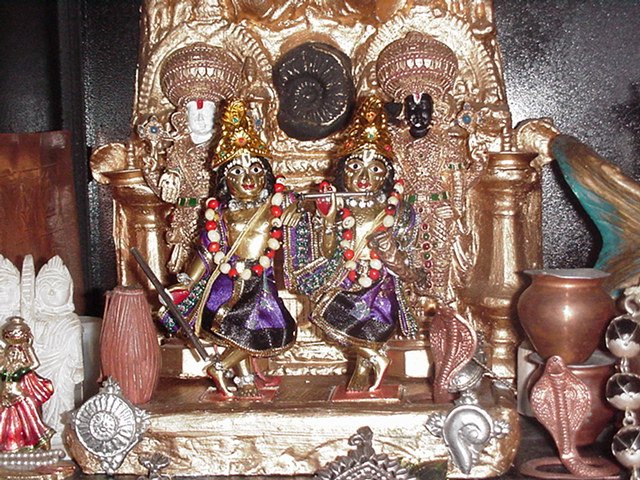 Kanhai-balai Krishna Balaram murthy
Sri Sri Radhika Raman murthy - December 2005
The Altar November 2005 after the installation of Radhika Raman murthy
Sri Sri Radhika Raman murthy - November 2005

February 2006 - with Their new painted eyes
February 2006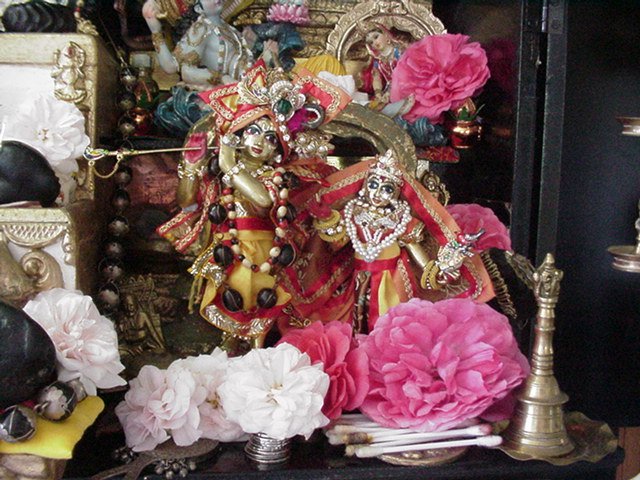 Sri Sri Radhika Raman - Chard Rd 2008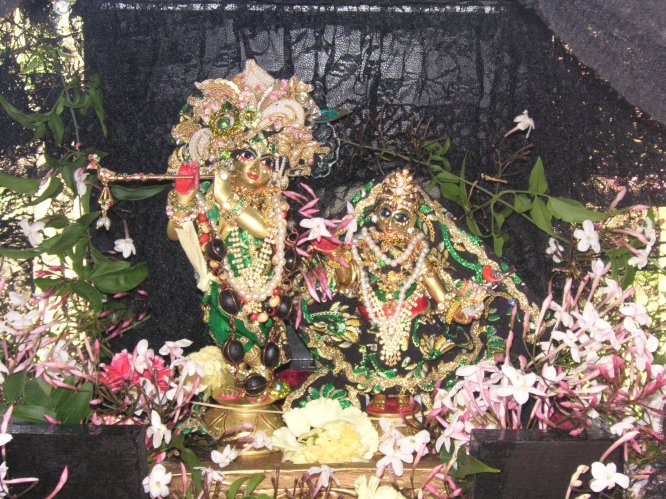 Radhastami 2008 (Lund Road) on Their swing



Search here for individual Sevaks and Deities World-wide.
A-B-C-D-E-F-G-H-I-J-K-L-M-N-O-P-Q-R-S-T-U-V-W-X-Y-Z

---