Sri Ranganath Krsna dasa (JPS)
last updated 5th June 2006



Sri Ramanujacharya
I got this deity at Thiruvallikeni, the place of the famous Parthasarathy Temple, a Sri Vaishnava Divya Desam. Interestingly enough, Sri Ramanujacharya's parents worshipped the deity of Lord Krishna in this temple (called Venkatakrishna), and were blessed with a vision of the Lord in a dream, in which He told them they would be blessed with an illustrious son upon their return home to Sriperumbudur (between Chennai and Kanchipuram). I had the good fortune of recently visiting the Adi Kesava Perumal Temple at Sriperumbudur. The deity of Sri Ramanujacharya worshipped here was embraced by Him, and proclaimed by the acharya to be non-different from Himself!
Sri Ramanujacharya at Sriperumbudur's Adi Kesava Perumal Temple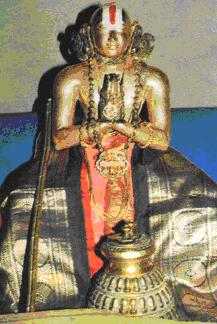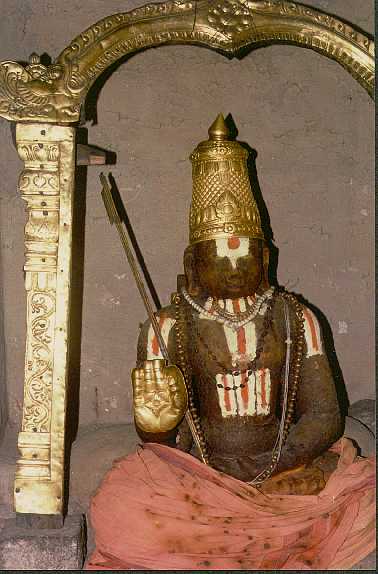 Sri Ramanujacharya-moolavar at Sri Rangam temple, this is his actual samadhied body situated above ground and embalmed
Ramanujacharya page here

A pic of the altar on Janmashtami, and a pic of the awesome new Ahovala Nrisimha salagram shila (and His winning smile!!)... Sri Madanagopal and Sri Sri Nitai Gaurasundara got new outfits and paraphrenalia. Another new addition- I got a small deity of Srila Prabhupada in Los Angeles, and he has his finger held up... I thought this was cool and unusual. Plus he can get abhisheks regularly with the rest of the deities...
Your servant,
Krishna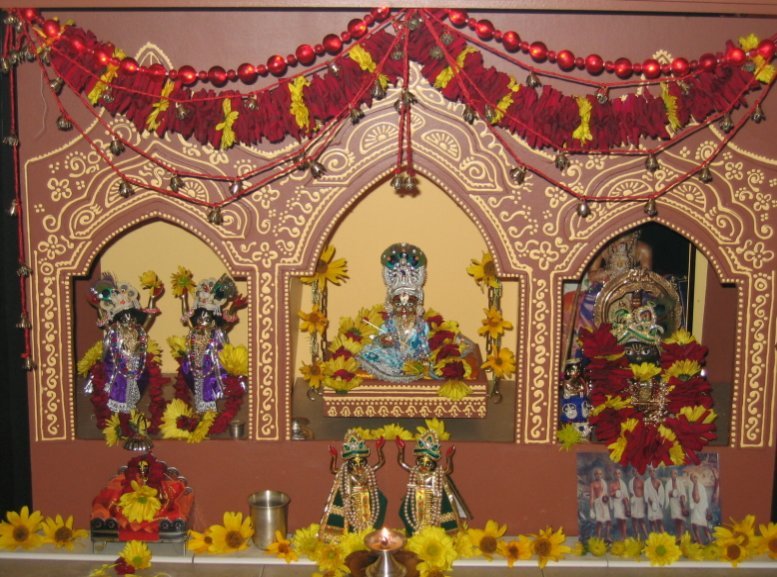 Everyone on Their new altar Janmastami 2005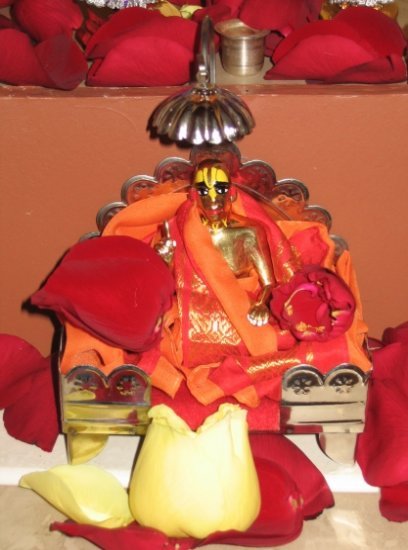 Srila Prabhupad on Nandotsava (his avirbhav Vyasa pujan day)
Sri Sri Nitai Gaurasundara

Sri Madangopal on His swing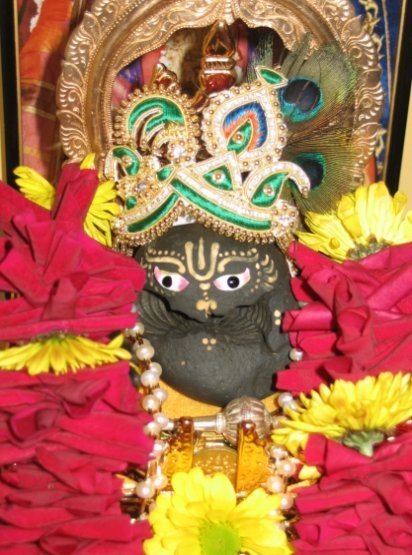 Sri Ahobalam Nrsimha with big smile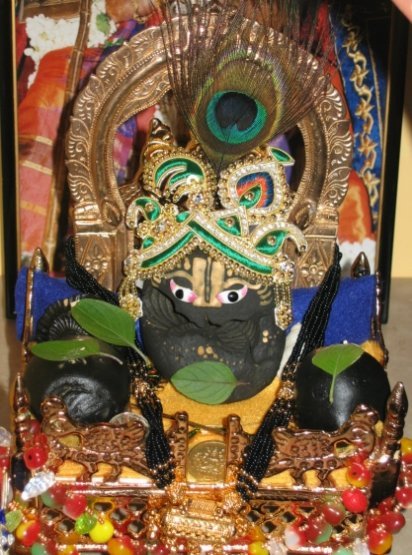 Sri Ahovalam Nrsimha & gang all Tulasied out.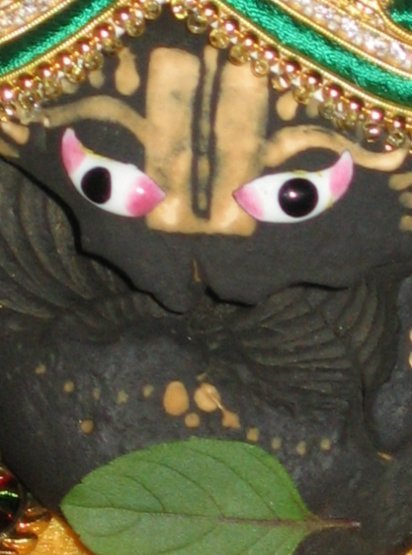 Sri Ahovalam Nrsimha close up
Jalasayanam - Maha vishnu like Budhanilakanth
Jalasayanam - Maha vishnu like Budhanilakanth
close up of Jalasayanam laying asleep in the causal ocean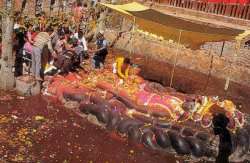 Budhanilakantha just outside Kathmandu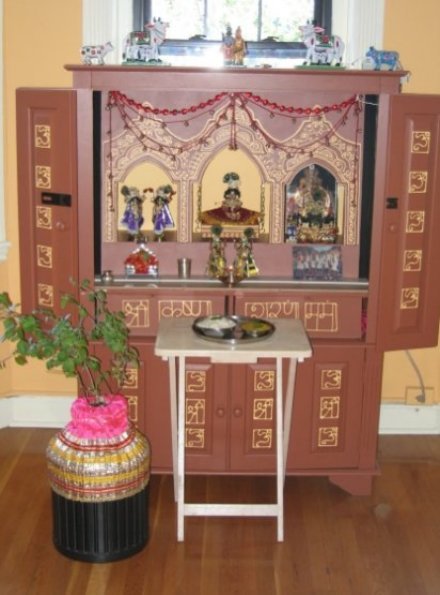 Their Lordship's nice new altar 2005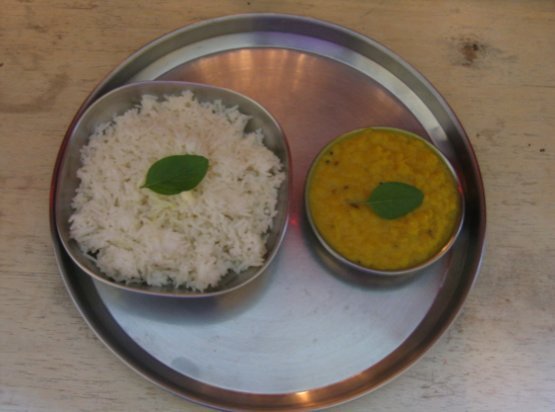 Rice and sambhar prasadam
A few new additions November 2005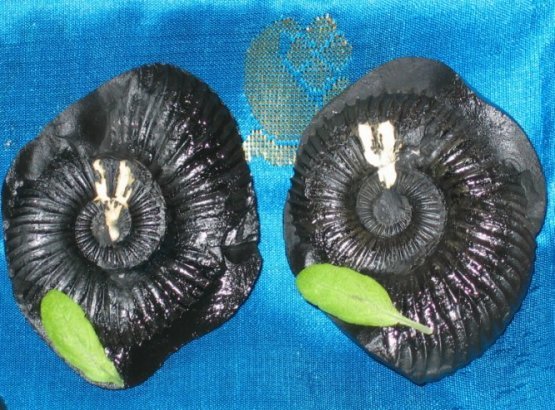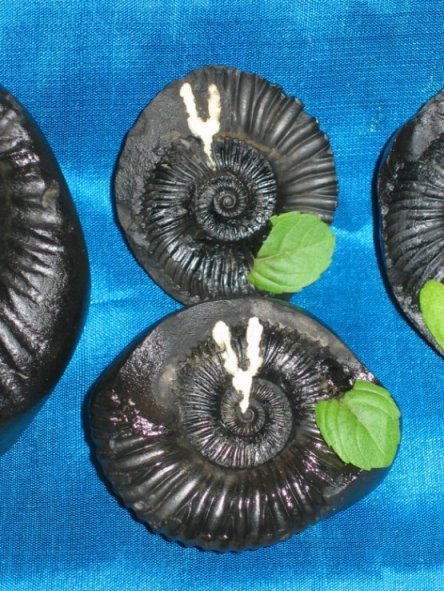 2004 pictures below
Lord Gopishwar Mahadev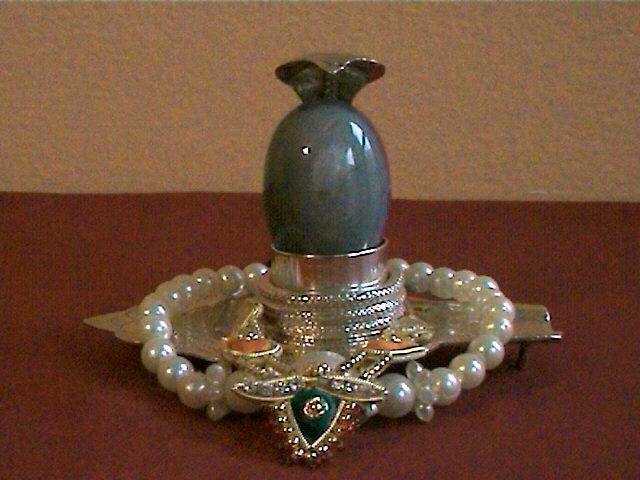 This shila has a beautiful white "eye" spot at the center, and it appears as if Lord Siva has an eye,
while He is seated on the silver yoni/avudayaar with a lovely serpent friend.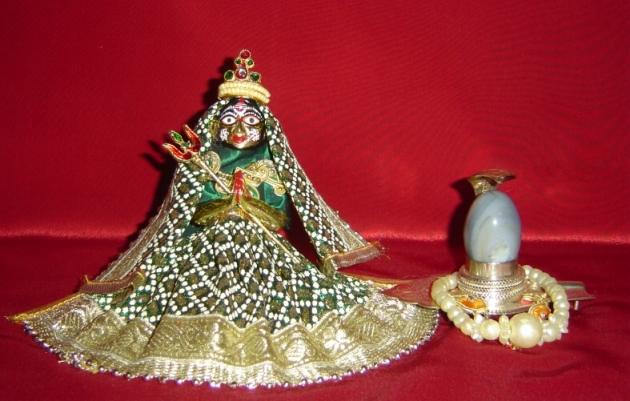 Sri Uma Parvathi Devi with Her Lord, Gopishwara Mahadev
I got this beautiful deity of Parvathiji in Mathura, near the Dwarkadheesh Temple.
She has her hands in Anjali mudra, offering obeisances to Her lord, Gopishwara Mahadev.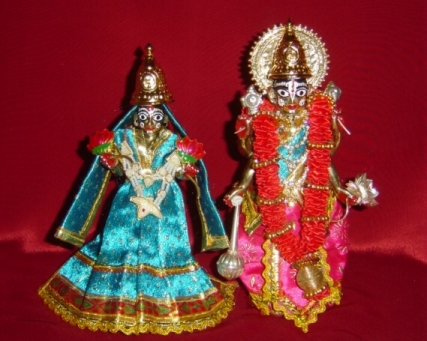 Sri Lakshmi Devi & Sriman Narayana
I got these deities in Mathura, and was surprised to see ashtadhatu deity of Vishnu in the Land of Lord Krishna!
I worship Him in the style of Lord Venkateshwara of Thirupathi...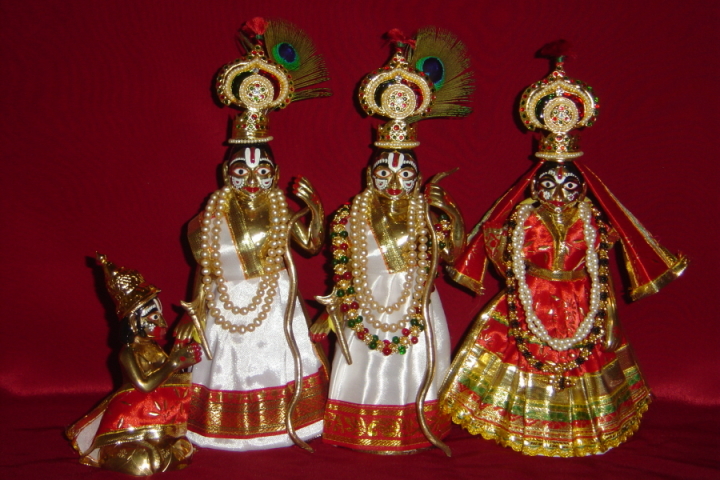 Their Lordships, Sri Sri Rama Sita Lakshmana & Hanumanji
I received these deities as a birthday gift, and since then They have been an immense source of strength for me,
in more ways than I can possibly mention… They recently got panchadhatu bows and arrows for Sri Ram Vijayotsav.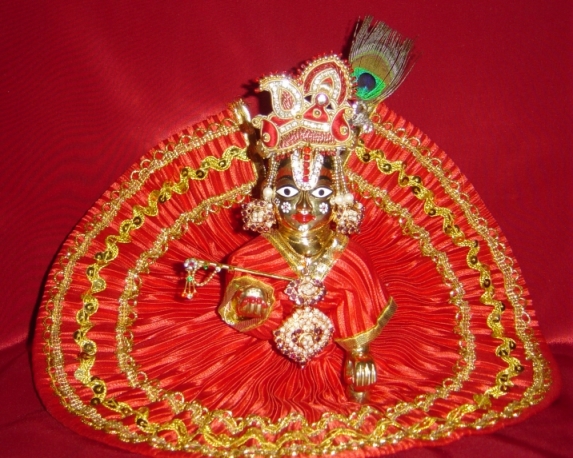 Sri Madangopalji
This deity of Sri Madangopalji's was the first ashtadhatu deity I worshipped. I am very attached to Him, and He is (without a doubt) the most opulent deity on the altar. I got Him at the Sri Sri Radha Rasabihariji Temple (ISKCON Mumbai) in April 2003.

Sri Madangopalji's birthday present- A rattle from Mathura!!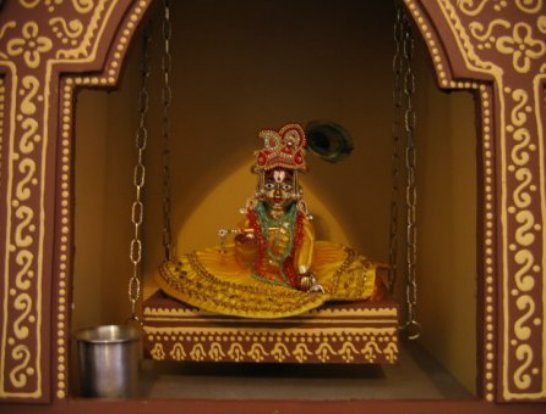 Sri Madangopal"s new altar July 2005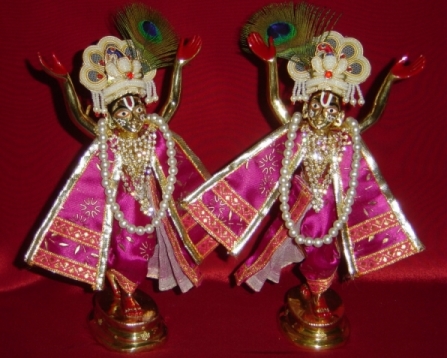 Sri Sri Nitai Gaurasundara
I got Sri Sri Nitai Gaurasundara on Janmashtami, 2003. These were the last deities sold in ISKCON Boston's temple store,
and so particularly merciful. Their forms are very slender, and They keep me encouraged…The "Get-along-Gang"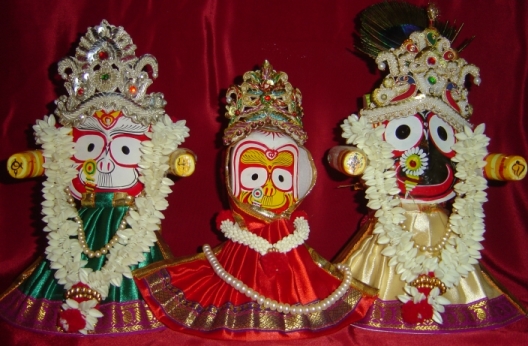 Lord Balabhadra, Srimati Subhadra Devi, & Lord Jagannath
These deities were given to me by my dear friend, Mahapurush das, before which they had belonged to another devotee… These deities are especially meaningful to me because I became a devotee by giving deities of Lord Jagannath to the devotees of the ISKCON St. Louis temple, and now, their Lordships came back to me, with wonderful neemwood forms…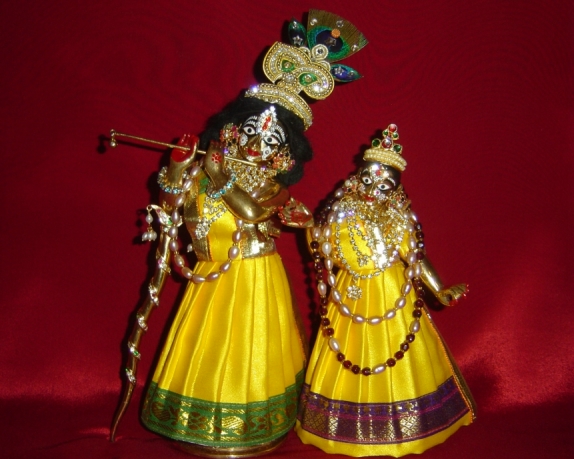 Sri Sri Radha Madan Mohanji - The Divine Couple
I got these deities, the light of my life, on Valentine's day in Los Angeles. I felt that it was appropriate, considering the day, to name them "Madan Mohan." Sri Madan Mohanji often sports long braid of hair… Srimati Radharani keeps a close eye on the food offerings made, and often makes me run back to the kitchen in case I forgot something (notoriously, sugar from halava!). I think she routinely tastes the food before offering the food to Her Lorship, Sri Madan Mohanji… safe to say, my cooking skills are improving thanks to her causeless mercy…


Hiranyagarbha Shila
This shila has four circles, and I think these are Lord Brahma's four faces.

Ananta Shila (Lord Balaram)
This shila has a chaka that looks like a serpent's hood, and resemble's Lord Balabhadra's head with regards to placement (wonderfully pointed out by my friend Mahapurush das, an avid devotee of Sri Sri Krishna Balaramji). So, I now worship Him as Lord Balaram, along with…

Sri Santana Gopalji Shila
This shila is very smooth, and has many spots that range from red to gold in color, and almost look like remnants of a past puja (by demigods maybe?). He is watchfully protected by Big Brother Balaramji whom you just met…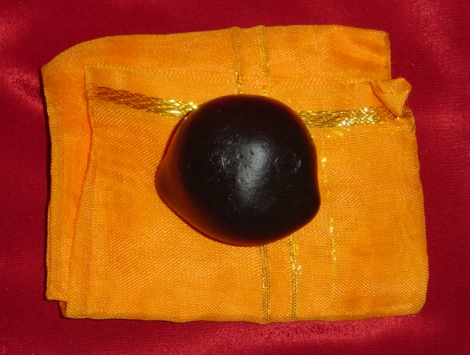 Sri Varaha Shila
This shila has what I thought was two heads and was initially confusing which one to worship… Mahapurush dasa pointed out that Lord Varaha has a tail, so now this shila is with His snout facing forward, and tail carefully tucked away (as it should be!)…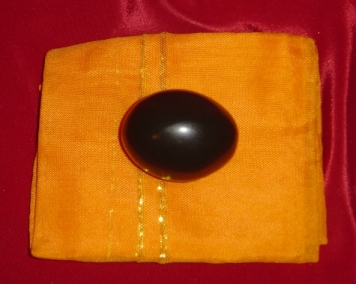 Lord Kurmaji
This shila was a gift from a family friend, and He came all the way from Varanasi!! He is the shiniest shila I have ever seen, and looks pretty much the same from all sides. A Srivaishnava pujari from Srirangam told me that He is a Kurma shila, and so He is…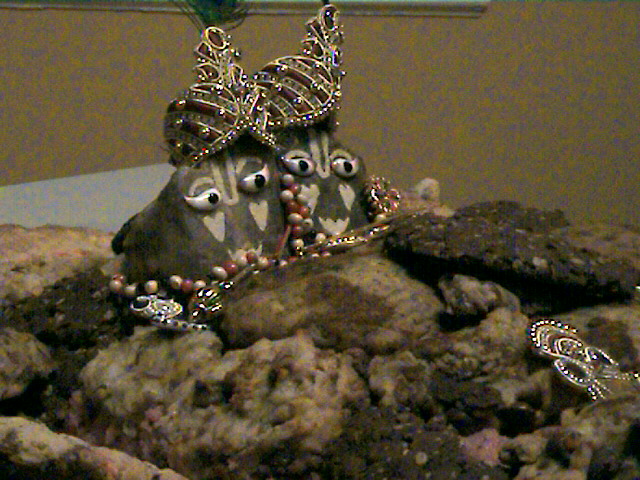 Sri Girirajan on top of Govardhan hill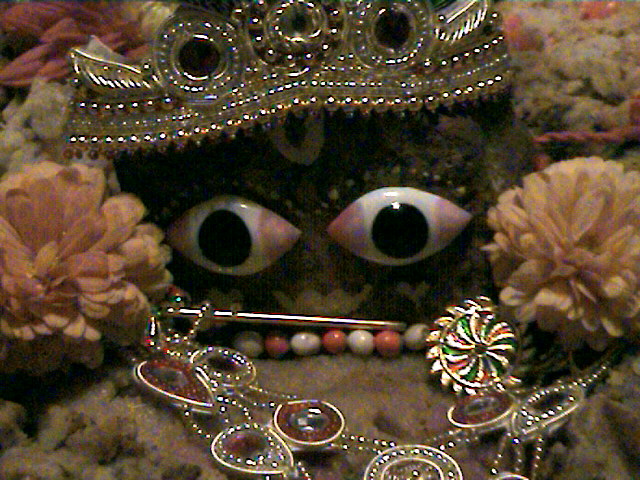 Govardhan pujan 2004 at home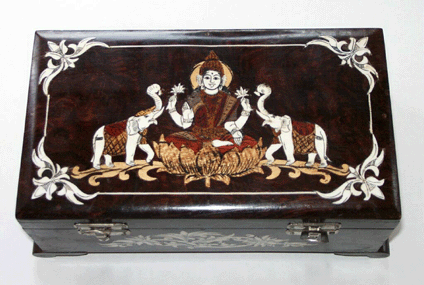 The wooden "Lakshmi Box" in which the gold-plated silver boxes with the silas are stored between pujas and food offerings. The Gaja Lakshmi Devi image is actually inlaid in various woods and ivory on the lid, with additional floral inlays on the four side walls of the box, making it quite sumptuous for the silas.
Caption: Top left- Sri Sudharshana Murthy; Top right- Sri Lakshmi Nrisimha Murthy; Bottom left- Sri Lakshmi Narayana Murthy; Bottom right- Sri Matsya Murthy
The silas are seated on the lids of their gold-plated silver boxes. The shapes of the boxes happen to match the silas quite nicely, a pleasant coincidence since the silas were never taken to the store when we picked out the boxes for Them.

I'm not sure if you remember emailing many months ago (about 5-6). I had asked you how I could get salagrama silas for worship. Well, I did go to India, and went on a pilgrimage to South India (I know it seems like the wrong direction)... My grandmother and I went from temple to temple, asking if the pujari could give us a salagrama. Each time we asked, the pujari would refuse, and say, "Sorry, it's really difficult to get them. You have to go to Nepal to get them. It's difficult to worship them, and only Krishna or Rama murthis are suitable for worship." After seeing your website, I took what the pujaris said with a pinch of salt, and thought that if I was destined to serve silas, they would find me... so we kept on asking at every temple including Thirunarayanapuram (near Mysore), Srirangapatna (near Bangalore), until we finally reached Srirangam. While waiting in line, a pujari approached us and asked if we needed anything. We asked if we could get silas, and he said that he could. We got four silas, all open with chakras clearly visible and not forged in any way. The four murthis were Matsya murthy (the chakra has a split fish tail at the end), Sudharshana (blade-like and with lines that are double edged and sharp), Lakshmi Narayana (oval and with a fast opening spiral), and Lakshmi Narasimha (a chakra with a mane). We both felt very fortunate, and soon started to notice that only good things followed us on our way. We were late for our train by an hour because of the darshan crowd, but managed to watch the abhisheka (and thus lost track of time). The train unusually was one hour late that day, and we were right in time for the trip back to Madras. We visited a divya desa temple and had an archana performed for the salagrama silas. A few days later, before returning home to Bombay (where our pilgrimage began), my mother called up and said that I got admission to Harvard School of Dental Medicine!
I just wanted to tell you what a wonderful and inspiring site you have. Keep it up!