Sridama dasa - Auckland NZ & Mayapur, WB, India
last updated 17th March 2014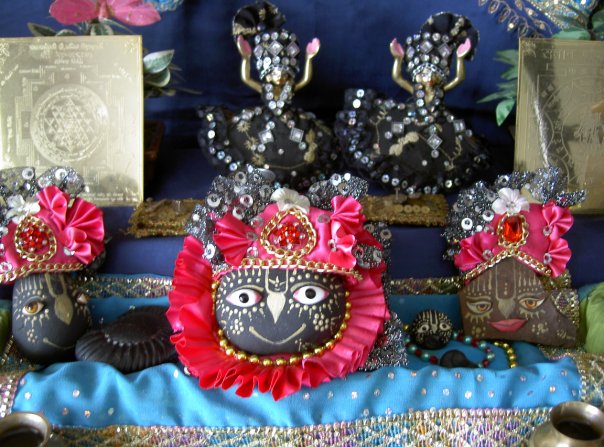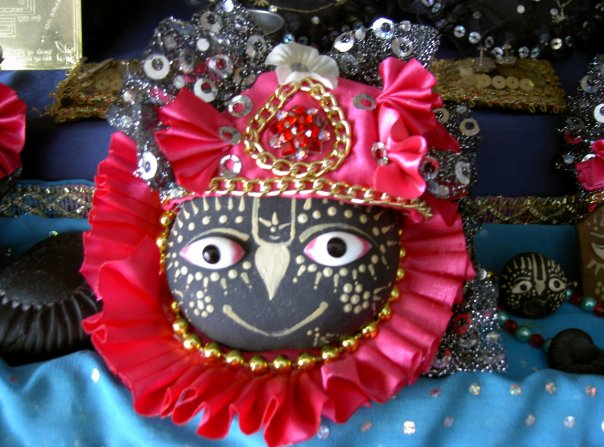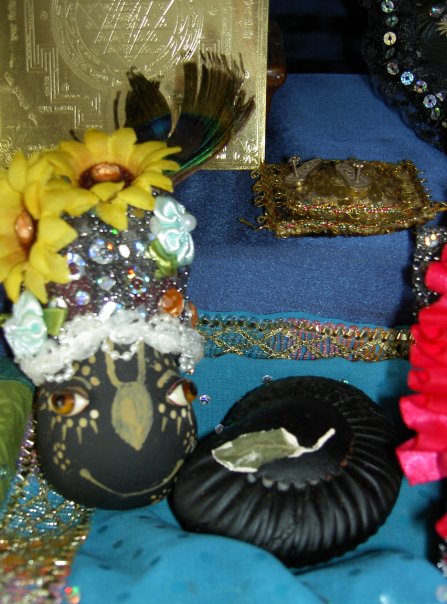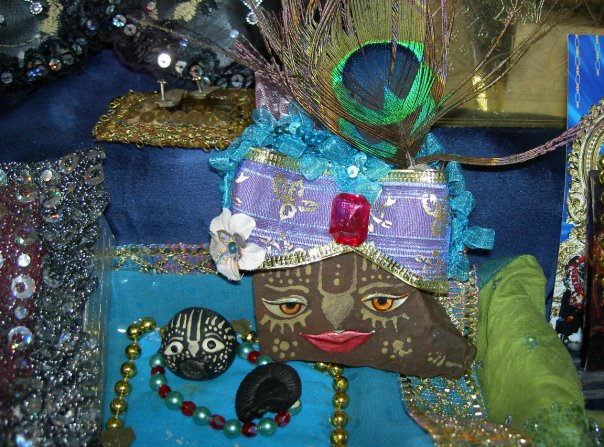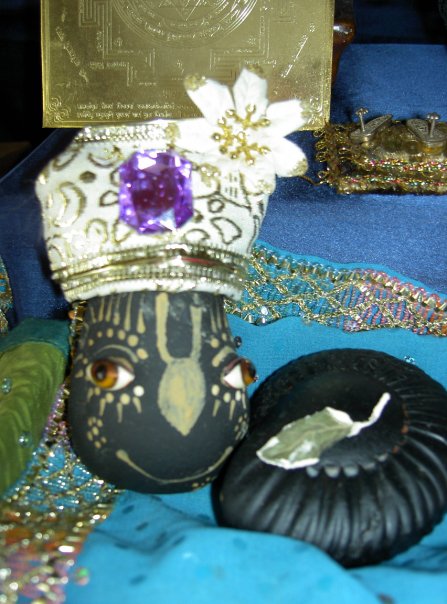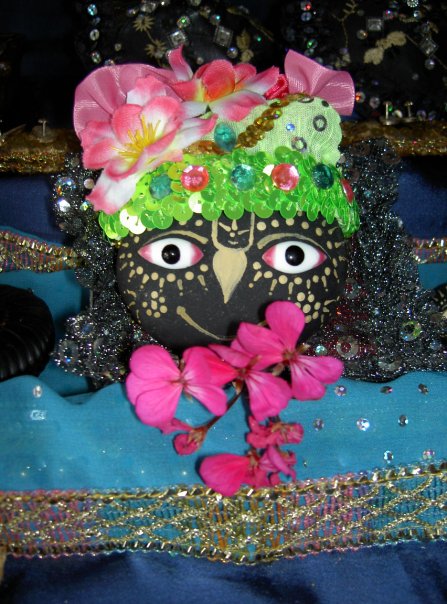 Most magnanimous Ananta Deva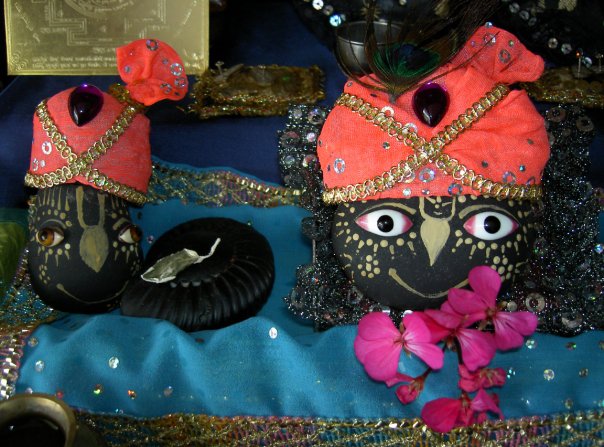 Most magnanimous Ananta Deva (right)
Hari-hara and Surya Narayana :-)
In this photo: Sri Varaha, Kurma rupa, Makhancor, Matsya, Ramacandra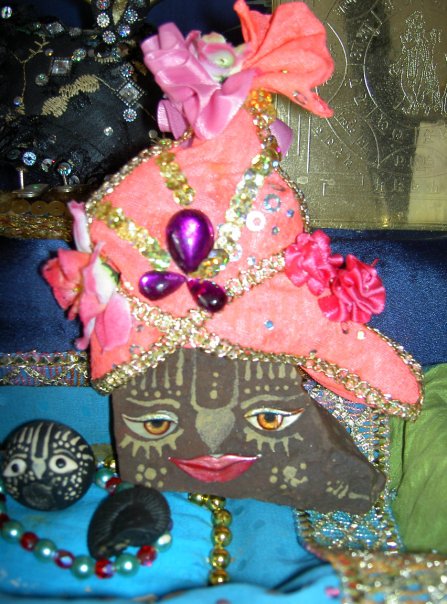 Sweet, sweet Giriraj, most lovable Laddu Gopal and Sudarshana!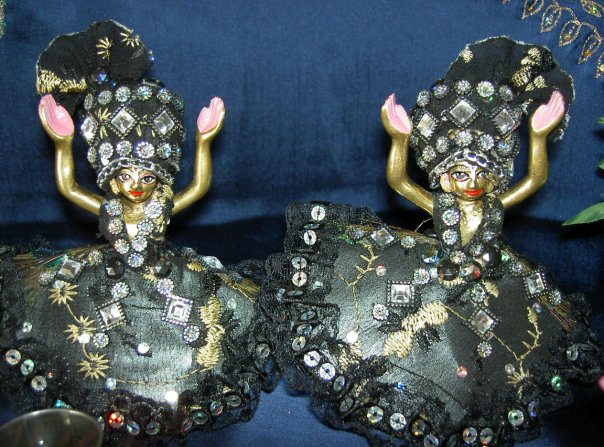 pic's from Sri Kallidai's Facebook album
http://www.facebook.com/photo.php?pid=10631897&id=574155532
---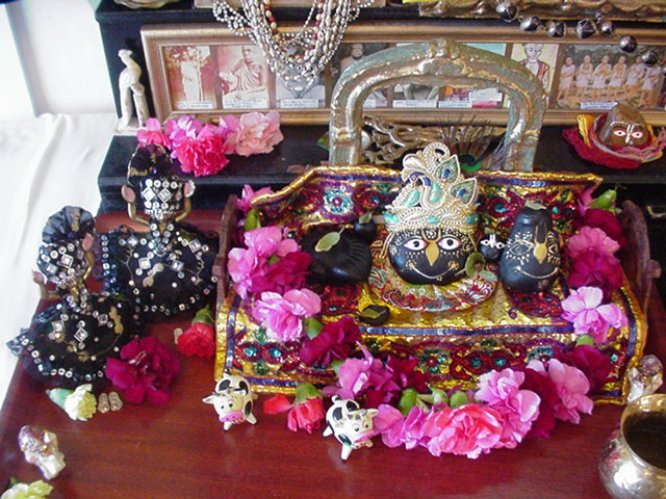 Taken on Sridam & Vrinda's wedding day at JTCd's place 21st Sept 2008.
Hare Krishna prabhu (17th May 2006),
Please accept my humble obeisances. All glories to srila prabhupada.
I have to let you know this :-)
Well, when I was in Christchurch, Ameyatma prabhu was trying to convince me that I should get into the mood of worshiping Saligram sila and regulate my relationship with the Lord. I was contemplating, but not too seriously. I felt I was still not ready for it. A week later, Anurag prabhu comes down from Invercargill and requests me to worship a Sila. "Oh boy...here we go again..." I thought. Anurag prabhu tried to convince me...stating that simple worship is all is required. I contemplated again, and thought maybe I should surrender. But I still did not commit. Anyway, when I came back from some rendezvous that weekend, Anurag prabhu had left a tiny Sudarshan sila with Hanuman prabhu for me. Although I was enthralled, I was also unsure. But he was sitting amongst hanuman's silas. So I requested Hanuman prabhu to worship Him along with his other Silas - which he did. I could see him getting attached to the Sudarshana sila and he even began carrying Him on his neck inside a nice bag.
So I left it at that, thinking I won't disturb Hanuman prabhu's worship. Then I moved up to Auckland and we had that amazing Gaura Purnima festival and the honour of associating with you again.
Recently, Hanuman prabhu came to New Varshana to attend the meetings with the GBC. Of coourse, he brought along Sudarshan ji. I think the sila was placed amongst Trivikrama Prabhu's silas who is curently placed in the same Unit as yours when you were here - right next door.
Hanuman Prabhu left early after the meetings, and, well...forgot to carry the Sila back with him. So there He was, sitting with Trivikrama prabhu's silas and I had darshan Him again. I immediately texted Hanuman prabhu and pat came his reply .."He is all yours"!!!!!!
Looks like the Lord is following me around now...and I did eventually surrender. I conducted my first worship today - a little haphazard...hope the Lord forgives me.
Your servant
Sridama d


Search here for individual Sevaks and Deities World-wide.
A-B-C-D-E-F-G-H-I-J-K-L-M-N-O-P-Q-R-S-T-U-V-W-X-Y-Z

---