Srimati Urmila devi dasi ACBSP - ISKCON School North Carolina
last updated 6th December 2015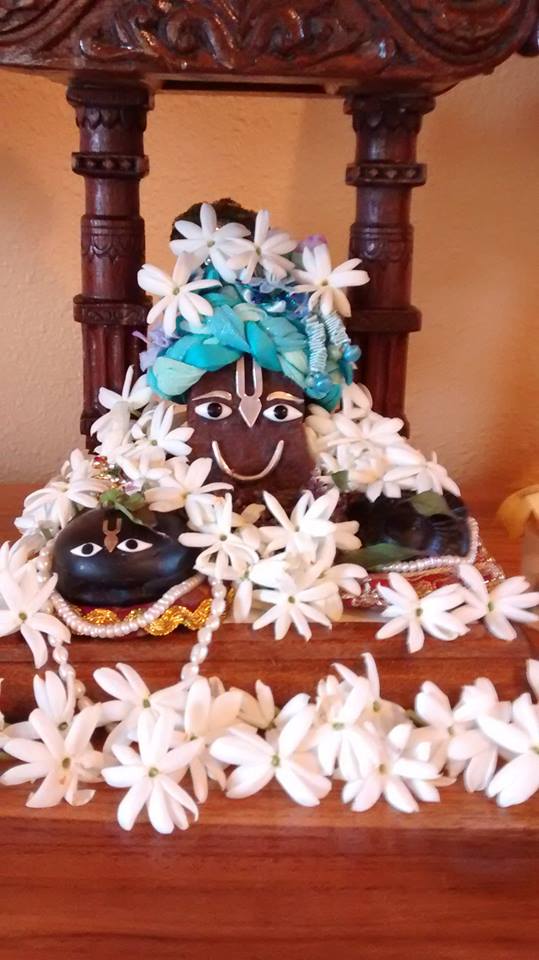 My altar this morning.... jasmine!!


4th November 2015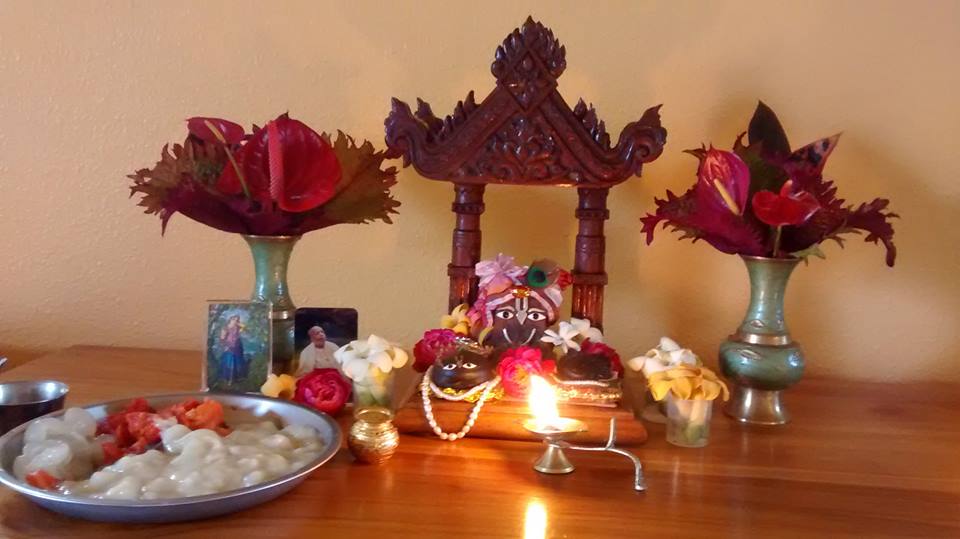 Kartika month lamp on my altar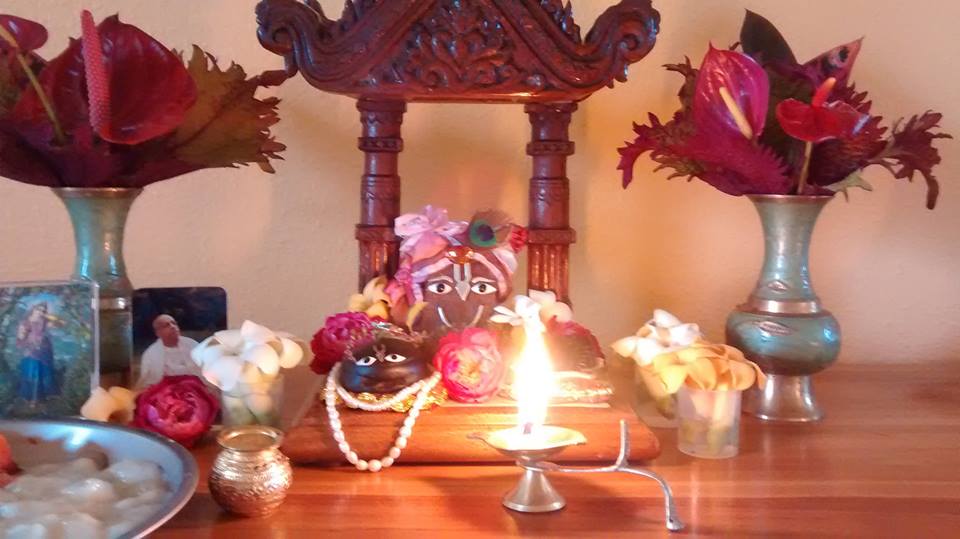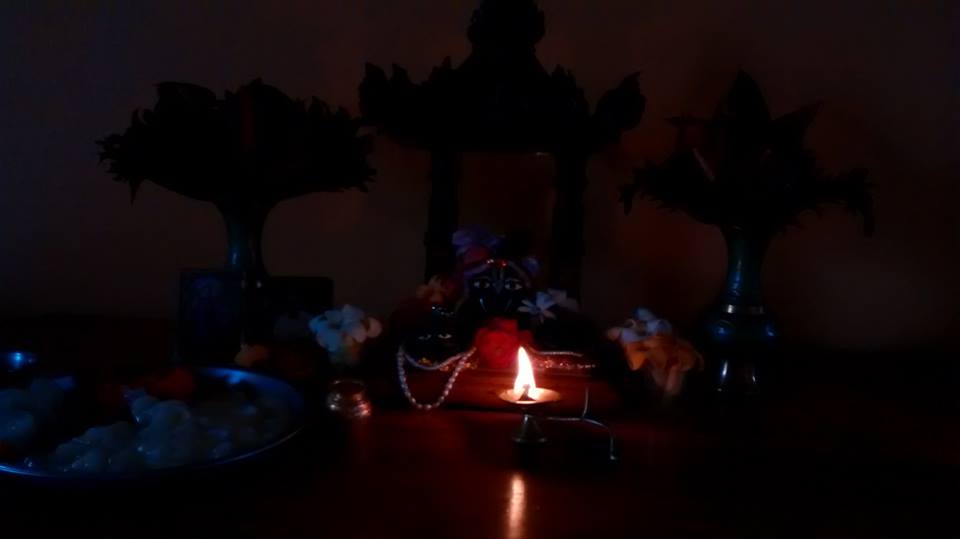 ---

14th July 2013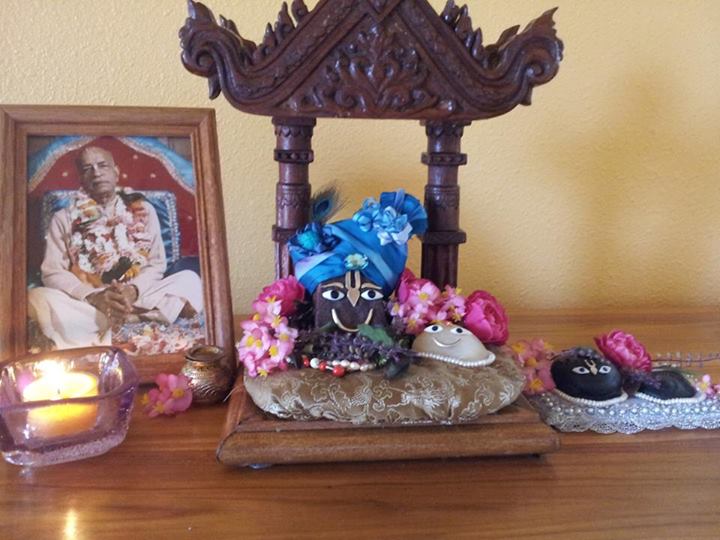 On the simasana are two Govardhana silas. On the blue cushion is a Kurma saligrama and a Sudarsana saligram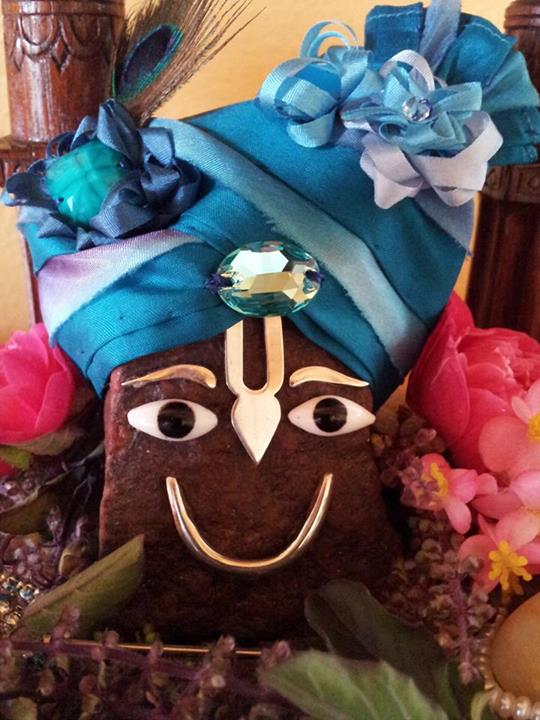 Here's the new blue turban I made. I hope this is the first of several, and I'm hoping to make each in a slightly different style.
This is quite hard for me because sewing and I have never been friends, and hardly even neutral acquaintances! So, doing this is an austerity, albeit a sweet one.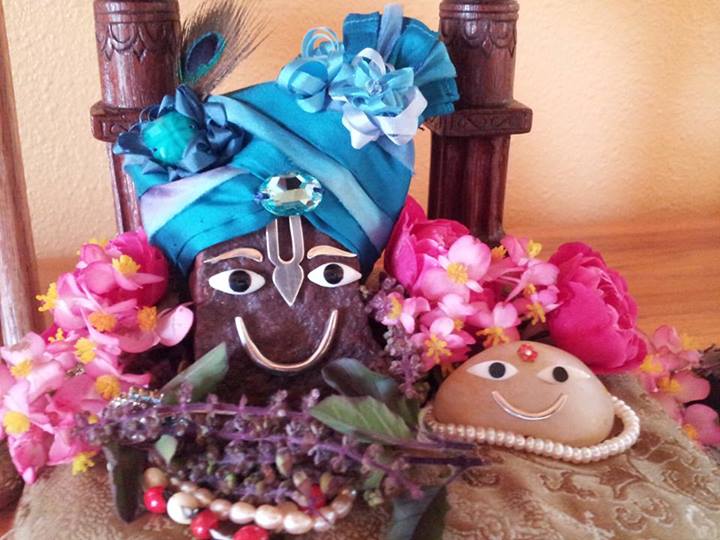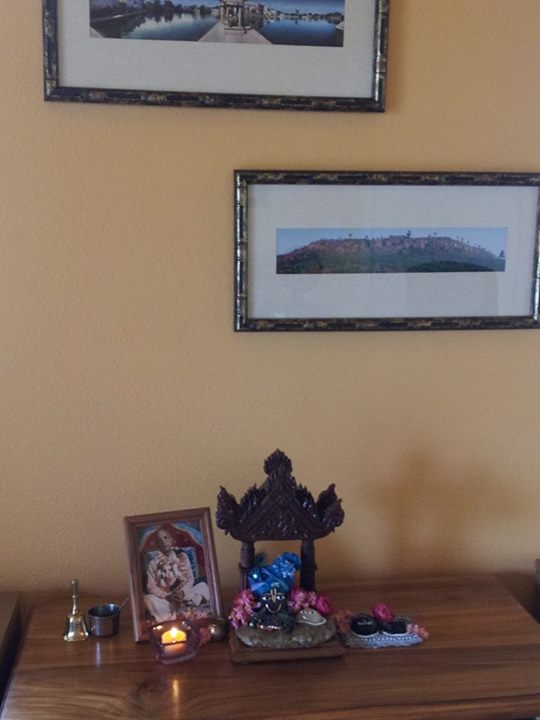 ---

13th February 2013
Here you can see the kadamba flowers. They look like yellowish balls. You can also see the orange spider-like flowers. I don't know their name but they are incredibly fragrant.
---

31st December 2012
My altar in Chennai, Tamil Nadu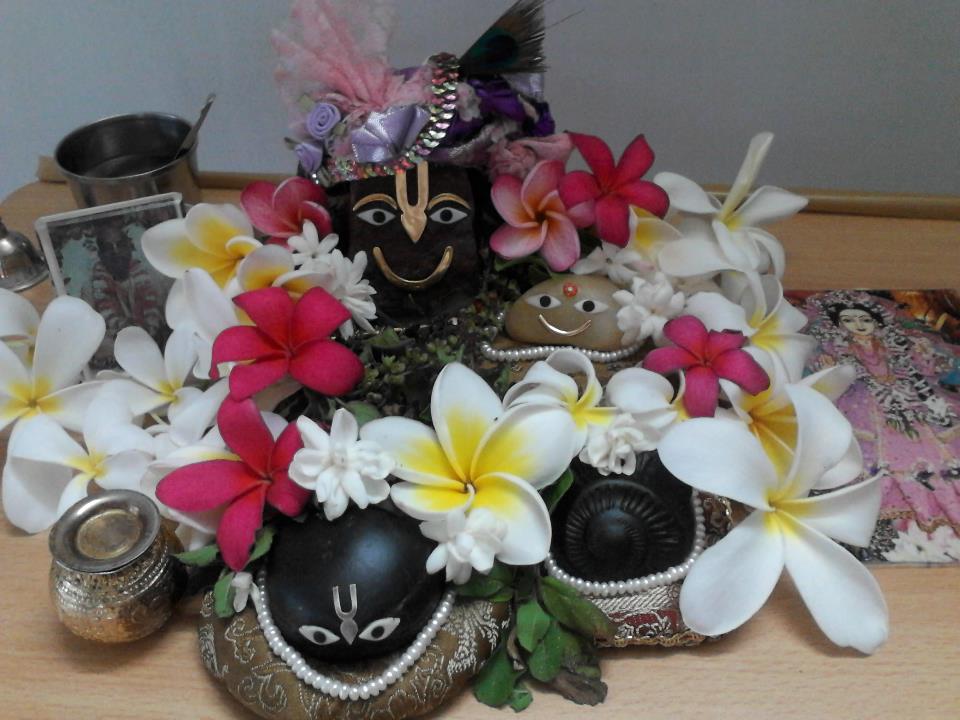 My altar in Chennai, Tamil Nadu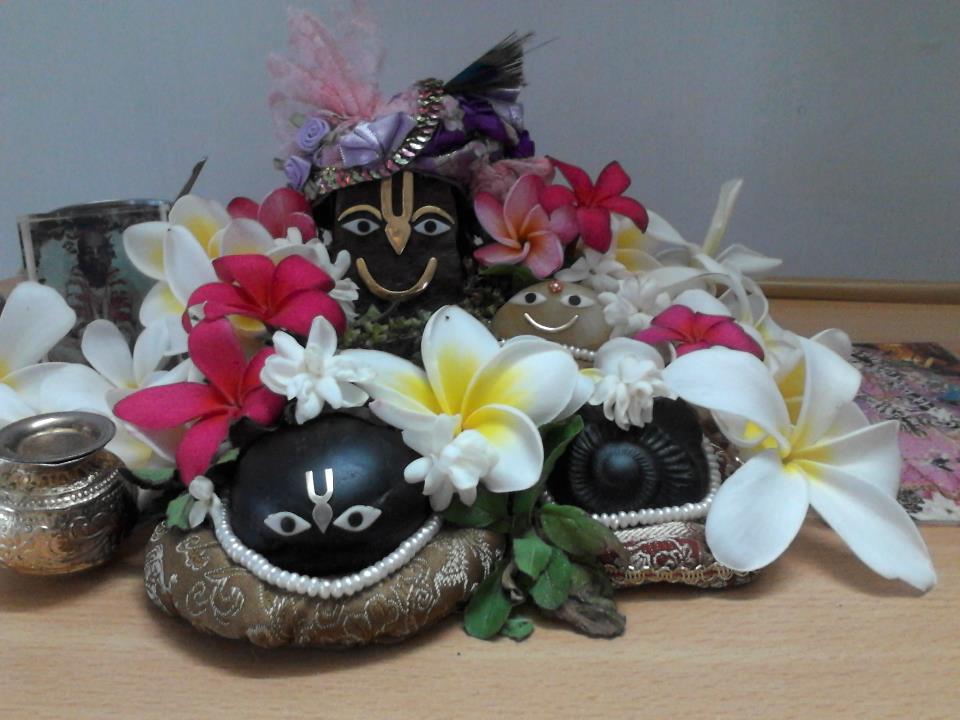 My altar in Chennai, Tamil Nadu


---

22nd February 2012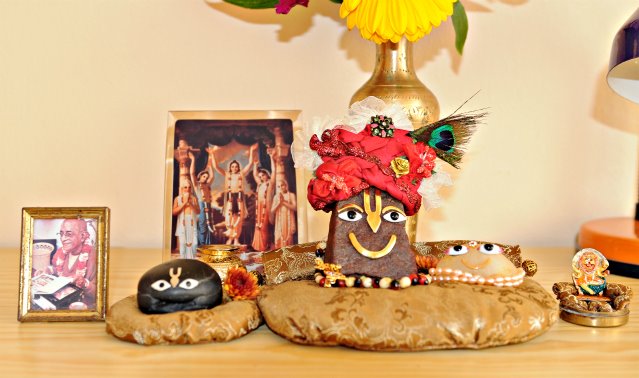 from right to left Radharani, Govardhana & Kurma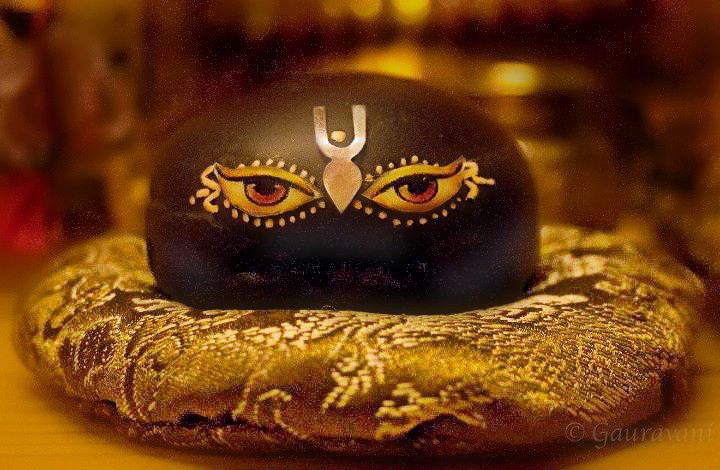 Lord Kurma
with new eyes made by Nrsimha dasi (Nameda Arts)

---

30th May 2005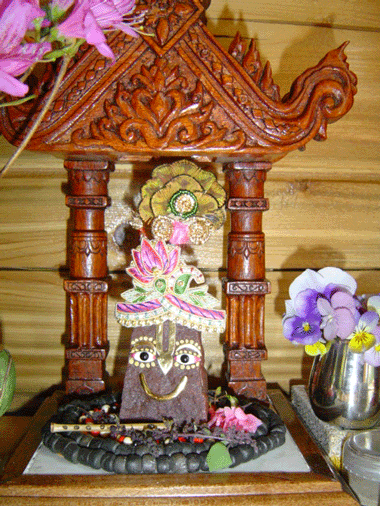 Sri Giri Govardhan - May 2005
We carefully removed the paint that was there when we got Him, now He looks even more beautiful.
For the almost eleven years we've been having a gurukula in Hillsborough, North Carolina (written 2001), we've taken the blissful duty of organizing the Govardhana Puja festival as the temple always observes it on a weekend rather than the actual day. We've made an annual "ritual" of it for the schoolchildren. About a week before the day, we start building a paper mache hill by putting paper dipped in flour and water over a wire form that's stapled to a piece of wood. The students make and decorate this hill every year. The whole devotee community is invited and we have a big "potluck" feast. I do this because I thought that *someone* should have a festival on the actual day and, mostly, as a wonderful memorable thing for the kids to make and decorate a hill and have a festival that was "theirs." I had no idea or intention of developing a personal relationship with Govardhana. I was just trying to do my duty.
On Govardhana Puja of 2000, our GBC, Bir Krsna Swami, came to our gurukula festival early as usual. But this time he kept insisting that I should worship an abandoned Govardhana sila. The devotee who had left Him had gotten the sila with the permission of his guru and many Brijbasis, but had since fallen into various types of difficulty. I must have asked Maharaja twenty times, "Are you *sure* I should worship him?" Then Govardhana came that day for the festival.
Your servant, Urmila devi dasi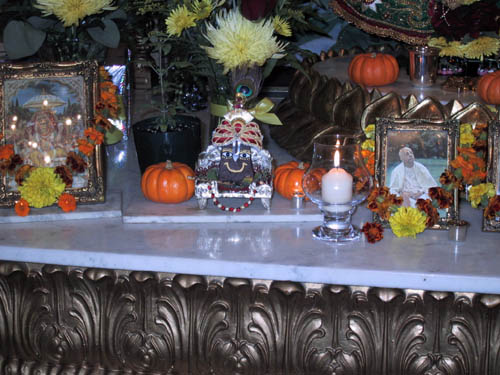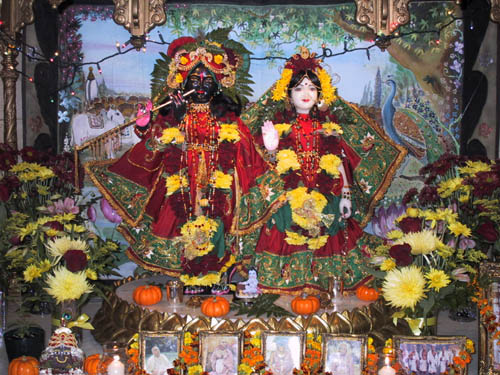 Sri Sri Radha Golokananda, and Giriraj off to the left
These pictures were taken from the site of HH Bir Krishna Goswami http://www.bkgoswami.com/darshan.htm (date 26th October 2003)
Giri Govardhana ji was visiting the local temple altar at Hillsborough, North Carolina for Govardhan puja. Normally He lives in my hut.
Your servant, Urmila devi dasi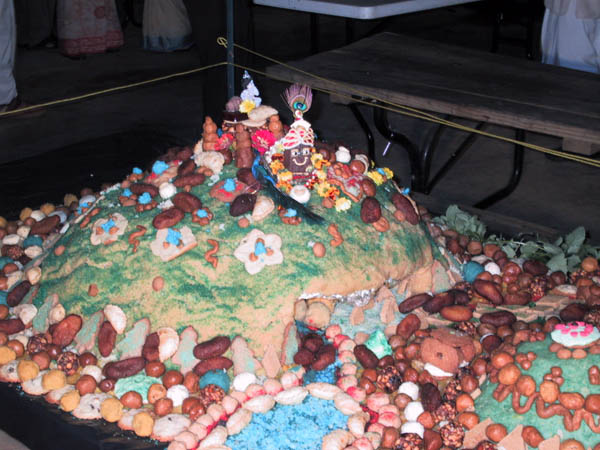 The Govardhana Hill made out of sweets
http://www.bkgoswami.com/Picturepages/govardhanapuja2003/hillclose.htm


Search here for individual Sevaks and Deities World-wide.
A-B-C-D-E-F-G-H-I-J-K-L-M-N-O-P-Q-R-S-T-U-V-W-X-Y-Z

---