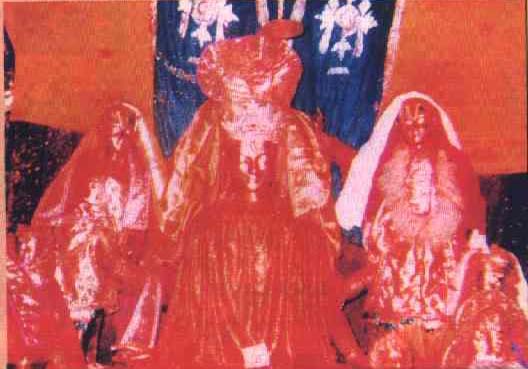 Muktinath

Some Useful Background Information For Planning Your Pilgrimage

Visiting Salagram Tirtha:
A Taste of Flying in Nepal in Monsoon:
Damodar Kunda:
Tours - devotees who made pictorial diaries
See more pictures of the route and region:
Pilgrimage to the "Top of the World" - would you like to go??? ....make bookings with us !!!

---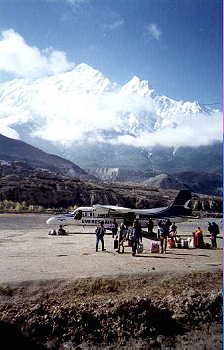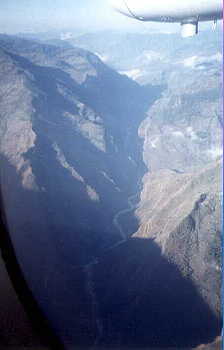 Jomson STOL airport

A view of the Kali-Gandaki gorge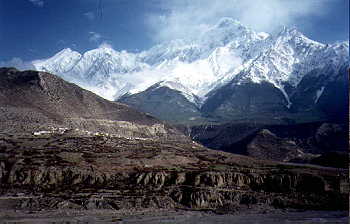 The town of Jomson situated at the feet of Nilgiri
---
Visiting Salagram Tirtha
http://srivaishnavam.com/divyadesam108/salagramam_tour.htm
Respected Sri Raman, Adiyen went to Salagram in Nepal in June 2001.
There are two ways to reach Salagram I . By bus / By Air - Arranged tour
From Delhi you can reach kathmandu by road .
From Kathmandu you can reach Salagram by Helicopter. The Helicopter are arranged by tour organisers. This will take about 40 - 50 minutes .
The total cost from DElhi to Salagram and back will be about Rs 20,000/- per head. Apart from Salagram the trip includes Ayodhya, Naimisharanyam also. In this arranged tour food will not be a problem.
II. you can also go to Salagram on your own:
1. From Delhi you can go to Sunoli in India - Nepal Border via Gorakhpur, either by train upto Gorakhpur or by bus to Sunoli directly.
From Sunoli you have to cross the border by walk or by rickshaw. Then you can take a bus to Pokhara which cost around Rs 150/- Nepali rupees. This journey takes around 9 hours (JTCD - ouch - only 6 from Katmandu).
2. From Pokhara you can go by air to Jomsom. This takes around 20 minutes and costs USD$ 25 (INR Rs 1200/-approx). Please go by Shangrila Air and not by Royal Nepal Airlines.
From Jomsom Muktinath (Salagram) is around 22km, which you have to trek. This trekking depends on how old or young you are. I took around 9 - 10 hours, slowly looking for salagram in the river Gandaki. If you trek in a hurry, may be you can cover the distance in about 7 hours or so.
3. From Pokhara you can go by bus to a place known as Beni which takes 5 hrs by bus and from there you can trek to Salagram. But this trekking takes around 5 - 6 days. Since I have not tried this route I have no comments to make. In Salagram, apart from Muktinath temple you have the following places:-
a) Jwalamukhi
b) Narasimhan Kovil
c) you can hear the river Saraswati flowing under the earth. (I don't know how Saraswati came here, but the panditji there told me that she descended earth thru this place).
d) 108 dhara in the temple
From Muktinath Damodar kund is around 2 days trekking, but there are no food available on the way. I did not go to Damodar kund as I was without company. If you go on your own, food will be a problem right from Jomsom till you reach Salagram. But you have one big advantage, you can enjoy nature, and you can look for salagrams in river Gandaki. Or else you buy salagram from the shops enroute (note: shastra doesn't recommend this). Best season is during March-April - Please avoid rainy season from June - July. I went to Salagram in June end during rainy season but was fortunate, as it didn't rain while trekking. When you are in Nepal you can also visit Janakpur. In case you need further information please feel free to send a mail
(JTCd - I wasn't so lucky)
With regards A Varada Desikan

Take another tour with Vipramukhya Swami - March 2001
Pilgrimage to the "Top of the World" - would you like to go??? ....make bookings with us !!!
Take a pilgrimage with Suhotra Swami - May 2004
Take a short tour with BV Narasingha Swami of the Gaudiya Math

---
A Taste of Flying in Nepal in Monsoon:
I also made a mistake of going to the Kali-Gandaki in 1986 during the Monsoon, which came a little early that year. Sure the temperature was wonderful in Nepal compared with the sweltering heat of pre-monsoon India up in the 45+ C. But we were warned also in Katmandu that if it's rain in Pokhara then it'll be snowing up higher. Royal Nepal Airlines have an interesting poster in their offices - it shows a top of a mountain protruding from the top of a mass of cloud, underneath it says, "In Nepal we don't fly through cloud", which was reassuring, and the same applies to snow.
We flew Royal Nepal Airlines to Pokhara from Katmandu. On the way the Himalayas introduced us to some Sämvartaka cloud relatives along the way. We got on the plane at 2:00 pm (14:00 hrs) the climate was nice, warm a little humid as we flew out of Katmandu heading for Pokhara. Everything was really nice there were just four of us on the plane with two crew members in the cockpit. We started to notice some turbulence and the plane began to get thrown around a bit, and then we heard it, a seething demon black as midnight that had now engulfed us. Yes within seconds it went from 2pm to pitch black night.
As we approached this huge monster like cloud that spanned the tops of the valley we flew up the hollow roaring sound of thunder near deafened us. Then almost knocking us out of the sky came a wind laden with rain followed by bright flashes of lightening that seemed to be just metres/yards in front of us coming from the moving, seething, bellowing black cloud.
The rain became so rough and the wind so powerful that the pilots decided to do a U turn in the narrow valley and go up another - that in itself was pretty scary too. The span of area to turn around was not very much, we were only a couple of hundred feet from the mountains on each side and below too. But we did it feeling powerful updraughts as we got within 20 or 30 feet of the wall of the valley.
We were due to fly to Jomson on the "Vomit Express" but it was deemed to dangerous to fly there at this time, so we didn't. We tried to book for the next few days ahead also but it was no possible to get a seat going up, and all seats were booked coming back for three weeks. No Monsoon is NOT the best time to go there.

---
Damodar Kunda:
Damodar Himal, mountain range in Nepal Himalayas, in MUSTANG district. Includes Muktinath Himal (6,706m), Bhrikuti Peak (6,364m). There are 65 peaks in this Himal range. MARSYANGDI river takes origin from this range.
If you're planning a trip to the illusive and infamous Damodar Kund here are some priceless bits of information that could be the difference between life and death, and negatively eventful pilgrimage and a relatively clear trek and pilgrimage.
Damodar Kund (Lake) situated in a basin in the Damodar Himal and flows southward through a rain shadow valley on the eastern edge of the Annapurna Range. The are two versions of the Origin of the Kali Gandaki river; One will say, the river comes from a lake near the Tibetan border by the name of Damodar-kund north east of Muktinath (a 2-3 day trip per foot away). Others will say the river appears from a crack of the Dongmar mountain north west of Lo Mantang (what is much further north than the first description) and that the waters of Damodar kund are unique to themselves. There are several lakes, the area being locally called "Charang the land of hilly lakes."
The Damodar lakes are located three days walk north east of the main Mustang trekking route & very close to the border with Tibet.
From Damodar Kund, the views are great from some viewpoints a bit higher than the lakes, just a short climb up some of the hills. The Tibetan plateau & Damodar Himal to the north and the Annapurna Himalayan massive to the south.
The walk to the Damodar Kund (lake) is not so difficult but quite long walking distance and only sometimes a bit steep and almost flat. Only problem is the altitude and I have been aware of this while working out the itinerary for you.
Don't take unnecessary chances, for some there is a need to worry about the altitude. However, with some for-thought if you feel you may be at risk in high altitude, with such things as breathing problems, heart problems, over-weight - blood pressure, get head aches, please see your health professional before attempting the walk. If you're healthy and fit but still worried about Altitude Sickness before leaving Katmandu arrange a Gamo Bag - Air pressure bag. The highest camp is at the Damodar Kund just 4890 meters.
As Damodar kund ( at 6100m = 21,000 ft approx.' ) comes under the Upper Mustang region which is a restricted area, the Nepali government have an access fee for permits into the area. For many years, especially during times of India-China-Nepal troubles over Tibet you couldn't even get a trekking permit for love nor money. Now permits are readily available for a pretty hefty price. The details are on this URL http://www.monterosa-nepal.com/trekking/mustang_trek.htm
Some more useful stuff here: http://www.walkersnepal.com/trekking/tupper.html
A useful map to purchase ahead of time: 65-0481-12 - the map is 1 sheet, folded - US$15.95
(Nepal)--Trekking From POKHARA to MUKTINATH JOMOSOM along the Kali Gandaki Valley.
and
65-0481-10 the map is 1 sheet, folded - US$15.95
(Nepal)--MUSTANG - Route from Jomosom to Lo Mantang along the Salt Route. 1:125,000. Nepa, Kathmandu. 1998. With 125 meter contours and latitude/longitude markings. Covers Jomosom, Kagbent, Ty, Tangbe, Chusang, Chele, Samar, Ranchung Chorten Cave, Shyammochen, Ge-Ling, Ghami, Tramar, Tsarang, Lo Manthang, Namgyal Gomba, Thinkar, Kyamaling, Namidrol, Kore La, Photu La, Garphu, Nyphu, Tubten, Chosarm Surkhan, Lhori, Damodar Kund, Te Tangya, Tetang, Muktinath, and Kagbeni. With index. No ISBN.
You can purchase it through this web-site http://www.omnimap.com/catalog/int/nepal/65-0481.htm
Best season is during March-April, some say October-November is good because rains have dislodged many fresh Shalagrams and made Them available. On that note it may be true, BUT the fact remains if the Lord wants to reveal Himself to us we will find Him, and if He doesn't then even we may walk close next to Him we will still not see Him, cloaked in His Yoga-maya.
For safety sake please avoid rainy season from June - July especially as rain down lower in Pokhara means snow up higher, and sometimes it gets VERY thick. Each year several trekkers die in the snow due to not planning correctly thinking it is hot in India and lower Nepal and not taking into account of the changes in climate in regards to water, rain, ice and snow up higher. Heavy rainfall occurs during the monsoon season from mid June to mid September. The remaining eight months are more or less dry - December to March is way too cold up higher.
His Holiness Shreemad Vidyadhiraj Shreepad Vader Swamiji of Shree Sansthan Gokarn Parthagali Jeevottam Mutt of the Madhwa Vaishnava line in his visit to Damodar Kunda (Sept 98) called the place "No Man's Land" simply because there's no-one there.
http://www.geocities.com/heartland/valley/1357/yatra.htm#nml
"This place is inaccessible to ordinary persons since throughout the length of the journey of 80 kms is covered by thick snow and termed as 'No Man's Land without human inhabitants. Number of visitors to this place is also very less."
In one sense that is good, because the place is unspoiled by trekker's rubbish that they leave all over the Himalayas from mundaners who go there usually from the cities of the west for holidays, or to conquer the mighty himalayas - to say they've been there. There are not so many of these persons that clutter the hotels and chai shops and bhatiks enroute.
BUT if you get in trouble, you're in Krishna's hands alone, He may send some rare visitor or you may be there "alone". If going alone or with a small group leave messages that you will be away for XXX amount of days, and will be back on YYY if we're not back by ZZZ we may need assistance.
......maybe the huge bag of Shaligrams has weighed you down so much that it's taking three times as long to walk with Them.
Due to less people going to this region, it is reputed that the availability of unique, rare, unusual, nicely marked Shalagrams are more readily available. I've heard many stories of glistening golden excretions that come from the shilas shinning in the sun shine.
Happy devotional seekings, and if a wonderful Shalagram stops you on the path and says He wants to come and take up residence on my altar please let Him hitch a ride with you, and when you get near to a terminal e-mail me so I can arrange collection and safe passage here

Special Trekking Permits now allow easy access to Upper Mustang - Damodar Kund
Pilgrimage to the "Top of the World" - would you like to go??? ....make bookings with us !!!


---
Have a little tour with us:
Take another tour with Vipramukhya Swami - March 2001
Take a tour with HH Bhaktisiddhant Swami - March-April 2002
Take a pilgrimage with Suhotra Swami - May 2004
Take a short tour with BV Narasingha Swami of the Gaudiya Math
India Pilgrimages - Gandaki river and Salagram Silas - Sri Narasingha Caitanya matha Mysore India:
http://www.gosai.com/chaitanya/pilgrimages/gandaki/index.html
Take a Virtual tour of Saaligram Divya desham with the Sri Vaishnavas of Ahobalam muttam (only has forst page at present)
A Journey of a thousand miles - The Saligram Trail
http://www.nepal-traveller.com/novdec2002/saligram.htm
Information Nepal
http://www.info-nepal.com/firstpage/?GXHC_GX_jst=8258c07850ea6165
Pilgrimage to the "Top of the World" - would you like to go??? ....make bookings with us !!!

---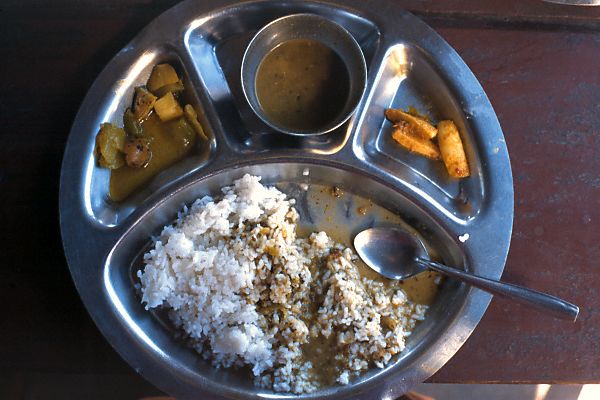 Dahl Bhat ............. looks relatively harmless, but almost guaranteed to give you the ............ooops sorry got to go again.
(some time later......) Ah, that's better.
Where was I, oh yes, the food up here seems to be completely contaminated due to micro-organisms like cryptosperidium, giardia, amoebas etc. Nothing that is cooked by these people is really offerable, what to speak of being hygienic or safe to eat - unless you're into drastic weight loss programs. From our experience, one can count on getting a good case of the......... excuse me I got to go again, (shouting as disappearing into the distance.........and don't bother changing out of your gumcha for a day or two, or bathing, you wont have time to, believe me) a day or three, at the best.
....okay, feeling all weak and spaced out from hours of time spent passing nothing now....... but agony (...anyone been there???), we'll try to continue.
Best, and safest policy is if you're only up there for a couple of days, eat light and bring it with you as mentioned by HH Vipramukhya Swami. Everything is available from Kathmandu or Pokhara (for a price). If you rely on eating in places where they prepare meat in their kitchen, as well as share utensils with the tourists and trekkers who stay in these places, it will be surprising if one doesn't get sick. AND, way up there, it's no fun, not that its my idea of fun anyway, ...but do you get the picture.
...other than that have a good trip.

---