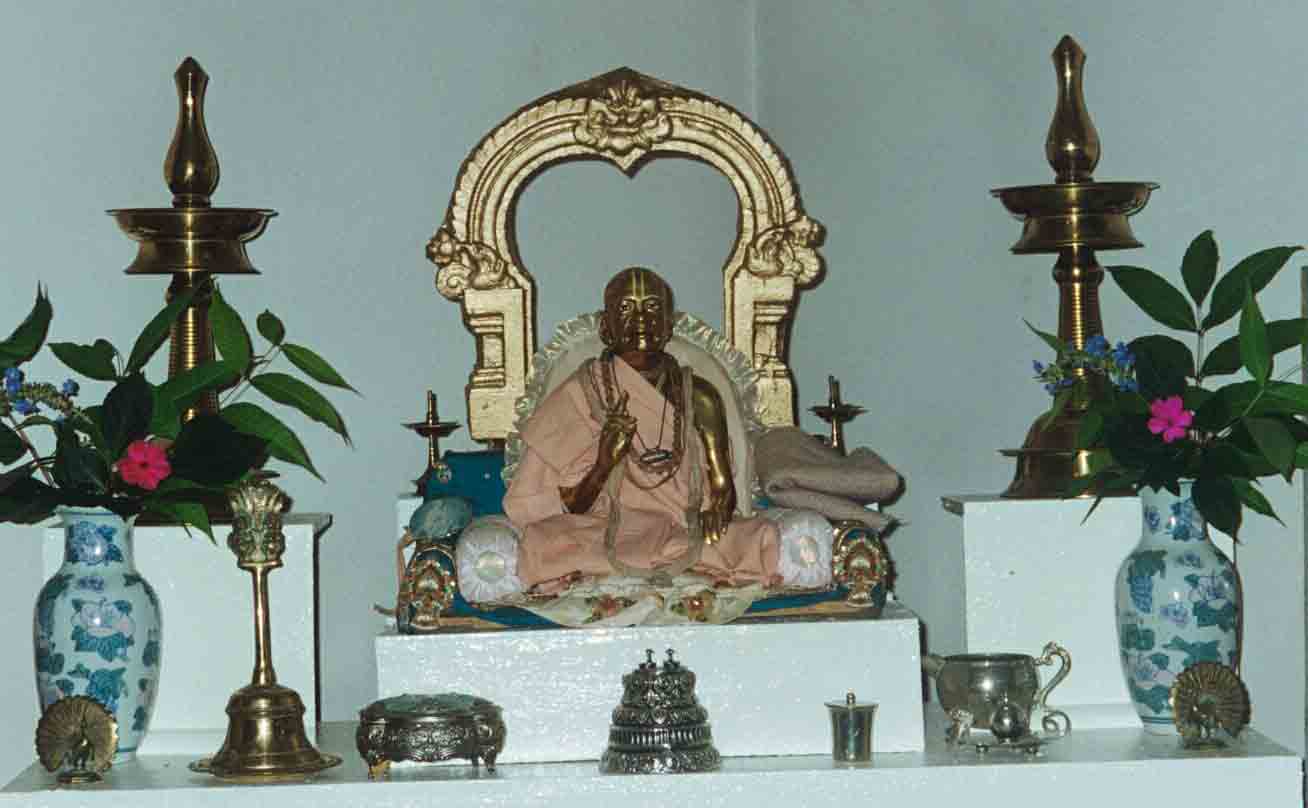 This Prabhupad deity was given by Kritakarma prabhu ACBSP in 1983, he was the first of this size made by Bhaktisiddhanta prabhu ACBSP just after Prabhupad's Tirubhav 1977. The picture doen't do him justice. The cloth around his neck, the tavi capsule and beads are all Srila Prabhupad tadiya. The small casket on the front of the pith between the bell and the satukopam dome contains; part of a flower that Prabhupad held, some dalh from a knee pultice he had in London, some of his hair sealed in plastic for preserving it, a small piece of cloth from his asan, some Ajwan seeds that he'd been chewing, and some of the last Tulasi maha-prasadam garland and gumcha that adorned his body as it was taken on parikrama to all the temples of Vrindavan directly before being placed into samadhi, then we have vraj-raj dust from next to his transcendental body from before the marble casing was put on the samadhi in Vrindavan. Also the jug and incense holder seen at the front right were given to me by a devotee who was told to distribute them after replacements were found for his desk at Bhaktivedanta Manor 1978 (no-one considerd their priceless nature back then)

(photo of April 2002)
This picture shows Everyone at home on their new Grihagarbha and new extended pith (seat). A Whos-Who is at the following

but it's not exactly conclusive. I still have to organize a descent picture and the "roll over" facility and all the close-ups of each individual shila, so stay tuned. Just for now I'll give you a "line up" left to right in the picture that is under this.
Notice we also found a few extra pictures for the Guru-parampara, there's obviously more to slot in but that's all the room we have at present - sounds that there's another plan for expansion there eh!!!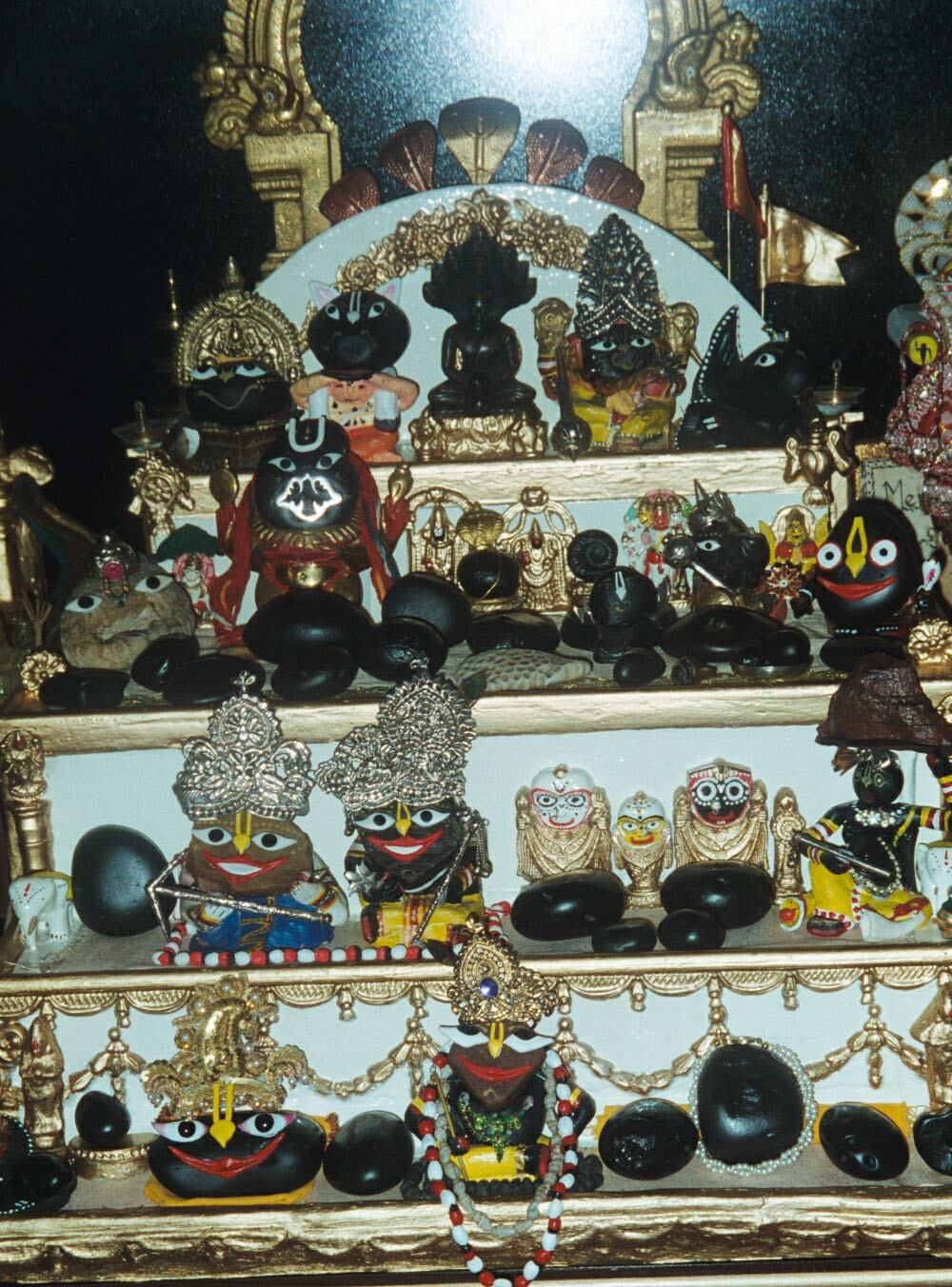 Top row from left;Gopinath,Laxmi-Hayagreeva, Nivita-Buddha,Chaitanya-Nrisimha (the Pradhan shila), Matsya.
General Population:Keshava (front) Matsya Dwarka shila rear, Panaka Nrisimha, Adi Sankarshan, Sundara Gopal, Pavana Nrisimha,Rupa-Narayana (at front), Dasavatara, behind Him Damodar and to His left our right Vamandev with golden thread and Shesa, infront of Him Kurma Rupa, and in front of Him Anatadev Dwarka shila (now with Trivikram prabhu), on stand on back wallAnantadev, in front of Him Anantasan Parasuram, in front of Him Hrishikesha, next to Him set in a ring Adhoksaja, behind Him Dhanvantari, behind Him Varaha Nrisimha. In the small silver patra; tiny Sudarshan 1/4 inch across, Hiranyagarbha, and largest of the small ones Jagad-ande. Next to Them Jagannath.
Middle:Damodar, Krishna-Balaram Govardhan shilas (Balaram on left, Krishna on right), Dustara-rama,Madhav, (infront of Them) Balai-Kanai. In this vesh there are three shilas; in the region of the stomach; Vana malai Krishna. The head; Gopal Krishna, being held above His head Giri Govardhan.
Front:chotta Matsya on fish vesh, Hamsa-raj, Garuda-vahan,Shanti-bhadraram, Vitthal Giri, Ananta Purushottama,Radha Damodar, Sridhari, Bhakshitavan.
Since this picture was taken more have come, a new photo should be along soon - follow the link HERE to read about the new additions in the mean time:
(Click HERE to see the latest picture, although it is rough and poor quality, and there's a still a few late comers missing, there will be better ones coming soon.)


Any more coming?

Sri Swayam Vyakta Shilas ki jayho


Search here for individual Sevaks and Deities World-wide.
A-B-C-D-E-F-G-H-I-J-K-L-M-N-O-P-Q-R-S-T-U-V-W-X-Y-Z

---



This one is now out of date, but the one below is up to date, but is still not worthy of a prime spot, just here for a taster.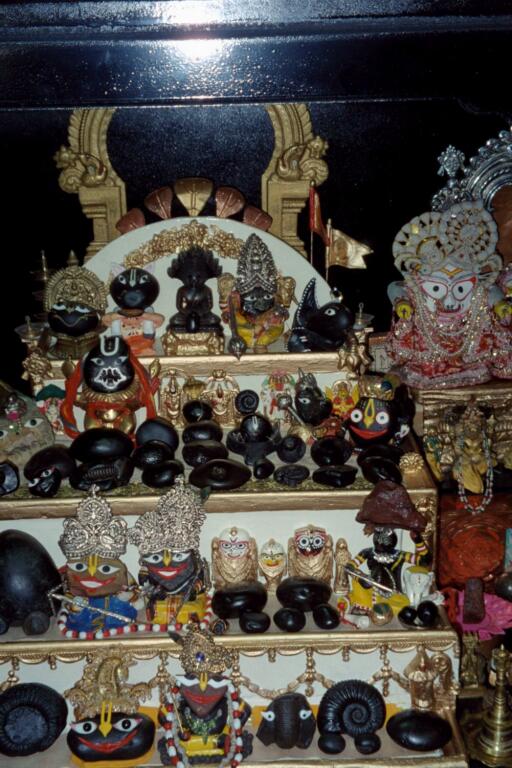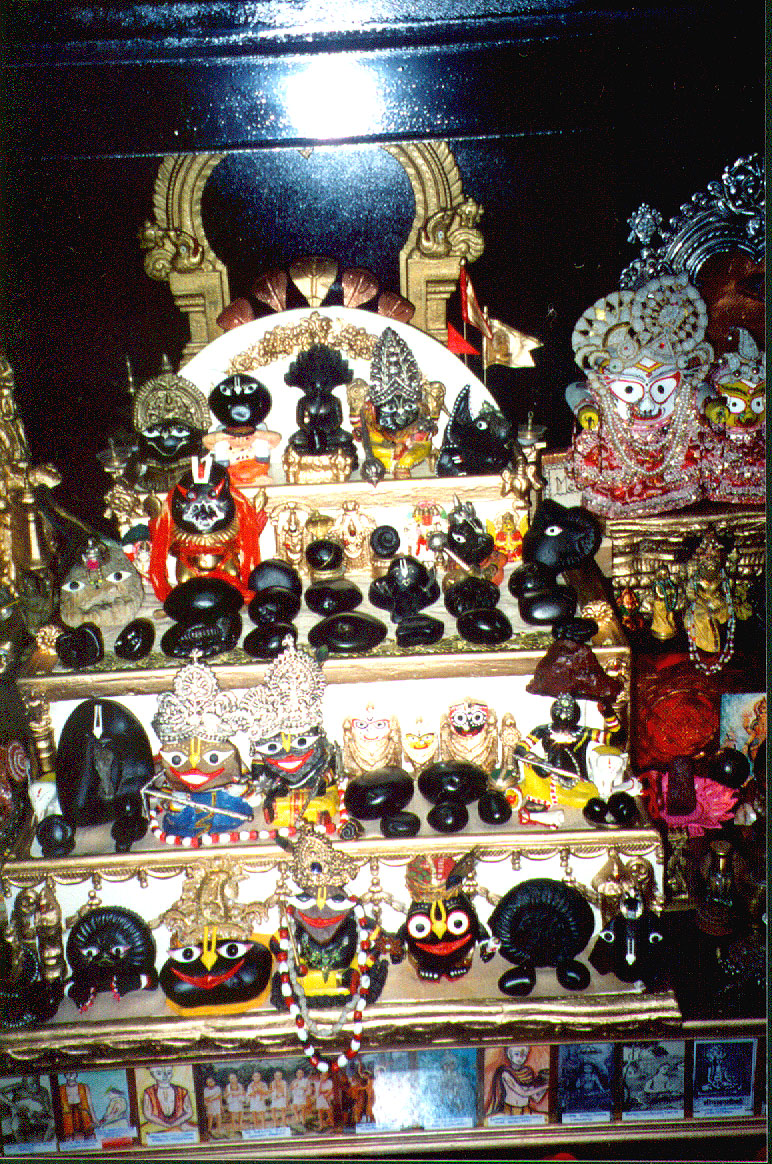 and below is the new cabinet, courtesy of Tamal Krishna prabhu in Katikati of Speciality Timbers Co Ltd, and kindly paid for by Kailash mataji, Aus.