Sikhi Mahiti dasa ACBSP - Atlanta GA
last updated 25th July 2005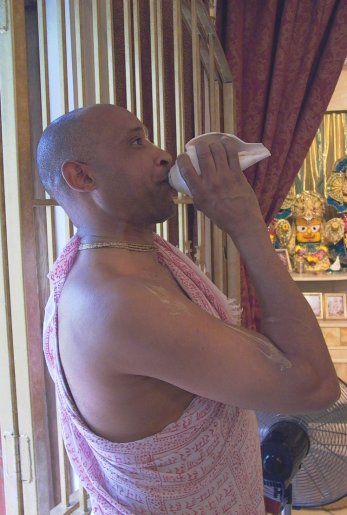 Sikhi Mahiti prabhu blowing the conch for arati darshan @ Atlanta temple - photo by Paramseva prabhu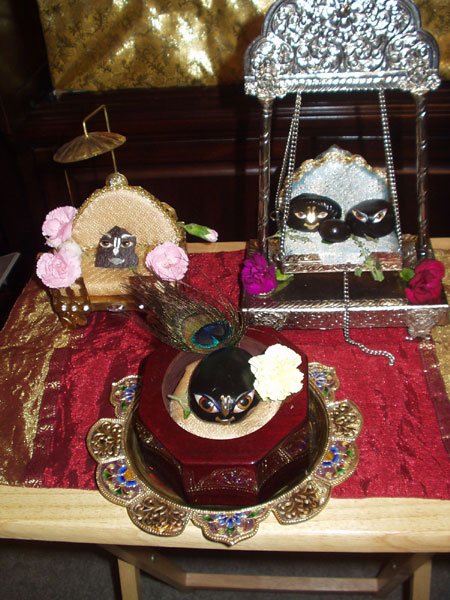 The latest additions; front Lord Kurma, back left three Govardhan silas (see close-up below), right top; Bala Gopal, Vamana and Nrsimhadev.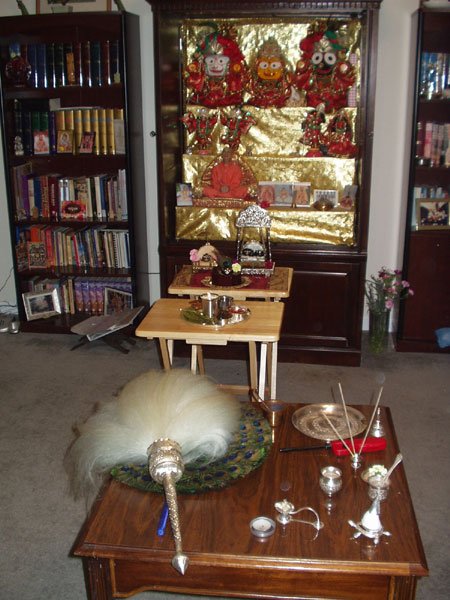 Their Lordship's first worship on returning from India 2005

Bala Gopal, Vamana and Nrsimhadev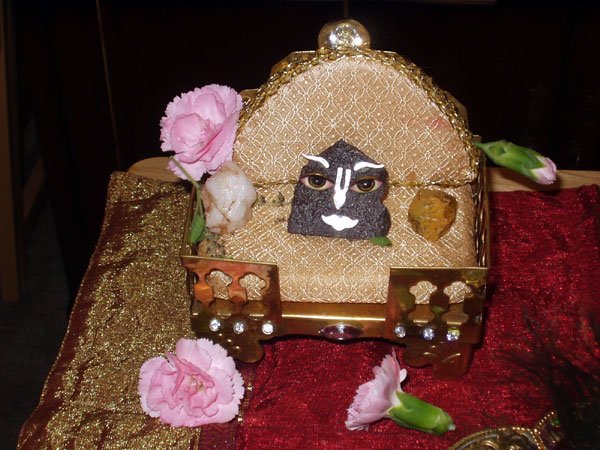 Three Govardhan silas; Whitish = Lord Balaram, Blackish with silver tilak etc Jagannath, and Yellowish = Subhadra
(See notes below)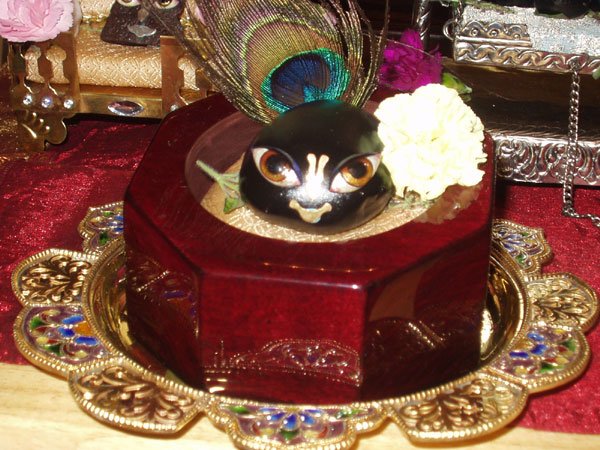 Lord Kurma
When I began worshipping Bala Gopal Saligram two years ago, I didn't want anymore silas. I was very content to give him all my attention. I visited Sri Dhama Mayapur and Vrindavan for the first time since 1977 this Gaura purnima 2005 for two weeks.
I visited with His Holiness Bhaktisidhanta Swami. Don't visit maharaja if you want to worship only one sila. After that visit, I went to Sri Vrindavan dham with HG Narottama-vilas prabhu, a russian brija basi. The next thing you know, I have an additional six silas. Maharaja said my Gopal was lonely and need some company. I think he was right. The house is more ecstatic and lively. The three new saligrams, Kurma, Vamana, and Shanti Nrsmha just arrived from the Kali Gandaki river and gifted to me by Narotama dasa. He later gifted the three Govardhana silas to me also. This is the first time they have been worshipped by anyone. So, that feels special. I wanted to worship the three Govardhan silas as Jagannath, Baladeva, and Lady Subhadra. Look at their color, can you see it? I couldn't find any scriptual backing to justify it. Even Caturatma prabhu couldn't support the idea after see them. Oh well, way in the back of mind I see the Lords of Jagannatha Puri.
ys,
Sikhi Mahiti das ACBSP
(JTCd's note; there's some reference about colours of Govardhan silas by Srila Vishvanath Chakravarti Thakur in his Shri Vriti Chintamani )

---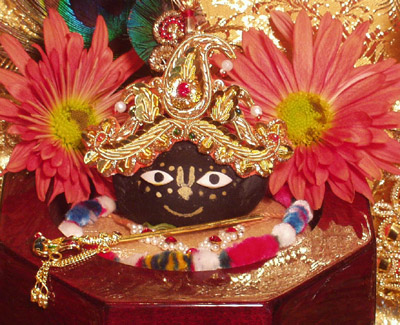 Sri Gopal ji - November 2003
Story:
23 years ago, I worshiped a Saligram Sila for one week. I had to return him to the Potomac temple. The temple gave him to me to serve because they thought they were making too many offense to him and the pujari knew I had been worshiping a set of Gaura Nitai for couple years and thought I was experienced. I had heard of Saligram Sila but didn't know how to worship him. I don't think he was happy to stay with me either. After a week, His Holiness Bhaktatirtha Maharaja asked me to return him to the Potomac temple. We were preparing to travel to Ghana West Africa to preach and he was concern. But, I have been attracted to worshiping Sri Saligram ever since.
After discovering this Sila website about seven months ago, the desire was re-awakened. I began corresponding with devotees who worship Sila's and began preparing my home to receive Sri Saligram. By the grace of the Lord, Sri Gopal arrived at my home on July the 23rd. My family and I welcomed Sri Gopal with an abhisek, aroti, and a nice feast. The welcome went on for three hours until midnight of the arriving Ekadasi.
Our home has been blissful ever since. I want to thank Mathura Prabhu for sending him, Janardhana Prabhu for the throne, and Jaya Tirtha Charan Prabhu for arranging everything and his support. Also, I offer thanks to all the devotees who took time to answer all my questions. Sri Gopal has been here past the one week mark. So, I think he will stay with us. I'll post more photos of Sri Gopal in the future. I thought I should at least send something soon in order to share with all the devotees.
your servant,
Sikhi Mahiti dasa ACBSP


JTCd's web-sevak note:
Actually I did very little when Sikhi Mahiti prabhu enquired as to how he could get a Salagram, merely suggesting to do as I'd seen others do in make all preparation for the Lord to come and to pray to the Lord that He may come and allow him to render some service. So Sikhi Mahiti prabhu did exactly that, in fact he transformed a room in his house for the service of the Lord, collected all the required puja paraphernalia and kept praying. The Lord again did the rest, linking up devotees who were wanting to gift a Salagram to those who wanted to receive. We just watched and waited and responded to the hand movements of the Lord. On the "off-chance" we tried to arrange one sila to go to Sikhi Mahiti prabhu but nothing developed of that, but we kept ears to the ground. Then one day I contacted Mathura prabhu as he had kindly gifted a few silas to devotees before. Mathura prabhu contacted me and mentioned he had one Sila and His name was Gopal and so we made the arrangements that Gopal safely got to Sikhi Mahiti prabhu (without telling him - apparently he was at work when the Lord arrived and his wife rang him and told him of their unexpected guest, he dropped everything and came home - the rest he has told in the story above) - Sri Swayam vyakta Salagram silas ki jaya, Sri Gopal ji ki jaya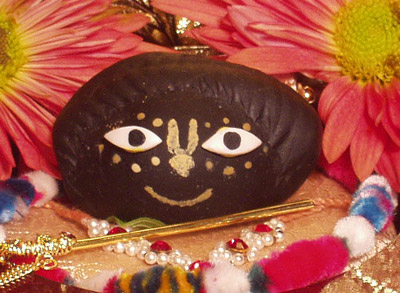 Gopal with new eyes and new crown.


Search here for individual Sevaks and Deities World-wide.
A-B-C-D-E-F-G-H-I-J-K-L-M-N-O-P-Q-R-S-T-U-V-W-X-Y-Z

---